It's been nearly a week since we came back from our Vegas vacation...it went way too fast! Vacations always seem to take forever to arrive and then bam, they're gone :(
Since I like to prepare and plan, I had a daily list of activities to do on the vacation and surprisingly, we did them all!
Highlights from the trip:
Fremont Street Experience and trying to eat ice cream cones before they melted down our arms, while everyone in the street sang along to Don McLean's American Pie lightshow on the rooftop.
Driving down the Strip and getting to see the Bellagio water show while stopped in traffic, then having a giant billboard on the back of a truck with pictures of near-naked ladies and thonged booties right alongside us for half the ride. My mom finally shouted, "Enough booties!!" which sent the boys into a giggling tizzy, of course.
The really-cool water fountain in the Embassy Suites lobby and how cute my little one sounds when he says "let's go in the hot tub again!"
Going to the Ethel M Chocolate Factory and cactus gardens and remembering the last time I was there and the trees were just knee-high sticks in the ground.
Having the lions in the MGM Lion Habitat walk right over the clear tunnel and seeing the excitement on the faces of my boys at being so close to a wild animal.
The thrill of the boys winning their first stuffed animals on the CircusCircus Midway (even if the only person playing against them was me and
maybe
I just didn't try my hardest to win!).
Losing my oldest in the AdventureDome but keeping my cool because I know that he's really smart and that he's go up to a security guard for help.
The excitement of the Tournament of Kings at Excalibur, eating with our fingers and cheering for the bad guys because that was the section we were seated in. Didn't enjoy the giant explosion at the end of the show though as it resulted in a concussion and instant migrane headache and I forgot my sweater when I left, bummer!
In any case, it was action-packed! Enjoy the pics.
On Fremont Street, waiting for the show to start.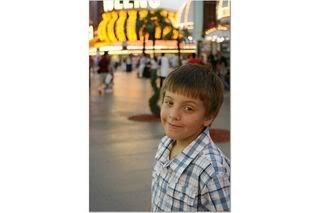 In the Ethel M chocolate lounge (isn't my bow so cute?!)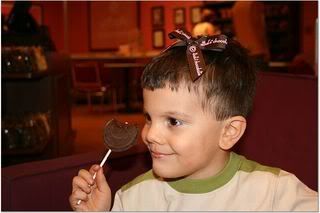 With the boys in the cactus garden