At our old place, there were two ways to walk. Either down the hill, alongside the freeway. Or up a really big steep hill to the neighborhood above. It just wasn't an ideal "walking" neighborhood. We like to take a walk as a family after dinner sometimes. It's good exercise, the kids like getting out (they usually wear their pajamas) and it helps burn off any excess energy before bedtime.
However, the
new
neighborhood is great for walking. There are dozens of directions to go including a quick 15 minutes to the library and the park. Saturday afternoon Danny was working with his uncle on some electrical stuff in the house so I took The Girl and Baby D to the park (The Boy was with grandma & grandpa).
He loves the swings!
I got to have a rare night out with my hubby on Saturday night. Seems like work parties are the only date nights we get. Bible study night doesn't count as a "date". We need to plan something with just the two of us soon!
Date night!
We all walked over to the park on Sunday after church and a quick lunch.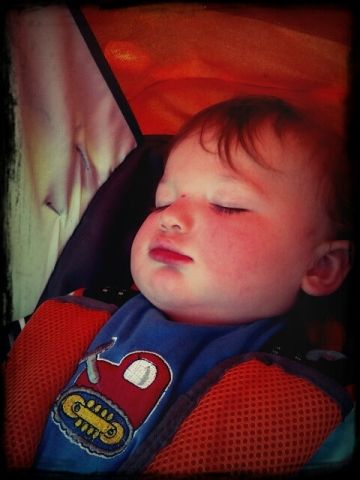 Guess who napped on the walk over?
It was much warmer but we found some shade under a tree to enjoy popsicles. We got some sun (some of us too much, as proof of our light pink cheeks today) and enjoyed the pretty day.
My handsome honey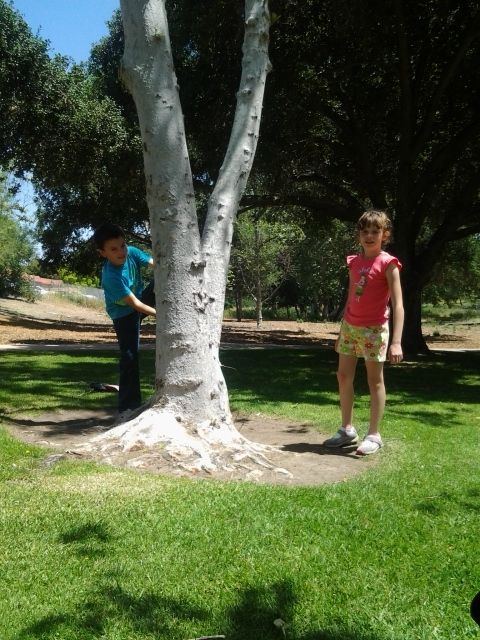 They were attempting to climb this tree but The Boy got his shoe stuck
Eating popsicles with Daddy. Oh, that hat...
The kids even ran through the sprinklers in the front yard when we got home. No pictures of that because I was on watch to make sure the baby didn't get near the sidewalk. He was having the best time though, catching the spray of water in his mouth!
I
have
to get cracking on taking "real" camera photos again! This camera phone business is handy but no substitute for nice keepable and printable memories.