First I want to share this picture of Danny's grandfather who passed away unexpectedly last Thursday. He was a very patient, kind and gentle man who took much joy in his grandchildren and great-grandchildren. He came over nearly every Sunday afternoon to visit and he'd always call beforehand and say the same thing, "Danny, I want to know if you're going to be home. I want to come over and see the baby". He will be missed.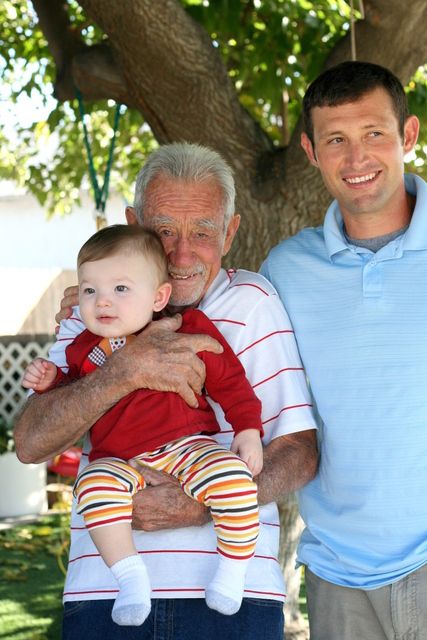 Baby D, Grandpa Al and Danny on Thanksgiving Day, 2012
Second, this apartment needs a good hosing down with Lysol. A few days after Christmas, Baby D came down with a cold and it's pretty much lasted this entire time up to now, culminating in a double-ear infection. In the midst of that mess with the previous house, I had the flu in early January. My cough is just now starting to quiet. I'm on my second round of antibiotics for an ear infection as well. The Girl came to us this weekend with a high fever, cough and runny nose. The Boy just came down with it this morning, feverish and sniffling as well. I'll be keeping them all home with me tomorrow for a day of quiet rest (ha!). More like catching up on homework, washing all the towels and bedding and oh yeah, Lysol-spraying ceiling to floor!
And now for the good news...
We found a new house!!! Our agent took us out last week and it's a very nice place in a very nice neighborhood with a wonderful view of the city from the big windows in the living room. The house has two living spaces which we are very excited about. None of the houses we'd seen had two separate living spaces so this is great. And there are two fireplaces too, that's going to be nice (yay for decorating mantles!!). My husband and I have some extensive plans for remodeling certain spaces and fixing things to our needs. We'll see how much of it we'll able to get done in a decent amount of time and how much will have to wait for years!
Looking forward to having some pretty plants in the yard
For one, I want another room added on. I had been adamant about getting a 4-bedroom house but with the inventory so limited, we opened ourselves to 3-bedrooms with an option to add on in a year or so. So in the meantime the two boys will be bunking up and The Girl will have her own room (no more having to get dressed in the bathroom!). I'm not crazy about Baby D having to be in the same room as The Boy since he's still waking once a night and I hate that The Boy will have disturbed sleep. I'm also already stressed about Legos and all the other toys with teensy-tiny parts that The Boy will have to meticulously clean up after he plays with them so his baby brother doesn't eat them!
Potential boy's room wall color
Danny's first project is going to be putting up a fence along the upper section of the back yard. There is a long staircase and two steep slopes that we need to block off so nobody slips down them. At the bottom is another section of grass and I don't know what we'll do with that other than let the older kids run free with a soccer ball.
Danny also has plans to fix up the garage and replace the drywall. There is a small alcove with a window and door in the garage that will be my sewing space so he's going to insulate that and fix it up nicely for me (a tiny spot but it will be mine-all-mine!). And I am going to design a laundry room area in the garage and a mudroom space for shoes & backpacks.
Right now the pantry is a small door in the wall with some basic shelving, but we are both wild about this idea for a pantry room re-do. We love these rustic sliding barn doors! I'm sure they are also wildly expensive but we'll figure something out...it's nice to have a handy husband!
In one of the living spaces there is a small fireplace that basically looks like a black hole. I would love to be able to do some built-in shelves on either side and build out the fireplace mantle. Fortunately Danny has a friend who is a carpenter who could do this for us.
So as you can tell, we're very excited about the new prospects! Tomorrow is the home inspection and we're aiming for 30 days (or less!) until we are in our new home. Keep your fingers crossed that February is a great month for us and that the nastiness of January is behind us, I'm ready to move onto smoother roads!