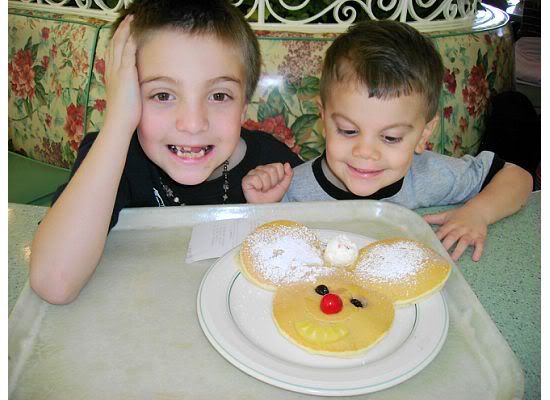 Look who's eyeballing that cherry!
I used to take my stepson to Disneyland at least once a month when we had season passes a few years ago. There were always strict instructions from his health conscious grandfather, "Don't let him eat too much
fair food
". It got to be kind of our joke because as much as I enjoy a corn dog or popcorn occasionally, anyone would know I'm not letting the kids gorge themselves on sour balls, cotton candy or churros!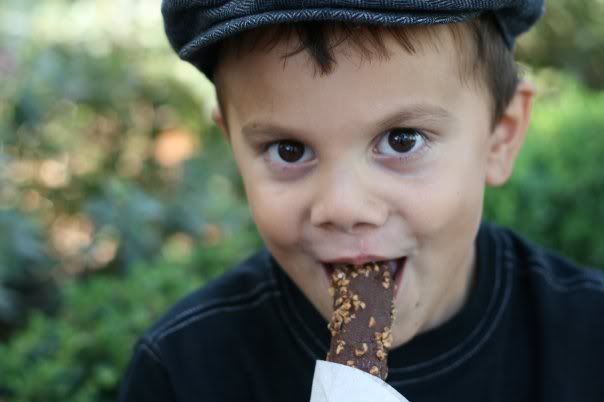 But in my opinion, a chocolate-covered banana once in a while doesn't hurt anyone!
For the most part, whenever we've gone to the Parks, for main meals we've always gotten one platter to share between me & the kids, maybe a side of fruit and taken in our own drinks and healthy snacks (like granola bars, fruit cups, nuts, etc).
This time was no different. My husband is also very health conscious so he loaded up his backpack with bottled water, powdered Gatorade to mix in, individual zip-bags of prunes, apples, trail mix, clementines, peanuts & granola bars, along with some 100%juice fruit snacks for the kids. That is the nice thing about Disneyland; they allow you to bring in your own food, so long as you follow their guidelines. And of course, use common sense. Since you can't bring in a cooler, mayonnaise-based meals or things that need to be kept cold wouldn't be the best choice. And I've lived and learned in 100 degree heat, neither do granola bars with chocolate!
Day 1:
Breakfast.
We ate at home, since we were driving up that morning. We did give the kids snacks to eat while we were walking into the park.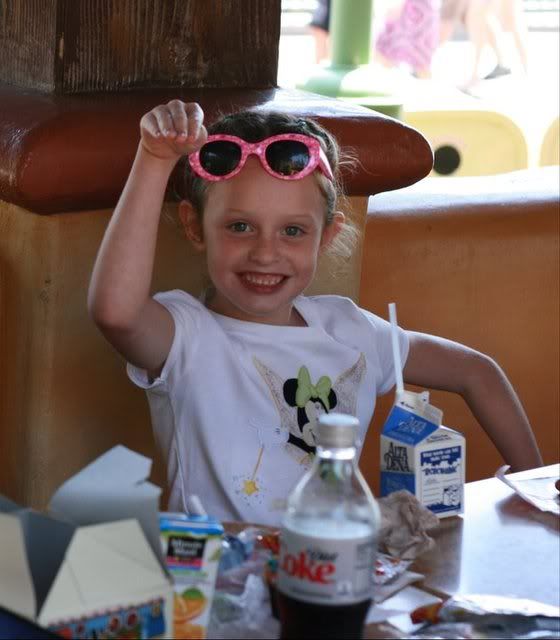 The Girl, eating her picnic lunchLunch.
I'd preordered these
World of Color picnic meals
online. They came with the meal, drink and a ticket to stand in a reserved area for the World of Color show that evening. All of the picnics are served chilled. We sat in the Sonoma Terrace area, a wonderfully shaded spot that allowed us to rest and eat quietly.
I got the All-American. I ordered Danny a Mediterranean Vegetarian, which he loved! Whew! He can be a challenge to please, but he really liked this dish. The kids each got a Junior All-American. Since we ordered 4 meals, we got a World of Color reusable tote, which is so nice.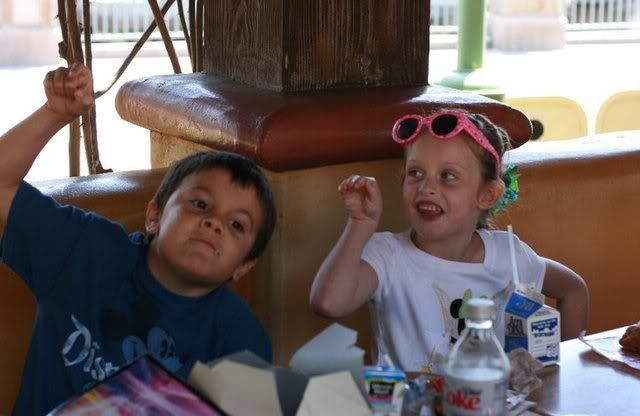 I'm not sure why the kids are always posing like Egyptians lately...Dinner.
Our hotel, the
Park Vue Inn
offered a free social hour with our booking, so after checking in, we went to see what was available. Apparently they change the offerings daily, but when we went there were two kinds of soup, a simple green salad, mini breaded chicken patties with buns and condiments to top them with. Simple. Satisfactory. And best of all, free!! We ate up and went back to the hotel room, where we found a complimentary gift basket for us that included wine (you can change that out for apple cider in the lobby) and fresh fruit. A very nice touch! We packed up the fruit and took it back with us to the park.
Day 2:
Breakfast.
Another free meal provided by the hotel. This time there was fresh fruit, cottage cheese, juices and milk, make-them-yourself waffles, bagels, toast, pastries and doughnuts, hash brown patties and sausages. Wow!
Lunch.
We stepped off the train late-afternoon in New Orleans Square and my husband spotted the clam chowder in bread bowls and he was sold on eating at
The French Market.
I was good with that and knew just what I wanted: The citrus chicken, mashed potatoes, steamed veggies and the cornbread! I regret not taking a picture of this beautiful dish but well, I was hungry and the food was soooo good!
Danny shared the soup and salad combo with The Boy. I pulled off some chicken meat for The Girl and she happily nibbled on steamed carrots, chicken and the top of The Boy's sourdough bread bowl.
I nearly licked my plate, the food was absolutely heavenly, especially the potatoes! At $13.49, this is honestly comparable to what you might pay at a restaurant anyway. And I was
full
when I was done, despite having shared. Danny & The Boy didn't even finish eating their bread bowl, they were both stuffed. After eating we sat for a bit, admiring how well staffed the dining area was with Disney employees. We were instructed to leave our dinner plates and silverware on the table, the employees would quickly bus the tables and clean them off for the next guests.
Dinner.
We left the park around 6 and drove out a bit before stopping for dinner at Panda Express.
So really, we only purchased two full meals in the park, which ran us less than $100 for two days. With the free meals at the hotel and supplementing in between with snacks we'd brought, it was quite a bit less spent than we'd expected. The Picnic lunches were pricy but also included the World of Color pass, so we didn't have to stand in a Fastpass line to get that ticket to see the show.
I'd like to direct you to the All Ears website, which keeps updated
Disney dining menus
for all of their eateries. I've found this to be extremely helpful when budgeting for a trip or when figuring out who-wants-to-eat-what ahead of time.
These are photos and thoughts from previous trips:
There are select full service restaurants. The Blue Bayou is always a treat but I've always enjoyed Cafe Orleans ("Mickey" shaped Beignets!).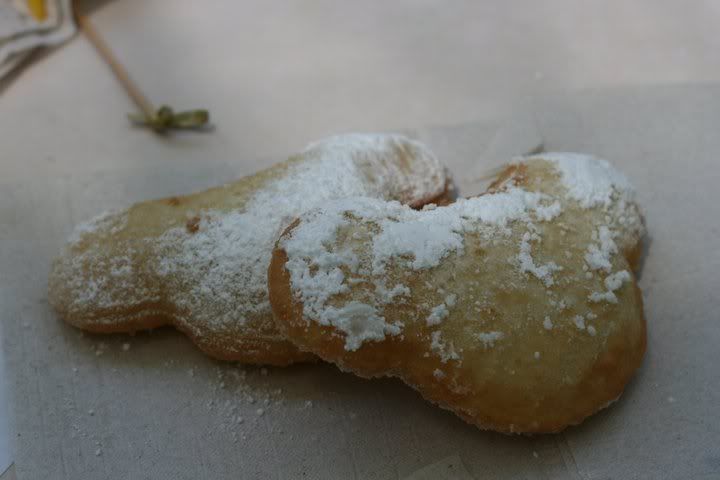 Counter service varies from location to location. For instance, at the French Market and at Rancho del Zocalo, though you self-serve your food (cafeteria style), you are served on a real dish with real flatware and someone will bus your table when you are done. However, at other places like the Bengal Barbeque or the Golden Horseshoe, your food is going to come in either paper or plastic with plastic flatwear and you'll be responsible for clearing your own table when you're done eating.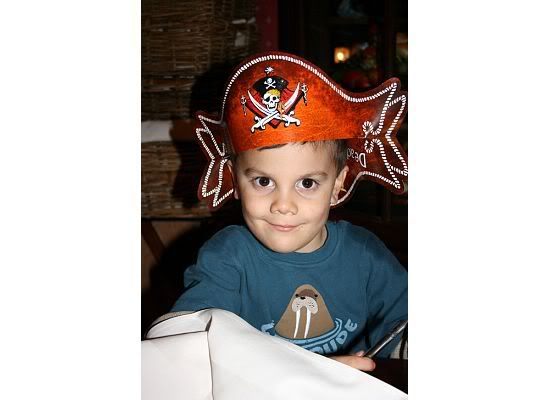 Crowned with a pirate hat during dinner at Cafe Orleans
For snacks, you can't beat the Little Red Corn Dog Wagon (they are best ever!), the Gibson Girl ice cream parlor on Main Street (if you can get a seat) and the Mint Julep bar (where they also serve "Mickey" shaped Beignets).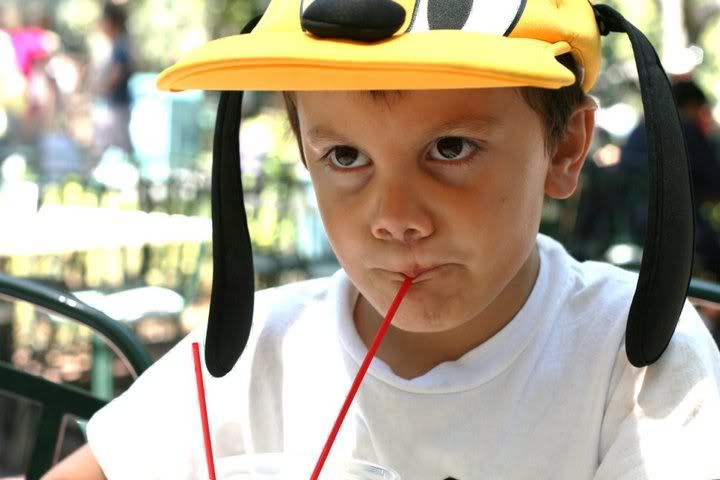 Slurping down a mint julep
Of course the Tiki Juice Bar is unbeatable for Dole Whips, if you don't mind waiting in the line that takes FOREVER!!! Over at California Adventure, you can get a margarita or a cold beer over on the wharf, too.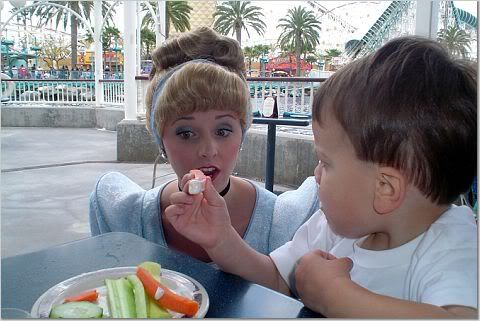 Offering Cinderella a ranch dressing coated carrot
For character dining, we've done quite a few of these but not for a while. The most recent was Goofy's Kitchen which is in the Disneyland Hotel. Talk about a buffet! If you can't find something to eat there, well....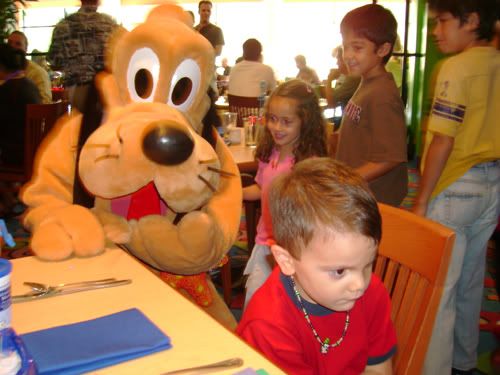 Ignoring poor Pluto at breakfast
Up next, what else is there to do beside go on the rides and eat fair food?