We do 95% of our eating with food cooked or prepared at home. Though I love a good restaurant meal (heck, even fast food burgers or taco shop dining is a treat for me!), my husband prefers to eat meals that we have carefully made with ingredients at home. And I have to agree that a well-cooked meal is much more enjoyable for leftovers at lunch the next day than those tiny frozen "dinners".
We serve everything on dishes instead of paper plates and use cloth napkins instead of paper towels. It's different than living with my parents. I mean, I might have used a paper plate in the past to make a sandwich for lunch but a steak dinner on paper plates...nope, that doesn't work for me.
Real dishes for each and every bite at home make the food more real & less "snacky" to me. And cloth napkins elevate dining at home to a special level. I have so much fabric (really, you have NO
idea
how much fabric!) and some of the prints are just perfect for home decor. I thought I'd start off with making some cloth napkins and then perhaps place mats and a table runner at some point.
I have these two of my favorites...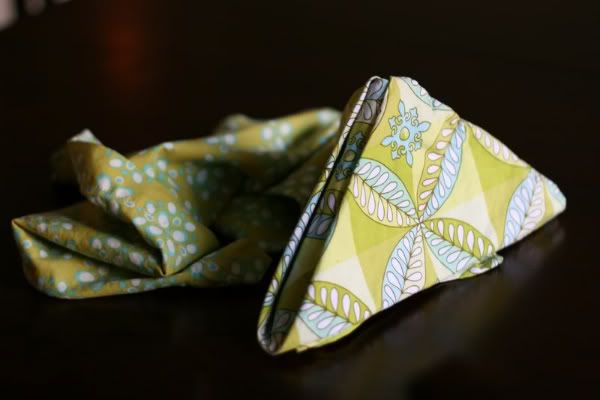 Sandi Henderson on the left and Paula Prass on the right
Heather Bailey has a perfect (free) tutorial for making cloth napkins on her website,
HERE
.
I put a set of four together in this green and yellow color combo on a weekend afternoon and we used them for dinner that night. Most of the time is spent pinning the hems. The sewing goes together simply, just straight edges.
I learned how to do a few interesting cloth napkin folds by carefully unfolding and studying restaurant napkins. Here is an online tutorial from
Martha Stewart.
.
If fancy folding isn't your thing though, you can just use simple napkin rings to slide the napkins through.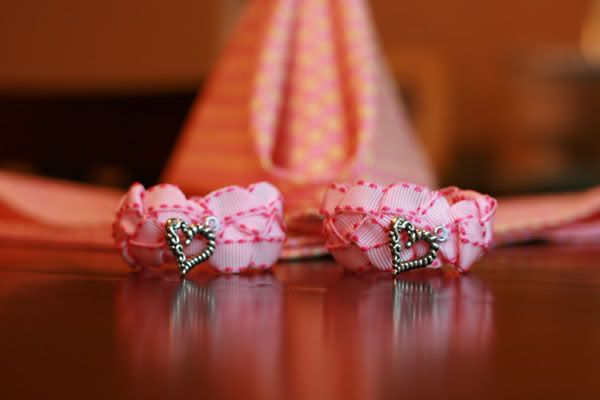 Polish off the look with these pretty ribbon napkin rings in this tutorial, also from
Martha Stewart.
But if the sewing machine is still foreign to you, I do have these pretty pink and yellow dotted napkins available for purchase in my
Etsy shop
, along with sweet braided ribbon rings that I accented with heart charms.