Another week and I'm still having issues with Photobucket not resizing my images. *sigh* Wish that I had actual time to look into it but alas, I just keep on truckin' and it's more camera phone pictures. They aren't that bad, right? (don't answer that).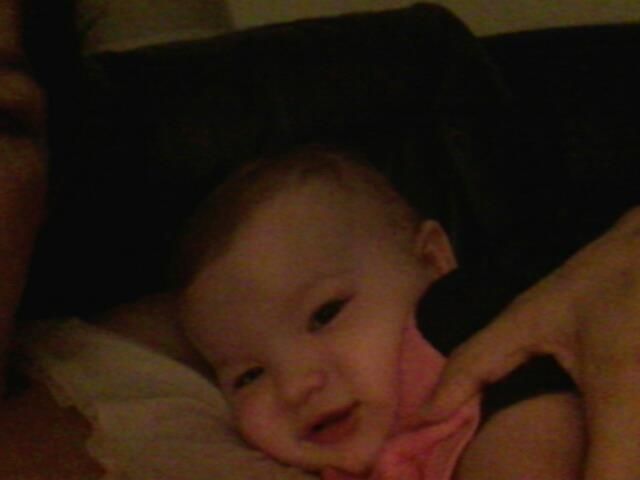 Sick snuggly baby
So, we had a bit of drama a week ago today when I spent the night in the ER with Baby D. He had been running a high fever all week, lethargic and was denying food and drink. Didn't expect that when I took him to his appointment at 8pm that I'd be rolling out of the emergency room at 6am but that's exactly what happened.
Fortunately all is well now. The doctors withdrew blood (low white cell count was their only concern), put in two bags of fluid via IV, took stomach x-rays and there was much crying (from him, not me. Though it's very hard to see your baby in pain, that's for sure). After much poking and prodding, we schlepped home completely exhausted and napped all day.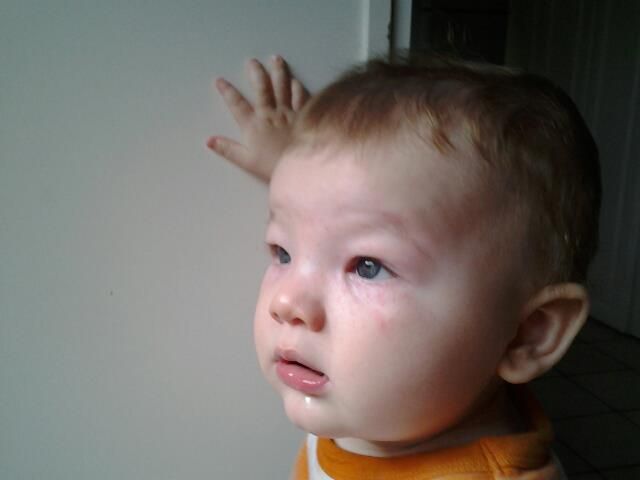 Rash face
It really does take a few days to recover from that kind of thing (for both of us!). He broke out in a rash over the weekend and I realized that he must have had roseola, same as his older brother around the same age.
But all is well now. He's back to eating everything in sight and has slept through the night all week. Yay!!
My husband has been slightly obsessed with
quiche
, of all things. We went to a party a few weeks ago and despite weather hovering near 100 degrees, he wanted to bake a quiche. I've never made a quich in my life, but I found this
quick and easy recipe
online and he said it was delicious.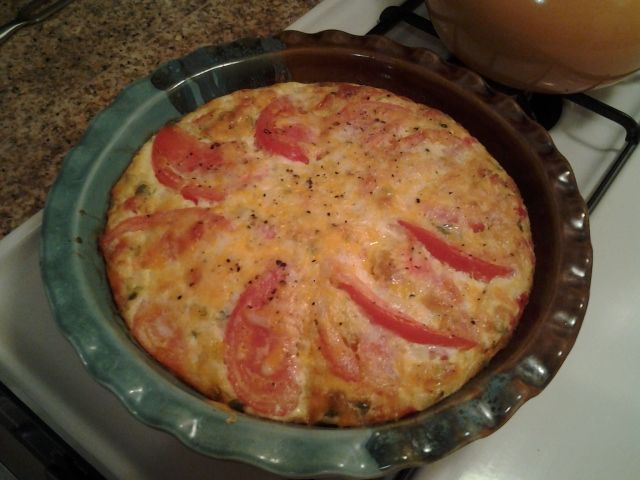 Mexican style quiche with sweet peppers, ham, cilantro and tomatoes
I baked him one last night on a whim because we had all the ingredients. I don't like eggs so quiche isn't my thing but it did
look
pretty with the sliced tomatoes and cracked black pepper on top. Danny said it was good too. Too bad the rest of us don't really like quiche because they are pretty easy to make and once you get the hang of the balance of eggs/milk/cheese/extras you can throw whatever combination you want in there. I think I'll have to try one with asparagus next time.
Seriously, does anyone else have big kids that insist on riding in the shopping cart? I told him this was the LAST TIME EVER and we took a picture to capture the moment so that he'll never feel compelled to climb in there again!
So embarrassing, pushing a 4'3" kid around in the cart!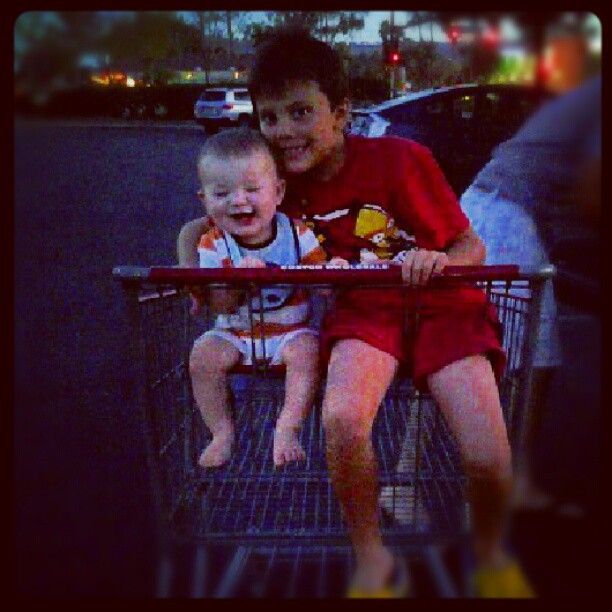 Nothing new on the homebuying front. We are working with a broker on financing so it's going to be another month before we hear more on that issue. But it's not stopping us from looking at what is available online (Zillow and Ziprealty) and I've been Pinteresting furnishings for our future dream home!
Love the mid-century modern style of the chair
I imagine lots of lovely chats in this gorgeous outdoor space
Not that we'll likely be able to afford to actually newly furnish this place once we get into it, but a gal can dream. That's what Pinterest is for, right?
And at the very least, how great will it be to have some color on the walls?