Day 3, our last day before heading home. Once again, we were up at 6am to get there for Magic Morning Hour.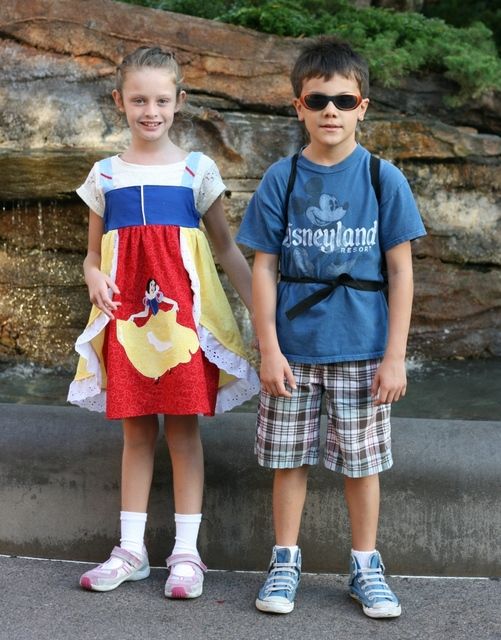 Pausing in Downtown Disney for a photo op. The Girl is wearing a Snow White dress I made for her.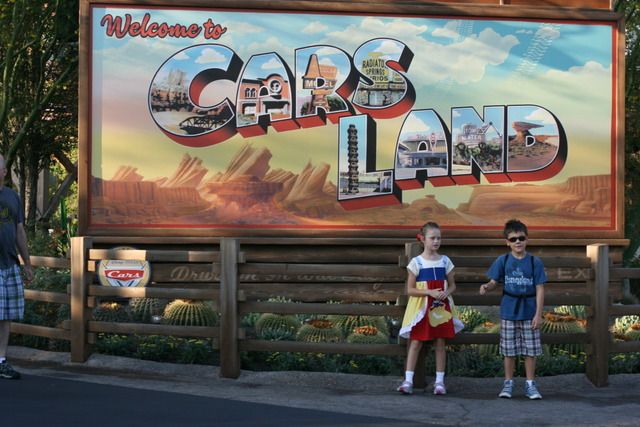 We headed straight for Cars Land, along with everyone else, walking through the beautifully redone front entrance at Disney's California Adventure.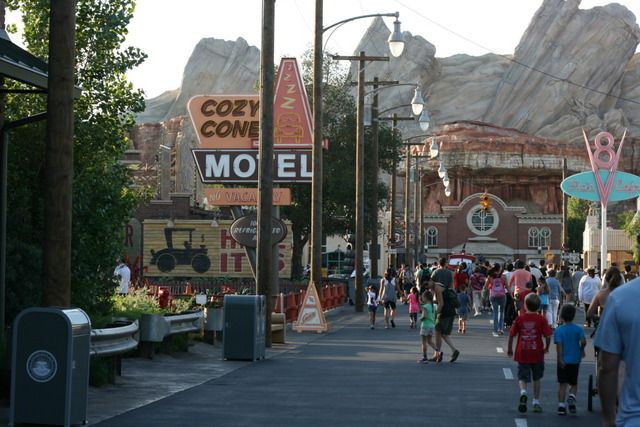 Just like walking into the movie!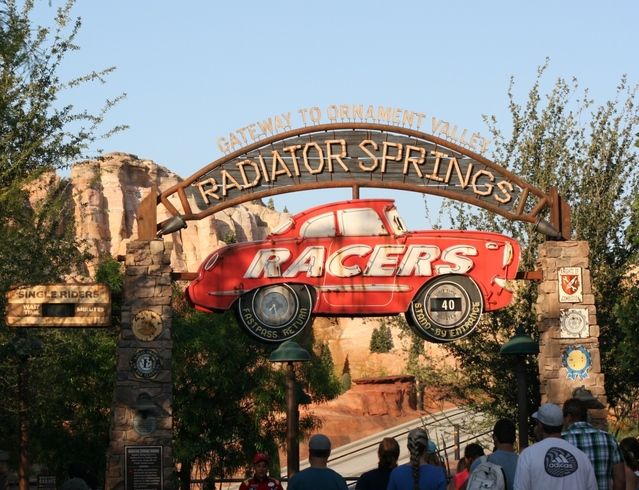 We waited about 20 mins for the Radiator Springs Racers and then did Rider Swap and I was able to go too. It was really clever and so much fun! They rode it once more at the end of the day (thanks to the Guest Assistance Card, otherwise the wait was 90+ minutes and there was no way The Girl would have been able to handle standing in line that long).I had intended to take a photo of my family coming over the hill in their racer but just as they were coming, Baby D knocked his snack case off the stroller and it hit the ground and all the little puffs and Cheerios scattered. No kidding, there was a guy with a broom and pan there in less than a minute to clean it up! I love Disneyland!!
There are some really lovely touches in this area. First off, the mountain range is incredibly realistic! Especially as the evening came on and the sunlight was hitting it.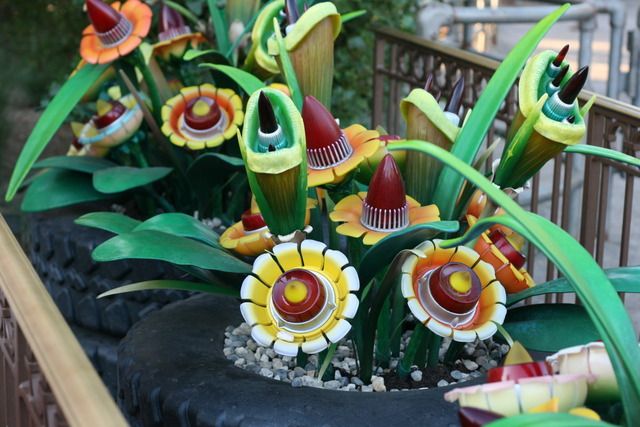 Look at the details on the "flowers" in these planter boxes!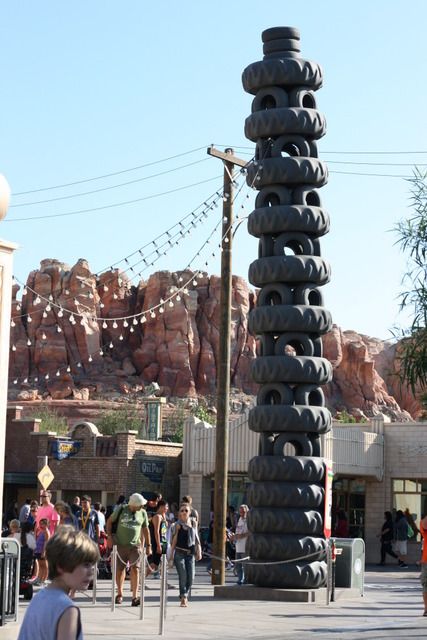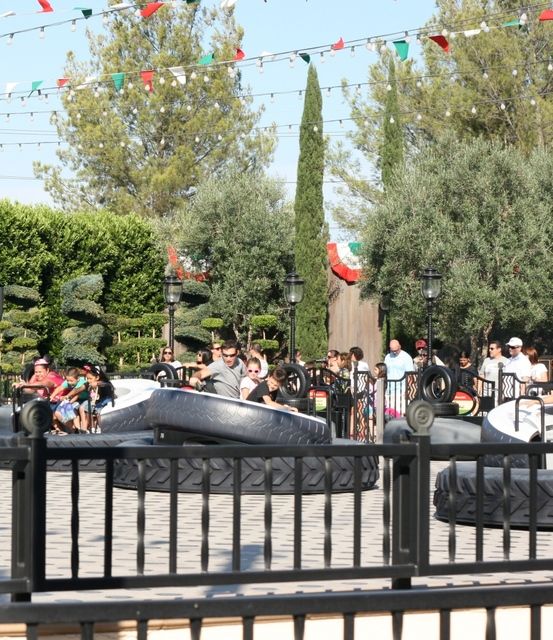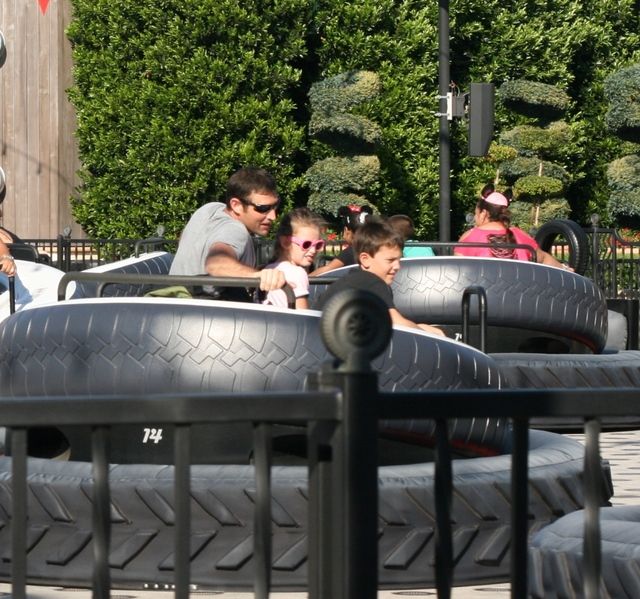 On Luigi's Flying Tires, where they had to lean to move their bumper tire around the floor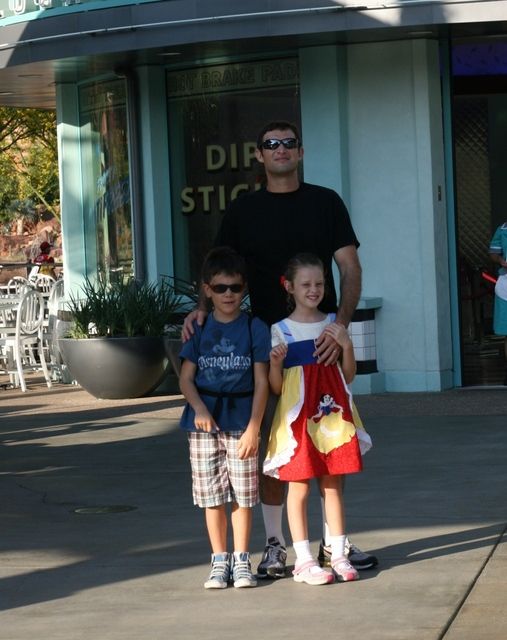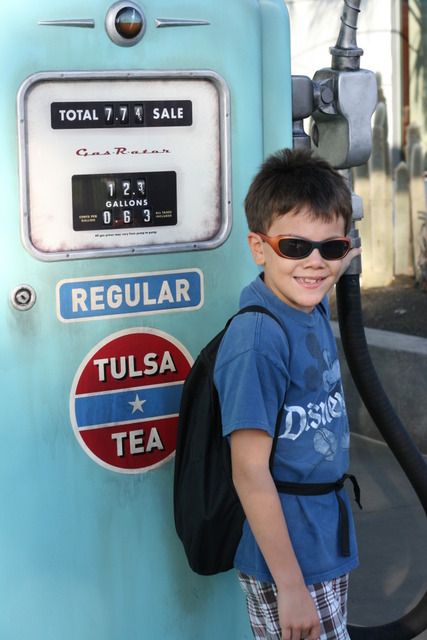 Pumpin' gas at Flo's
I would have liked to have been able to stay until night at the Park so we could see the neon signs all lit up, but unfortunately we had to leave around 8pm so we could drive home for school & work the next day.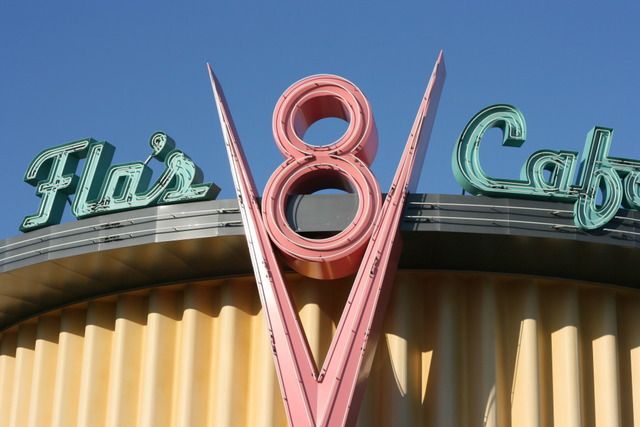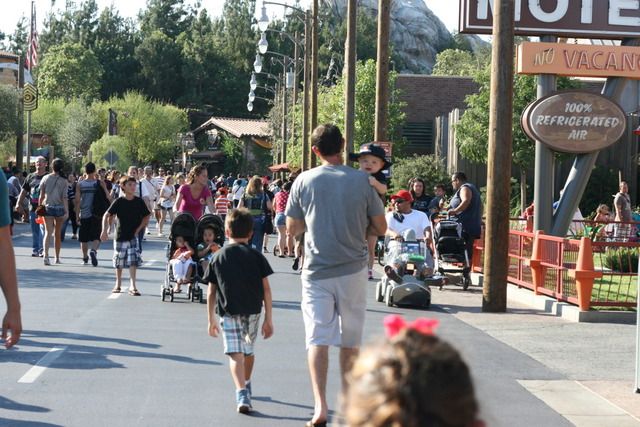 After Cars Land, we wandered through Bugs Land for a ride with Baby D, then over to the Tower of Terror, which The Girl rode with pleasure (last time she would have nothing of it!). Can you tell the family in front of mine knew when the camera would snap the picture?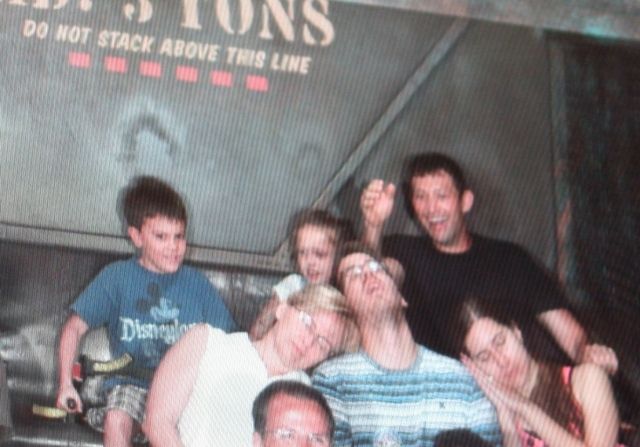 Our attempt at a family photo in front of Mickey's Fun Wheel was a fail, the guy didn't focus the camera properly...oh well!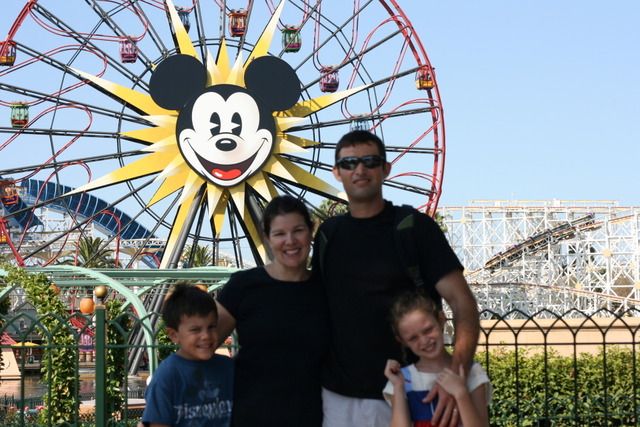 The Girl would NOT ride California Screamin' this time so Danny and The Boy rode first and then I went with him. He was actually very nervous because last year he literally passed out!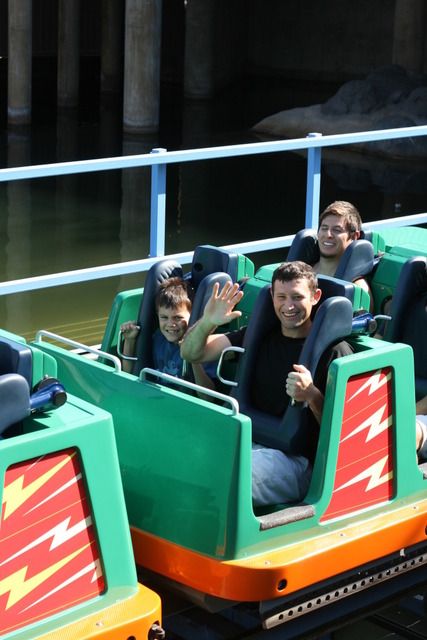 But this year, he came bounding off and wanting to ride again. He tried in vain all day to get The Girl to ride too.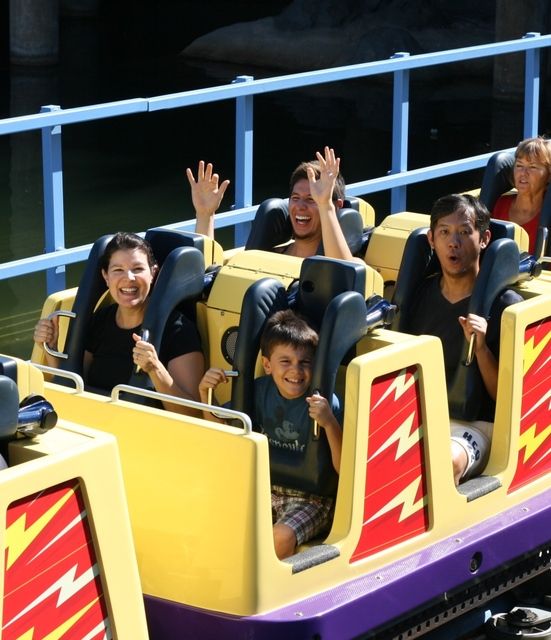 We had to check out of the hotel at 11am so they did one more ride before heading back... Grizzly River Rapids!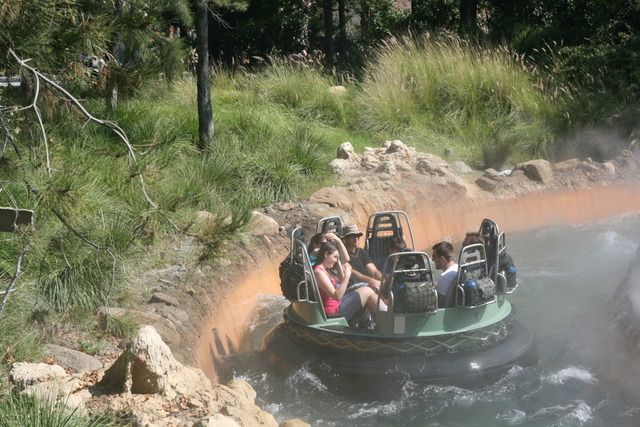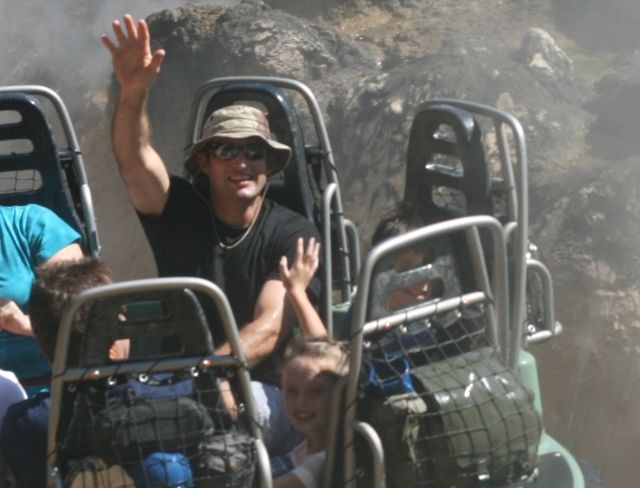 Of course they were all sopping wet, which was nice on the 90+ degree day.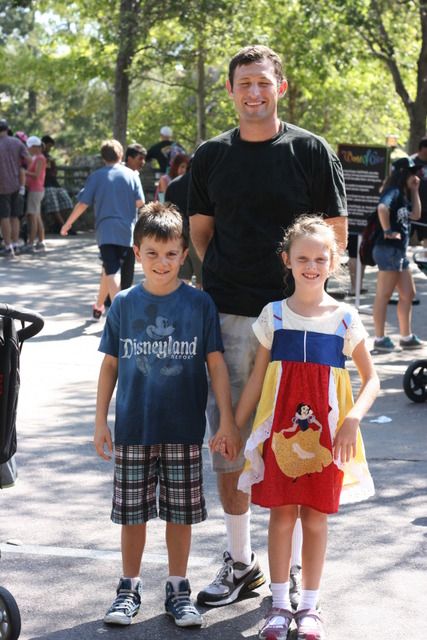 After a hasty packing job we were pool bound. The kids cracked up when we took off Baby D's black onesie and the fuzz under his arms looked like hairy pits!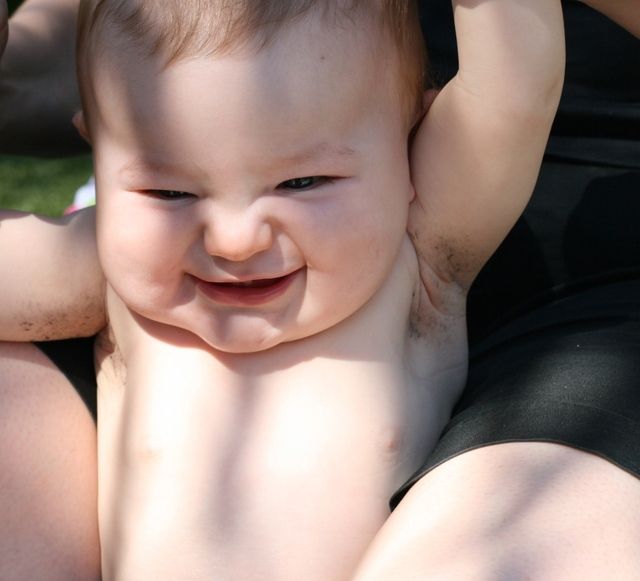 I stayed on the lounge and watched Baby D crawl around and drank a lovely Pina CoLava in the shade while my family enjoyed the slides and cool water.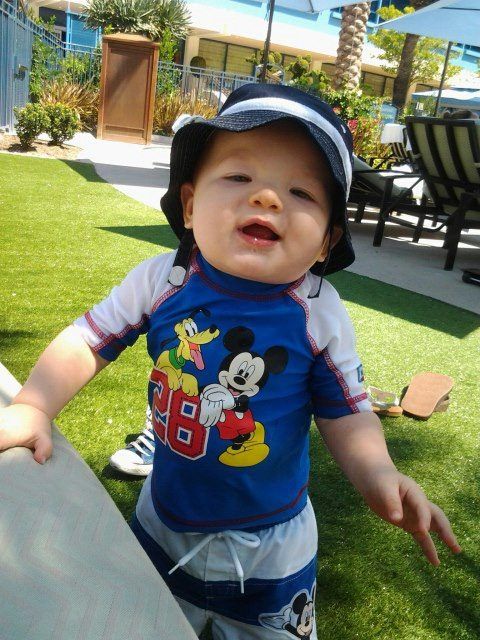 Looks like they were alone in the pool but I think I just got lucky on these shots because there were plenty of other guests.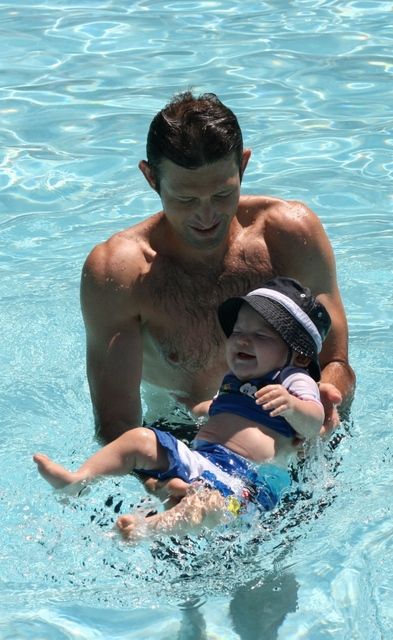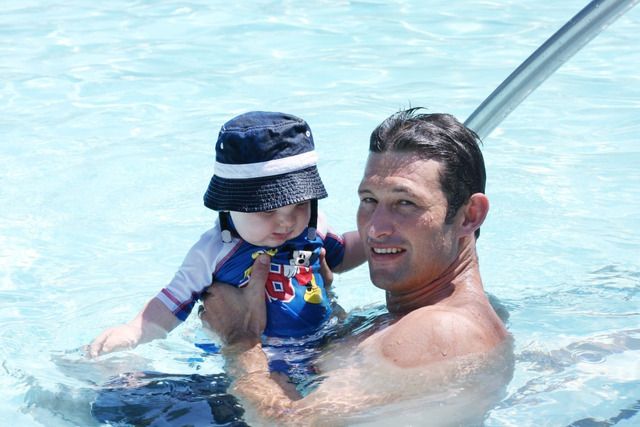 Hello, hottie!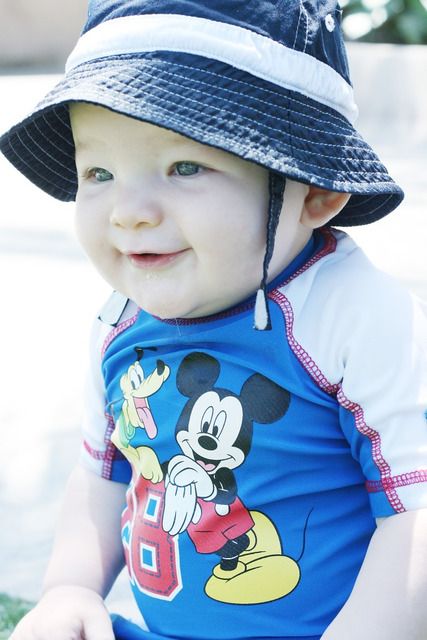 And hello, cutie pie!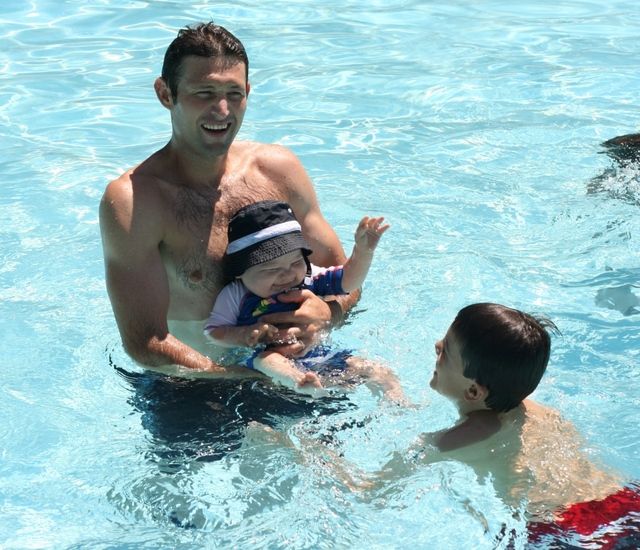 A change into dry clothes and we were back in the park, ready to finish out the day.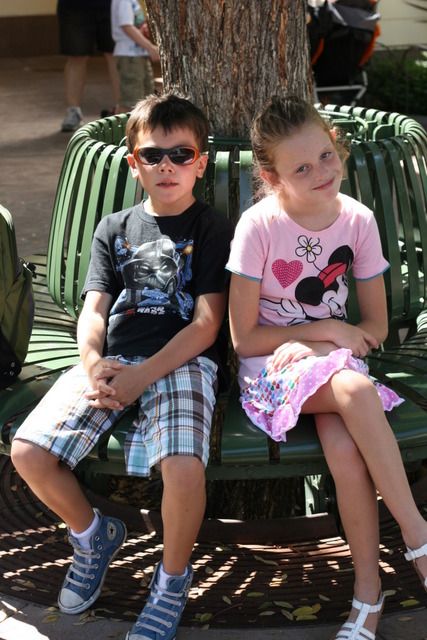 The kids rode the Jumpin' Jellyfish, we took a spin on Toy Story Mania, Little Mermaid and the herky-jerky Goofy's Sky School, which was more frightening than it looked!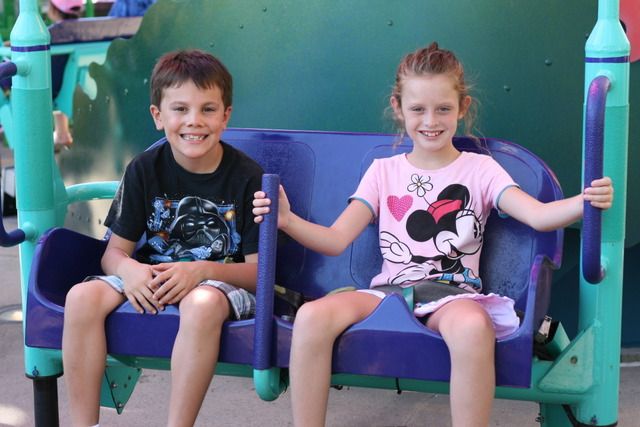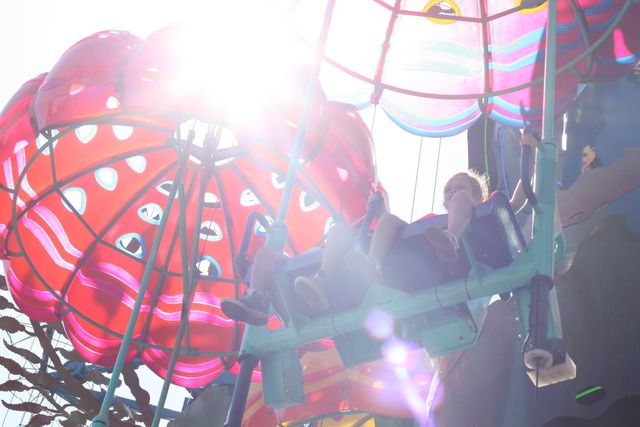 My husband can be a real grump sometimes, even he'll admit it, but I love these photos of him laughing and enjoying the moment. And every time he spotted me with the camera, he'd throw out a wave!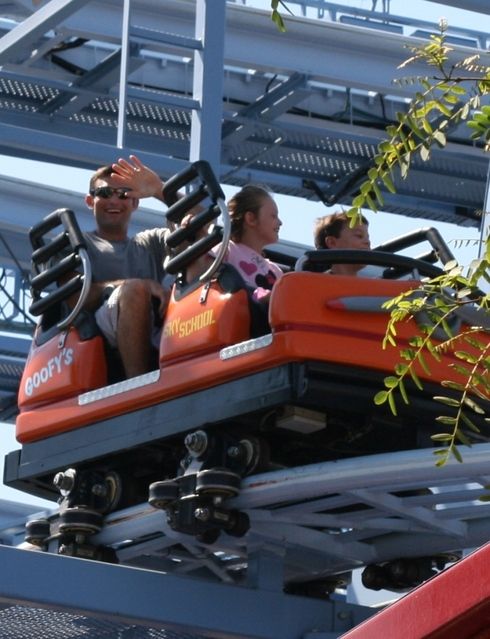 And when it comes to putting a smile on his little girl's face, he'll even pose with Mickey's teddy bear Duffy. That was The Girl's choice of souvenier at the end of the day as well, a big Duffy bear.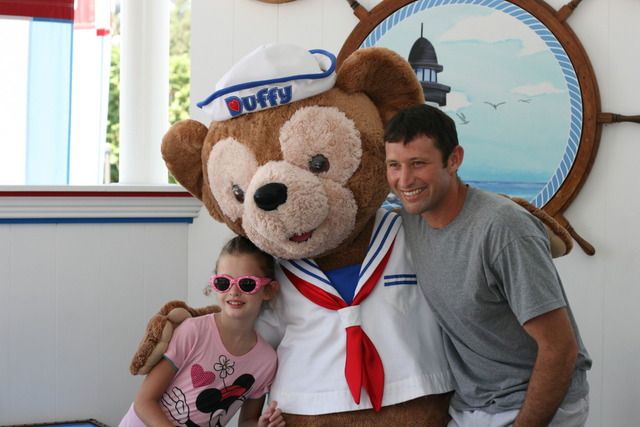 Before heading out we bought a variety of dishes from the Boudin Bakery Cafe and shared, including this giant bread bowl that had been filled with my apple and walnut salad.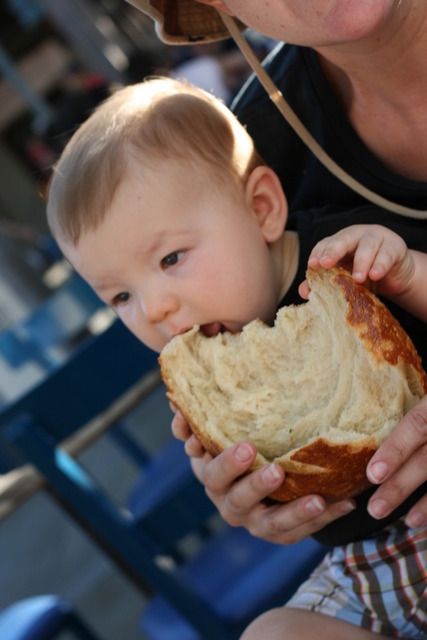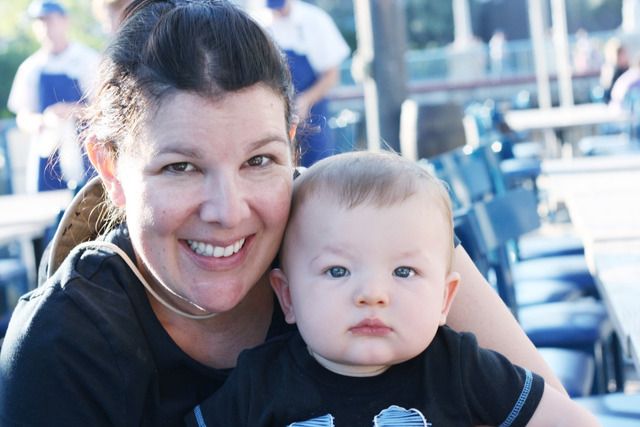 Bad hair day (for me)
Goodbye Disneyland and Disneyland Hotel, hope to see you again real soon!