Yesterday was my parents 38th Wedding Anniversary. 38 years ago my dad had just completed the Police Academy and my mom was a switchboard operator. They got married in the Catholic church across the street from my grandparent's house. According to Mom it was a very
very
hot day, over 100 degrees. She wore a borrowed dress and her sisters were her bridesmaids (in avocado green dresses with sunshine yellow flower bouquets...ahh, the 70s!). I've never seen my dad without a mustache but on his wedding day he was completely clean-shaven...what a handsome guy!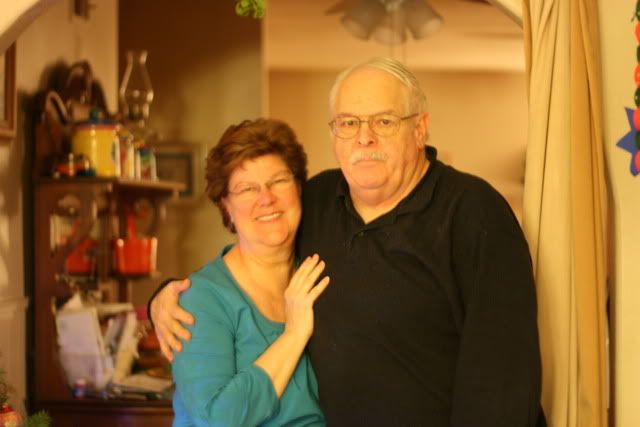 Christmas 2009
Yesterday was probably a near flip-flop of weather than they had 38 years ago. It was warm yesterday, but we had continuous thunder and lightening all day with bursts of heavy rain. I can't even
tell you
how long it's been since we had rain here!
We celebrated their anniversary last night with dinner out for Chinese food. My brother and I chipped in and bought them a silverware set. They have a serious fork-shortage in the home and I knew it was a practical gift they'd really appreciate!
So, for the FIVE FOR FRIDAY today I bring you some very special, personalized anniversary gifts and mementos.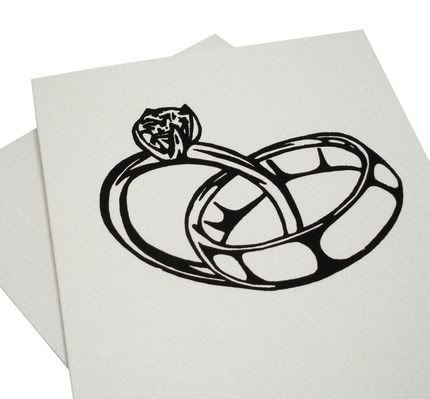 ORANGETWIST
This original screenprint linked rings card is lovely for an anniversary, wedding or engagement. Their shop has some very lovely modern cards for all occasions!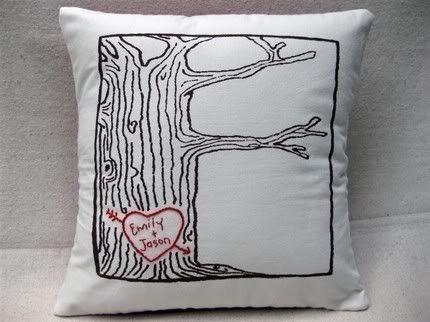 COZYBLUE
Since my honey & I met under a tree, this personalized tree pillow is especially sweet to me. In a vintage feel but crafted in fresh and modern colors, the design and handstitched details are just so classic.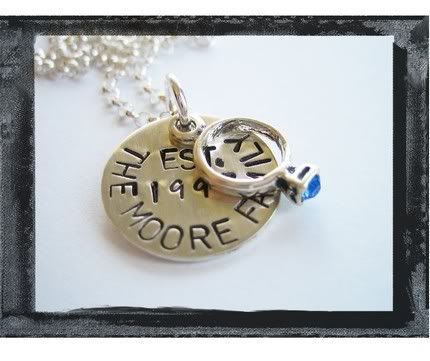 LILLYELLENDESIGNS
The sterling silver disc pendant will be engraved with your name and wedding year, along with the cutest little wedding ring charm in the birthstone of your wedding month.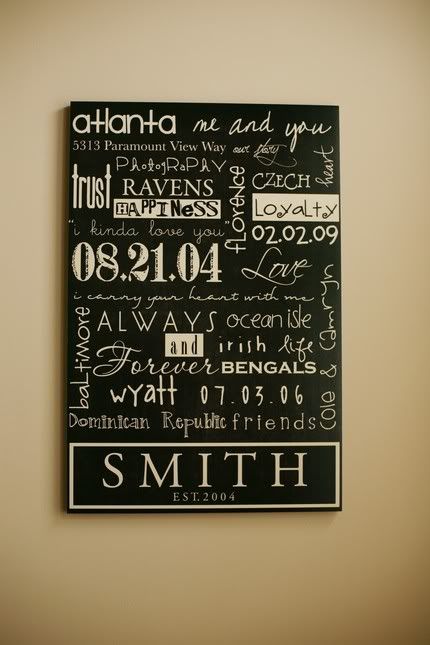 SMITHSTREETBOUTIQUE
Wow, what a wonderful statement piece! So incredibly detailed with a personalized story of you both. Provide the shop with a list of information and they will create a one-of-a-kind design just for you. Available in both a matted version or print, both of which are very affordable for something so special.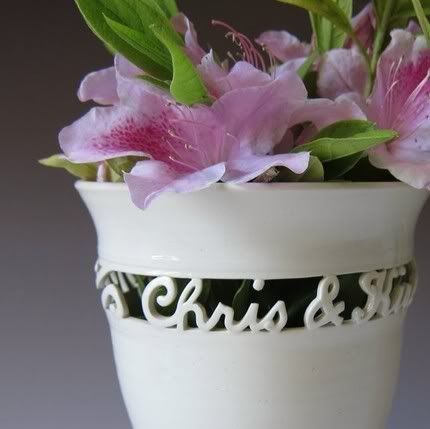 MAIDOFCLAY
And finally, an heirloom-worthy piece is this heavenly ivory colored vase, hand carved with the couple's name and wedding date in romantic cursive script. Just as lovely with or without flowers!