Forgive the phone photos, my nice camera cord is still packed in a box.
This kid will be 15 months old in a few days.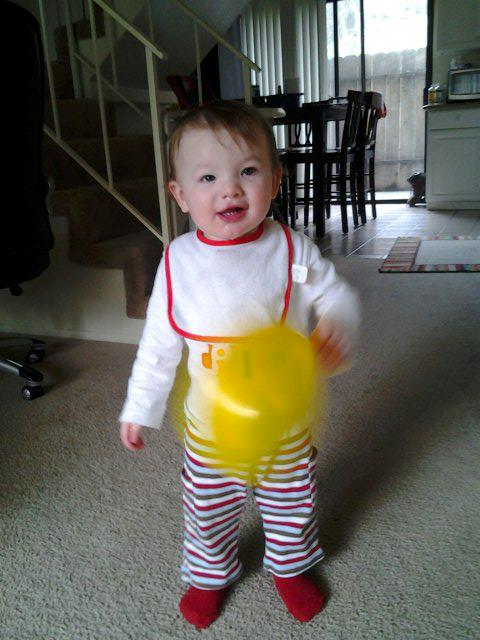 He's at that age where he's enjoying a bit more independence like a toddler but still requiring all the same baby stuff too like the bedtime bottle of milk and lots of mommy snuggles in the middle of the night.
He's still drooling like crazy. But he did bust out two molars last month and there are two more that look like they are ready to come in on the bottom.
He's developing quite the vocabulary. He says book, ball, butterfly, bowl, bottle and banana (of course, to your ear they would all sound like "ba!" but to my discerning ear, I can tell the difference between each one, ha!).
Really though, he's talking well and most everyone understands when he says, hot, lamp, Dad, up and Grampa. He impresses me daily with the words that he attempts to say. "Pthoeey?" Yeah, that would be cookie!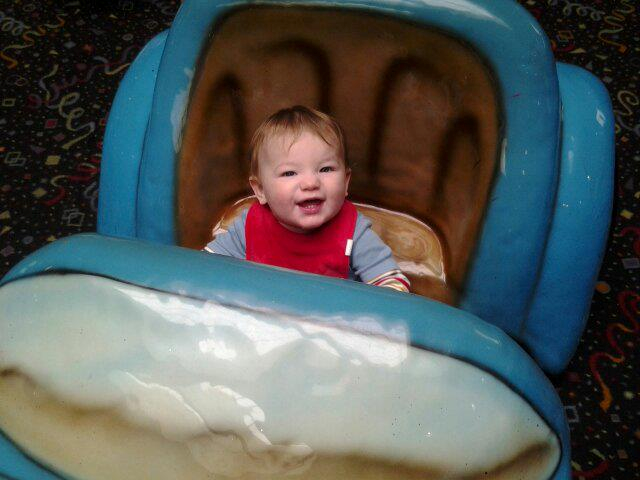 His favorite things of the moment:
Butterflies. If he sees anything that looks remotely like a butterfly or even just a flower, he weaves his fingers together and sways his arms over his head, a'la a butterfly.
Elmo. Sing him "Elmo's World" and he's a happy guy. I have Sesame Street wrapping paper lining the drawers in his dresser (way back from when The Boy was a baby) and he wants the song sung every time I open the drawer!
Books. Wants to sit on our laps and flip the pages. Usually he'll flip through quickly the first time and then want to go slowly back through the pictures one at a time. Actually having you
read
the words is optional. His favorite board books are "Goodnight Moon", "The Very Hungry Caterpillar", "Dear Zoo", "Jamberry" and "Hug". He's discovered large grown-up books lately too (like my Bible study book "Soul Revolution" and "What to Expect in the Toddler Years") and has figured out how to quickly thumb the pages so they fan and make that great zippy noise. He sat for about ten minutes this weekend just thumbing the pages over and over (the corner of my book is a bit dogearred now, no biggie!).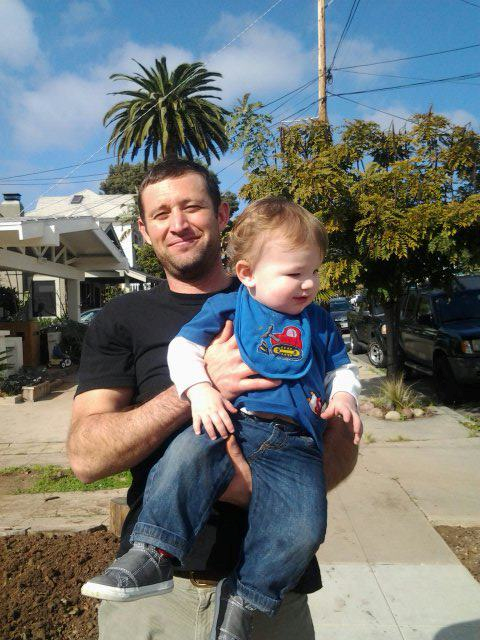 Electronics. Any chance he gets he's running away with the TV remotes, cell phones and calculators. I have an old calculator that I allow him to play with and he pretends it's his phone, running around the house, yelling, "Dad!! Dad!!".
Cookies (or pthoeey!). I recently made oatmeal chocolate cookies and he always knew
exactly
where the container was in the kitchen and would request cookies all day!
Helping with laundry. He knows how to push the wet clothes into the dryer and pull out the dry clothes and put them in the basket for me. Yeah, he still throws everything out of the basket and tosses them around the room instead of helping me put away into the dresser but we're working on that!
Animals in particular dogs and cats. We sat together and watched an entire episode of "Too Cute" together with baby puppies, he loved it!
Running free. Of course!
Bath time, but really he just loves the splashing. What a wet mess!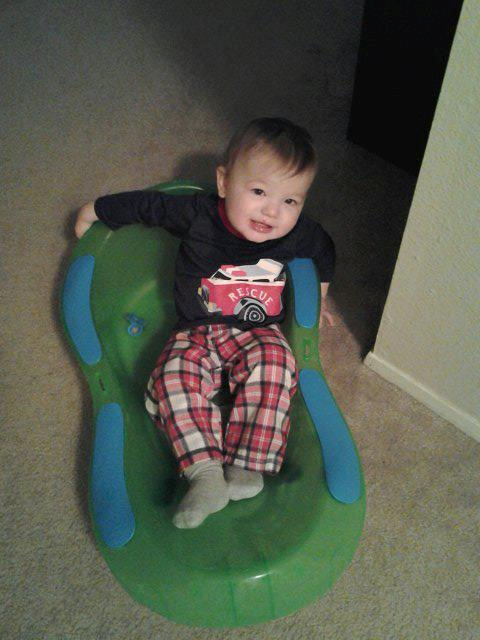 He pulled out the tub and climbed in, hint hint!
Not a fan of...
Changing his diaper. He's flipping over, grabbing the diaper away, grabbing his crotch and generally just trying to get away at this point.
Getting in the car seat. He's not the greatest traveler. Looking forward to when I can turn the seat around and he can see where we are going instead of facing backwards with his feet scrunched up.
Food. He must not be going through a growth spurt at the moment because he's not much into eating lately. Most of what is served ends up on the floor.
He does however enjoy a peanut butter and jelly sandwich!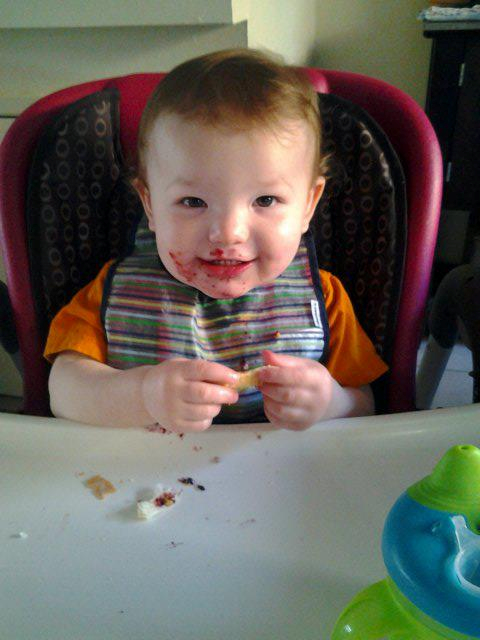 Having things taken away from him (like those electronics he steals). He's learned the art of the meltdown already with the thrashing, head-tossing tantrum. Fortunately they are short-lived and he's easily distracted. But man, the boy can
shriek
!
Last but not least, I just have to share this beautiful handmade Valentine from The Boy. I adore every inch of this. His detail and creativity have me in awe.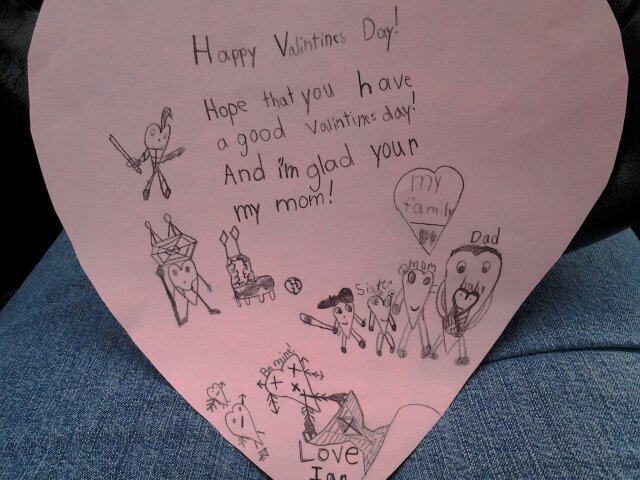 In the midst of all the craziness of the last two months, these two lovebugs have been the glue holding me together!