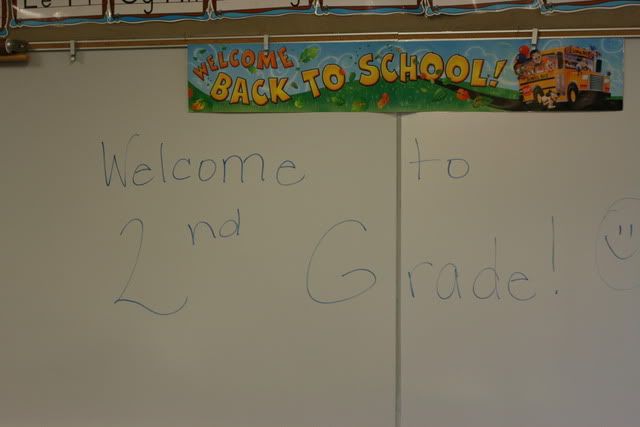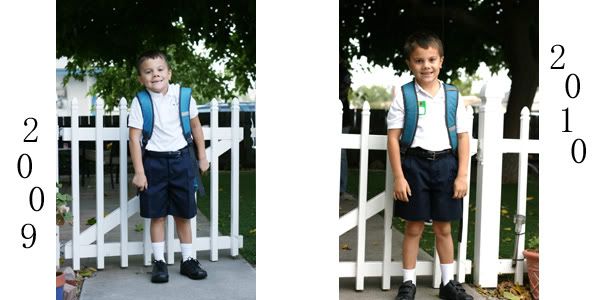 Kindergarten & First Grade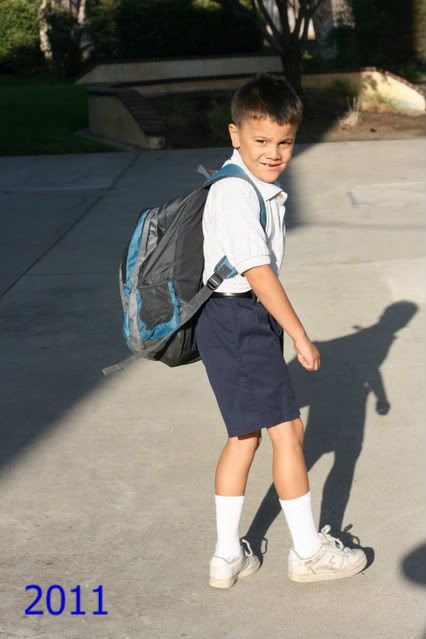 Our proud Second Grader! I'll have to get a photo of him next to Grandma's fence for a height comparison.
So, The Girl started school about 2 weeks ago but The Boy just started yesterday. They don't go to the same schools. He attends a Catholic school and she goes to a public school with a program for special needs children. The Boy's school is about 7 minutes from our house in one direction and The Girl's school is about 15 minutes away from our house in the opposite direction.
What does this mean for me in the mornings?
It means we leave the house almost an hour before I have to get to work so I can drive them both to their respective morning care programs. The Boy is able to run inside by himself but I actually have to street park and get out of the car to sign The Girl in each morning. This calls for us to wake at *yawn* 5:45 am each morning. I'm already cringing at the thought of adding a baby to the mix early next year!
A few weeks ago I'd mentioned that I was going to start
streamlining the morning routine
to allow the kids more independence and the ability to do for themselves.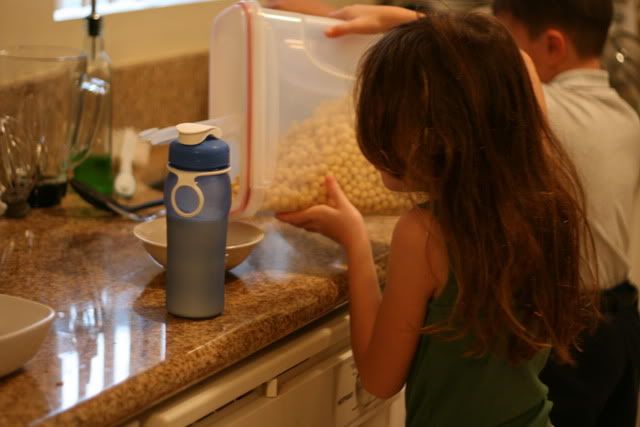 Fixing her own cereal (obviously, previous to brushing her hair!)
The Girl made her own bowl of cereal. I purchased plastic bowls from Target and have them in the dry food cabinet. I poured milk into a smaller bottle so she doesn't have to wield the full jug of milk. However I don't think she poured herself enough cereal today because she was done eating before The Boy and that never happens! I think I'll start portioning out the cereal into baggies and she can get her serving from there.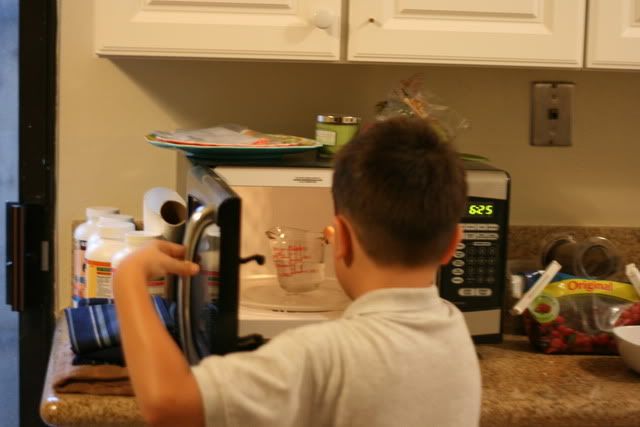 Heating up water for oatmeal
The Boy loves oatmeal so I taught him how much water to put in the Pyrex measuring cup and which button to push on the microwave to heat it. The handle doesn't get hot so he's able to get it out by himself and pour the water into the bowl with the oatmeal. Right now we still have some Quaker Oat packets so he's using those but when those are gone, I'll be creating various oatmeal packs with dried fruit and brown sugar mixes of our own.
#4 PROBLEM - TRUSTING THEM ENOUGH TO PUT ON THEIR OWN TOOTHPASTE
They are now able to get their teeth brushed with minimal mess (The Girl did drop a big blob of pink toothpaste on my bath rug yesterday). I purchased them two different types of toothpaste so it's very easy for me to know
exactly
who made the mess and who didn't rinse out the sink after spitting!
I'll show you on other day how I tacked the remaining problem on my list, ALLOWING THE BOY TO MAKE HIS OWN LUNCHES.
I had the day off on Monday to be with The Boy on his first day so we actually dropped The Girl off first and then went to The Boy's school.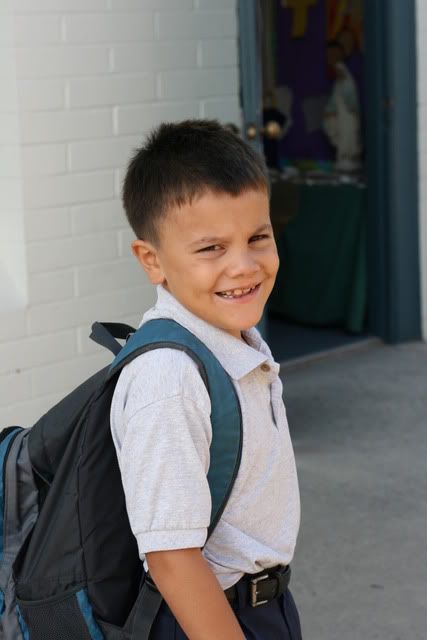 Outside his classroom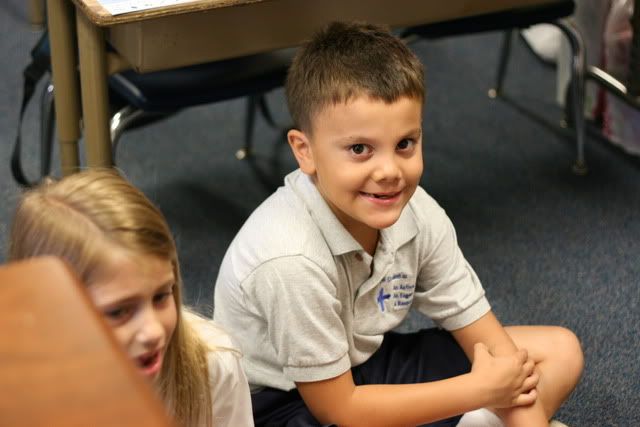 Playing a bean-bag toss question game with his new teacher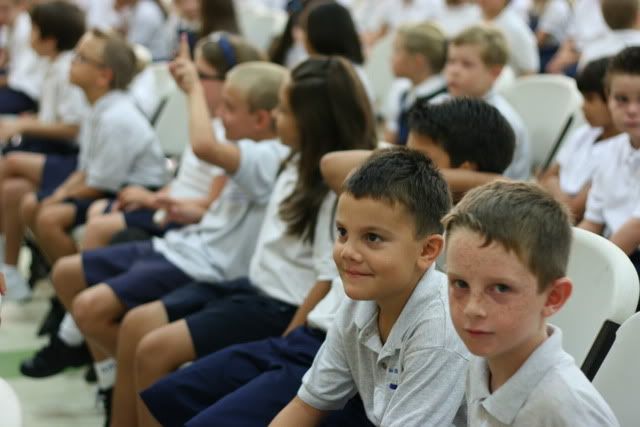 These two sillies are seated next to each other in the classroom too...might not be the best idea, but I'm sure the teacher will figure that out soon enough!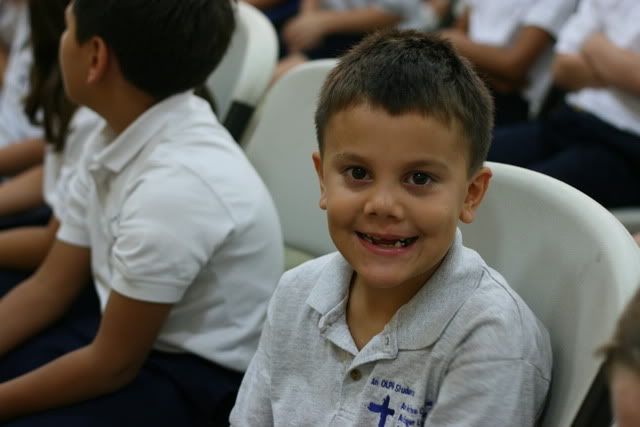 Happy First Day of Second Grade sweetheart!