CONTEST WINNER ANNOUNCED - Tamra, please contact me and we can discuss your custom shirt!!
It's been a long time since I've had any contests! In celebration of my new group membership into Wisterialane, I've got a little giveaway going on. I am giving away one personalized tee, valued at $30. If your name is chosen, a tee will be customized with your child's name and will feature one special appliqued design (which we will plan out together!).
To get one entry, write a little comment here. Want two entries? Mention my blog on your blog (and then send me your link).
Example of a previously sold personalized shirt: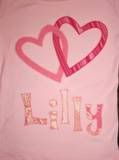 So, don't you want one? Enter the contest by posting a comment in this thread. Tell me what YOU would like to see appliqued on the shirt. And if you don't win the contest, you can find these and other appliqued shirts in my Etsy store (link on the left).