While planning Baby D's second birthday party, Pinterest came in handy with lots of ideas for his Sesame Street party theme. I wanted it cute. I wanted it simple. I wanted it fun. And I wanted it
cheap
!
I started a
party board
for him about six months ahead of time to glean ideas. There were so many cute things I'd have liked to do but didn't want to pour too much money into decorations. I did purchase a few packages of pipe cleaners at the dollar store which entertained the kids with twisting and creating for much longer than I expected!
Elmo inspiration (wow, isn't that a fun table!).
One thing I've learned over the years is to put money and/or work into things that guests will actually notice. Why buy cute but pricy tablecloths if you are going to cover them with your lunch spread? Or expensive plates with Elmo's face when they're just going to get ranch dip all over them?!
I bought dollar-store tablecloths and then cut a strip of leftover wrapping paper for a simple and colorful table runner. Cheap...and my guests actually commented on how clever the idea was.
I pumped up about 12 balloons that I had on hand and tied them with curling ribbon to the posts of our patio. At the end of the party we cut them down and gave them to the youngest party guests to take home with them.
Another thing I've learned over the years is to use what you have on hand and from around the house. This dessert table was decorated with a standing Tickle Me Elmo doll that we already had. I used a silver tiered tray from my dining room table for holding cupcakes. And because all I had were glass trays that I didn't want to get knocked off the table, I decided just to spread the Elmo-breadmen directly onto the table.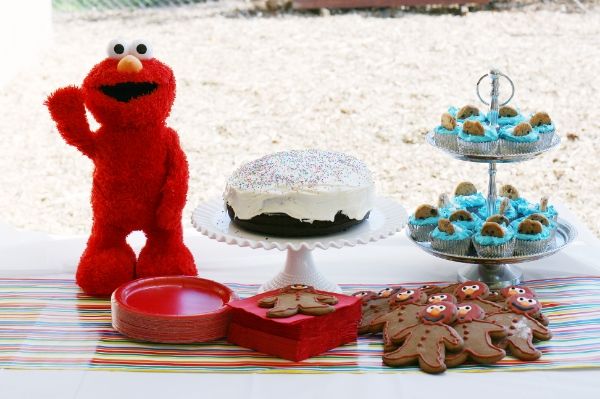 And honestly, don't spend a ton of time making elaborate desserts because frankly,
kids don't care
! Truly, they just want to EAT it! So if you want to make it cute just know your efforts are only for the grown ups who will ooh and ahhh over the sweetness. Seriously, do not mess around with rolling out fondant or taking an hour to painstakingly decorate one sugar cookie that will get devoured in 3.2 seconds. Know your audience; Kids will not appreciate the time or effort you put into the treats, they just want them in their bellies!
Drooling in anticipation!
I made a simple chocolate cake from a box mix, smeared on leftover cream cheese frosting and tossed some colorful sprinkles on the top. Super easy. If I'd had time I would have made one of these
fun banners
for the top but alas, I was actually still frosting the cake as my guests were arriving!
Pinterest inspiration
I did spend more time than usual making these Elmo-breadmen cookies because I knew that they kids would adore them.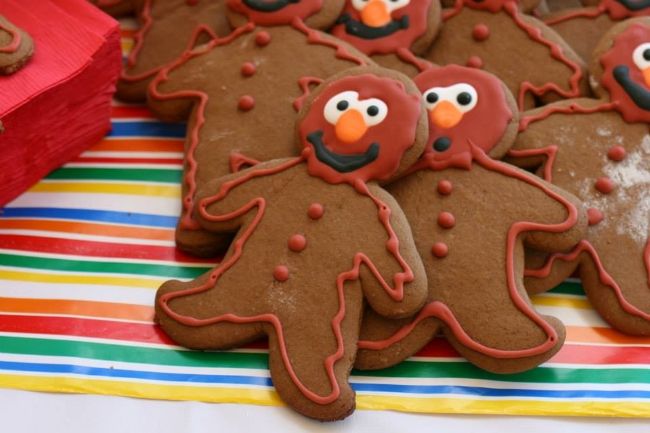 Elmo-breadmen!
I already had the dough premade and frozen so it just took defrosting, rolling out and baking. Royal icing is a bit more work but I'd already had it made (you can keep it for about a month) so I just had to mix the three colors. I made it into flood icing as per
Sweet Sugar Belle's
instructions and using a squeeze bottle method I had these fuzzy red guys made in no time, with different expressions to boot! If you do make decorated cookies take my advice and break up the work. Make the dough one day. Roll out and bake the cookies another day. Decorate them the day before the party (or even earlier and just freeze them until the day before the event). These cookies are oversized and were taking up a lot of icing which is why I just outlined the bodies and filled in the icing on the head. Nobody complained and the cookies were gone in a flash!
I also knew that Baby D was going to need a coordinating outfit and well, since that is sort of "my thing" I whipped him up an appliqued tee with Elmo! He was totally delighted. If you need your own
Elmo tee
, I *ahem* sell it in my Etsy shop!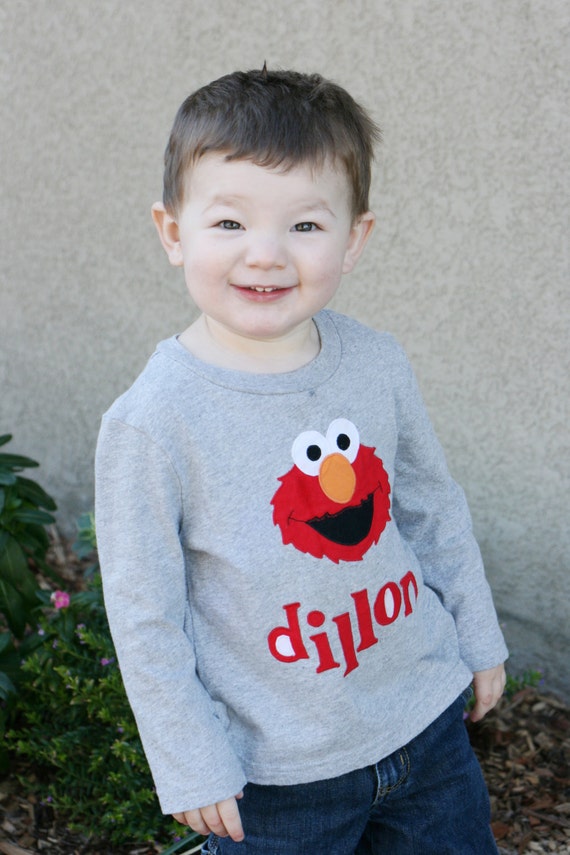 Happy #2 Baby D!
Here are the
Cookie Monster Cupcakes
that I saw on Pinterest.
Pinterest version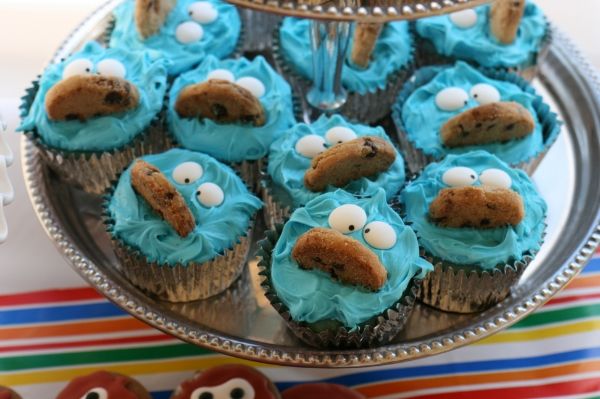 My version
I was not going to pipe frosting onto these, I didn't have time for that. I simply colored store-bought cream cheese frosting with a few drops of blue gel coloring and then patted the frosting on with an angled mini spatula to make it look fluffy. Mini Chips Ahoy cookies were simply shoved into the mouth position. The tutorial I saw on Pinterest had the baker cutting out a little section from the cupcake to insert the cookie but I didn't have any issues with just pushing the cookie down into the cupcake and none of them popped out. I found the
premade sugar eyes here
. Ta-da, super cute! I made them with a Blue Velvet Cake mix and with a slight blueberry flavor, they were yummy. The kids and grown ups loved them!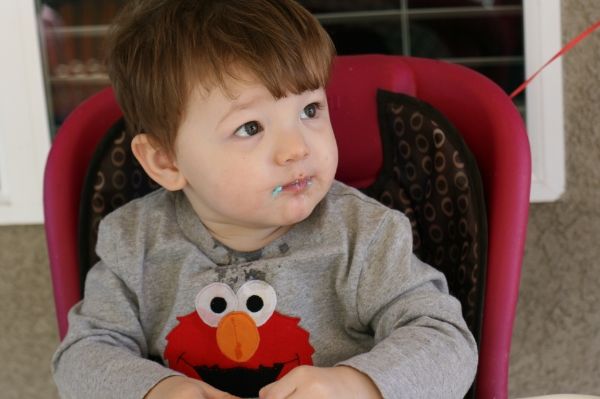 Finally, I kept goodie bags simple and only for the littlest guests. A simple pack of crayons and Sesame Street stickers from the dollar bin inside red & white striped paper bags (I bought a pack from Pick Your Plum and used the rest for Christmas treats). I wrapped them in a bit of twine and they were just precious.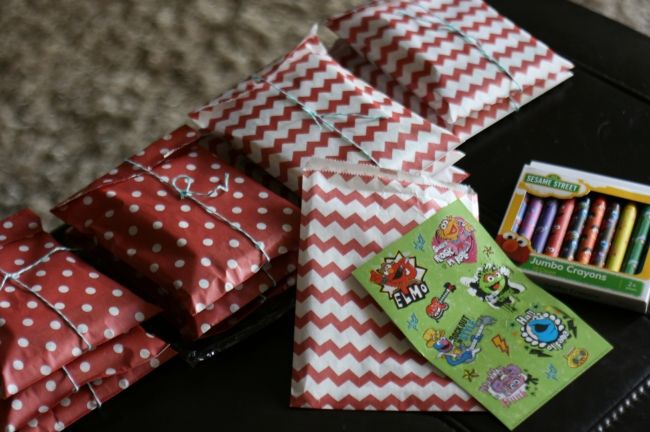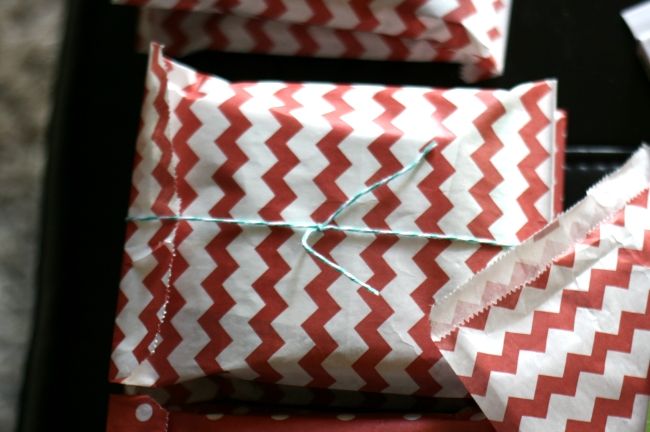 There you have it, my Pinterest-inspired Sesame Street party. To reiterate, use what you have, keep your audience in mind when party planning and spend money and time only where it's most noticed. Simple, fun and cheap! But still cute too, of course.