My son LOVES Legos. And he's good at creating things with his imagination, like this supercool transporter that features Lego-Man, Indiana Jones and a few Star Wars Stormtroopers. Check out the nifty propeller too!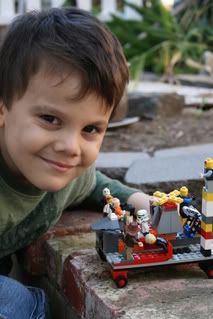 I have no creativity when it comes to Legos. I can make a building, a nice square little box but that's about where it ends. But I
can
cut out a pattern, sew the pieces of it together and create something that was once just a square of fabric, so I guess I'm not too bad off!