Happy Independence Day!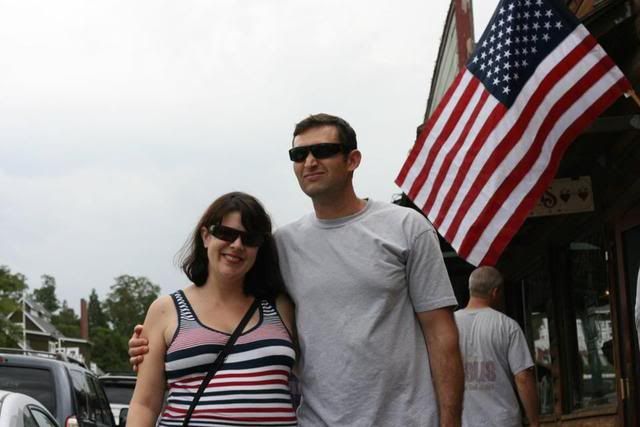 This was me last year standing next to Danny while pregnant with Baby D.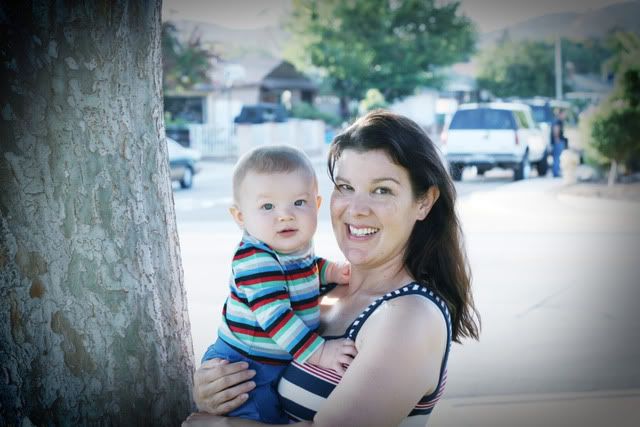 This is me this year (same shirt!) holding Baby D at 7 months old!
We started off the day going to the movies...never did that on a holiday before! I had won a ticket to see
Brave
on an online contest. We scooped up my mom first and headed to the theatre. Turned out nice, the theatre wasn't too busy at 10:30am. Matinee tickets were $6 each and the lovely girl working the booth gave me the entire amount that the winning ticket was worth ($14) and applied it to our total, so we only had to pay $10 for four of us to see the movie! Not too shabby...*wink* And we all LOVED the movie, so exciting and the animation is out of this world beautiful.
Afterwards we wandered over to Gymboree and shopped the sale. $3.95 for sweat pants, yes! A $4 sun hat that is sorely needed? Absolutely! Racked up a good total and walked out with $25 more in Gymbucks, oh yeah!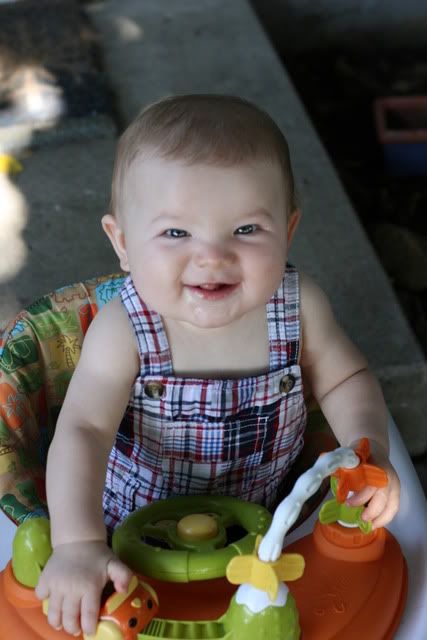 Hanging out in the walker and cruising the yard at Grandma's house
Headed home to pick up Danny, who'd been out running errands with Baby D, and we all drove over to my parent's house to celebrate the Fourth.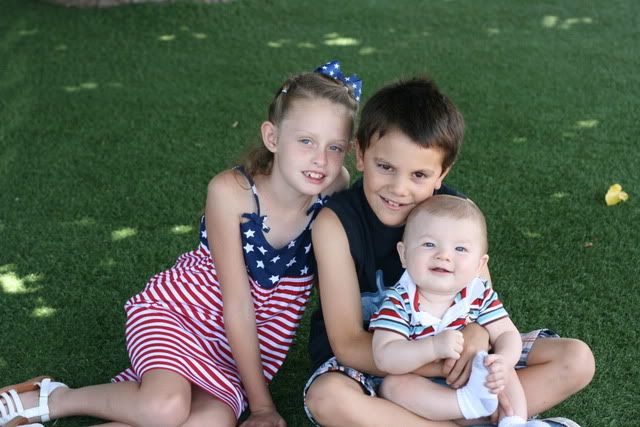 The Girl in her Walmart stars & stripes dress...only $5! Sometimes you can find some cute things. I just had to adjust the straps & sew them down in back, they were a bit long.
The weather wasn't hot and the kids never asked, so we didn't take them swimming that day. They were content to run around the yard together, taking breaks to drink Minute Maid Watermelon juice (yummy!).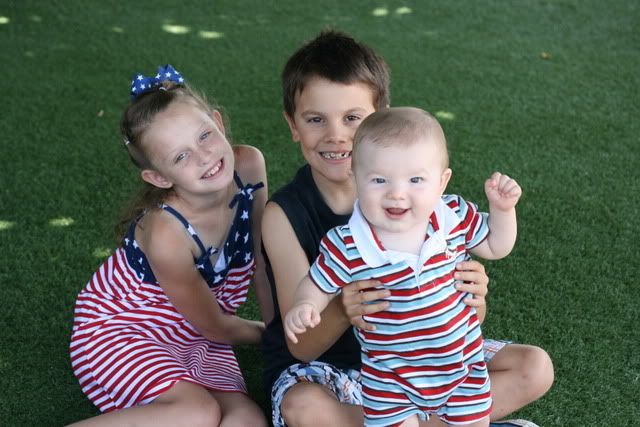 Check them out, all looking at the camera at the same time! No easy feat, I tell you!
My mother-in-law is renovating her house so things are still in a disarray. She joined us for a dinner of melt-in-your-mouth tender rib eye, grilled burgers, potato salad and for dessert...homemade apple pie and cheesecake Jell-O pudding pie.
Did you ever know of such a thing? Cheesecake flavored Jell-O pudding??? I was buying a Keebler pie crust and there was a recipe on top. Found the tiny boxes of cheesecake pudding all the way on the bottom shelf. Simple to put together, it truly only took five minutes, just mix the two boxes with 1 1/4 cup milk, lemon zest, and half a tub of Cool Whip. I tweaked the recipe here. The recipe suggests a can of cranberry sauce, but I thought of something we'd like better...I added this entire mix on top of the crust and then smoothed on spoonfuls of Knott's Boysenberry jam (MUST be Knott's, it's the
best
!). Sprinkled with crushed walnuts, topped with the rest of the tub of Cool Whip and more walnuts. In the fridge for four hours and it's ready to eat. SO delicious!
And why don't I have a picture of it? Because we ate it all so fast, sorry!
Please be content with this image of the pie that I made
last year
, from Martha Stewart!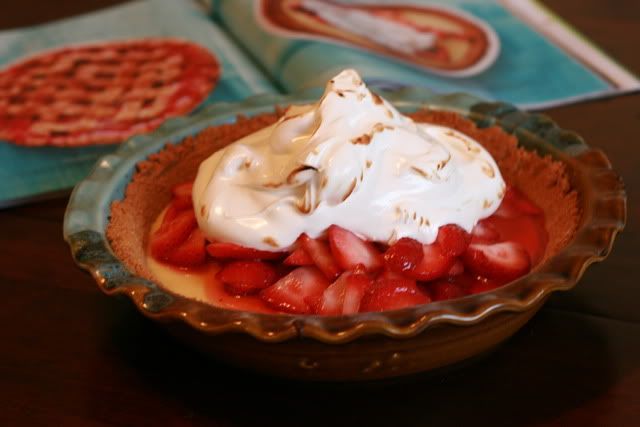 You'll also have to be content with last year's image of my decorated buffet. I have the same decor up however this year it's been delegated to one third of the buffet (sharing space with the giant water jug and the fruit stand).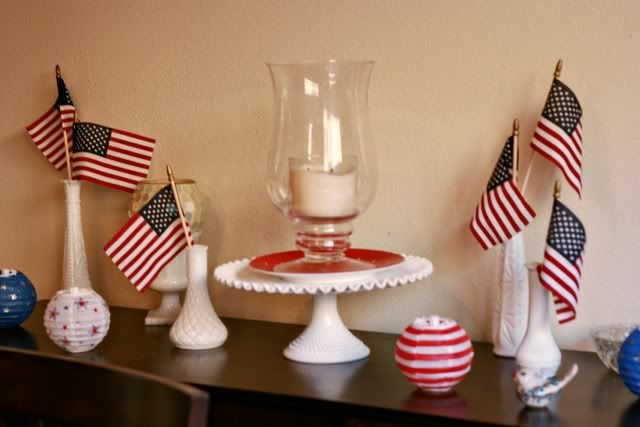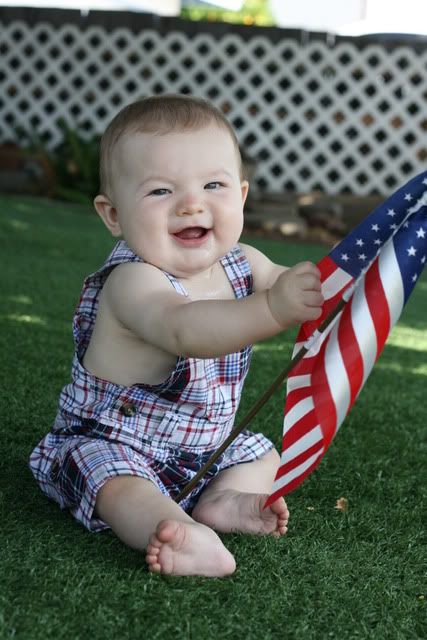 Baby Patriot! I bought this outfit for him way before he was born with the intention that he would wear it on the Fourth of July. Thank goodness I found it in that box I'd put away in the closet!
We ended the day by watching fireworks from my mother-in-law's driveway. The city moved the location a bit, which worked out okay because they were perfectly lined up with our street so there were no trees in the way and they were less than a mile from the house. Baby D loved it and was repeating our ooohhs and ahhhhs, he wasn't even scared by the loud bangs.
Happy Fourth everyone!