Hope you all had a wonderful Independence Day!
We had a simple day, but not quite "celebratory" enough for me, frankly. We weren't invited to any parties, our backyard isn't worthy enough for hosting any parties yet and we just didn't really have it together...maybe because the holiday was on a Thursday (that just seemed like an odd break in the week). Thank goodness the grocery store was open so Danny was able to pick up the fixings for our dinner!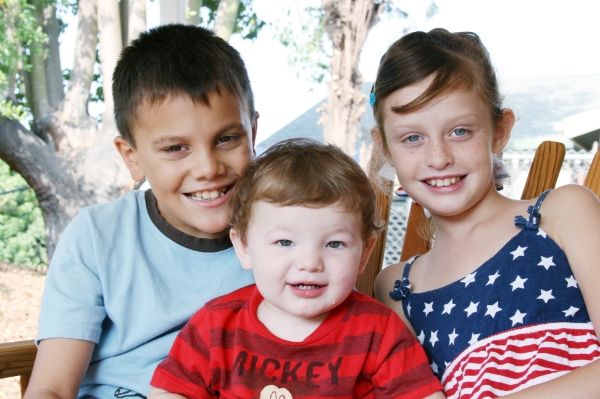 I knew I at least wanted to get a few shots of the kids, so that was a success. I pulled out the kid's red/white/blue clothes and set them up in the patio. The Girl is the only one with a true patriotic outfit (a stars and stripes dress from Walmart last year that now is a top worn over jean shorts). The Boy's blue shirt has a dinosaur and Baby D's shirt has Mickey Mouse...oh well! Maybe next year I'll have it in me to make them something for the Fourth.
Very happy to note that the patio is an awesome place for photos. This is really the first time I was able to take advantage of the covered shade and the nice natural light. I just need to work on a backdrop or something more attractive behind them than the neighbor's house!
My mother-in-law picked up the big kids in the morning and they spent the day at the county fair eating turkey legs and foot-long curly fries, jumping in sack races and digging dump trucks in vats of dry beans (really!).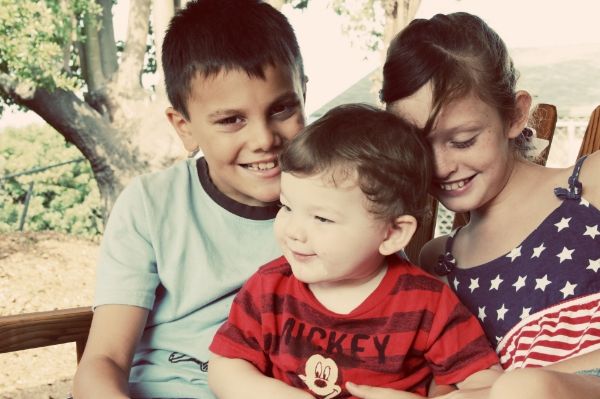 Danny & I just had the baby so we hit Ikea early to find a few necessaries for the house. What a madhouse! Lines a mile long for 99 cent towels (we got two nice dark gray ones!) and another mile long line for the check out. And then we got our purchases home and one of the items didn't fit quite right in the space we'd bought it for, so that was a disappointment.
While Baby D napped, Danny went to Home Depot and bought our first barbeque. Dinner was delicious...carne asada, blue corn tortilla chips, avocado and a pasta salad I whipped up last minute.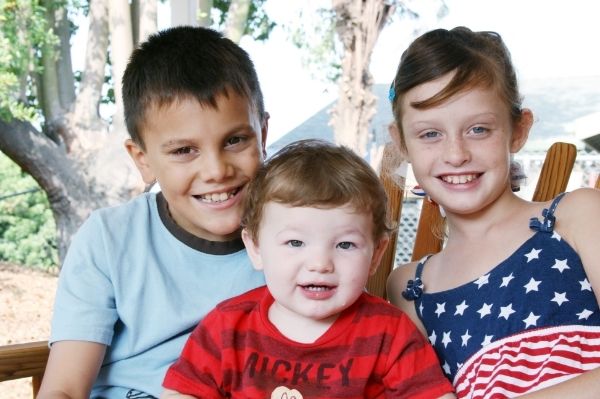 We sat around waiting for fireworks, prepared to watch them from our back yard. Of course we've only lived here a few months, so we've yet to watch fireworks from this new location. We only live a few blocks away from where the city was setting them off and we
though
t we'd see them fine. Unfortunately the neighbor's tree blocked them and we had to troop down to the lower dirt lot of our yard and stand along the fence line to see them properly...booo!!!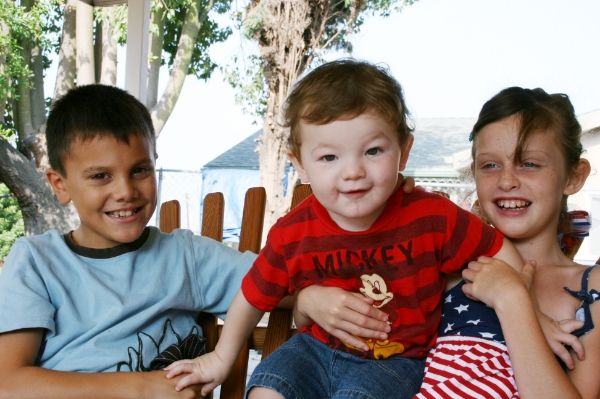 Oh well, I have my sights set on July 4th, 2014. Hopefully by then we'll be in full party-hosting mode! And we'll know we walk
down the block
to see the firecrackers!