I recently listed an auction for the winner to choose a custom design for a handpainted wooden tote. My customer requested a Scotty dog. She sent pics of her family's pet, told me her daughter liked the color pink and then set me on my way to create. I love that so many of my buyers trust my art enough to allow me to just CREATE and see what develops.
In any case, here is what developed: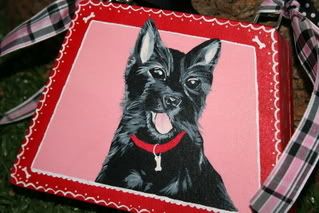 And this is the lovely (paraphrased) email that I received from my customer:
I have needed to personally THANK YOU for the WONDERFUL
tote you made my DD!!!! She could not have been more thrilled
to see (her dog's) likeness be put on a cute tote! All the beautiful
and intricate little details... I am so impressed with your talent
and customer service! THANK YOU!!! The cute Hello Kitty Pencil,
trinkets, and bracelets were much appreciated by my girl, and I
am much impressed with your kind feedback that you left me
first, which just shows you have the highest of integrity and
servce! I am sorry I forgot to mention how quick your turn-
around was too. I plan to buy from you again, and THANK YOU
ever so much.
I put this back to all of my customers who have allowed me to CREATE special things for your family, whether it be a beautiful dress for Christmas Eve, a set for Western Wear week, outfits for your daughter's first Disney vacation or even a painting of your precious puppy. I thank all of my customers who freely trust in me to create these special moments!