It was a beautiful bright day on Saturday, so we hit the trail about 5 minutes from our house for a brief hike. We'd walked about 2 hours on these trails a few weeks ago but this time we were out for less than an hour as seasonal allergies were in full swing and making us feel a bit loopy!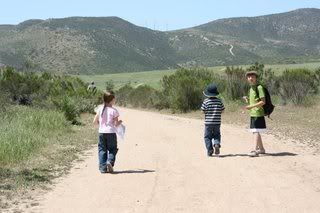 I was surprised to see that there was still quite a bit of water flowing from the river in this section. We crossed a branch that was laid across (The boys walked across with ease while
I
, of course, slipped and got a shoe full of water!)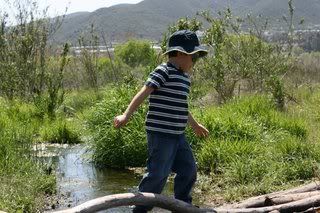 Last time we walked there were thousands of fuzzy black caterpillars squiggling their way down the trail. This time we saw many more
butterflies
! The flowers were growing all around, from bright yellow daisies to tiny purple flowers spread across the ground like a carpet.