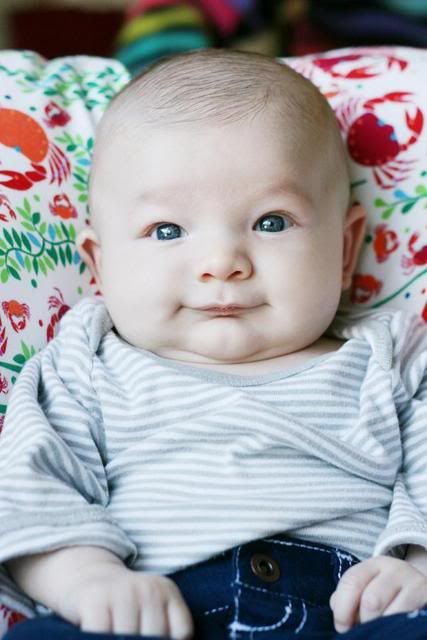 Look who's 12 weeks old!
Baby D's nursery is still a work in progress.
I hate that he is currently sharing the space with my sewing machine and stuff. I know that once he's mobile this room arrangement is not going to last because, well, babies and pins don't mix!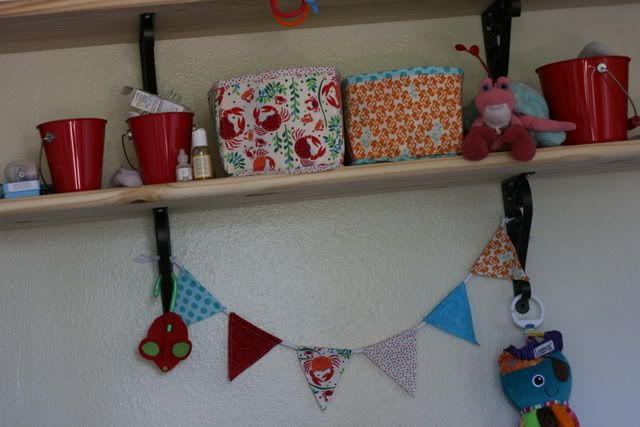 I would love to say that I have things well organized but I don't. The Finding Nemo cross-stitch I made is still not framed. The triptych that I painted is not hung on the wall. I've yet to finish hanging the soft-sculpture ocean themed mobile that I lovingly handcrafted while pregnant. All the pieces are still sitting, unstrung in a bag in the living room!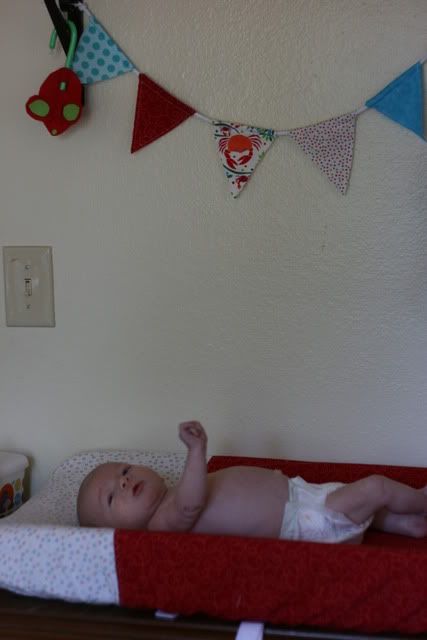 Fortunately the diaper changing area is organized and diapers, wipes and lotion are just an arms-reach away. This fantastically soft, blue nubby rug is in front of his crib so I lay him on that occasionally.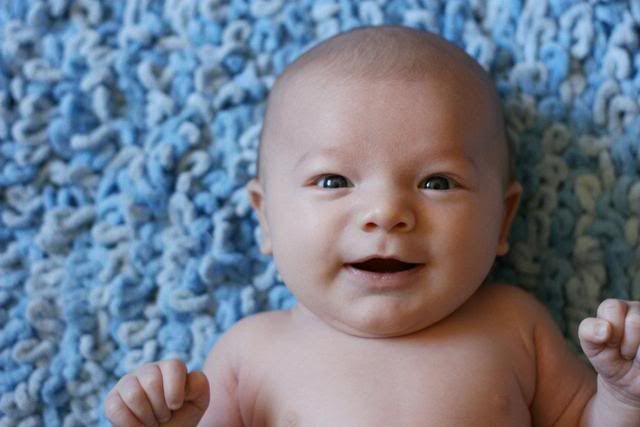 And he loves the bunting that hangs between the shelf brackets. He always coos at the crab flag...I think it's because it matches the pattern on the Boppy pillow that I use when I feed him. Must be a positive association thing?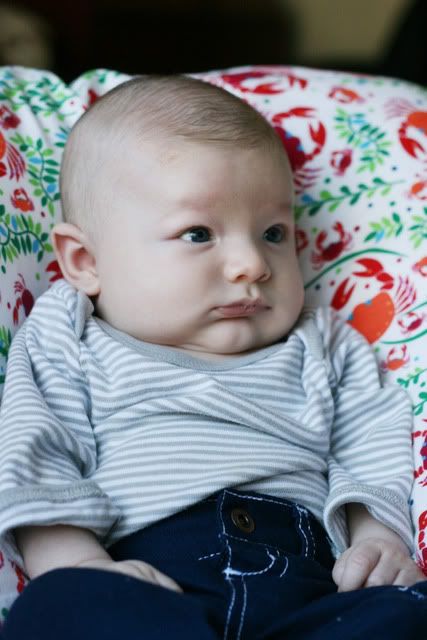 Hanging out in the Boppy
Besides with him in the sewing room and going to bed at 8pm every night, I haven't had a chance to do any kind of crafting whatsoever! I think the sewing room is going to have to be moved into my bedroom or something, I'll have to put some thought into this...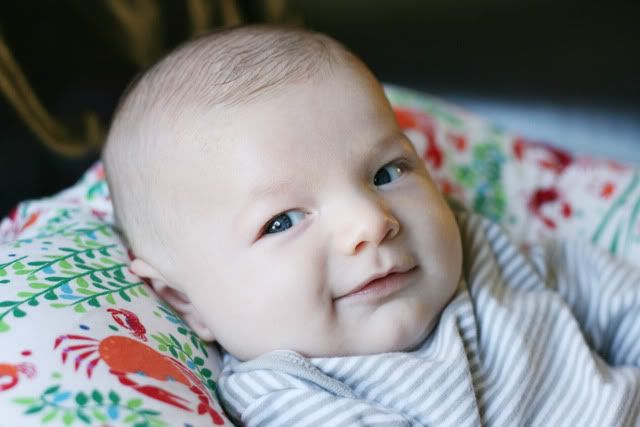 Starting this month Danny and I are fixing to start socking away money into our savings account for what will eventually be a down payment on a house. It's so hard to see money for rent going to
nothing
and we'd love to be able to purchase our own place. Something with a bedroom for everyone, a garage for Danny to tinker in and a sewing spot for me!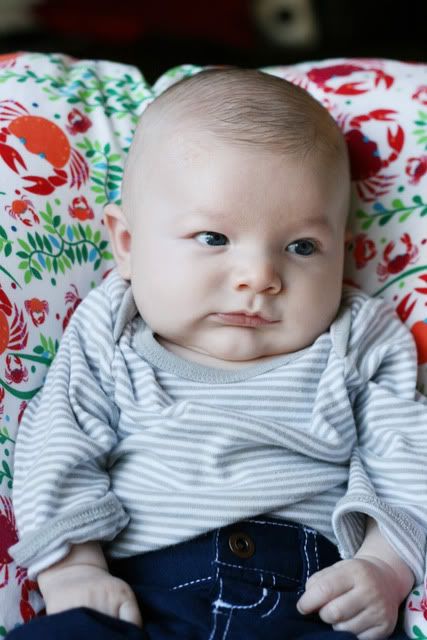 And a little brag on the big kids...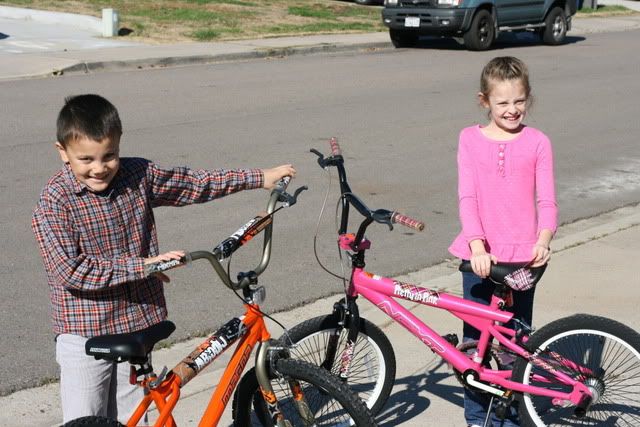 The Boy got this bike for Christmas. After a few practice sessions at the park on the grass and a few brave attempts at riding down the sidewalk (much jumping the curb!), he's finally gotten the hang of it. At first, he made me so nervous watching him wobble and pitch that it was hard to watch! But he's now riding quite smoothly down the sidewalk and circling in the driveway. He looks great and is so proud of himself!
The Girl started out with this pink bike but it was a little large and heavy for her, so it was exchanged for a more lightweight and slightly smaller purple version (which also has sparkly flare spouting from the handlebars, plus!). She recently got training wheels put on her bike and was able to find her balance a little better, riding around the block with Dad running closely behind!
Adding Baby D to the family hasn't been as challenging to the mix as I would have thought (so far!). Fortunately the big kids are very independent and prepping them for the baby early on was important.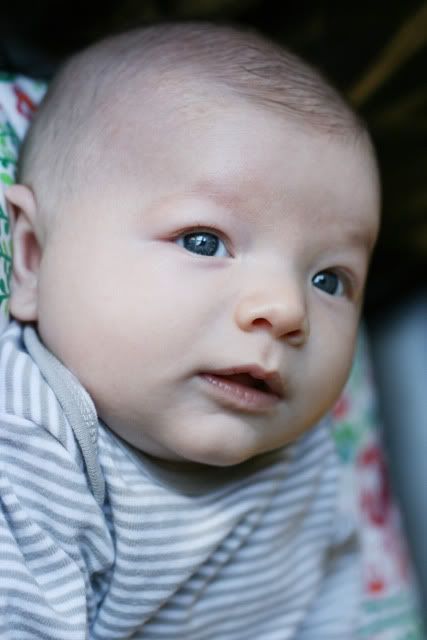 The big kids are able to do everything themselves in the morning from getting up with an alarm clock to fixing their breakfasts. In the evenings, they both know how to run the shower and take care of bathing themselves and around 7:30pm, after 30 minutes of silent reading, they will actually say, "We're tired, goodnight" and put themselves to bed!!
It has been a blessing in so many ways. And they truly love their little brother, always there to lend a hand, grab diapers, wipe spit-up, jiggle rattles, pop in the pacifier and of course, offer lots of kisses!