Do you like the new look? I thought I'd do a little Spring-cleaning on the blog and spruce things up a bit!
Maybe you never knew...
I'm kicking off a new reoccuring feature on the blog called just this, "Maybe you never knew" and I'll dig deep within my personal day-to-day life and reveal tidbits about me that perhaps you never knew. Fascinating, I'm sure! *wink*
Today, maybe you never knew...
I'm a seamstress.
Well, most of you probably do know that because it's been a part of me for so long and many of you have been the recipient of my handiwork. Here is the evolution: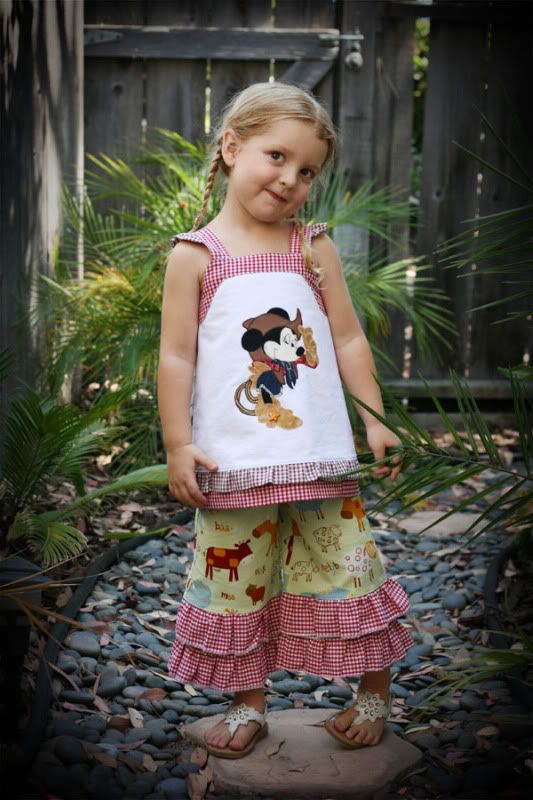 An appliqued Minnie outfit from 2009
I started sewing in my sophomore year of high school. Our first project was a ruffled pillow with a zipper. I chose sweet little calico prints in peach and light blue (gag! But it
was
the late 80s!).
And you know what? I HATED SEWING.
I had been so excited to take the class and was so miserably
bad
at it, that I started to hate the whole process. I couldn't get the squares to line up on the front of the pillow. I sewed my ruffle into the seam so many times that the poor ruffle had puncture holes in it. The zipper was a nightmare. My seamripper was practically glued to my hand the entire time, I was using it so much. When I finally finished that stupid pillow, I couldn't stand to look at it, it just made me so frustrated!
Looking back I can see that my problem was that I was going way too fast. I wasn't basting properly or pressing seams often enough, I wasn't keeping accurate seam allowances and I was simply trying to get the whole thing done so quickly that I just wasn't being very careful.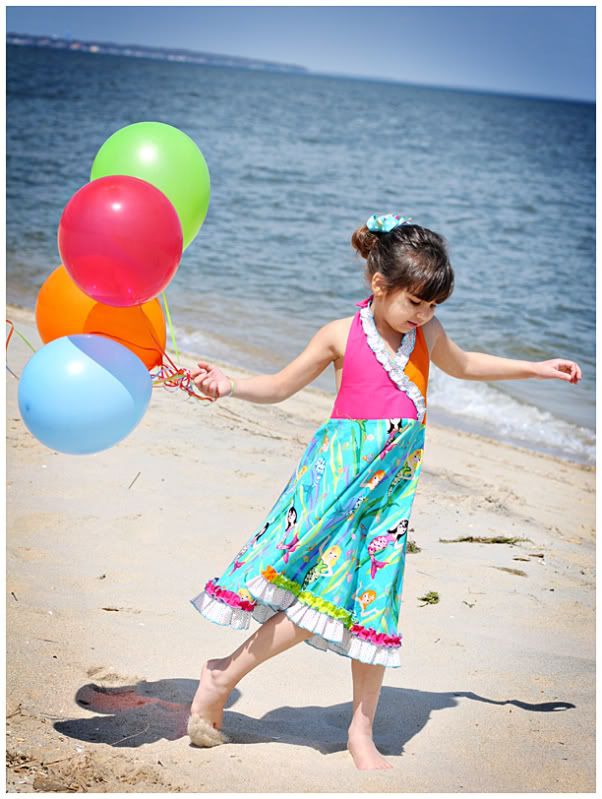 Mermaid print halter sundress, 2009
I got better. When we started learning about patterns, I stuck to the pattern carefully and was able to get quicker. I made many outfits for myself & my younger cousins. My aunt took me to the fabric store and bought fabric for me to make her daughter's school wardrobe (lots of bright patterns & neon, as I recall!).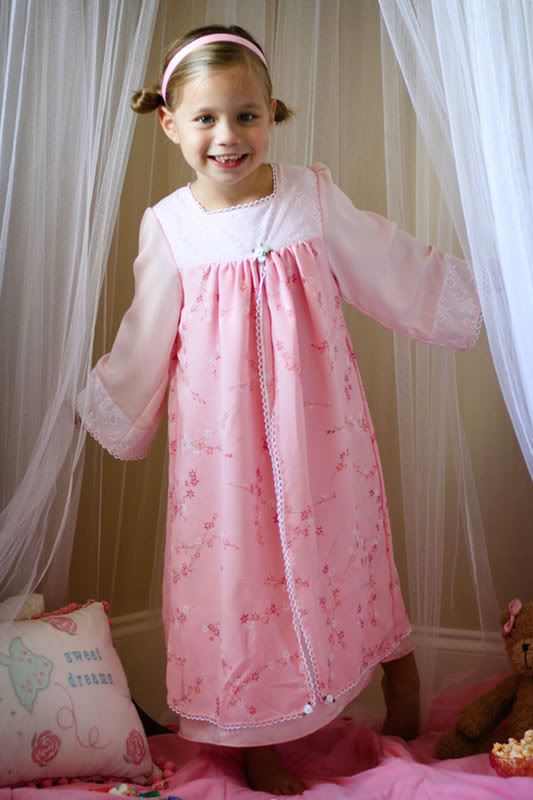 A Nutcracker Ballet inspired nightgown, 2008
When a girl I babysat for needed a competative rollerskating costume, her mom asked if I could make one. There was a pattern, it required me to use stretch fabrics (which I'd never used before) and I'd need to be more creative with design. I drew up hundreds of ideas. Her mom pretty much gave me free reign and I went for it full-force. There were beautiful shimmering sheer fabrics that I would use at the bodice or down the arms, handsewing on tons of beads and sequins. I made a mermaid costume. I made one that was all fringe with a matching jacket. I wish I could go back and make those costumes again with all that I know now about serged hems, rolled edges and stretch fabrics.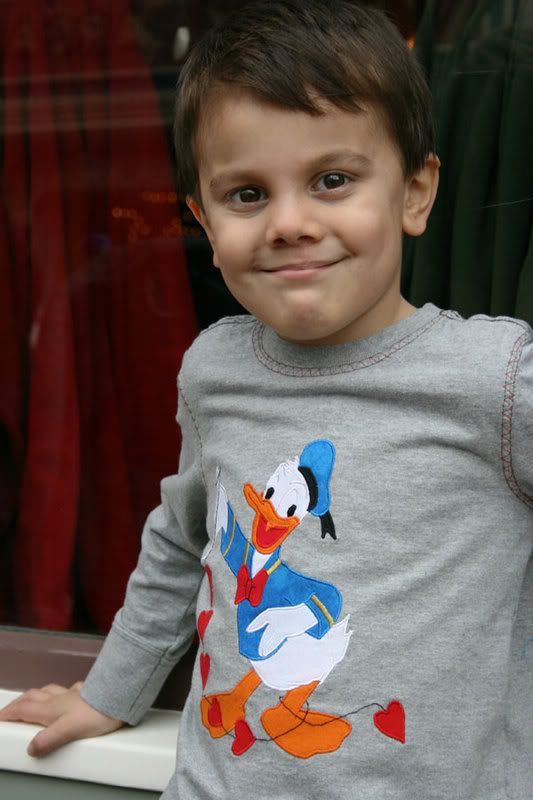 The Boy in a Donald Duck tee I appliqued, 2009
Coming out of high school I was accepted into the Fashion Institute of Design and Merchandising (FIDM) but with the astronimical cost there was no affording it. I did some sewing and costume design at Grossmont College in the theatre department. I made complete costumes for the students I taught at the rec center. Their dance & gymnastic recitals featured my craftwork (Shirley Temple dresses are still my favorite!).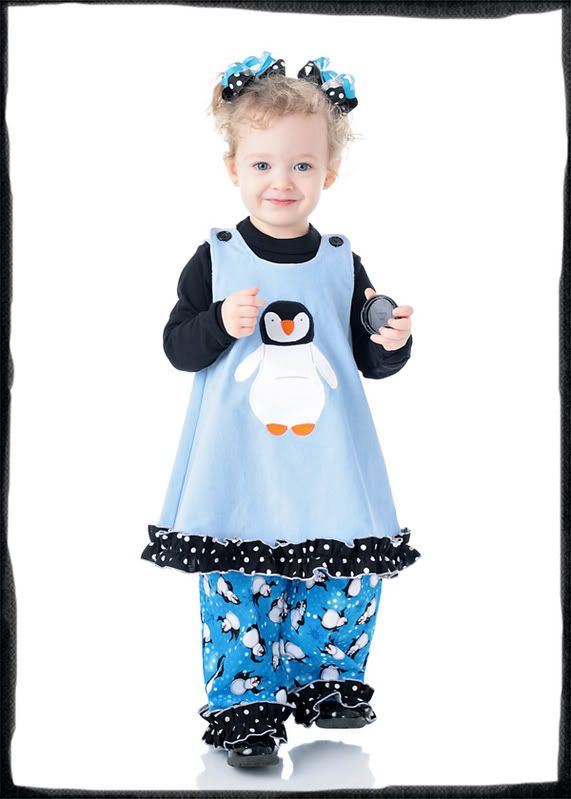 I sold lots of these a-line dresses, love the polka dots and penguins!
A great many Halloween costumes were sewn, including this Spiderman outfit which was made over 10 years ago.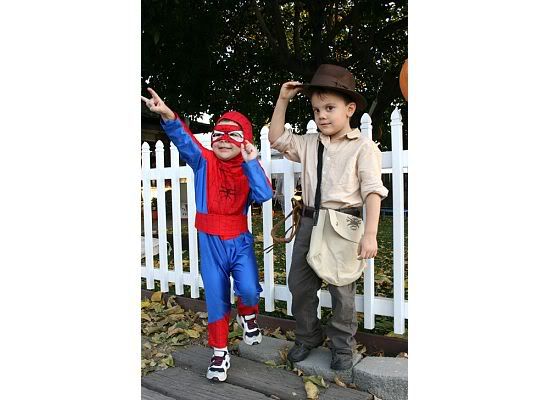 It was designed while looking at a Spiderman action figure and has happily served the dress-up desires of three little boys.
And then my workhorse sewing machine, the Mongomery Ward Computer 2000 (circa 1970-something) that had been my mom's stopped working. And thus I hung up my scissors for a while and took a sewing sabbatical.
I started back crafting when The Boy was about 2. I belong to a small private online parenting group of woman that I've known since I was pregnant. A few of them commissioned me to paint overalls for their kids.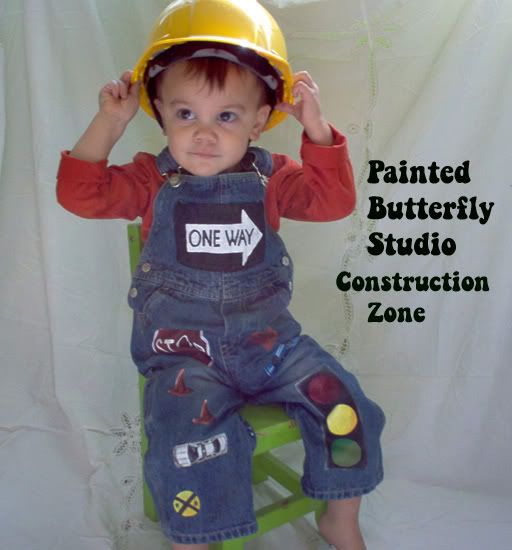 The Boy, modeling one of the first Ebay items I listed.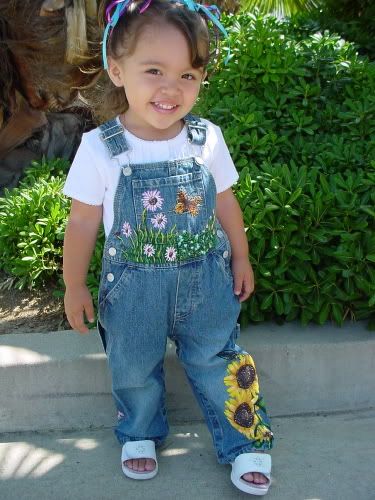 I loved painting all the flowers and butterflies, which inspired my shop name
The moms encouraged me to sell on Ebay, which I did. And I got the old sewing machine fixed and started making simple dresses and pants to sell.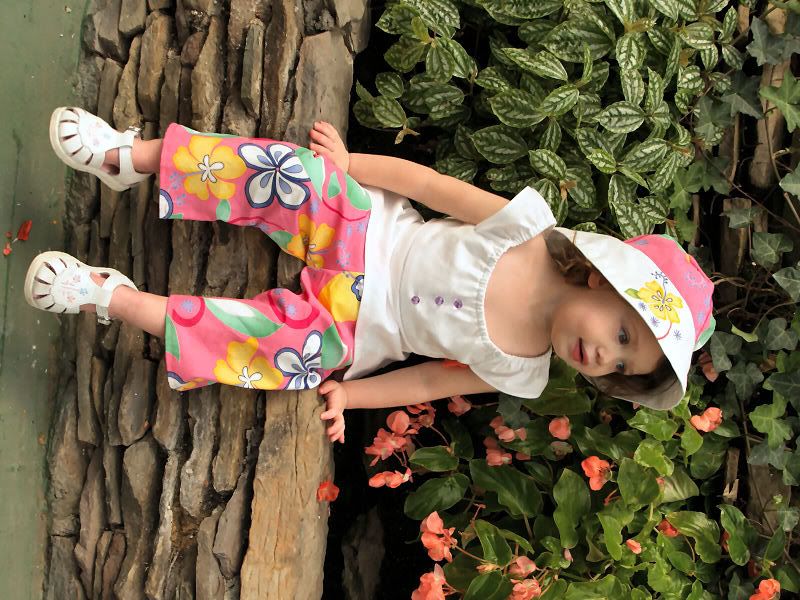 The simplicity of these, I cringe! I had so much to learn!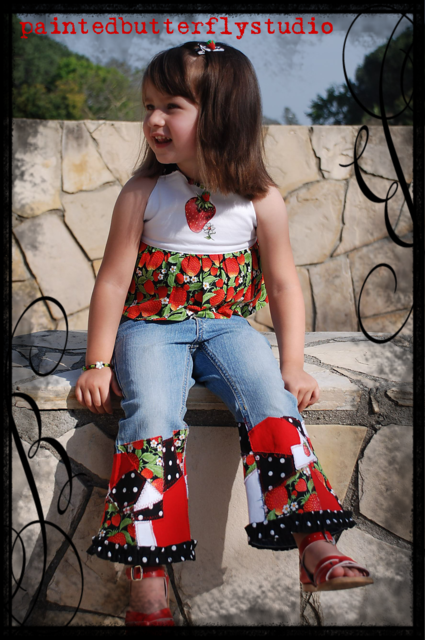 Decoupage jeans were very popular!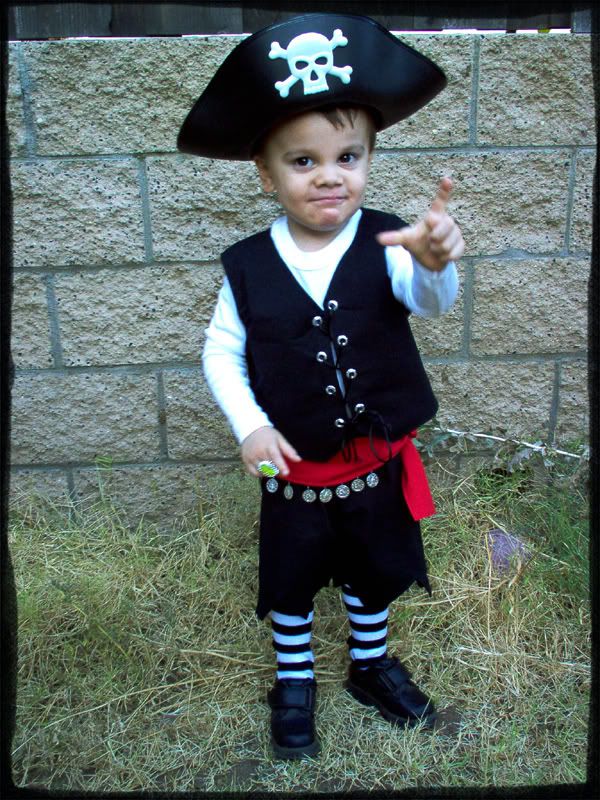 The Boy was always a willing model for me, 2007. So little and cute!
I started tweaking patterns, blending two or more together, adding ruffles here or there, mixing in handpainted details, pretty much "making it my own". I've always had a more simplistic view, letting the fabrics make a statement with clean lines and unique details.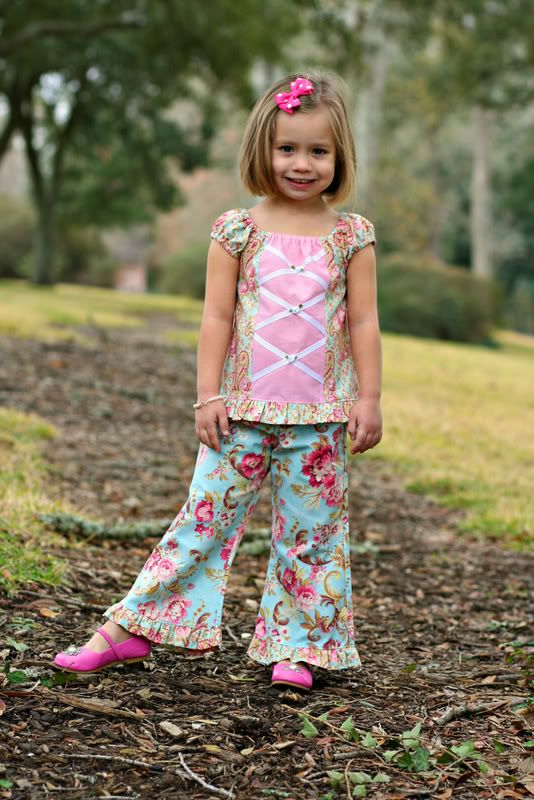 I loved this fabric! I took a peasant blouse and added criss-crossing ribbons across the bodice for a "princess" look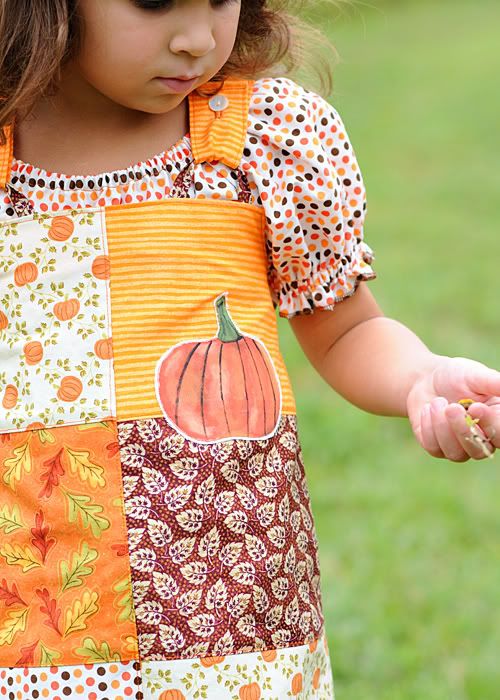 Autumn themed patchwork dress with handpainted pumpkins. Look, I finally got my patchwork squares lined up straight!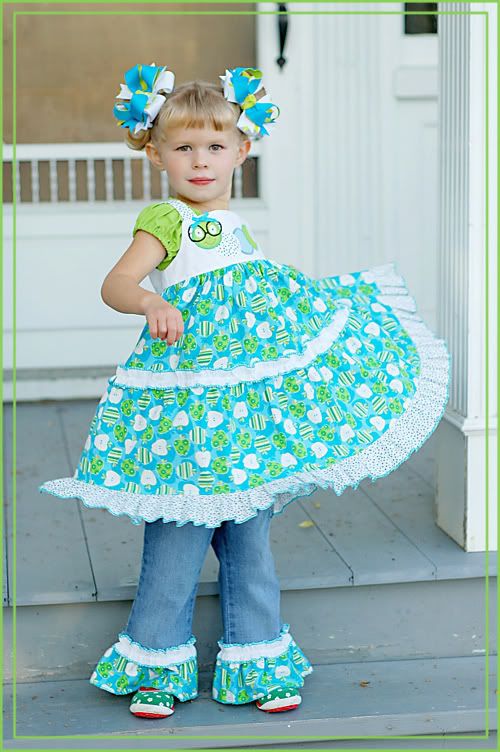 One of my most favorite items and one of the best selling. This is about the time when I got my logo created, based on the color scheme of this particular outfit!
I learned how to applique, which would eventually become my bread and butter. At the request of my parenting board "mamas", I started making personalized tees.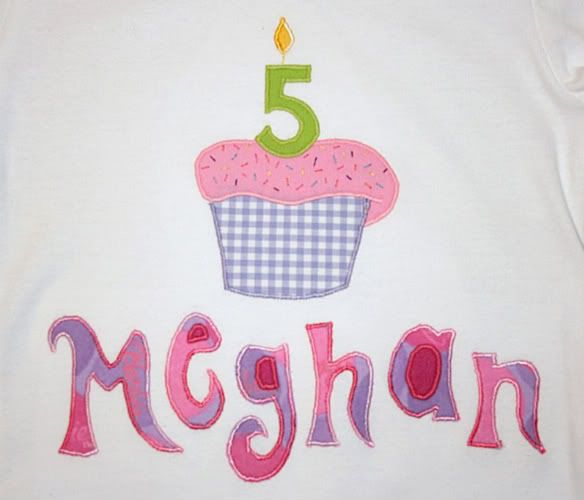 It started with these birthday cupcake tees, which I still make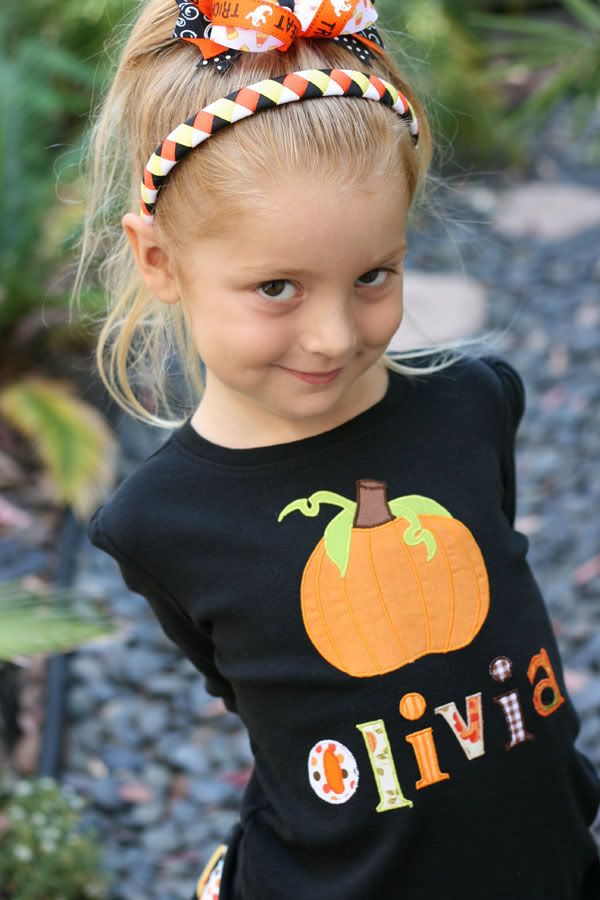 Seasonal tees are very popular
I was selling regularly on Ebay and added Etsy to my sales platform. I learned how to sew with knits and bought myself a BabyLock serger, which I absolutely adore. Eventually the Computer 2000 died completely and I added my Viking Sapphire, which is a dream to work on.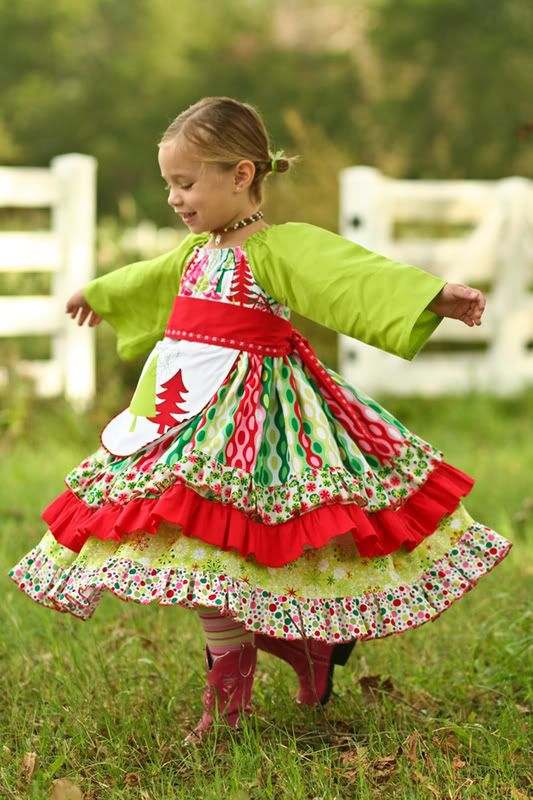 My most popular Ebay outfit ever sold, I made many of these (with yards and yards of ruffles!)
Eventually sales on Ebay for boutique customs cooled. Ebay's selling costs really put a kink in that and many sellers moved over to Etsy exclusively, as have I. For the most part, I sell appliqued tees only with the occassional knit dress, dolly or resell added to my shop.
Before Baby D was born, I committed myself to sewing things for him. I made my first quilt, a pennant for over his changing table, changing table pads and a Boppy pillow cover. I have a stacking ring toy partly finished and soft blocks cut but not yet sewn.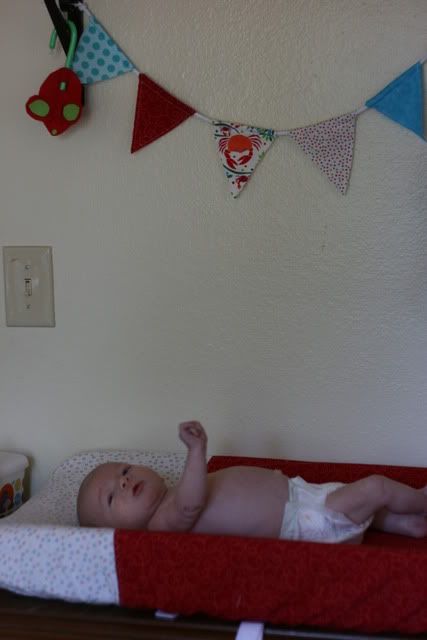 I have tons of fabric (and I mean that quite literally). I have a very small amount at home, in paper sacks under my sewing desk. I have the bulk of it stored in bins in my parent's garage, stacked up on the floor and on metal shelving. Given time, I plan on getting through it all without buying more by making simple things like pillowcases and sundresses and listing them on Etsy.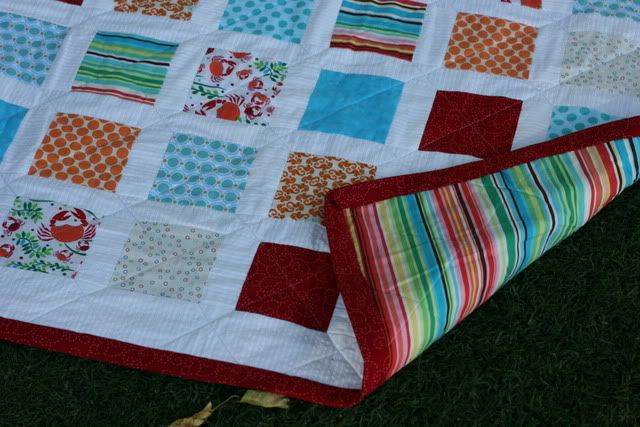 Quilt I made for Baby D
Unfortunately at this time (living in our tiny apartment) my sewing space is shared with Baby D. Since I work fulltime and he's in bed early, I don't really have the chance to do any sewing except for on the weekends.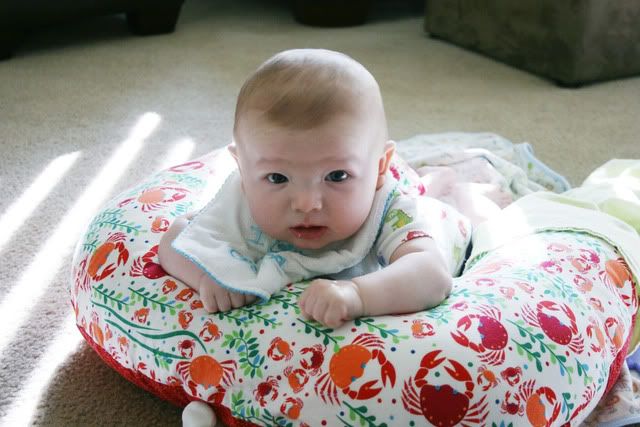 Baby D in the Boppy Pillow, with the cover I made
I've been hooked on making these upcycled tee dresses for the girl and plan on starting to list these soon. They are quick for me to make and as I'm sure you know, with a newborn baby and a full-time job outside the home, I don't have a lot of time to spend behind the sewing machine like I used to.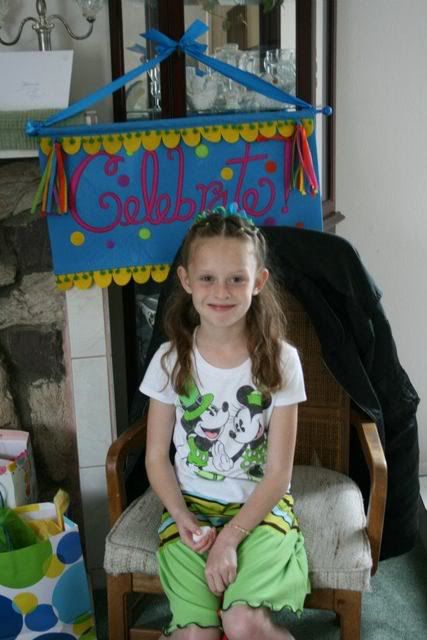 Knit dress sewn onto a tee
I miss having the time to make more elaborately ruffled confections. I do miss the creativity I was able to put into my outfits and the wonderful feedback I'd receive from mom's across the country about the outfits I'd custom made for their children. I'll get back into those ruffles again...eventually!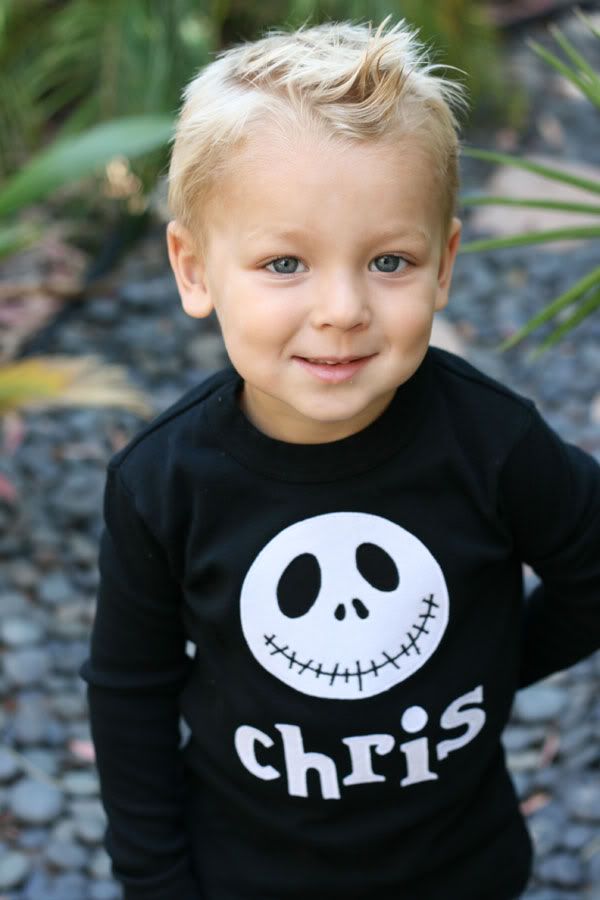 My most popular item on Etsy, the Jack Skellington personalized tee
But I still make the appliqued tees (I get about one or two sales a week) with all the letters and pieces individually traced, ironed onto fabric, cut, pieced and free-hand-sewn on my Viking.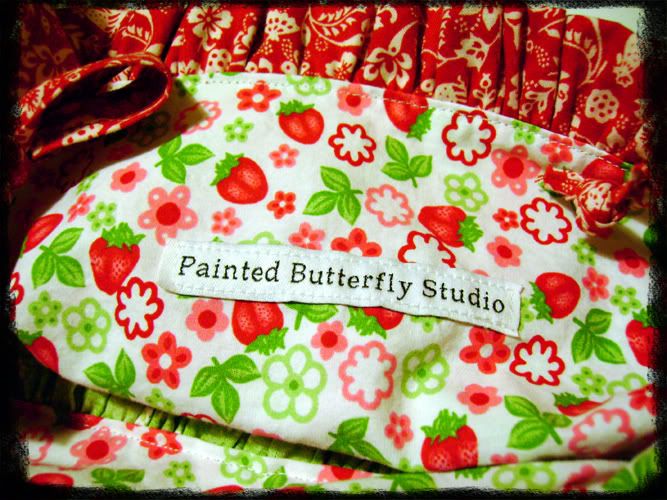 And now you know a little bit more about me! Till next time, maybe you'll find out more that you never knew (or ever wanted to know?) about me! Well, each life is a journey and this one is mine. Thanks for letting me share!