It wasn't that long ago that we had our Disneyland weekend, complete with a two-night stay at the Disneyland Hotel (my husband is still razzing me about the small fortune we spent!).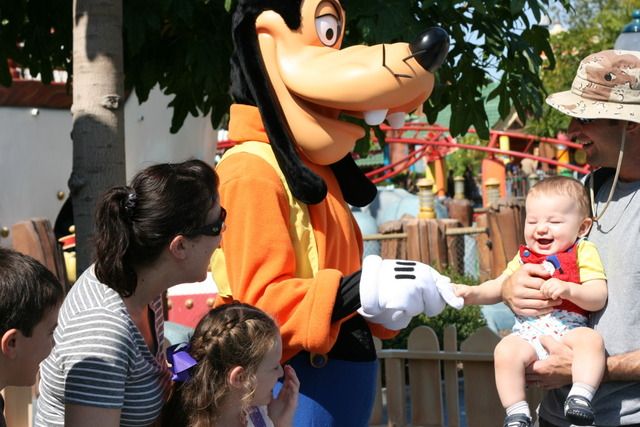 At what cost memories?!
But hey, we
all
had a fantastic time, even grumpy-man!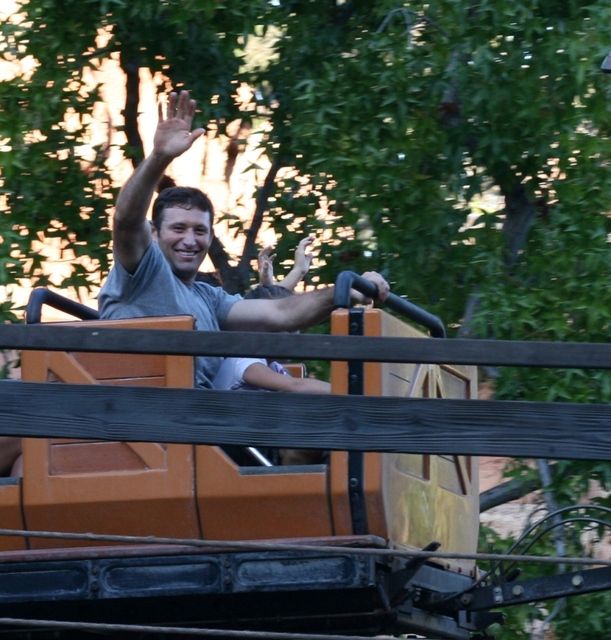 So it was quite the surprise when I told my husband that we'd soon be doing it all again. I received a phone call last week from a local radio station informing me that I'd won their grand prize of a one night stay in a Disney resort hotel and four 2-Day Park Hopper tickets!!
I'd entered the contest on the radio station's website way back in JUNE as part of the opening of Cars Land, so either the first winner never picked up their prize and I was grand prize runner-up or someone at the station dropped the ball and forgot to award the winner! In any case, I've been told that the Resort will be contacting me directly with the details so we can book the trip because (get this!) we only have until December 15th of this year! Talk about short notice...but, I'm not complaining. Fortunately it's not a terribly far drive for us.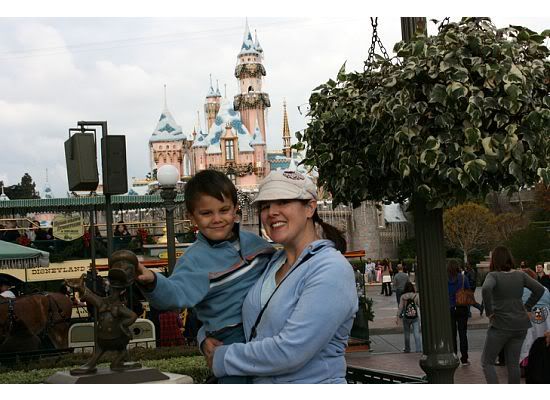 In front of the Castle, decked out with snow for winter
I guess when I said I hoped it wouldn't be too long before we were able to go back, I wasn't expecting it to be
that
soon!
Of course Danny was thrilled to hear about the contest and that I won something again (I won a $50 Macy's gift card from another radio station the week prior, must have been my lucky week). I'm generally pretty lucky when it comes to stuff like that. My name was chosen out of a huge barrel at the mall during Wheel of Fortune's traveling search for players and I was chosen to be on the show in Los Angeles a few months later (I won $5300!). At any given time, I'm entered in 20+ contests online. My motto: "Someone has to win, why not me?" I've won random raffle prizes but never something like this, a radio station grand prize!
In any case, we are so excited. Danny has never been to Disneyland during the holidays and it's always so beautifully decorated, I can't wait to see it. Especially sweet because we didn't think we'd be going again this year.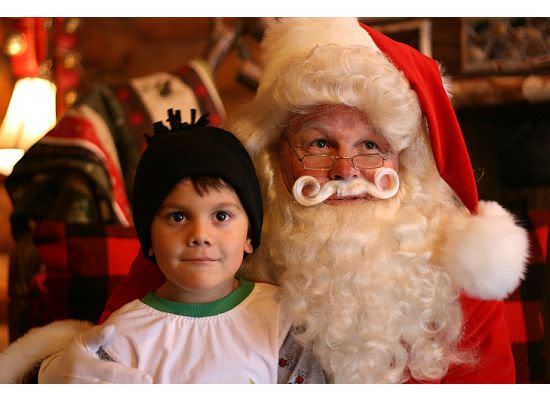 The Boy with Santa in Frontierland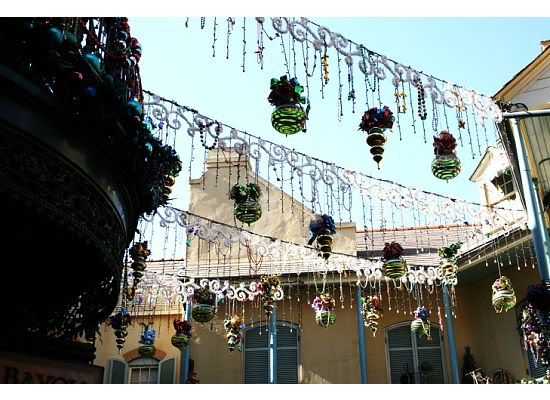 Decorations over New Orleans Square
We have been using our
Disney Chase Visa
for all of our purchases and for all the utilities & general bills that we can (gas, cable, phones, before/after school care, etc). We pay it off each month so we never pay interest, we just use it to earn the points. We have earned enough since our trip 3 months ago that we'll be able to pay for all our meals on this trip and even buy each child a souvenier! If you are a frequent Disneyland-goer or an Annual Passholder, get the Disney Visa, it adds up points faster than you'd think and they are super-easy to redeem.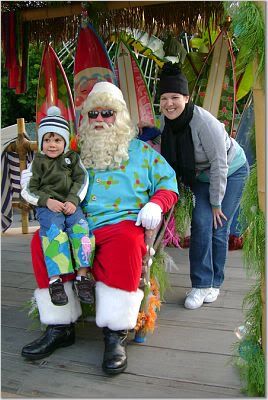 Santa at California Adventure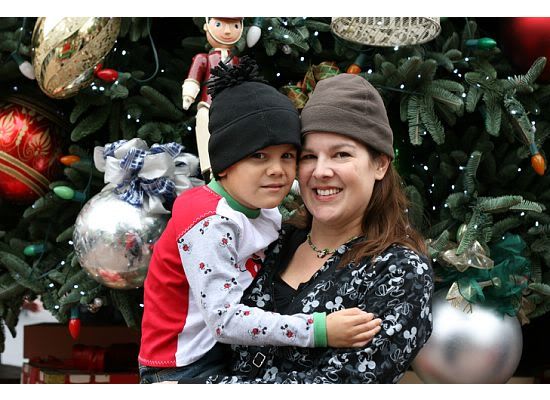 In front of the tree on Main Street
Here is the best part...we are going to surprise the kids! We are hoping to get reservations for early December and go during The Boy's birthday weekend. He would absolutely love getting to go to Disneyland on his birthday. We get the birthday pin either at City Hall or at the Resort hotel front desk whenever we go on a birthday and cast members and other guests will greet you with birthday wishes all day long. It's a really special touch!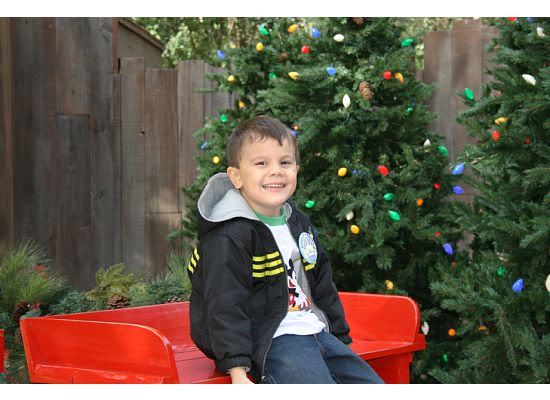 He is wearing his birthday button on his jacket
My mom and I took The Boy to Disneyland for his 5th birthday. I remember in Bugs Land they had some really whimsical Christmas decorations, like giant ornaments! Very excited to see how the do-over Cars Land for the holidays.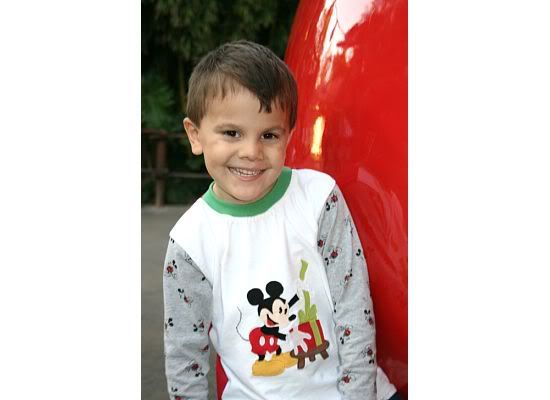 I've told the kids about the time my parents surprised us with a trip to Disneyland. They were driving us to school and missed the street to turn on. When we told them they forgot to turn, they said, "Oh, well, guess we'll have to go somewhere else today. Where do you want to go?". Of course my brother and I shouted, "Disneyland!" and my mom said, "I have the camera" and my dad said, "I have the tickets" (in which he meant E-tickets, talk about old school!). They'd had it planned all along of course, they knew exactly what we'd say! It was certainly a very special memory and I hope our kids will remember their first Disneyland surprise so fondly as well.
Can't wait to spill the beans!
In the meantime, I'm still working on Baby D's birthday arrangements.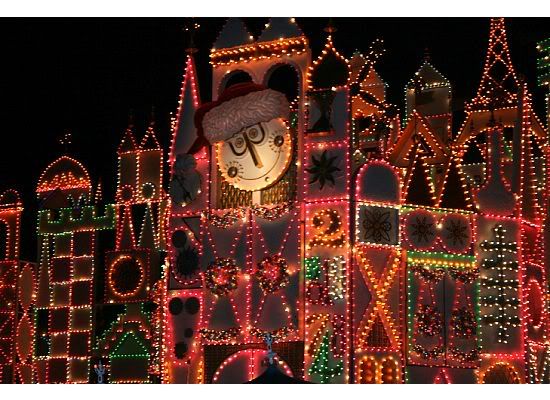 It's a Small World, holiday version
Got two more characters painted up. Do you recognize this pair?