I tried and failed.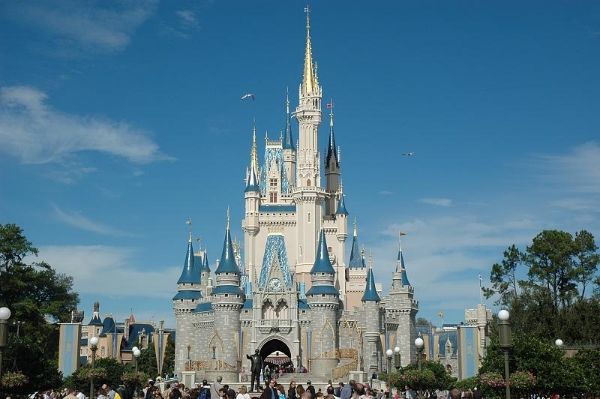 I wanted to badly to negotiate our first big family vacation, cross-country to Walt Disney World at the end of the summer. Unfortunately my husband has a job that doesn't allow him time off and taking an entire week (without pay, mind you) wouldn't work out so well with his bosses. There is also a possibility that he'll be working out of town during that time, so despite major begging on my part, we both knew it just can't be done at this time. Phooey!
So we are arranging the next best thing...a weekend at Disneyland! We were there in December for The Boy's ninth birthday and I'm really excited to be headed back. Not as excited as being able to spend a week in
Florida
, but excited all the same.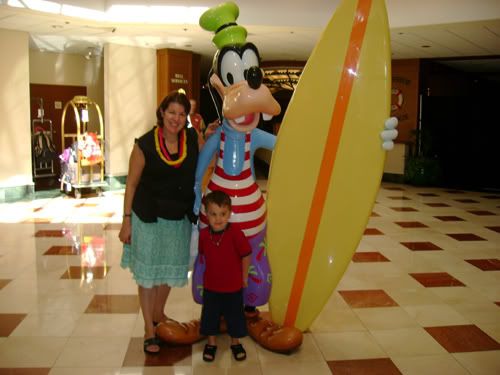 About 5 years ago, inside the lobby of the Paradise Pier Hotel
We are going to stay at the
Paradise Pier Hotel
, one of the Disney resort hotels. I've stayed there a few times in the past but Danny hasn't. He was thinking we'd do the Grand Californian this time, but with a cost difference of $140 a night, we couldn't really justify the splurge. We were sent a coupon code for 20% a one night stay in the mail a while ago and have been holding onto it. If you would like to get those kinds of coupons in the mail, you can sign up onto the Disney mailing list by requesting a
vacation planning DVD
.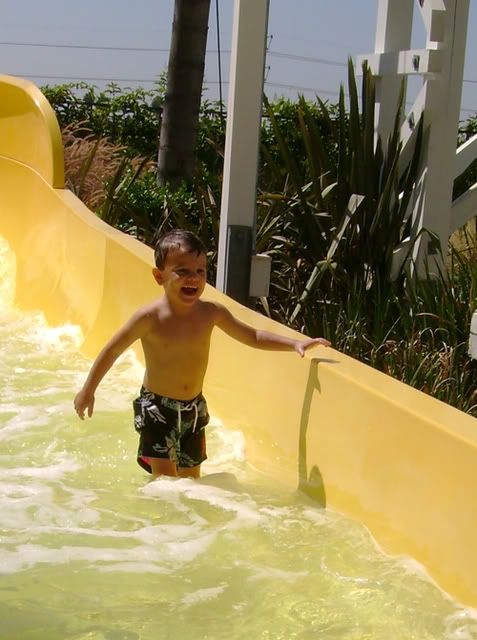 The Boy, way back when, going down the slide at the Paradise Pier
Paradise Pier has an great rooftop pool with a twisty waterslide. We are planning on spending the day in the Parks on Saturday and then lounge around poolside on Sunday before heading home.
On the checklist for this trip:
--First off, make my kids something special to wear. I love making them fun boutique clothes to wear at the Parks that really make them stand out. Last trip was on short notice and I didn't have a chance to make anything but this time I have a few weeks, I'll come up with something cute.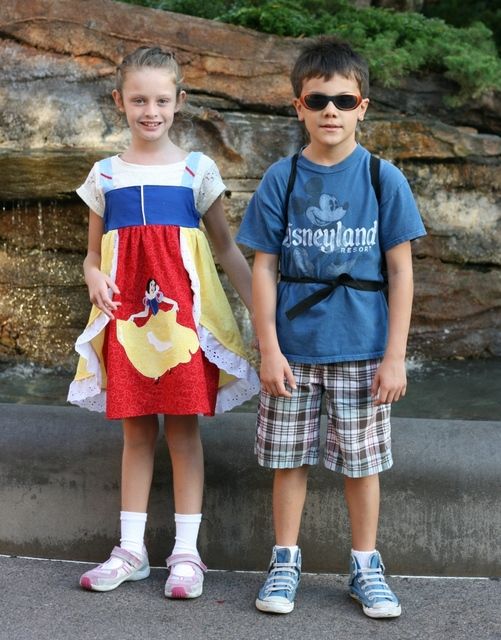 I made this dress for The Girl to wear last summer, but didn't have time for The Boy. This year I'm making something for everyone!
--Get the kids in the
Jedi Training Academy
show. Poor Boy has been passed over every time, though once his brother was chosen to participate and was even the featured kid to defeat Darth Vader!
The Boy's older brother in the Jedi show
--Make sure Baby D gets to ride
It's a Small World
at least
once. He is certifiably addicted to watching YouTube videos of the ride online and I think he'll be thrilled to see it in person. He's been on it before (at 9 months and again at 12 months) but now he's REALLY into it, I think he'll be so excited!
--(Maybe) see the new
Fantasy Faire
area. Maybe, only if it's not obscenely crowded since it's the newest part of the Park.
--Watch Billy Hill and the Hillbillies. They are my favorite show and I've not seen them in a long time. They always make me laugh until I cry!
--(Possibly) see the new show,
Mickey and the Magical Map
. I say possibly, because it's going to be opening shortly before we go and it's probably going to be a madhouse.
--More character interaction. I loved how tickled Baby D was last time, I'd really like him to get a picture with Mickey this visit.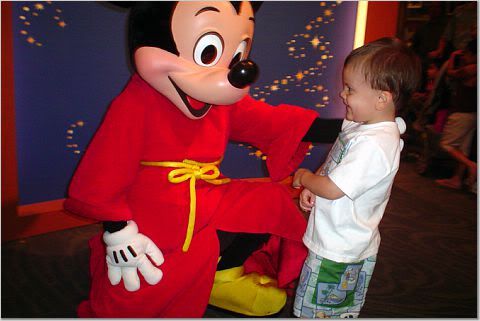 The Boy with Mickey...awww, he was so little!
--Take more pictures of the gorgeous
Buena Vista Street
in California Adventure. I got a few pictures of the kids there around Christmastime.
The Red Car Trolley goes down Buena Vista Street
--Baby D would love the
Disney Junior - Live on Stage!
show. He knows the characters now and watches the shows a bit, so I know he'd get a big kick out it. And I love that my older two are still young enough that they still love and watch the Disney Junior shows (they still watch Clifford and Barney, for heaven's sake! I'm in no hurry for them to grow up!).
--Get on the
Radiator Springs Racers
as many times as we can!! The kids rode it four times last trip, we love it!
--Get The Girl's Duffy Bear teddy bear an outfit...poor bear has been naked since our trip last year.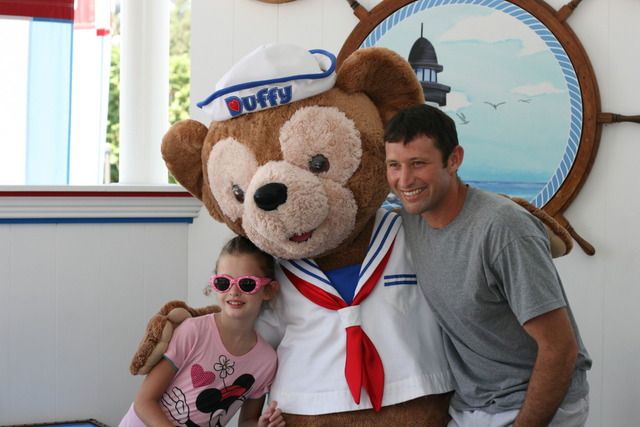 The Girl and Danny with Duffy Bear
--Take a great family photo. It's hard with three kids to get everyone looking at the camera at the same time and for nobody to have a weird expression on their face, but I'm hoping for something decent enough this time to put in a frame!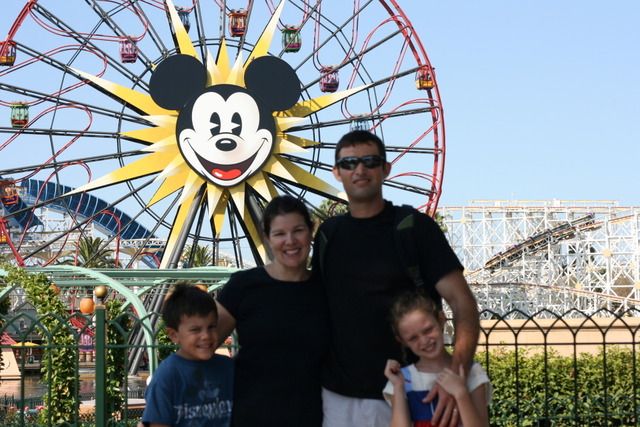 We looked decent here, but it's all blurry!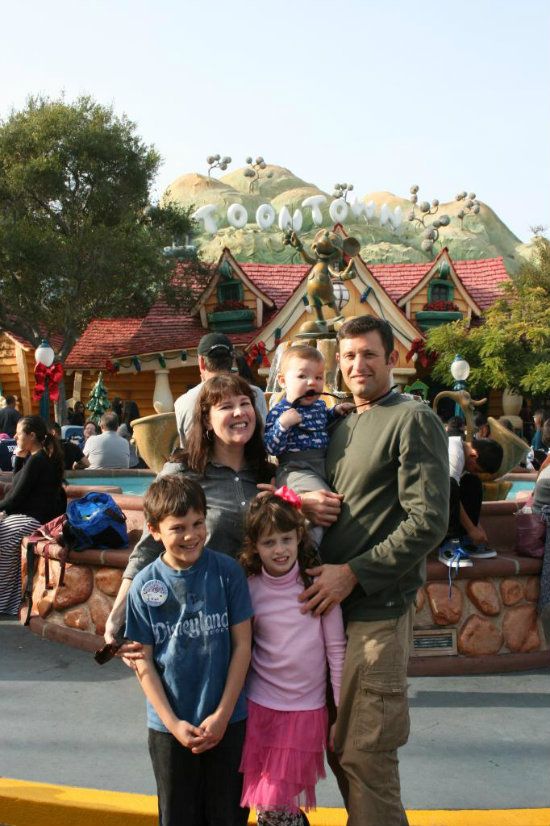 As good as it gets, though the baby has something in his mouth of course!
--I'm hoping that Danny will hang long enough to see the
fireworks show
. Last time he fell asleep in the hotel and the kids and I sat in the esplanade and watched them from outside the park. I'd love to get a decent spot inside near Main Street and be able to see them all and hear the music.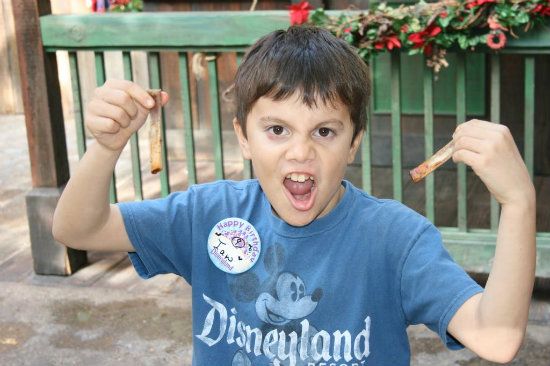 All-you-can-eat ribs at Big Thunder Ranch BBQ!
--Try a new restaurant. We loved the places we ate on our last trip and have already talked about trying something new this time. I'm going to angle for the
Paradise Garden Grill
for a kabob lunch and the
Plaza Inn
for a fried chicken dinner.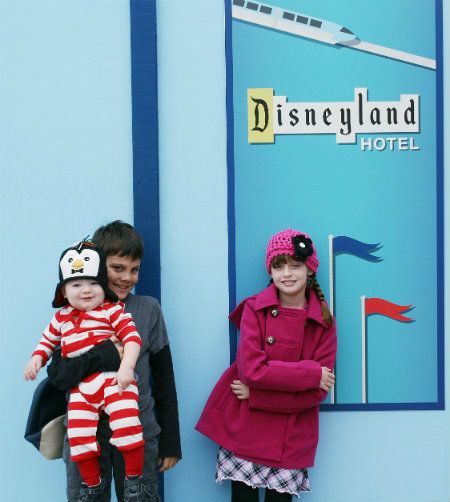 And the countdown begins...can't wait!!