We have a tiny house, just over 1000 square feet. With five of us here, things are tight. But I've been putting to good use all of my baskets and bins and have been aquiring new organizing tools to keep things in place.
The house is small but we don't want it to look cluttered or feel cramped. We are making good use of the garage, storing items that aren't needed frequently. Extra diapers, wipes and toilet paper rolls (thank you very much, Costco) are kept in a cabinet in the garage as are our shoes and the kids' backpacks. We have donated so much to the thrift store lately in the hopes of being able to live spartanly and keep clutter at bay but still keep the house looking warm and inviting. We hung two pieces of art work this week, that helped give the walls a bit of character. More to come...I have ideas!
The bathrooms were one of the first areas I had to work on. We have two small bathrooms in the home. The guest bath (or the "kid's" bathroom) is slightly bigger than ours with a deeper sink and a bathtub.
Guest bath
The shower curtain, towels and floor mat came from the apartment. I have extra towels rolled up nicely in a basket next to the toilet because inevitably one of the kids forgets the towel they keep in their bedroom.
Making use of my basket collection
The only thing I purchased for this space was three
plastic baskets
for under the sink from the Container Store, green for The Boy, pink for The Girl and blue for Baby D. We keep a plastic drinking cup, their toothpaste, toothbrush and mouthwash inside. They know to pull out their own things and put them away after each use and so far, it's keeping the counter clean and everything under the sink looks organized. And the bins are plastic, so they can be washed out very easily.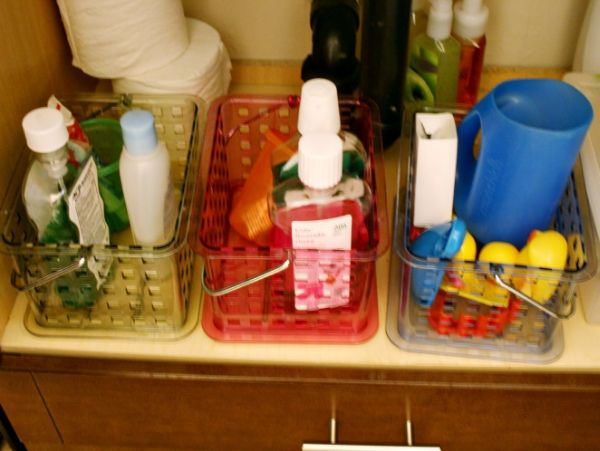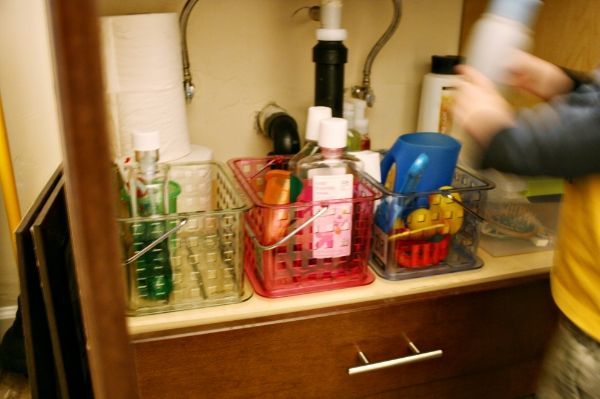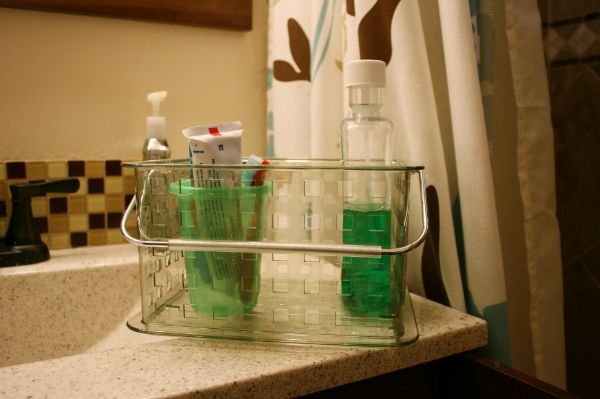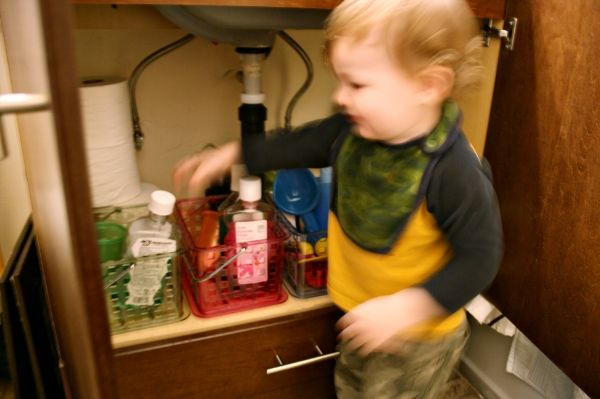 My little "helper"
In our bathroom, I did have to purchase a new shower curtain liner and will be making a shower curtain for this space. I found this pretty lacy looking
wastebasket
at Bed Bath & Beyond, along with the tiny bath mat. A wire basket from Target holds extra toilet paper. Under the sink in here is a two-tiered pull out drawer from the Container Store that holds Danny's shaving stuff and my hair things. I also have a large basket for ahem, feminine products and my make-up bag. Toothbrushes and paste stay on the counter. I would like to have some shelving put up on the wall next to the toilet for extra storage.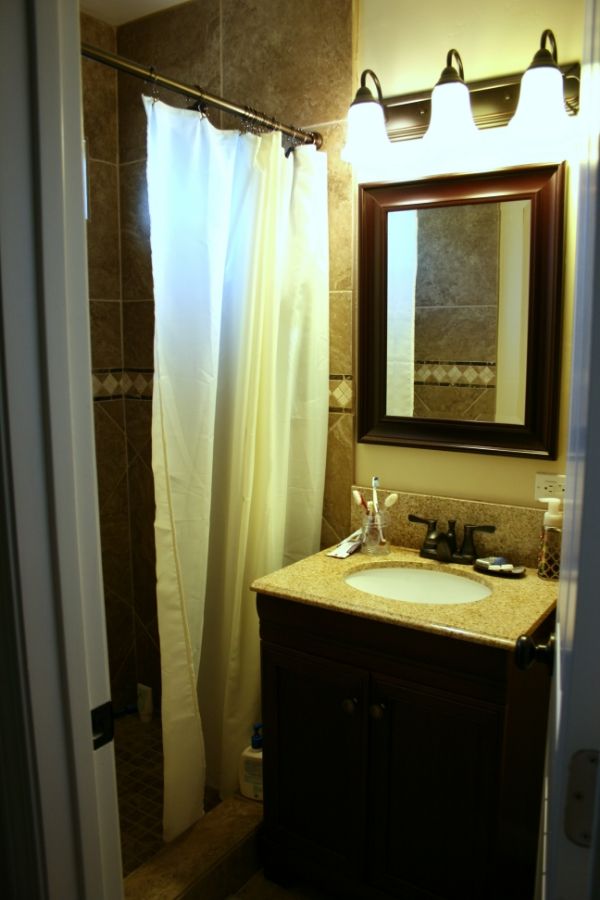 Teeny-tiny master bath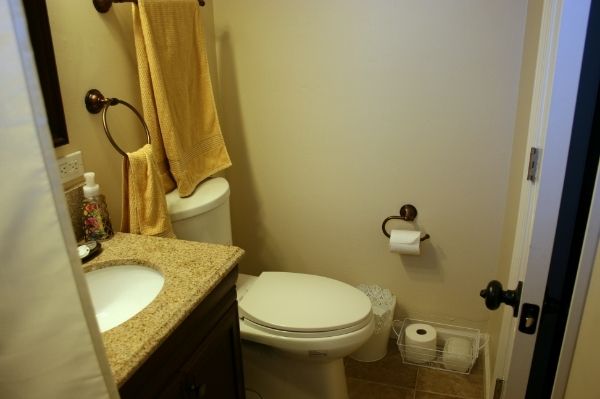 The not-so-grand Master bathroom...I had to stand in the shower to take this picture!
So, bathrooms...organized but still a work in progess. Still to do, a shower curtain for the master bath, some shelving and hang some art. But still, organized and pretty much clutter-free, yay!!