About once a month, my fiance and I are able to go on a "date night". We each have our own children (I have my son full-time, he has his daughter on weekends), so going out on a date, sans kids, is something we do try not to let slip through the cracks. It would be way too easy (since we are already next-door neighbors) to just sit on the sofa and watch
America's Got Talent
and eat spumoni straight out of the tub (that would be what we called "last Saturday" LOL). Since we do live right next-door to each other most evenings are spent together after my son is in bed. I'll take a shower, get my son to bed and then my fiance and I will watch a Netflix movie together. Most of my nights are spent in casual jeans, an old t-shirt and either my slippers or flip-flops. Though I am still at the stage where I don't like him to see me without my lipstick, I would say that most events are highly
unglamourous
.
Friday was a scheduled date night. I was going to pick him up at the church after a meeting and we were going to dinner. This allowed me some time after work to take a leisurely shower, feed my son his dinner, bathe him and read him a story, put on make-up, fix my hair a little differently and slip into a cute outfit. I'd found a pretty coral colored, crochet-trimmed tank at Old Navy that I just loved. With my dark wash jeans and a pair of new bright yellow, platform wedge sandals it was such a bright and fun outfit. I definitely was holding myself differently in it (you kind of HAVE to hold yourself differently in platform wedges!).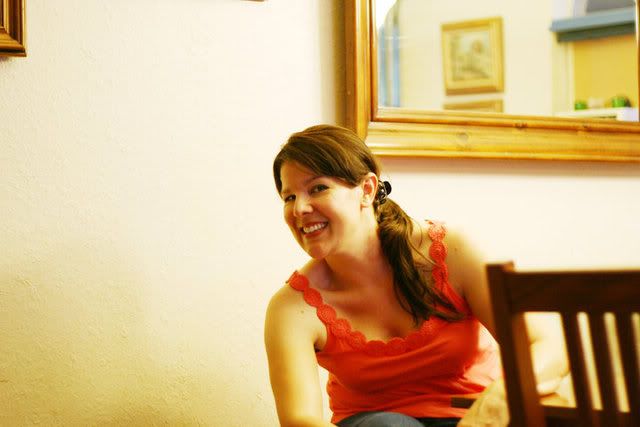 My son took this photo of me before I left for the evening
As I walked up to the place where I was meeting him, I heard his voice first. I came around the corner and could see him standing under a streetlight talking to another member of his group. I smiled at him and he smiled back and kept talking. As I passed under the streetlight, his face lit up and he walked up to me and gave me a big kiss and said, "You look
beautiful
!"
Later that night as we were sitting on the sofa after our dinner, I unstrapped my shoes and he said, "And you have cute shoes on too!"
Cute shoes
, I loved that...I've never heard this manly man
ever
say the word CUTE! He's not really one for emoting or even mentioning my outfits or appearance.
He said, "You look fantastic tonight...when you were walking towards me...wow!"
I said, "You didn't recognize me, did you?" I laughed.
He laughed too and said, "No, I
didn't
!! When I saw you walking at me I thought who
is
that hot woman! And then I realized, oh, she's mine!"
Honey, I think that every time I see you...oh, that handsome man? Yes, he's mine.