What do you bring with you to the parks?
Of course, you can always buy these things in the park if you forget them, but it will be at a premium price, so it's best to remember to pack them on your own.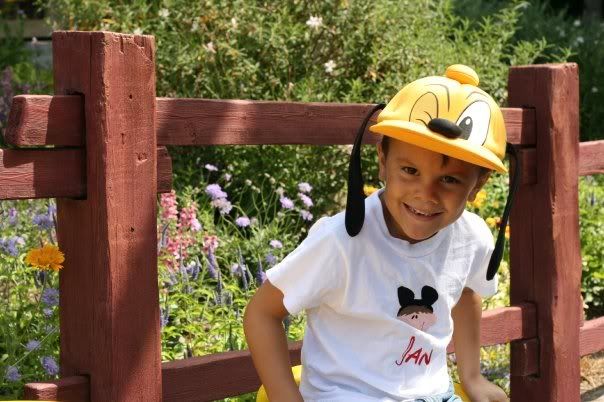 Tickets!
You remembered to prebuy them like I told you, right?
Camera and/or video camera.
This would also include batteries (or a charged up battery) and a second memory card!
Throughout the parks there are also Disney photographers ready to take your picture (in front of the park, just after you've entered, at the end of Main Street, in front of the castle...you get the idea!). At the first stop, they will hand you a
Photopass
card, a scannable card that you will present to each Disney photographer you meet on your trip. Don't lose the card! You will use this card to view, edit, share and purchase your photos online once you get home. Disneyland photographers are always happy to take pictures for you with your own camera too!
A Disneyland Photographer took this one for us with my own camera
Snacks.
I've never been turned away from the park gate for bringing snacks or even juice boxes. Sea World San Diego is extremely strict on their "no outside food" policy and will make you throw out perfectly good sandwiches or snacks if you try to bring them into their park, but I've never once had them tell me that at Disneyland. Obviously don't be bringing in anything that will spoil without refrigeration but bringing your own simple sandwiches, beef jerky, fruit snacks and pretzels can save you big money. There is also a
Picnic Area
outside the park if you want to purchase food at Downtown Disney and eat it before going into the parks.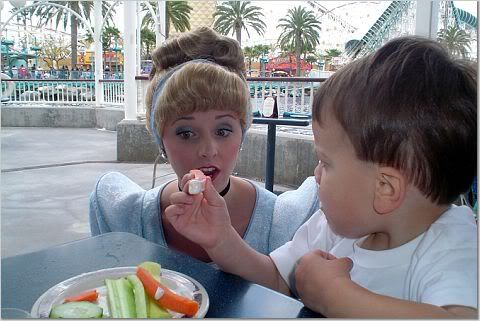 Sharing carrots with Cinderella
Water bottles.
They can be new and sealed bottles full of water (not frozen) or empty bottles that you can fill with drinking fountain water.
A change of clothes for each person.
Nothing like getting totally soaked on a ride and having to schlep around with soggy socks for the rest of the day! Also, those chocolate covered bananas can get pretty messy and tend to drop big chunks of chocolate all over the place (I bought my son a new shirt at the park last time for this very reason!). I also usually bring an extra pair of shoes. I tend to start off with tennis shoes and when my feet get achy or swell a little, I'll move to sandals.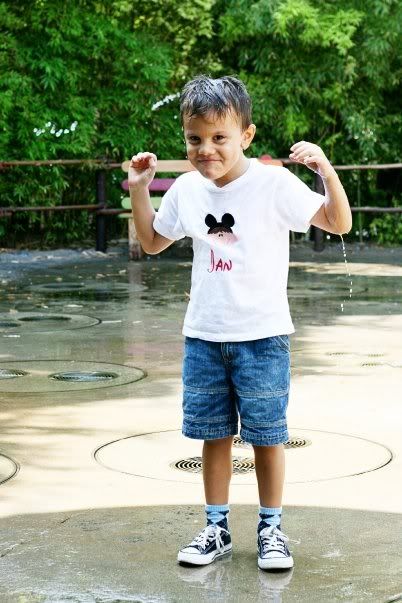 Getting soaked in Bugs Land
A few plastic bags
(to hold wet or dirty clothes).
Ziplocks are ideal, as they can be sealed up.
Don't forget your jacket
, even if it's 100 degrees in the daytime, the night can get chilly.
Sunscreen.
Apply frequently. Bring a lip balm with SPF too.
A stroller.
There are
strollers for rent
in the park too, but I have always liked having my own because that walk back to the car or hotel at the end of a long day can be awful when you're trying to carry a sleeping child (and you are tired yourself!).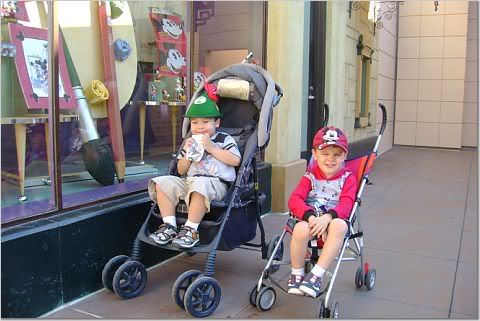 Taking a break in their strollers

Sunglasses. A hat.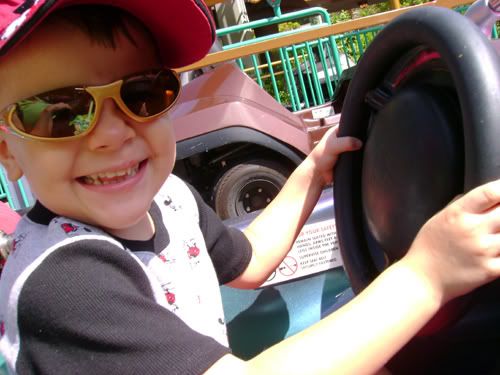 Fortunately, The Boy will always wear both
An umbrella
that folds up very small when not in use or a rain poncho (if there is a chance of rain).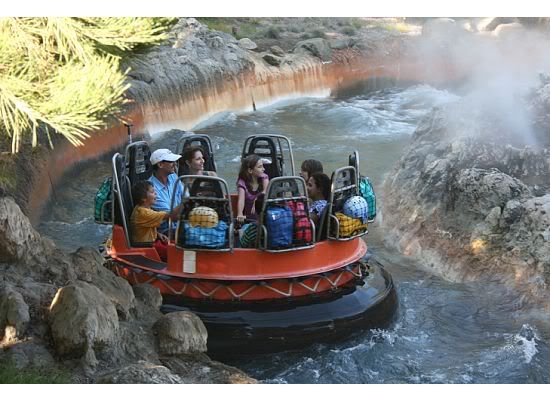 Nobody wears a poncho on these rides in the summer but it can get mighty chilly to be splashed in the wintertime!
A purse
that you don't mind carrying around all day. I have
this one
that I can wear across my shoulder. I slip my ticket right into the front pocket and it's waterproof, lightweight and holds everything I'll need. Anything else goes into a backpack that either one of the kids wears or it goes into a rented
locker.
Cash
(not just your credit/debit cards).
The little kiosks scattered around the park don't take debit or credit cards so if you want a Mickey shaped balloon, a rainbow glow stick or a bucket of popcorn be sure to have cash on hand. If you only have your credit or debit cards, you can still withdrawal cash at the
ATMs
around the park.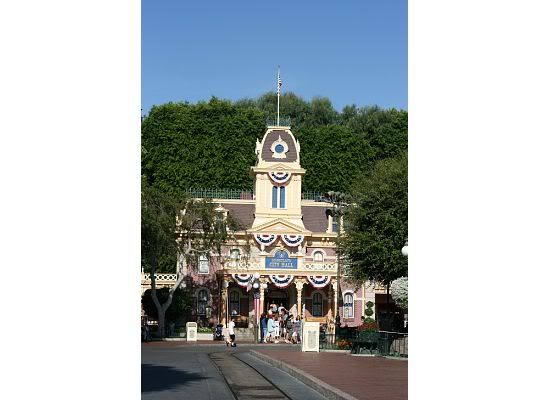 This is City Hall, there is an ATM machine across the esplanade (just behind me, where I posed to take this picture)

Handi wipes and hand sanitizer.
Always nice to clean up before you eat that bucket of popcorn and then wipe your face down after the chocolate covered banana.
Gum.
You won't find it for sale anywhere in the park so if you
have
to have it, bring it yourself.
Baby stuff
, if you have a baby.
Don't rely on buying diapers & baby food in the park, bring your own with you. Make sure you stop in the
Baby Center
, there are high-chairs, rocking chairs, quiet nursing areas and even teeny-tiny toilet stalls for toddlers that are potty training.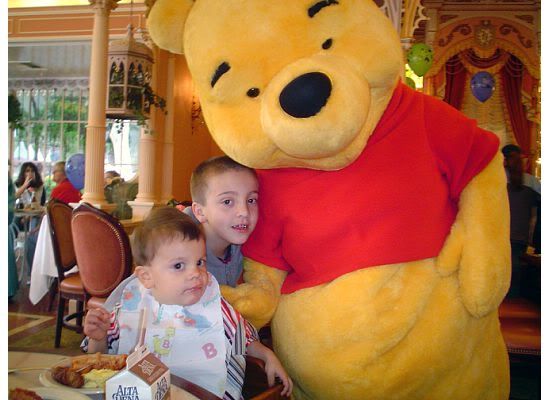 I brought disposable bibs for The Boy when he was little
Medication.
I've visited
First Aid
for Ibuprofen. I like to take something in the afternoon to fend off swelling in my feet & knees after walking all day. And of course I get a headache just
looking
at the teacup ride! The First Aid can even give you an ice pack or bandage up a wound. I can't tell you how handy it is to have a few Tums stored in your bag when indigestion flares up after eating a diet of corn dogs and ice cream sandwiches all day. Also, if anyone in your group suffers from motion sickness, consider getting the medicated patch. I have this condition myself and the patch is perfect for me. Avoid motion sickness tablets as many of them will cause you to fall asleep!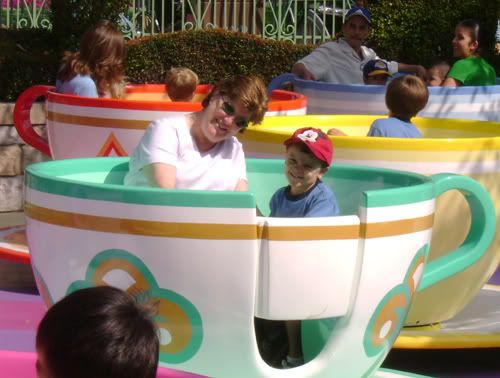 You won't catch me on this ride!What NOT to bring (from the Disneyland website):
•Clothing or tattoos with obscene, lewd or offensive language, graphics or designs
•Clothing that could be construed as indecent, exposing excessive portions of skin that may be viewed as inappropriate for a family environment (e.g., string bikini tops and bottoms, G-strings)
•Weapons or accessories that appear to be weapons •Clothing or accessories that drag on the ground and create a potential tripping hazard
•No Costumes on Guests over the age of 9. Guests under the age of 10 may wear certain types of costumes.
•Sharp or pointed accessories that may cause injury
•Masks or makeup that could be construed as part of a costume
The Disneyland website also has this simplified
Packing List
.