I have
updated this post
and have it featured on my new blog SAVING UP FOR DISNEY.
You're going to Disneyland!
Now, where are you going to stay?
This breaks down to about two different thoughts:
Stay at a Disneyland Resort hotel, which is "on-site".
Or at any other Anaheim area hotel, which would be "off-site".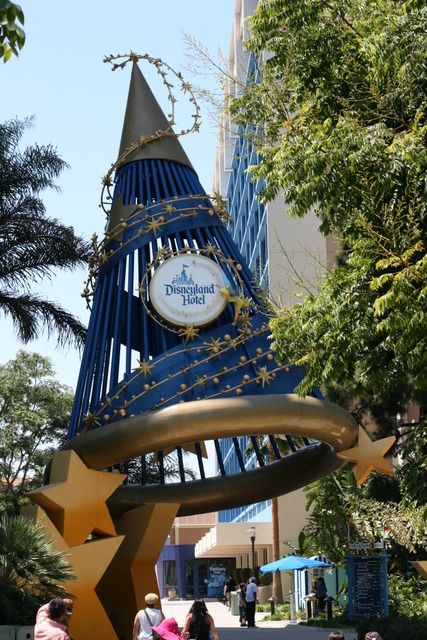 Entrance to the Disneyland Hotel
What will you get from an ON-SITE hotel:
Disney "Magic".
You'll be immersed in all things Disney from the moment you step onto the property. The restaurants are Disney themed, the shampoo and hand lotion have Mouse Ears, everything from the bedding to the pictures on the walls will be Disney themed. And if you are lucky enough to get a park view room, even what you see out the window will be Disney themed because it will overlook the parks.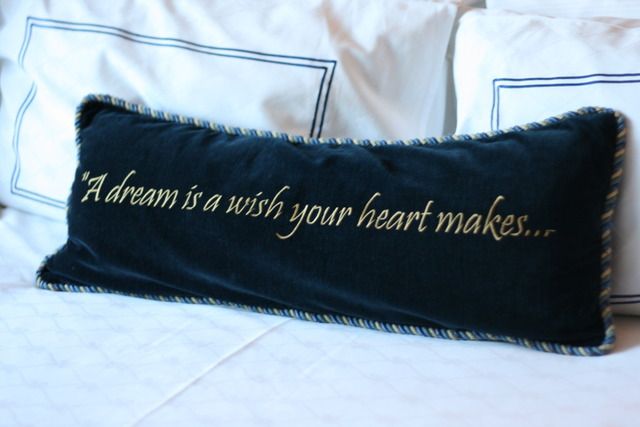 Here is a
Disneyland Resort Hotels Map
.
There are three resort hotels,
The Paradise Pier
,
The Disneyland Hotel
or
Grand Californian Hotel & Spa
.
I have stayed at the first two and love them both. I have never stayed at the Grand Californian but have been through it and it's amazing. Such a beautiful property!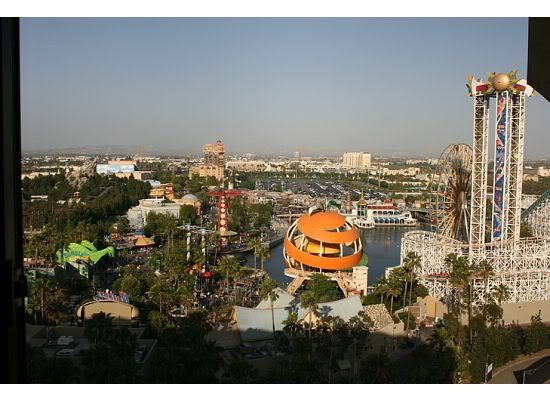 View of Disney's California Adventure a few years back, from our room at The Paradise Pier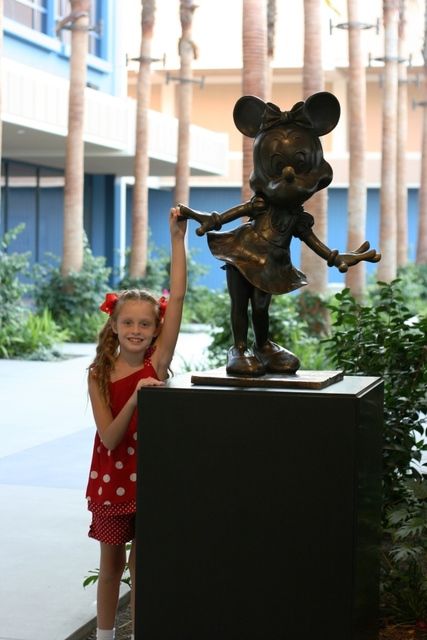 What will you get from an OFF-SITE hotel:
Probably not much more than a standard, ordinary hotel room for the most part. Some of the rooms have views of fireworks at night and some of the hotels have special Disney themed spaces or rooms but generally these are just regular looking hotel rooms.
What are the big differences between ON and OFF-SITE hotels?:
Well, first off I'd say the price. Depending on the season, you are going to pay around $175-400 per night (or more) for an on-site Disneyland resort hotel room. For this you'd think you'd be getting a suite, right? The rooms are slightly larger than average and you do have seating areas, a large bathroom and likely a nice view but they are just normal rooms. I will say that on-site spaces and rooms are more clean and well-maintained than some of the off-site hotels.
I think the biggest difference I've found between on and off site hotels (besides the price) is the customer service you'll receive. The low-budget hotel customer service is what you'd expect, just about average. But on-site hotel customer service is really something special. You can tell that Disney employees really want to drench you in that Disney Magic from the moment you arrive, everyone is very nice and helpful. Of all the times I've stayed at a Disney resort hotel, the desk clerk has upgraded me to a park view room at no additional charge. When I checked in on my birthday, the clerk wrote my name on a birthday button. They happily hand out stickers to the kids and ask them questions about their visit so far.
View from our room at The Disneyland Hotel (this area is now being revamped)
Location, location, location:
The Disneyland website will lead you to believe that if you stay on-site, you are closer to the parks. The truth is that you will be close, but
closer
isn't necessarily the whole truth. Many of the off-site hotels are literally right across the street within a 5 to 10 minute walk from the front gates.
If you stay at the Paradise Pier, it's going to take a bit longer to get into the park. The Disneyland Hotel is a bit closer but with both of these to get to Disneyland Park, you'll either have to walk all the way through Downtown Disney to get to the gate. Or you can catch the Monorail (which is located in Downtown Disney) and that will deposit you into the middle of the park. However, the Monorail station can get really busy so you might be waiting there for 10-20 minutes to catch a ride. If you stay at the pricier Grand Californian, there is a private entrance that will take you directly from the hotel into Disney's California Adventure park.
Now, before you book
any
off-site hotel that boasts, "We're RIGHT across the street!", PLEASE look at this
area hotel map
for some of the local hotels.
Disneyland has a list of what they call
Good Neighbor Hotels
that are recommended by them as good off-site hotels.
Yes, some of these hotels might really be just across the street from the
resort
but they aren't across the street from the ENTRANCE GATE, which means you'll still be walking a long distance to get to the entrance. And who wants to waste all their energy walking to
get
there...save those legs for inside the park! Let alone walking
back
to the hotel after a long day, forget about it.
If you plan on walking to the park from your hotel, I would recommend sticking to hotels on Harbor Blvd, namely the ones right in front of the park entrance. Any hotel on Katella or Ball is going to be a bit more of a hike. I've stayed at the Anaheim Hilton and while it looks like it would be close, it's still a good length walk and we've always opted to drive and park at the resort instead. I have stayed at the Quality Inn & Suites and it's about a 10-15 minute walk to get to the entrance gates, not too bad. And once you get to the gate you're home free. There are no trams to ride (like when you park at the garages), simply have your bags/strollers checked then take out your tickets and enter the park at the next gate.
Staying Off-Site:
The off-site hotel that I've stayed at the most is the Quality Inn & Suites. There is a small pool which we've only used once, parking is free, rooms are clean, and there is a complimentary breakfast in the morning (make-your-own waffles, cereal, muffins, coffee, milk & juice). This food area does get crowded so the earlier the better. I've picked up food there and taken it back to our hotel room when the seating is limited.
The Anaheim Hilton is very nice and we were able to get a great price on
Priceline
. However when we stayed there, there weren't any kid-friendly restaurants (either in the hotel or within walking distance) and we resorted to getting a pizza delivered!
Staying On-Site:
The last time we were at the Paradise Pier Hotel (on-site), we were able to watch and hear the Electric Light Parade from our window. Later that night, we went up onto the roof top, pulled up a pool chair and watched the fireworks show. They even had the narration and music piped in over loudspeakers.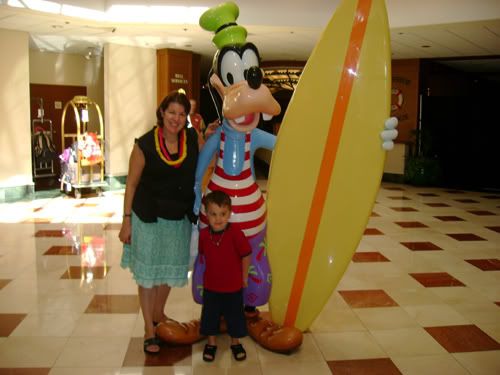 Lobby at The Paradise Pier
I paid extra for Concierge on one particular trip. This allowed us use of the Concierge lounge. We ate breakfast in the lounge, stocked up with drinks and snacks that we took to the pool in the afternoon, and had appetizers (they also serve wine) in the evening before dinner. When we got back to the room, there was a plate with Mickey shaped Rice Krispy Treats and fresh strawberries waiting for us. I really enjoyed the Concierge service but wished that it didn't cost quite as much. Having a larger room would have been a plus, but it's technically the same room you'd get without the service.
On-site hotels are also Disney themed. The Paradise Pier's restaurant has been recently rethemed but when we went it was inspired by Lilo & Stitch and it featured some Hawaiian dishes for breakfast (now you'll be hosted by Mickey).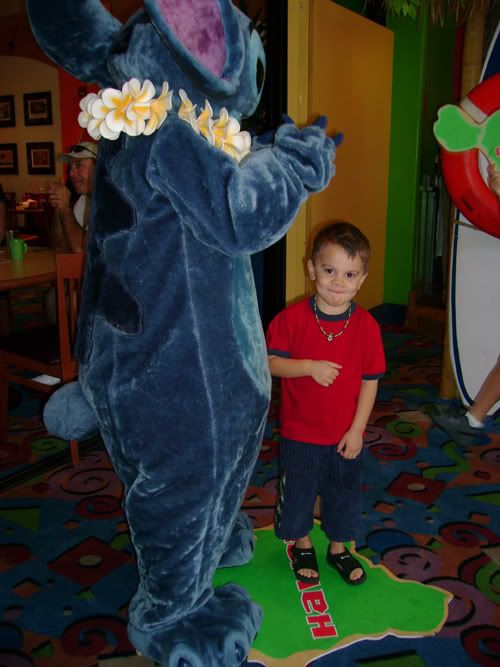 Dancing with Stitch
Dining at The Disneyland Hotel's Goofy's Kitchen was a real treat. You'll get your picture taken together before you're seated and the dinner buffet is truly delicious! A multitude of characters came to visit us all evening, it was a lot of fun.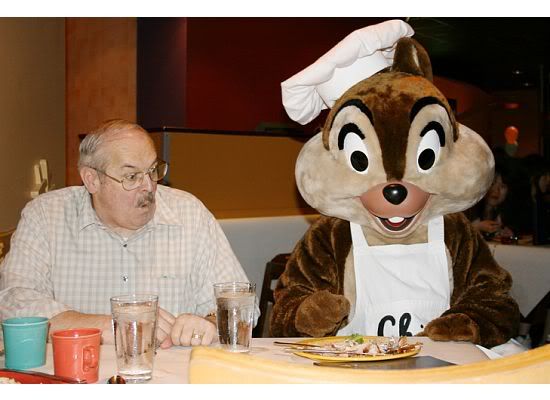 My dad with Chip (or is it Dale?)
Just keep swimming!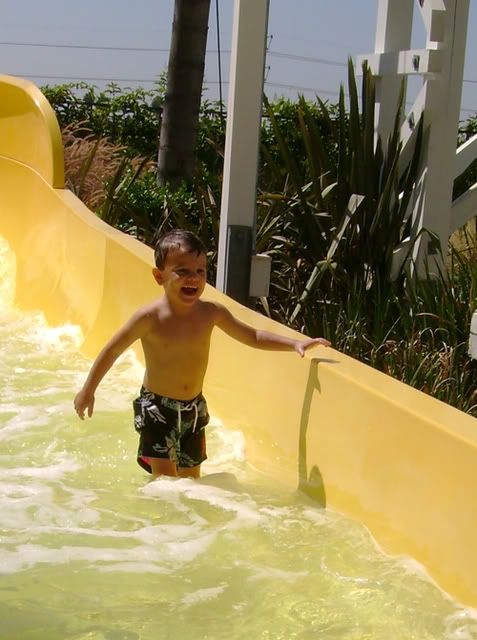 The Paradise Pier twisty slide at the pool on the third floor roof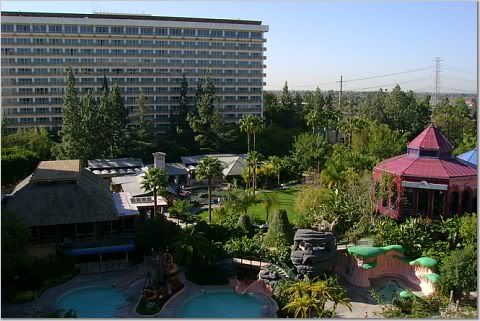 The Disneyland Hotel Pool area (which is being revamped)
I've not stayed there, but
The Howard Johnson
has revamped rooms and a fun looking pool area.
The Bottom Line
Deciding on a hotel really comes down to what you want, how much time you'll be spending at the room, how much you want to spend and how far you want to be from the park.
If you have the money and want the convenience of being close and appreciate high customer service, than by all means, stay on-site at an official Disneyland Resort hotel like The Paradise Pier, The Disneyland Hotel or Grand Californian. If you stay at a resort hotel you may also be able to get into the park one hour earlier on select days, called Magic Mornings.
If you are spending more than a few days in Anaheim, consider an off-site suite which often has separate rooms. Getting a breakfast that is included in the cost is always nice too.
Do you like to go back to your room in the afternoon for a nap? Think about either an on-site hotel or one that is directly across the street so you can walk back and forth easily during the day.
If you don't mind driving in and paying for parking you can certainly save some money by staying a bit farther off the main streets.
If you plan on using the pool, consider paying a little more to stay at a site that has great water features!
Updated 8/14/2013