We live in a beautiful city and wow, the weather certainly cooperated with us today! With the kids off on Spring Break this week and my husband and I both having the same rare weekday off, we headed out to the city.
Seaport Village
Downtown San Diego is less than a half hour from our house and we were at Seaport Village in no time. With so many off for Spring Break right now, I guess many San Diegans are off visiting other areas of the world! The downtown streets were not that busy and even at 9am, we were the first ones in the parking lot for the day.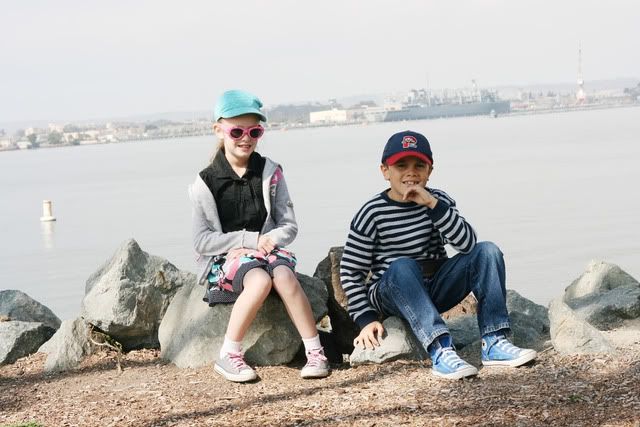 We wandered down along the waterfront, then down to the harborside. There was a Celebrity cruise ship in port and a long line of travelers were lining up. We spoke to a couple from Washington, who told us they were headed to the Panama Canal...how exciting! We noticed that there were no children boarding the Celebrity cruise, probably because it's a more upscale line. Or maybe because the cruise was over two weeks long!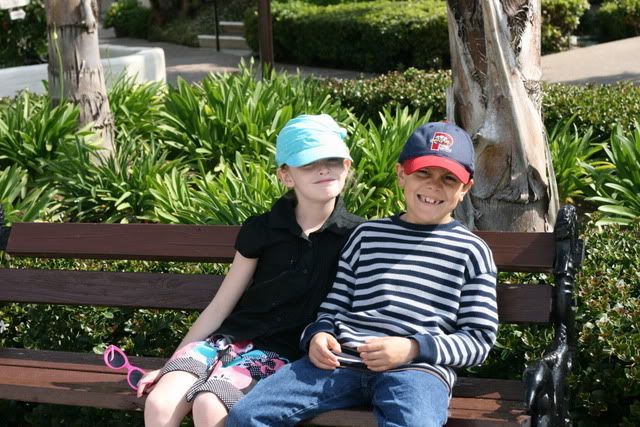 We walked past the Midway, with all the aircraft aboard. We wandered down as far as the Star of India sailing ship, then turned around and came back. We met up with my mother-in-law, who works for the Navy in one of the buildings facing the ocean. She bought us sandwiches from the deli and we sat down to eat (swinging our legs constantly under the table to keep the brazen pigeons away!). We discovered that Baby D likes pickles!! He sucked on this one for a bit, never even making a sour face, what a silly boy!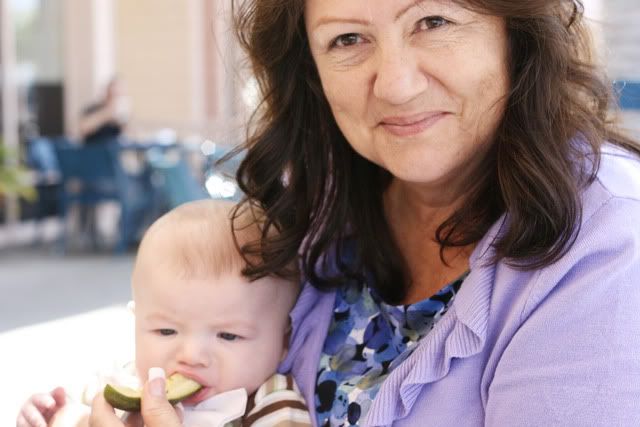 We meandered back to Seaport Village, where the kids rode the carousel and we watched this man stacking stones.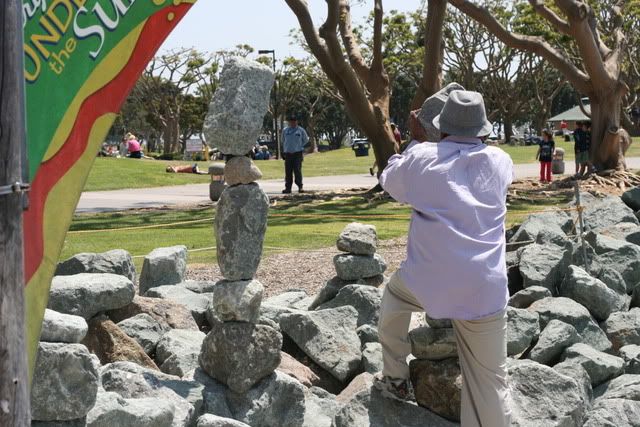 Balboa Park
Next stop was the west end of Balboa Park and a playground where the kids could run around for a while. They had a kind-of "teacup" ride to sit in and spin around and they were in there a long time, spinning like crazy!
It was a warm day but very windy. Baby D was tired of sitting in his stroller so Danny carried him around. We'd left his sunhat in the car, so we improvised with a blankie. Look at those chubby cheeks! He's really starting to fill out.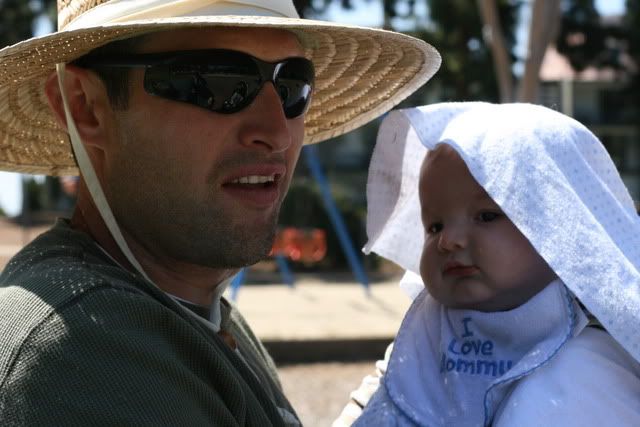 We walked down onto one of the canyon trails then drove to the next location for dinner.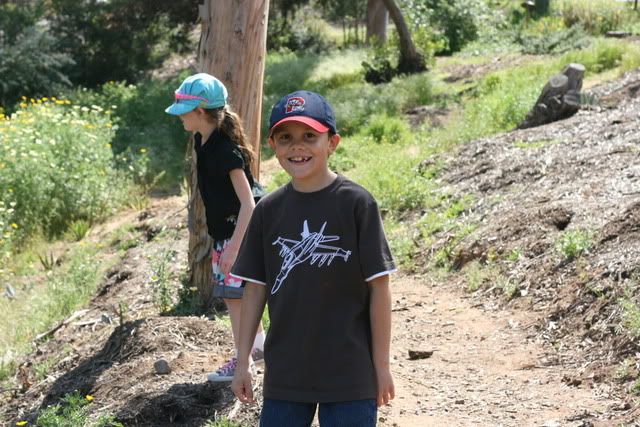 Little Italy
Mona Lisa Italian food...yum!! Salads, garlic bread, canneloni and pizza...all so delicious! We very rarely eat out so this was a special treat indeed.
We walked off our full tummys down the city streets, glancing up to watch the planes (larger than life!) zooming overhead & going in for a landing. We headed home exactly at 5pm.
Home by 5:25...it was a nice day. I would like not to have had this cold, but I think getting out and walking around helped.
That is definitely something we need to do more often!