It was my brother's birthday last week. We went to my cousin's new house for lunch and to watch the Chargers' football game and Padres' final game simultanously. They moved two TVs into their family room, wasn't that great?!
My brother's request for lunch was Round Table Pizza. My cousin's wife made a fruit salad. My guy brought some beer. I was in charge of dessert, which for a birthday party would generally be cake...but my brother doesn't like cake.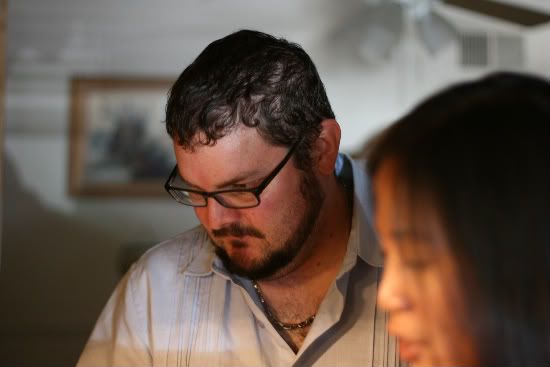 My brother with his wife, on my birthday last month
Yeah, I know, what's up with that? But it's true, he's never liked cake. We've had many birthday
pies
.
But this year I wanted to make something different. No pie this time, I was going to make decorated sugar cookies.
I've been following fellow blogger
BAKE AT 350
. Her cookies are so whimsical, so creative and so fun! Though I was tempted to recreate her pickle-shaped cookies (our last name is DILL!), I decided to go another route and make cookies inspired by our favorite football team, the Chargers.
I printed out her directions and followed everything to a tee. If you plan on baking cookies
and
decorating them, this isn't something you can just whip up on a whim. They take preparation, patience and practice.
I bought a set of round cookie cutters in different sizes. The cookie recipe she provides is easy and very tasty. I was going to be decorating the following day, so after the cookies were baked & cooled I stacked them in Tupperware containers with wax paper between the layers.
The next day I prepared the Royal Icing and "flood" icing. Read BAKE AT 350 for all the details on how to do this but let me just get to the point here and tell you it's going to be...
1. MESSY
2. TIME CONSUMING
3. FRUSTRATING IF YOU AREN'T ARTISTICALLY INCLINED.
Fortunately I can draw a straight line without
too much
wiggling so I was good on the last point! First I outlined each cookie with Royal Icing and drew the outline of a lightning bolt freehand. It had been a long while since I'd wielded a piping bag, but it was a success this time (literally, I was probably 14 the last time I'd attemped that!).
After a bit, I flooded inside each section with watered-down icing and pushed it into the corners with a toothpick. I dropped polka-dots onto a few of them. After an hour, I went back and added the details and writing. Then they had to sit overnight and the icing got hard and I was able to stack them into a box.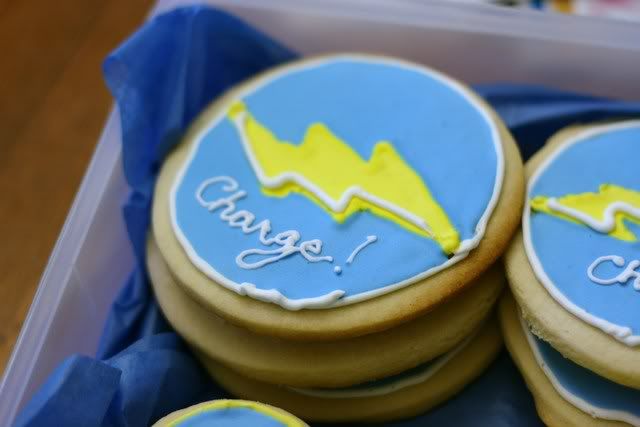 Pretty cool, huh? Did I do a reasonable job for my first time?
At least you can read that it says CHARGE!
I forgot to take a pic of everything set out but I also included polka dotted cookies that spelled out my brother's name (nothing says
football
like polka dots, right?)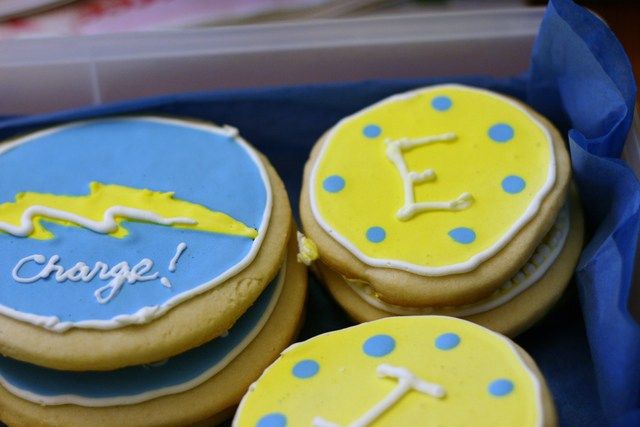 Next up...PUMPKINS! And I already bought the cookie cutter!