It's Breast Cancer Awareness Month...you might have seen a commercial or two about that, perhaps saw something mentioned on Facebook?
You kind of have to be living under a
rock
to NOT have seen or heard something about that! And I think it's great to take the stigma away, make people aware, and raise some money with charity events, bring it on!
Interestingly enough, in Breast Cancer Awareness Month, my mom had her lumpectomy yesterday. Breast cancer doesn't run in our family, so my mom is the first but the doctor's believe they have caught it quite early. She had a golfball-sized amount of lump and surrounding tissue removed from her left breast. Since they didn't have to put her completely under for the procedure (and chose to do a "twilight sleep" instead) she was awake within minutes of them finishing and was able to leave the hospital an hour later. She did have a bit of discomfort last night with some bruising but a painkiller and an ice pack helped. And this morning she told me she felt great and wasn't in any pain at all!
I want to thank every one of our family and friends who have been praying and thinking of my mom during these last few weeks. We'll find out next week (after the biopsy) if she will require radiation treatments, but in the meantime I'm so happy that she's been pain-free in her surgery recovery.
So in honor of Breast Cancer Awareness Month, I bring you the FIVE FOR FRIDAY today. Some of these shops are even donating a portion of their proceeds to research, so get shopping!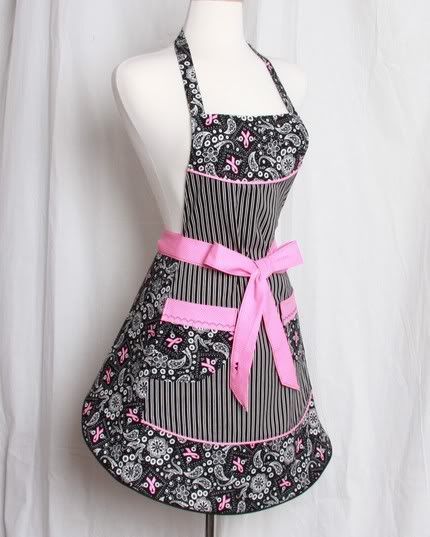 APRONQUEEN
The style of this apron is cute enough, but check out that fantastic Pink Ribbon print fabric, the bold stripe and the amazing pink bow front and center. Too sweet to get messy...better just hand over the cooking duties to someone else, right?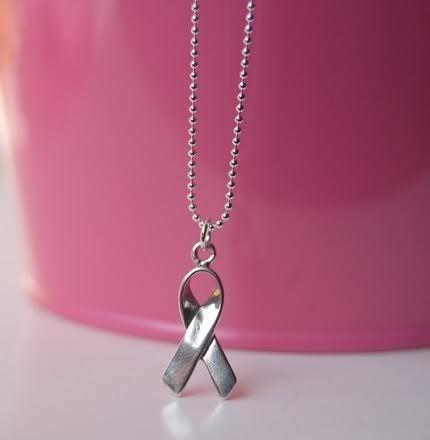 ONEFINEDAISY
Simple and elegant and gets right to the heart of the message. Lots of very sophisticated pieces in the shop (I love the soaring bird!)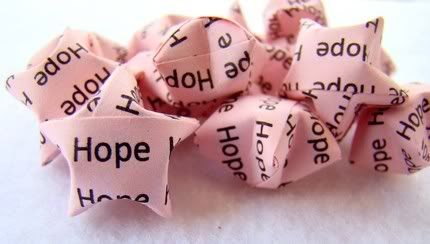 DELIVERANCE05
I am so impressed by those who can fold and manipulate paper into these teensie-tiny little shapes that just look so detailed and whimsical. I've tried origami and it was a mess of folds and refolds, torn paper and it looked
nothing
like what it was supposed to when I was done! Sprinkle these bitty paper stars all over like confetti to remind you to keep
HOPE
alive.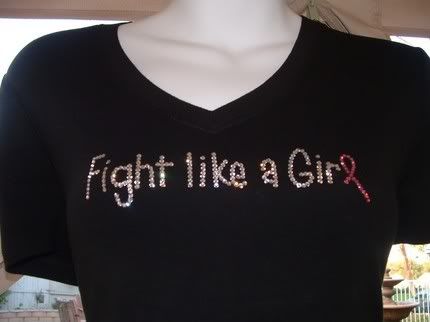 STACEYANNCREATIONS
I'm generally all for subtle but this tee is oohhh, so sparkly! With all the Swarovski crystals used here,
everyone
will notice the fantastic message which is especially great if you are participating in a fundraising walk. I love how the Pink Ribbon is used as the letter L, so clever!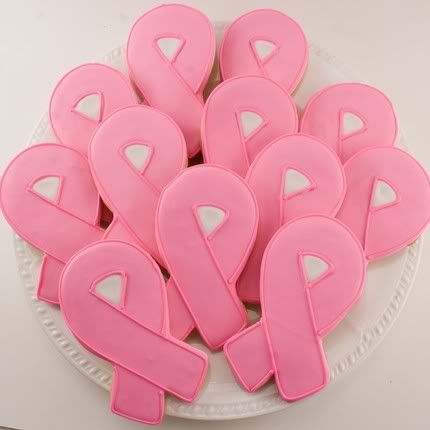 TSCookies
Mmm...cookies! Pink ribbon cookies, even better! Celebrate and share with your friends (or eat them all yourself, your choice!). You
have
to see the rest of the decorated cookies in this shop, they are so incredibly detailed. I made decorated sugar cookies last week for the first time and hope (someday!) to be able to make them this great.