I have
updated this post
and have it featured on my new blog SAVING UP FOR DISNEY.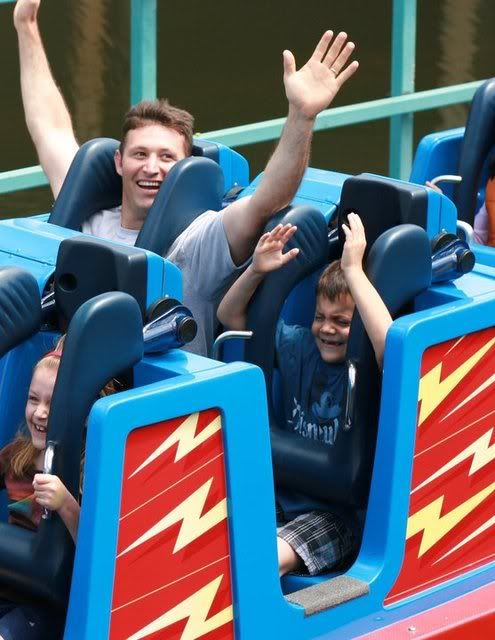 This picture of my husband is deceiving...
It wasn't an easy sell...getting my husband to agree to a 2-day trip to Anaheim (which is just about 90 minutes north of us) to spend at Disneyland and Disney's California Adventure. He wasn't sure he wanted to spend that much money. He wasn't sure the kids' attitudes would hold up for two days of non-stop action. And what would we
eat
?
But I'm a tough cookie and
very
convincing and was finally able get him to agree that a family vacation to Disneyland would be perfect for us!
Once I got the go-ahead, the planning machine was set into action!!
My travel lists and itineraries were pulled out, online research was done, reservations were made and menus were printed out. Outfits for the kids were made by me in a few late-night sessions. I bought snacks & bottles of water and we packed everything up the night before.
That day, we got up and ate breakfast and were on the road by 8:30am. I knew that we wanted to go to California Adventure the first day and that park opened at 10am. I'd booked the
Park Vue Inn
right across the street from the park. I'd never stayed here before.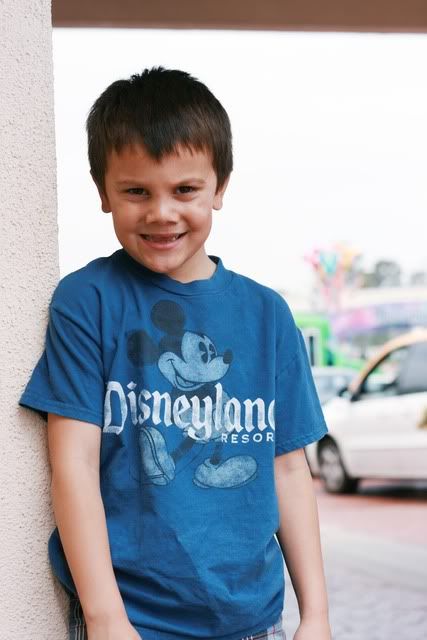 View of the park entrances (behind The Boy) from the lobby of the hotel.
Coming out of the Disneyland esplanade (where the two parks face each other) there is a transit drop off/pick off area that you walk through, then a street light and our hotel was literally right here at the light. They allowed us to park in the lot for the day after doing a pre-check in (no cost, usual Disneyland parking is about $15 and many of the area hotels charge this same amount per day that you park in their lot). We were also given tickets for a free "social hour" meal later that night and a free breakfast the following day. I will never stay anywhere else, this hotel was really a good fit for us!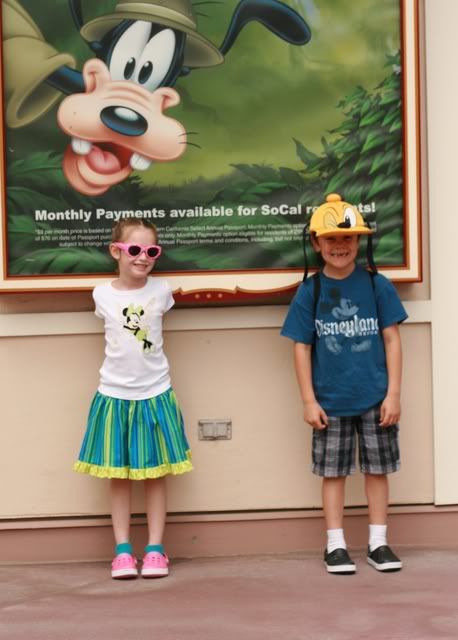 We walked over to the park and immediately headed to Guest Services. The Girl is Autistic and though melt-downs are currently at a minimum, my husband and I were reminded of our road trip spring break vacation last year. Each stop on that trip was met with a meltdown of epic proportions every time we had to transition to the next event. It was truly a difficult time. We'd never taken her to Disneyland before so we weren't sure what to expect with the prolonged exposure to all the bright lights, long lines, loud noises and over-exhuberance that is an amusement park.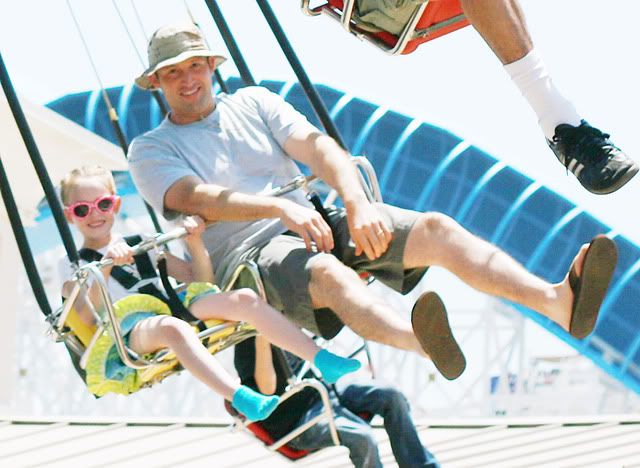 I'd read on the
Disneyland website
(and other resource sites) that there is a Guest Assistance Card for those with special needs. After explaining to the Cast Member what her possible issues might be (anything from a full-blown tantrum with hitting and screaming to laying down on the sidewalk and refusing to move), he gave us a card that showed the dates we would be visiting, the number in our party and instructions of use. He even told us where we could get free ear plugs (at First Aid) in case any of the attractions were too loud.
We would show the Guest Assistance Card to the Cast Member at the front of each ride (Disneyland is very well staffed & there was never a problem finding one or two people at each line). They would instruct us where to go, which was either through the Fast Pass line or through the exit. The entire party (up to 6 people) can use the pass along with the special needs guest. We only used the card when lines were very long, otherwise we just waited in the usual line up.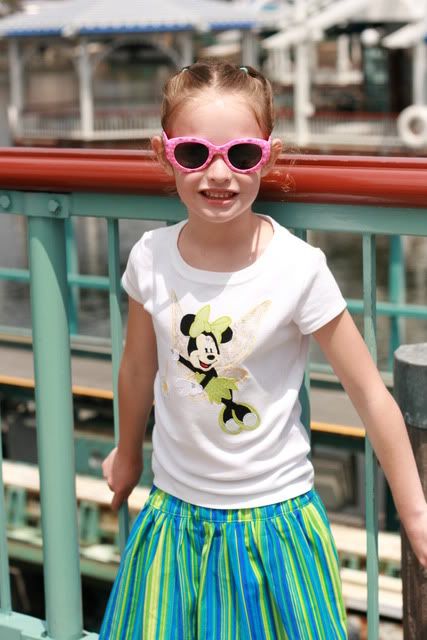 Sunglasses are helpful to ease the annoyance of sun in her eyes. Earplugs were good for loud attractions.
I will greatly admit that having a special needs child is a challenge in itself because you never know what you might get one day (or moment) to the next. Having the pass that eased on the line waits make a huge difference in the enjoyment level for The Girl, and actually for all of us.
There were no less than six times that she got to the front of the line and then decide she did
NOT
want to ride after all. A few times she got back in line again after bailing out and
would
go on the ride. I think being able to have that ability (for her to think it over and then try again) was very helpful. I know that if we'd been standing in a 30 minute...60 minute...or goodness, a 90 minute line only to have her say she didn't want to ride would have been very frustrating for everyone.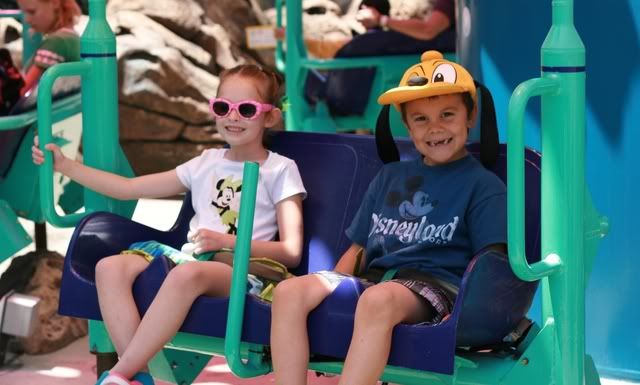 About mid-day, my husband held up the Guest Assistance Card and said, "this really does make the day enjoyable for
everyone
". I have to agree!
Next, up fast, faster and
fastest
! From the toddler rides and attractions to the zippiest of roller coasters.