So, this past weekend I spent at my parent's house while my husband tiled their front living room. I didn't have much to do...all the Better Homes & Gardens magazines had been read, I'd been chatting with my mom for 5 hours, I'd already taken The Boy to lunch, I took a two-hour nap...I'd run out of things to do and I was
bored
!
I headed over to JoAnne Fabrics with some ideas in my head. Knowing now that I'm having a boy, I've settled on a theme for the nursery:
Under the Sea
!
For my stepson, who is now 13, I'd made a crib bumper and skirt in a bright animal print and a fleece blanket. For my son, who is now 7, my sewing machine was out of commission at the time so most of the stuff I bought for his room were used items off Ebay. We were living at my parent's house and able to paint the walls so we used Disney-themed colors and did the upper half in blue (Pooh's Favorite Things) with soft lime green (Tinker Bell) on the bottom half. I had some sweet peel & stick butterflies to put over his crib and mixed in yellow gingham on the crib sheet and changing pad cover.
This time around, I'm ready for bright colors again and have decided, that bright aqua and red will be the main colors with a mix of orange, lime green & cream. I already have some fabrics (which I'll share later) and I picked up a few coordinates at JoAnne. It's important to me that the room have things that can "grow" with this new little one. I don't want anything too baby-ish or that will look dated in a few years, but should still look like a little boy's room.
I've been perusing the web in the evenings and "pinning" things I like in Pinterest.
I like this bed skirt but there is a bit too much powder blue in this crib set for my taste.
No idea why this picture is soooooo tiny! Personalized banner...I can totally make this! And I can use coordinating fabrics to match the other things I have planned to make.
And for another option, check out this darling banner that sticks to the wall!
A sweet personalized print to match the theme & I like the non-traditional nursery room colors
Beach pails to hold baby stuff...these would be great for holding diaper supplies on a shelf above the changing table & they can hold toys or school supplies later.
And because I need a hand-sewing project to do while my husband & I watch
America's Got Talent
, I picked up this
Finding Nemo
cross-stitch kit (a whopping $4.29 at JoAnn with my 40% off coupon!).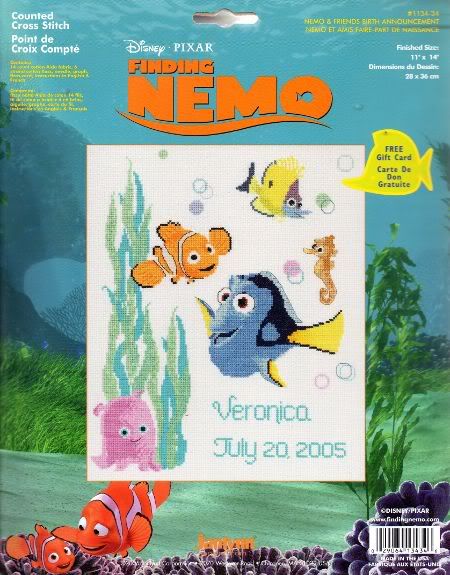 I'm picturing it in a bright teal frame, won't that be fun?
I think I'll leave off the name personalization and date because I want to get it framed and hung in the nursery as soon as possible (and if I wait until he's born before I finish, it's just never going to get done!).
I want to round out the room with
red gingham sheets
(because I'm a sucker for gingham, The Boy had gingham sheets in his nursery too).
And I'm going to paint my own version of this ocean-themed print to hang over the bed. Why buy something if I can do it myself, right?