I'm in the process of designing and sewing the kid's costumes for Halloween. I don't have much spare time so it's been done in bits and pieces but I'm very close to completion!
I'm all for handmade, but even that can get pricey so I try and use a mix of inexpensive store-bought, hand-crafted and stuff we already have on hand.
Currently I have about half of the kid's costumes done for this year. I only had to buy 2.5 total yards of striped fabric and the rest is fabric or accessories that I already owned. So I'm getting by on about $15 cost for two costumes, not too shabby! They decided that they wanted to coordinate and I'll be finishing up their outfits this week and hopefully head out for some photos that I can share. I still need to complete the top for The Girl and make some sort of hair piece (probably a coordinating bow) and the The Boy needs pants and a head scarf too. Any guesses on what they wanted to be?
I've made Halloween costumes for The Boy for years. He expects that I can make him whatever he wants and since he has a wild imaginination, I often have to rein him in on what I can and can't do! In the past, we had season passes to both Legoland and Sea World and went to their Halloween festivities for a few years.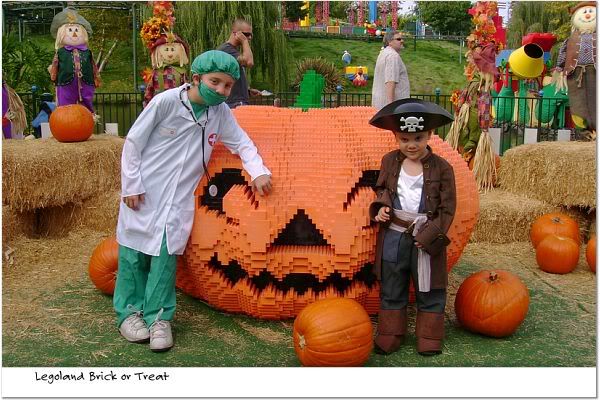 Between Halloween parties, carnivals, and the actual day, our costumes definitely get some use! And in many cases, the costumes are handed down to my nephew the following year.
For the first two years, I didn't have a functioning sewing machine, hence the store-bought costumes.
His first year, he was just 10.5 months old and his dad bought this
Panda
outfit for him.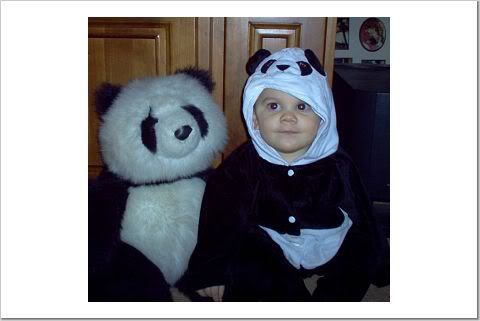 His second year, I found this
Dumbo
costume that I could not resist! There is even a tiny Timothy mouse in the hat.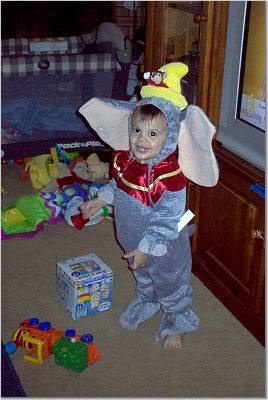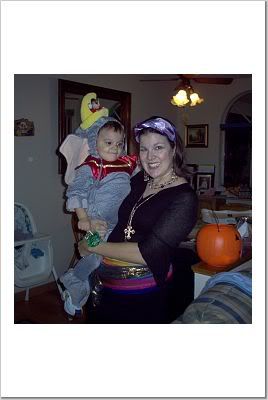 This
Gnome
costume was completely homemade by me and he got so much attention in this. Surprisingly he didn't even mind the tickly beard! I just made a simple tunic top, trimmed in bias tape and sewed on a band of red at the waistband to imitate a belt (complete with a sewn on buckle). The pants are just a thick corduroy and the felt boot covers match the hat. I attached a simple band of elastic (coated with a bit of foundation make-up to blend in with his skin tone) and then sewed on this bit of white fur to mimic a beard. I even sold this set as a custom on Ebay.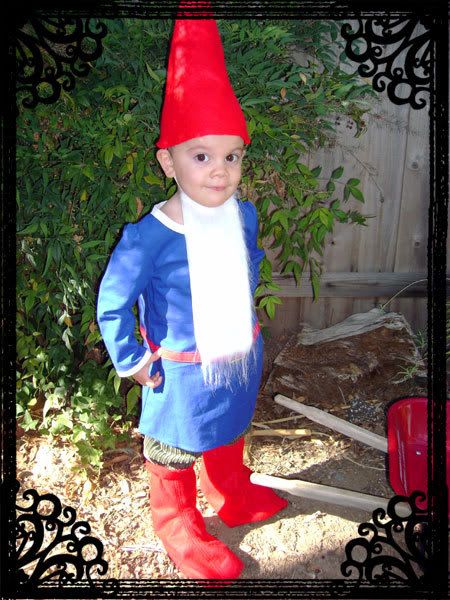 This store-bought
Jack Sparrow
costume inspired by The Pirates of the Caribbean was a hit. The hat is vintage 1970s from my brother, and will likely be worn again this year...hint hint!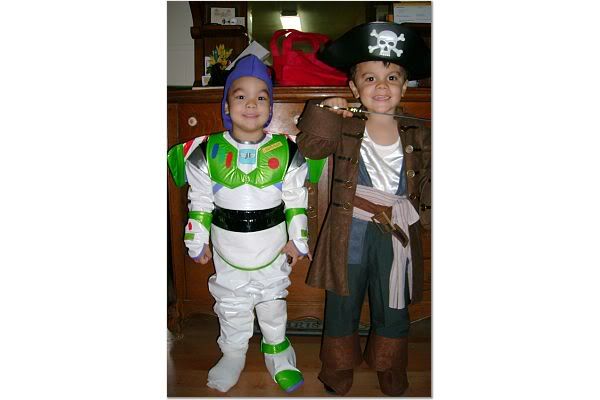 This
Indiana Jones
costume was one of my most favorites. He wore his own boots & pants, I tea-dyed a white shirt to look khaki, and the satchel, whip and hat were store-bought. He totally embodied the character, it was a perfect fit for him!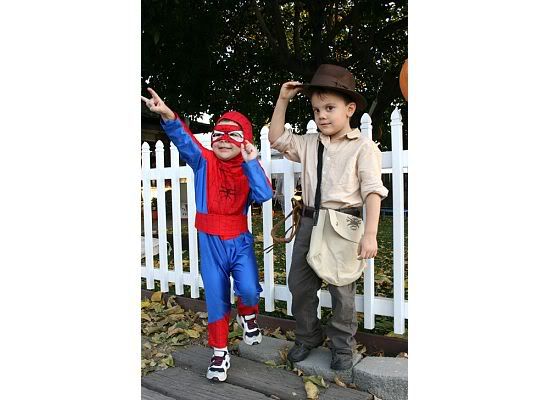 My nephew is wearing a
Spiderman
outfit I made 9 years ago for my stepson! I had a basic unitard pattern and then just reworked and pieced together the color pattern (using his Spiderman action figure as inspiration). The web design was drawn on with a Sharpie.
Hollywood SuperStar Spider
was The Boy's creation from start to finish. He knew EXACTLY what he wanted this costume to look like. I made a simple tunic with a spider-print overlay in the front. The arms were stuffed and attached to the sides of the tunic and then attached with fishing line to the sleeves. I made the top hat out of a cardboard cereal box, rolled up and hot glued then covered with coordinating fabric and then attached to a headband. Grandpa designed the cane from a piece of PVC piping.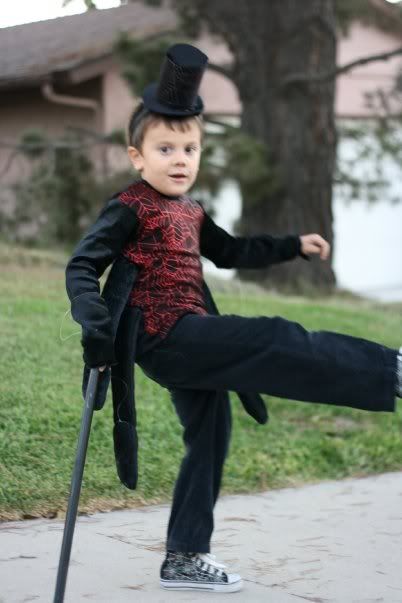 This was last year's costume,
Tree Man
. To be truthful, he wanted to be a
bush
. He'd seen a show about stealth military guys who hide out in the brush, completely camoulflaged. Unfortunately the cost of silk leaves was prohibative and I asked him to settle for being a tree instead. He told me basically what he wanted and I set to work. I covered an old fishing hat with some green fabric and then hot glued on silk leaves. Same for a cheap Wal-Mart tee. We added a little grapevine nest and a faux feathery canary to the top! He still enjoyed pretending he was a bush, squatting down on the lawns as we trick or treated and then jumped out to scare people!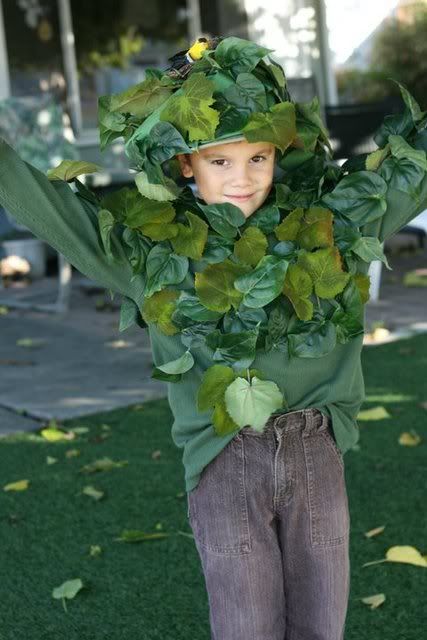 Last year was my first time making a costume for The Girl. We took a trip to the fabric store together and she chose these pretty jewel tones and the lovely wings (already made, hurray!) to create a
Forest Fairy
look. I mixed in the black accents on the collar, belt and tights to match the wings. The collar was an afterthought...turns out the top of the dress was much too large and I needed to come up with something that would hold it in place and not fall off her shoulders. So I just made a simple collar with straps that attached to the collar and to the dress bodice and then tied with a ribbon at the nape of her neck. I hotglued on some faux jewels that I had on hand. I also already had some big sequined butterfly clips so we secured those in her hair and she was ready for twirling!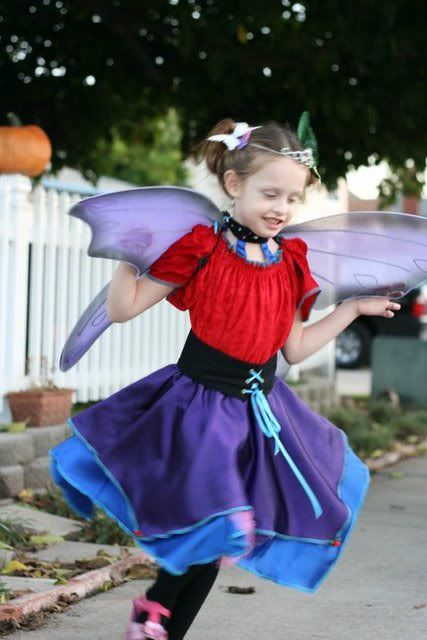 Can't wait to see how the kids look this year. My son has already had a lot of input into what he'd like for the costume and is excited on what I have done so far. The Girl is just happy that her skirt is really twirly!