I'm rounding the corner towards the end of this pregnancy, I can't even believe it!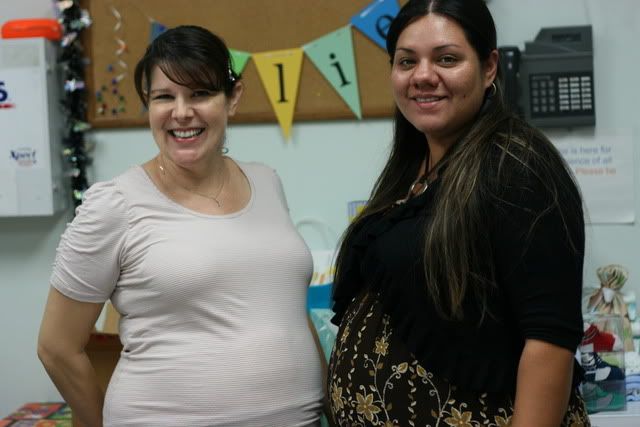 Photos from my company co-baby shower. Jessica & I are a week apart!
I'm definitely
rounding
out in my figure as well. There is no hiding it now, even when I sit down I have a full, rounded tummy. I didn't look like this in my first pregnancy. My first born didn't go head-down until about 10 days before I delivered. He liked to lay side to side, so I was very wide and more flat across the belly. This one has been head-down for over a month, feet stuck up under my ribs. He does rotate his feet around, sometimes they are on the left side, sometimes the right. But he's still head-down and he'd better stay that way, at this point!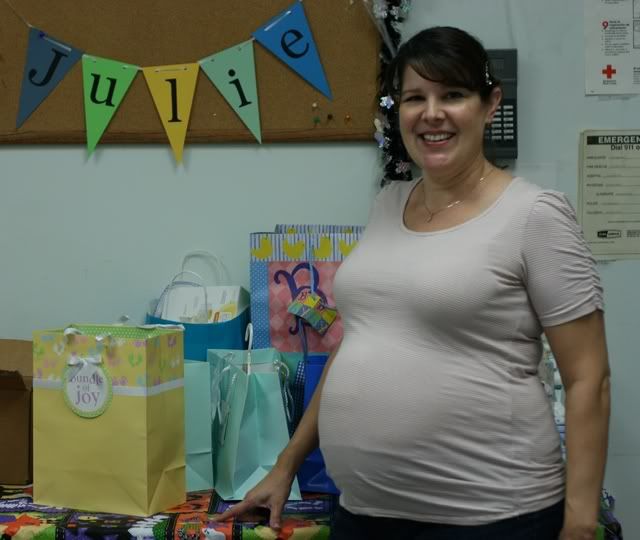 Big ol' round me, at 33 weeks
My official due date is December 6th, which would give me about 7 more weeks. My doctor did say at my last appointment that I was measuring about a week early which would put me at around November 29th. So long as I get through the week of November 21th, I can go anytime after that! I have so much work to do the week of Thanksgiving, they would never forgive me at work if I went into labor before Thanksgiving! So, I'll do my best to get to at least the 25th...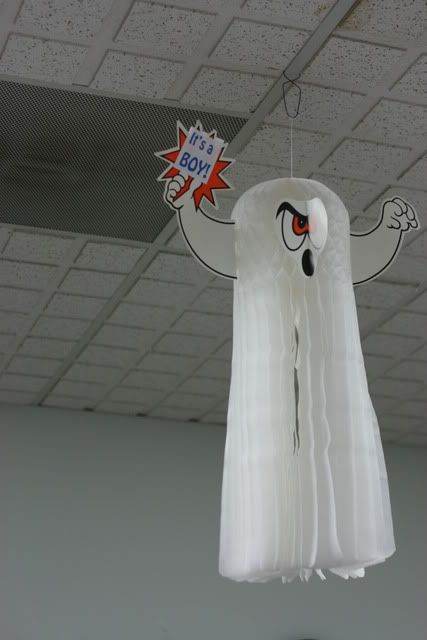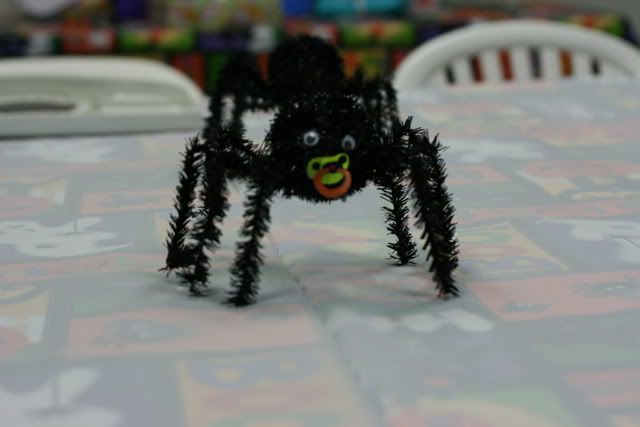 They did a cute job "baby-ing" the existing Halloween decorations!
My husband and I spent the last weekend rearranging some furniture, going through the older kids' play clothes and pajamas and sorting out what doesn't fit. Of course, those are still sitting in piles on the floor. I have a desk at my parent's house to bring over that I'll set up for the baby's changing table and would like to have some shelving installed over that area.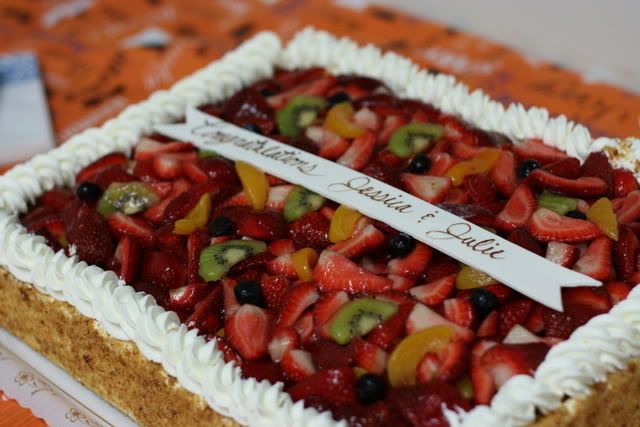 An amazing cake bought for us by our wonderful boss
My husband would like the crib purchased and assembled in the next few weeks but I told him no rush on that, the baby won't be sleeping in his own room for a few months anyway. Ideally, I'd actually
love
to have the room set up and ready to go before he's born too. I have some decorating ideas like artwork for the walls that I'd like to purchase and it would be lovely to have it all in place when we bring him home from the hospital.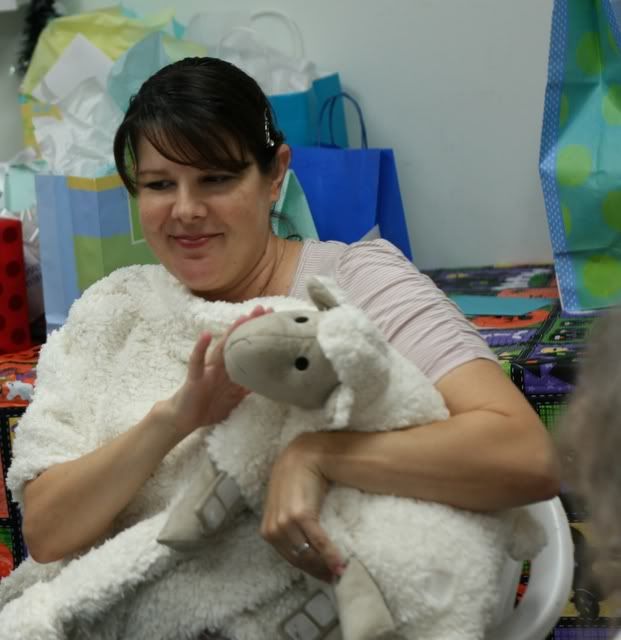 Mercy me, this little lamb pillow and blankie is sooooo soft!
I didn't quite get to do all the fun projects I wanted to do for the nursery...yet. The quilt is complete and ready to be used. The mobile is getting the finishing touches this week. I'm detailing the pieces with embroidery thread and will buy the hoops to hang them from this week. I've already instructed my husband that I'll be having him tie them on with monofiliment and he was grinning with the thought of how the finished product will look.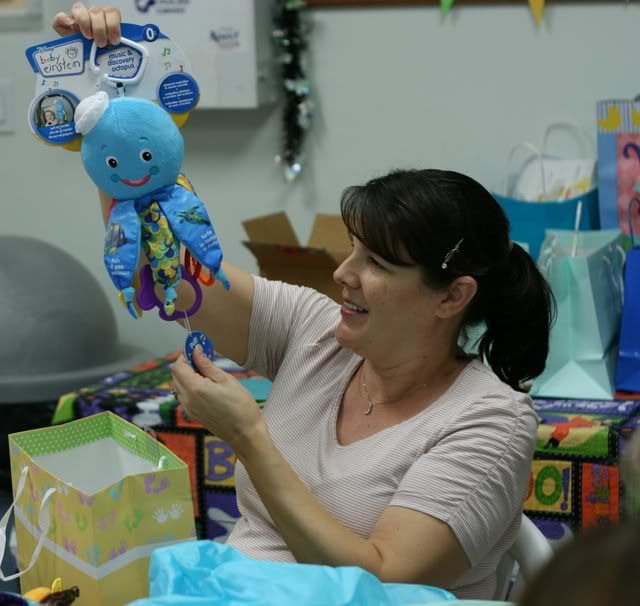 Sweet octopus toy to match the nursey theme
I started Heather Bailey's stacking toy but was slowed by the hand stitching sections. I have the idea to machine stitch all that I can and then have all the hand stitching parts ready and in my craft bag downstairs to work on while I watch TV in the evenings when everyone is in bed.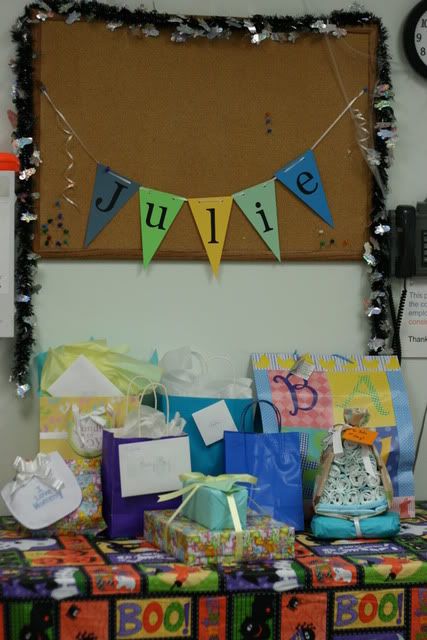 Isn't that pennant so cute?
Crib skirt...fabric purchased and washed but not cut or sewn anything else. Guess I can wait on that until I actually have the crib!
Blocks have been cut with fabric and I was held up because I really wanted to personalize them first. Of course my husband's indecision on finalizing a name has that project on hold for the time being. Same with the personalized fabric banner. I suppose some things can wait until after he arrives and has an official name, right?
Everything else has fallen by the wayside and that's okay. I'll get to what I can and live without the rest (or buy it at the store!).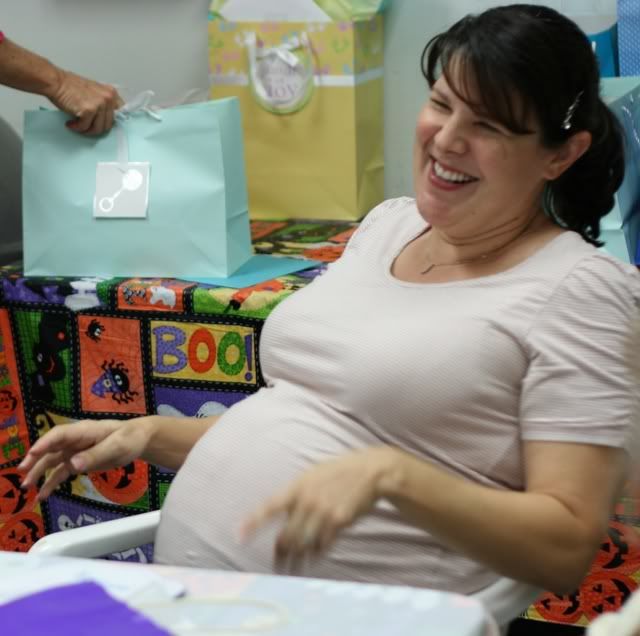 Thank you to all my Chinaberry pals for the wonderful afternoon!