So, The Boy is in second grade this year and he's been clambering for a birthday party with classmates since well,
kindergarten
. He has a small class (thank the Lord!) of only 11 other kids, most of whom he's been with since kindergarten.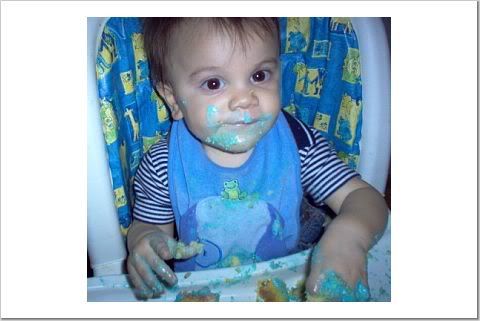 Happy First Birthday!
But because we are apartment dwellers and my husband has an aversion to anyone traipsing through the house and to messy kid hands and to clutter and to rambunctiousness indoors, The Boy has never even had a friend over to our house, let alone considered having a party with classmates.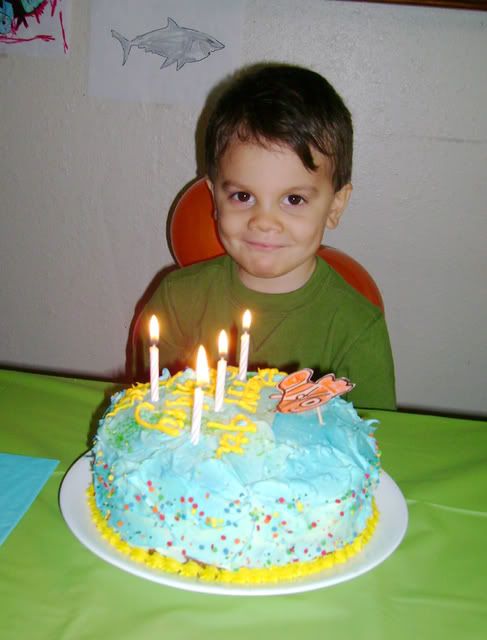 #4 A Finding Nemo Theme. His brother drew the picture and we propped it on the cake with toothpicks!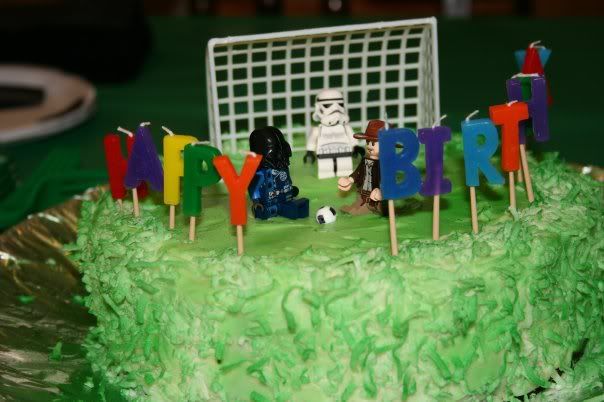 The fifth birthday cake, totally designed by The Boy. He wanted Darth Vader and Indiana Jones playing soccer...done!
Planning The Boy's birthday parties is a challenge because it falls right between Thanksgiving and Christmas and around here in SoCal, we never know if it's going to be 80 degrees and bright or 50 degrees and raining. I've hosted small parties at my parents' house (they are more open to accepting messy kid hands, clutter and rambunctiousness). And they have a
yard
for all that good stuff to happen in! Generally The Boy's previous parties consisted of me, my parents, a few aunts and uncles and perhaps a cousin or two.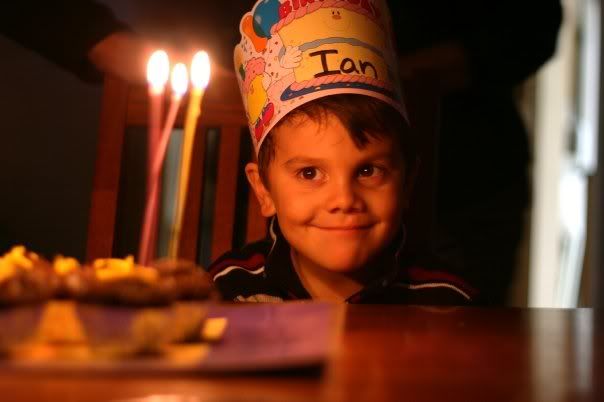 My big six year old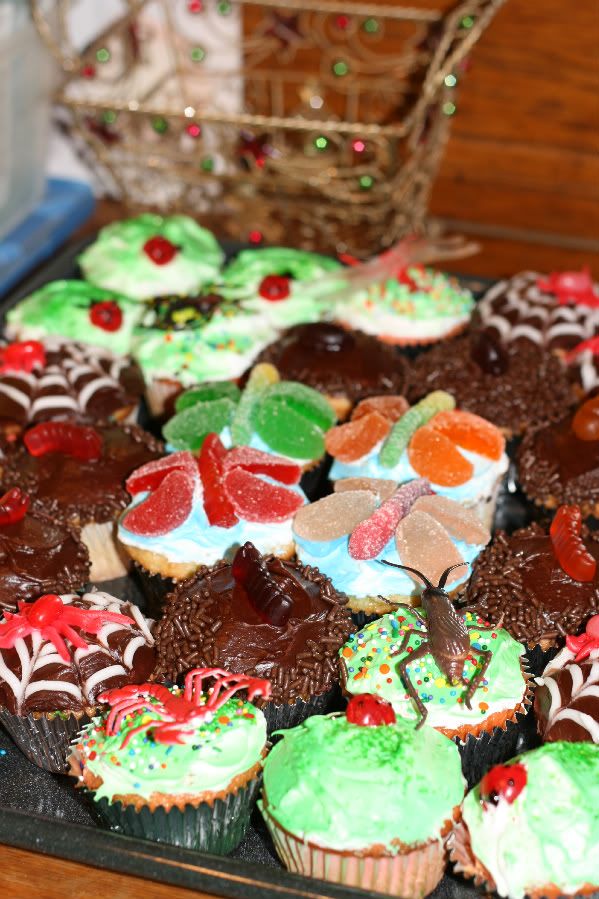 Bug themed cupcakes...that one with the fake bug looks NASTY!
Last year we did host a small gathering at our apartment and it was fine. Tight quarters but okay for the hour so we could have cake and ice cream.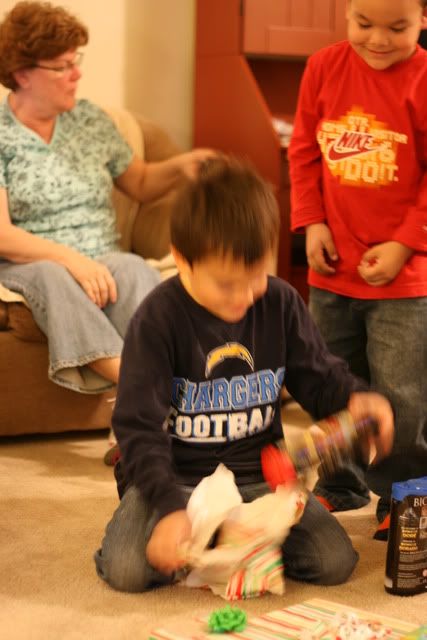 Opening gifts on his 7th birthday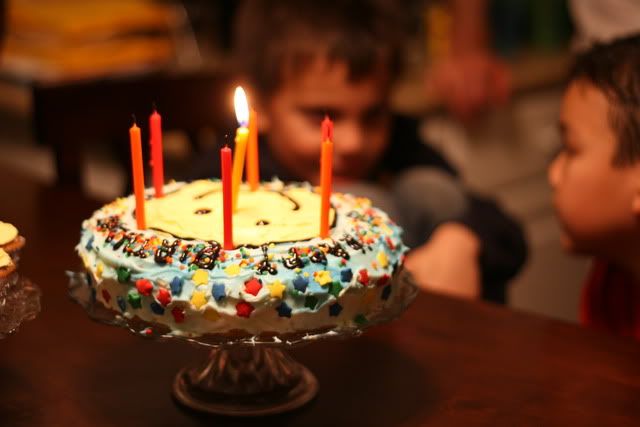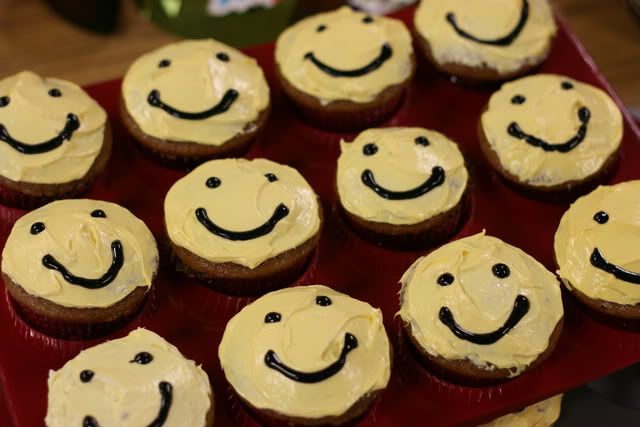 Super simple cake designs since I'd cut my finger and required stitches the week before...booooo!!
Earlier this year we hosted a family party at the park for The Girl, whose birthday is also in a tricky weather month...March. Fortunately it didn't rain on us that day, just a little windy.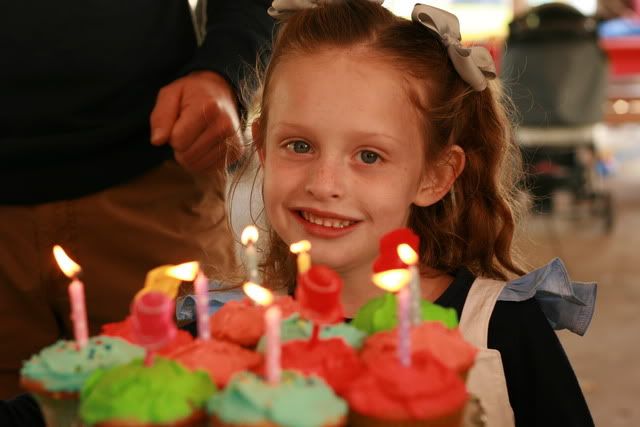 Alice in Wonderland themed cupcakes and cookies.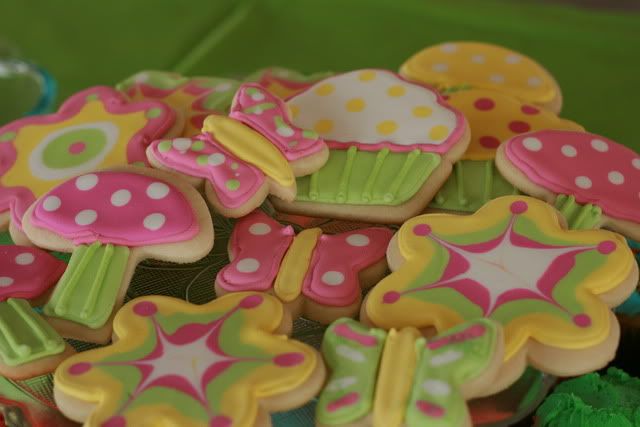 Of course, this year The Boy's birthday is going to be very close to the arrival of his new baby brother, so planning a party for him around the actual
date
is out of the question. So it will definitely have to be a November party this year. My husband thought that was weird, having the party a month early. He even suggested that HE host the party in case I was in the hospital or at home nursing a newborn but I said, "no way!". #1. I can just imagine if my husband was hosting a party (hint: he's very health-conscious and frugal, which equals out to boring food and not much of it!). #2.
I
want to be at the party, for heaven's sake!
So now that I have the hard part out of the way (convincing my dear husband), I'm diving into the party planning!! I love planning out the details of a party and Pinterest is making it really fun.
Great tent invitations!The pine cone garland would probably work for us...
This year for The Boy, I think we are going to brave hosting something at the local lake. He's so into camping and nature and fishing that his party will have that kind of theme. He was hoping to be able to fish with his friends but the cost of buying everyone a license for the day is a bit prohibitive. But I think a nature scavenger hunt, a prize for who guesses closes to the number of rocks in a jar, goodie bags with do-it-yourself smores kits to take home, simple camp food and a rockin' cake will be easy enough for me to carry out in my "T-minus-4-weeks-till-delivery" state.
LOVE this camping themed cake! Check out the campfire.Very sweet Owl snack bags.
Obviously some of the photos of parties here won't be do-able for me in the great outdoors and on a shoestring budget, but for sure I'll be making a totally cool cakes and having plenty to eat (Hebrew National hot dogs, corn on the cob & plenty of fresh fruit have already been requested).
Probably not do-able for me, but what a fantastic idea! I want to eat them up!!