Christmas tends to creep up on me. Every year I have visions of fanciful decorations throughout the house, 10 different types of Christmas cookies I'll bake, handmade gifts for everyone, and a Christmas Eve feast that everyone will remember.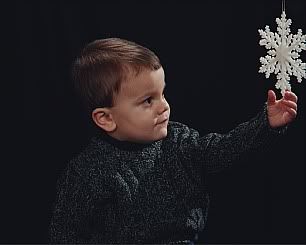 My baby snowflake
Instead I generally end up with just the decorated tree and the rest of the house is spiritless, perhaps one single batch of cookies, no handmade gifts for anyone and a Christmas Eve feast that feels wildly rushed.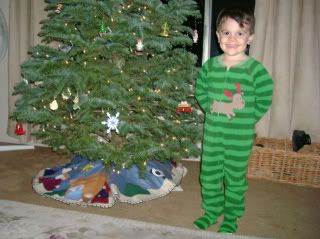 Reindeer jammies
This year, I'll admit that I did have high hopes for myself. I have my own home with Daniel now (instead of living with my parents) so I knew I wanted to have some holiday decorations instead of just the tree (which my parents don't ever buy until about 3 days before Christmas anyway). I wanted to bake a few batches of cookies from the 12 Days of Cookies off Food Network. I wanted to decorate and personalize sugar cookies for The Boy's classmates for Christmas since I didn't get to make them for his birthday. And I definitely wanted to sew
something
, it's been awhile!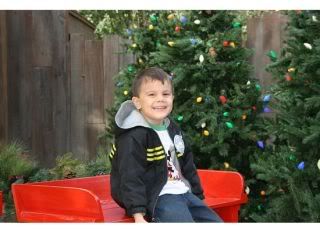 On his 5th birthday at Disneyland
Unfortunately my job is crazy-wild-busy during the holidays so working late sucks up some of that time. My husband also works full time and goes to school twice a week so when he gets home at 9pm and has to wake up at 4am, we generally just chat a bit and then go to sleep early. I'm a night owl so this has taken some adjusting for sure!
Two weeks ago, we bought and decorated our Christmas tree. There is one section of lights that goes out randomly and we don't have very many ornaments but it's still lovely to see every day. I haven't taken pictures of anything in the house yet, but I'll do that this weekend and share next week.
I did create a Christmas display on my kitchen buffet that I adore. I haven't taken a picture of it yet but I used two of my vintage cake stands, a large hurricane glass that I filled with Target bought striped & polka dot glass balls in classic red and lime green. I have a mini white faux tree that I hung a collection of Hallmark bird ornaments from. I love the mix of vintage and new and my favorite things all together in one place. I realized that I don't need to have the entire house dolled up, having this lovely mix in one spot is all the decoration I needed.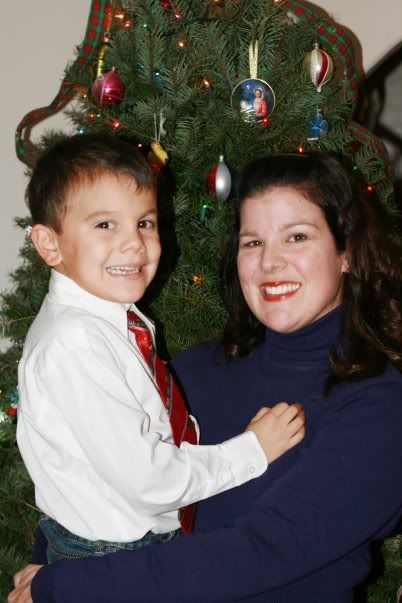 Me & my boy, 2008
I have made two different batches of cookies so far and I do intend to continue with the baking this weekend. So far I have made these
Lemon Ricotta Glazed cookies
and these
Chocolate Gooey Butter cookies
. Of course you know that last one is from Paula Deen, it has the word BUTTER in the title! Both super-duper easy to make and yummy! I never did get to make those sugar cookies for The Boy's class...maybe for Valentine's Day?
And I am keeping my handmade to a minimum though I would still like to make some aprons, placemats, napkins and a buffet runner at some point! I have a load of my favorite fabrics that I've been stockpiling just for this reason. The kids are getting handmade stockings made out of Michael Miller's Lava Lamp print that is now out of print. Paired with lime green and red polka dots, I did a simple initial on the front of each. They are looking really darling...and very close to done! I'll show you soon.
As for that Christmas Eve feast, I won't be hosting that in our apartment this year
for sure
! Danny talked me out of it, even though we do now have a dining table & chairs.
We'll be going over to my mom & dad's for dinner. I'll bring a few dishes, she'll make a few dishes, my sister in law will bring something. We'll sit around, eat and open gifts from each other. And with the extra time that I'm not cooking the feast, that will allow me some time to finish those stockings! And maybe start on the apron...