It's been a wild one. Yes, the first full week and a half since we've all been living under the same roof. For one, we had (quite a few) unexpected things pop up related to our new home. Second, the kids have been much better behaved than I thought they would be (oh, sheesh, I said that outloud...knock wood, knock wood!!). But all in all, married life so far has been pretty sweet, despite all the near disasters.
Example #1
The Boomerang Table
:
Friday -Dec 3rd, we were expecting the furniture shop to deliver our table, chairs and buffet set. As I came home from work, the furniture was coming...
out
the front door? Apparantly only one table out of the set wasn't dinged up or scratched. Danny got on the phone to the supervisor, explained the problem (a nick in the front of the buffet & wood grain pieces going in two different directions and a snagged piece in the center of the table). They said they'd send over another set the next day.
Saturday -Dec 4th, waiting at home for new set to arrive. Gotta love delivery windows that say noon to 6pm or 2pm to midnight?! Finally comes at 4pm and if you can believe it...they bring us the
exact
same set! They also brought us only 1 more chair because they had mistakenly wrote down that they had dropped off 3 the first time but had really only left us one. Danny called the supervisor again, explained it AGAIN, and they said they'd put a new set on the truck that would be bringing the rest of our chairs.
We waited...and waited...and at 9:15pm the truck drove up again...carrying (you won't believe this!) the SAME damaged set!!!!! Well, Danny lost it, he got on the phone with the supervisor again, talked about how unprofessional this was, etc. They told us they would refund our $89 delivery charge and deliver a new set the next day. We did end up with an extra chair out of it because they'd originally messed up on how many they'll left and brought 3 chairs the third trip.
Sunday - Dec 5th, waiting at home...again! I can't believe we spent the entire weekend at home (without our cable tv hooked up yet either) to get these pieces delivered. We receive a call in the late afternoon from the supervisor. Our table is
out of stock
until Friday the 10th! The buffet was available though and would be coming to our house that day.
They did deliver a new buffet but I couldn't understand why they strung us along for 3DAYS, when the only table in stock was the damaged one we kept refusing! Why didn't they just say that on the
first
day?!
Week of Dec 6th, eating at the countertop in the kitchen, setting the kids up at the buffet, and on the one little side table in the living room. Grrr...I want our kitchen table!
Friday - Dec 10th, table delivered. It's definitely brand new, they took it out of the box & assembled it in front of us. I decorate the buffet with a little Christmas tree and a vintage cake stand and some pretty polka dotted red and green ornaments. It's
soooo
Martha!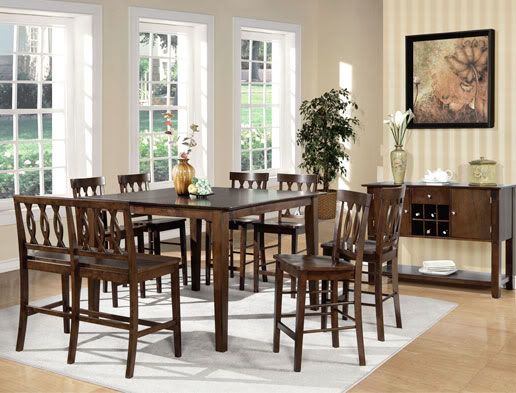 Our table set, but with 5 chairs and no bench.
Saturday - Dec 11th, breakfast, lunch and dinner at our new table...love it!! It's bar height and such a pretty dark wood. I'm already plotting the placemats & napkins I'm going to sew up.
Sunday - Dec 12th, it's breakfast time and Daddy discovers on the table that The Girl has scratched two deep marks with the backside of her fork. *sigh*