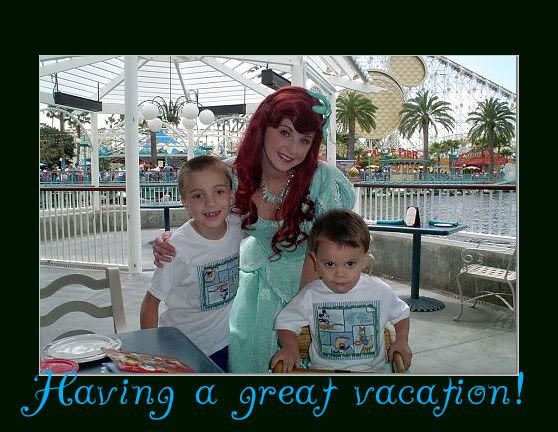 Ariel's Grotto for lunch
I took my first Disneyland trip when I was one year old. There are pictures of little me, blonde (yes, blonde!) and curly-haired (yes, curly-haired!) in the arms of my grandpa. He was wearing a suit and tie! There is also a picture with my aunts and uncles in front of It's a Small World and they are in varying 1970s attire, including my aunt in short-shorts, wedge sandals and a patchwork blouse tied up around her mid-drift. Ahh, you can't beat the 70s!
My parents bought me a little Winnie the Pooh bear on that trip, which was my snuggle-buddy for many many years. I still have him, though he's long lost his signature red t-shirt (and part of his fluffy nose too, after mom threw him in the washer and dryer thirty years ago!).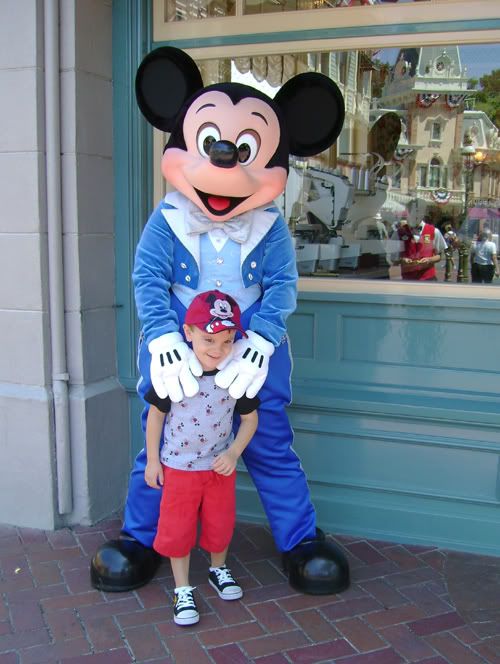 The Boy with Mickey
Once my brother & I were in elementary school, a day trip to Disneyland with our parents became a yearly-tradition. It usually came after or around Labor Day because this was a birthday present to my brother and I (we have Sept & Oct birthdays). Disneyland is only about 90 minutes north of where we live so it's not a very far drive, but we would often stay over night after a long day in the park, either in a hotel or with an aunt that lived nearby.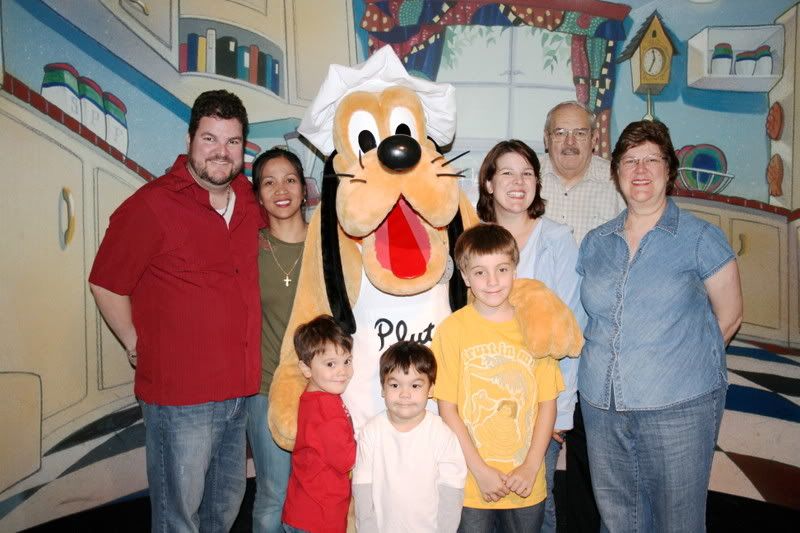 My family at dinner, Goofy's Kitchen in the Disneyland Hotel
So many of my happy childhood memories include those Disneyland vacations.
I recall one school day when my parents were taking us to school and drove past the street we were to turn down. "Ooops!", my dad said (from the driver's seat of our van!), "I missed the turn...I guess we'll have to go somewhere else today! Where do you guys want to go?" Of course my brother & I looked at each other and burst out with, "DISNEYLAND!". My mom turned around and said, "I've got the tickets!", holding up a bunch of E-Tickets that she'd been concealing on her lap and we were off for the day. What a wonderful surprise!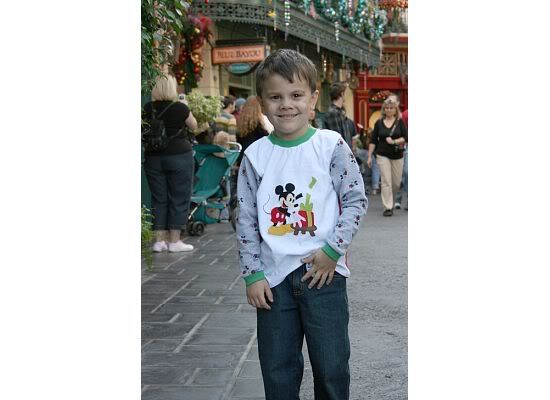 Surprised The Boy with a birthday trip to Disneyland
When I was in college, I surprised my brother on his birthday by giving him a card while we were driving to a fake doctor's appointment that said, "You're going to Disneyland". I'm sure he was much happier going with me to Disneyland rather than the doctor!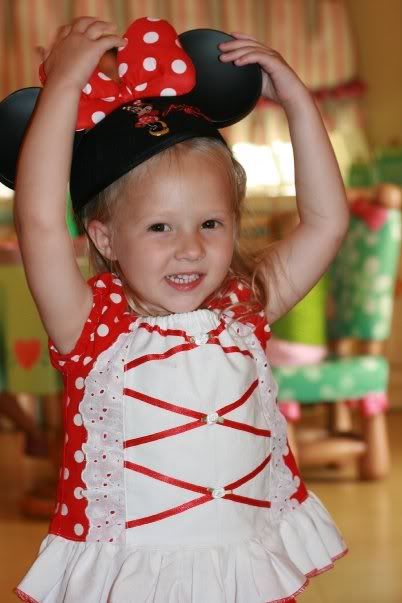 My cousin's daughter in Minnie's house, wearing an outfit I made her
I remember on my 12th birthday we all went to Disneyland and after a rough spin on the teacups, I developed a nasty migrane headache and started throwing up. My dad took me to the Disneyland Hospital inside the park. Back then the nurses dressed up "old school" in bonnets and long black dresses with white aprons (think Mary Poppins). They were able to give me medicine and I took a nap. I felt so much better and was able to enjoy the rest of the day after that. I found out later that shortly after I'd thrown up in the flower bed, one of those diligent park attendents came over and literally
vacuumed
it up with a hose till it was gone!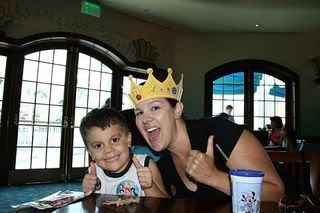 Eating lunch, Princess-style at Ariel's Grotto
I've been to Disneyland with many friends over the years, including a day when we skipped school in junior high and then ran into our teacher who was there with his kids for the day. He said to us, "I won't tell if you won't!" and we never mentioned it!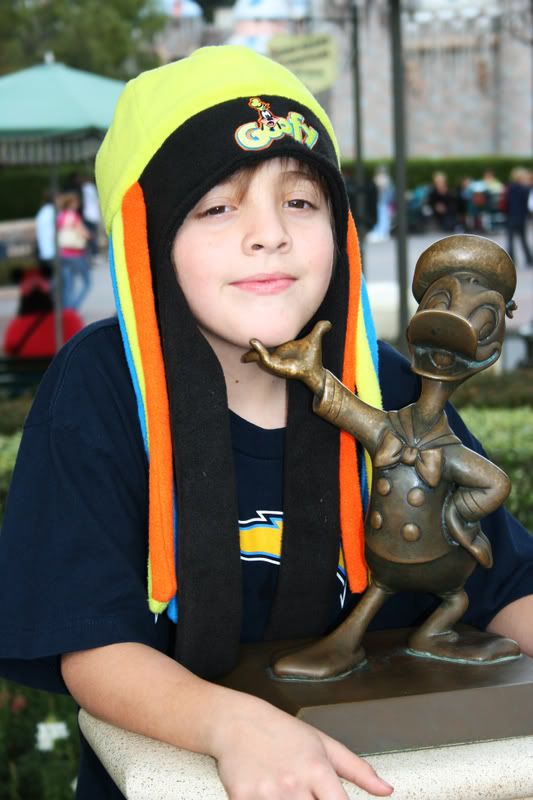 My stepson, posing with Donald
I've been to Disneyland when it was nearing 110 degrees and also when it was in the 40s, pouring rain and icy cold.
I went to Disneyland during the 25th Anniversary party (when they were giving away cars) and during the 50th celebration, aka: Year of a Million Dreams and won FastPass lanyards and special edition Mouse Ears.
I've seen Disneyland rides come and go, including the Adventure through Inner Space (when my brother really believed he was shrinking and cried!), the People Mover, Sky Buckets, Carousel of Progress, CircleVision (blech, that made me nauseous!), and one of my most missed, Country Bear Jamboree.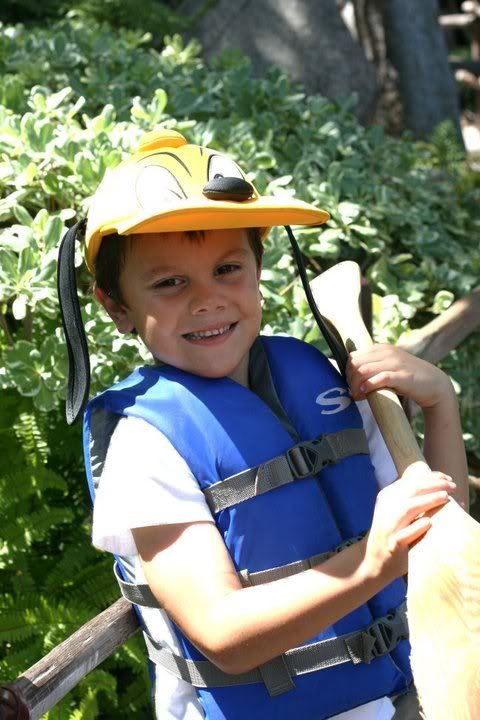 The Boy gears up to row one of the Davy Crockett Canoes
My dad remembers going to Disneyland the year it opened in 1955. His love for the park and memories had there as a child really spread into my brother and I, and thus into
our
children. Dad remembers quite a bit about the rides and attractions that were there when he was a kid, all of which are logged and photographed on this great site for Disney memories,
Yesterland
.
As a SoCal native who has spent countless hours roaming Main Street and as someone who really does still get goosebumps when she passes through the tunnel at the front of the park, I'd like to share that Disneyland love with anyone who is planning a trip. Over the years I've learned a few ins and outs that come naturally to me but perhaps not to the casual trip-goer. Over the course of the next few weeks, I'll share some ideas & tips about planning your trip, where to stay, what to do and where to eat. I'll also pass on some web links as the web is a great Disney resource!
If you're like me, as you're walking out the gates at the end of a day in the park you are already plotting about when you'll be able to plan the next trip!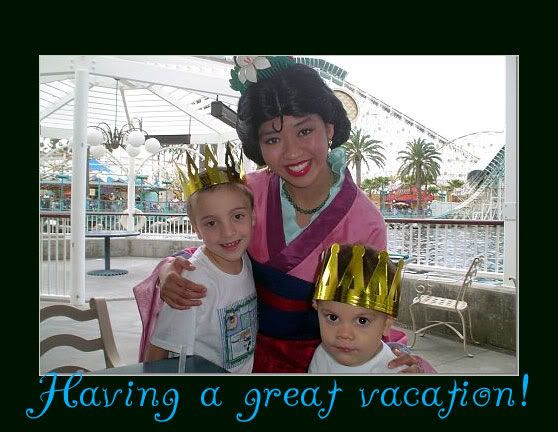 Ariel's Grotto for lunch