Last Wednesday was The Girl's first day of school.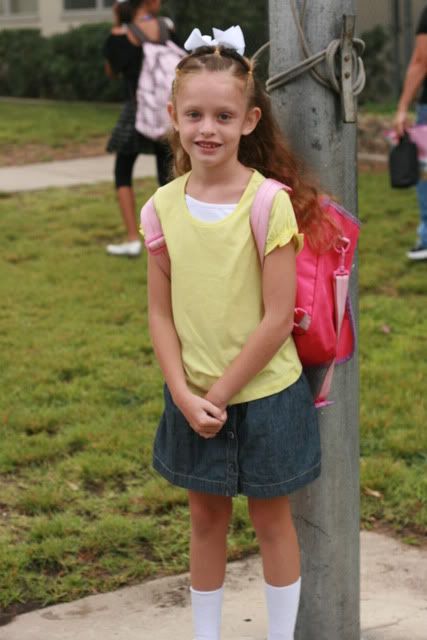 I had the privilege of taking her that day. She was not one bit anxious. Not even all that excited either, frankly. Ask her how her day went and she'll just flatly say, "I'm fine. It was good". She'd been attending summer day camp at her campus for the two days before school officially started so I think that might have eased her back into the routine easily. She even saw her teacher the day before so she was able to say hello.
She has the same teacher as last year. I can tell that she's glad that The Girl is back in her class again.
See, The Girl is mildly Autistic and her classroom is full of children who are also special needs. Some are like her, delayed in speech, unable to grasp particular concepts and have limited social skills. Other children in the classes have more intense needs, like one child who is both Down Syndrome and deaf and another who is still learning how to swallow solid foods.
My heart goes out to the teachers in these classes for their unlimited patience and their persistence and tireless drive to teach these challenged children. Blessings to all teachers starting out their school years, may they find reward in it everyday!