So the quilt is almost done.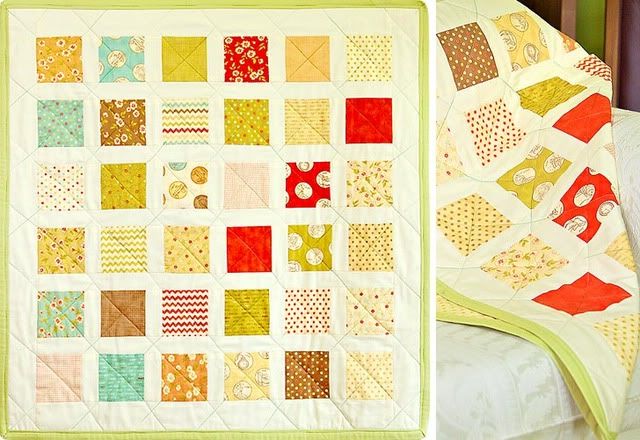 This is the pattern I used, free from
Sew4Home website
. My blanket has squares in the crab print, a colorful stripe, lots of polka dots in orange and turquoise, a bright blue solid, and a swirly red print. I liked the look of a simple white background so that's how mine looks too, in a tone on tone white stripe. I'll share photos as soon as I'm finished with it.
I'm sure you can imagine my disappointment in reading the very last line of instructions on quilt binding when it said to
handstitch
the final seam closed. Whaaa?? Well, an hour and a half last night and I'd only finished one side, so it looks like I have approximately 4-5 more hours of handstitching ahead of me...
Did I mention that it's really hot in my house and sitting with a blanket on my lap in 90+ degree weather isn't really wildy fun?!
But with the quilt project winding down, I'm already planning the next one. My next project is going to be an ocean-themed felt mobile.
These mobile photos are ones I've found in my online searching, I love all the handmade details!
I have it in my head what I'm going to make. I have already purchased these lovely felt squares from Heather Bailey's online shop.
I still need to purchase wooden rings and then paint them. I have wool stuffing at my mom's house and of course, my husband (being an avid-fisherman) has plenty of fishing line and will likely string it all up for me when I'm finished.
This handpainted wooden one is so cool, if only my husband had a jigsaw!
I'm intrigued by the hanger of this one, I think I could do something like this that would reflect an under-the-sea theme.
I will need to draw and cut out my own patterns for the shapes. I plan on making a red crab, an orange seahorse, a turquoise whale, a lime green turtle, a cream-colored starfish, a blue angel fish and a yellow jelly fish (with dangling trim). I'm also going to buy these felted wool balls to string like "bubbles" from the fishing line!
This mobile will hang far far away from little fingers so I can decorate it with as many sequins, buttons and beads as I want!
Oh, and by the way...this mobile will have to be crafted all by hand. Each individual character and every little sequin, button and bead will need to be sewn on using my little fingers, which are likely to be sore by the time I finish
handsewing
that quilt binding!