This Friday, he'll be 6 months old.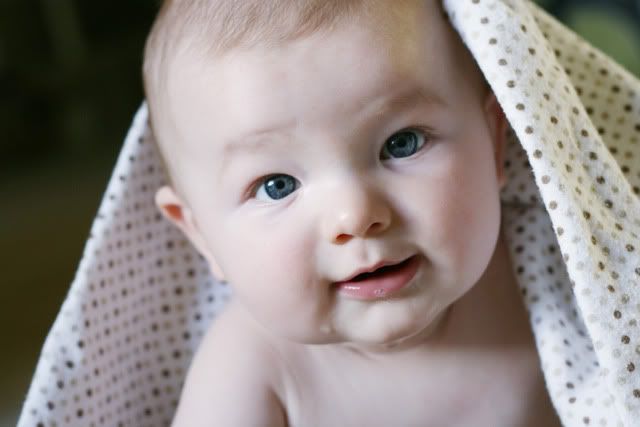 A half of a year has gone by...
already?
!
I know everyone say it but seriously, time really does fly.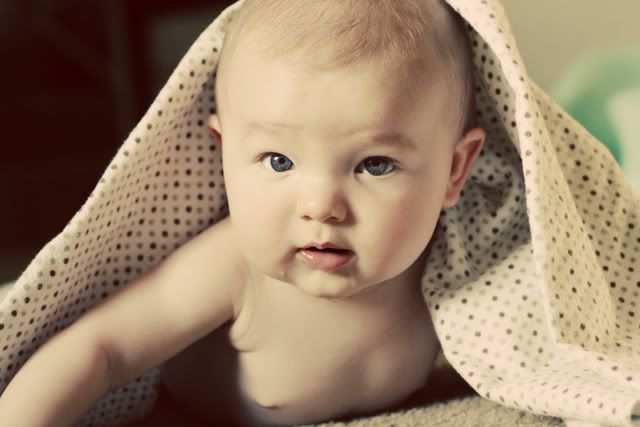 So what has our little half-year old baby boy been up to?
He's sitting up alone but still needs to have someone right behind him with hands ready to prevent him from toppling over. This happens too often still for me to say he's sitting up well by himself.
He is however pressing up on his tummy extremely well. He has started tucking his toes under and pressing into a push-up position and over the weekend started popping his knees up so he's completely on all fours. He tries moving one knee forward but doesn't have the coordination or strength to move his hands too so he'll stay on his knees for a few minutes before lunging and flopping down forward. Looks like we'll have a crawler very soon!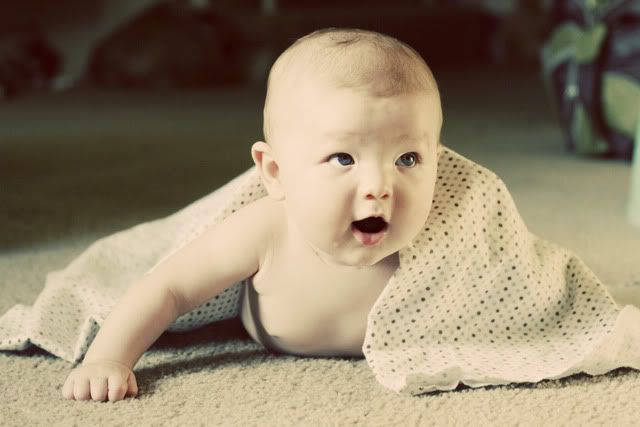 We haven't introduced any new foods in a few weeks. Not because Baby D isn't ready, it's just that we've not gone to the grocery lately! I do have a bag of frozen organic peas, so I'll need to get those out and processed in the Baby Bullet for him to try. Some days he's not really in the mood to eat solids at all and other days he'll have two servings, so we just play it by ear.
Since the two teeth broke through last week, getting him to bed at a decent time has been much better. He's falling asleep quickly again and not getting upset when I lay him down. He's still sleeping through the night which is great...I thank my lucky stars that he's such a good sleeper!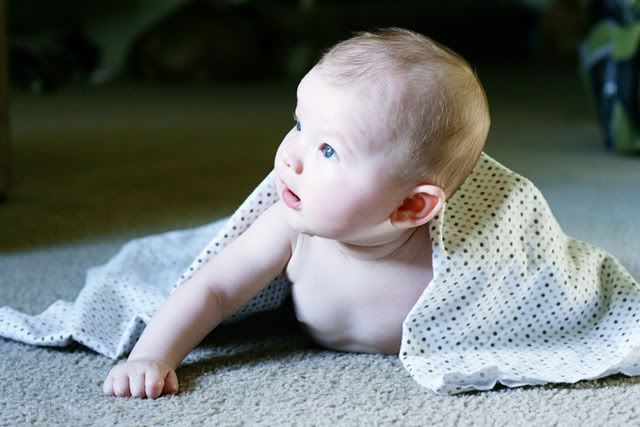 I picked up a few baby books at The Boy's school book fair last week. Instead of pulling out all the books at once, I'm just going to show him one of them until he gets bored with it and then we'll rotate them. First up is a Curious George book which he is absolutely loving. I think it's the bright yellow pages, the red lettering and of course, adorable little George's smiling face! Baby D has already chewed the edges so they are dog-eared. It's very cute to watch him hold the book and talk to the pages.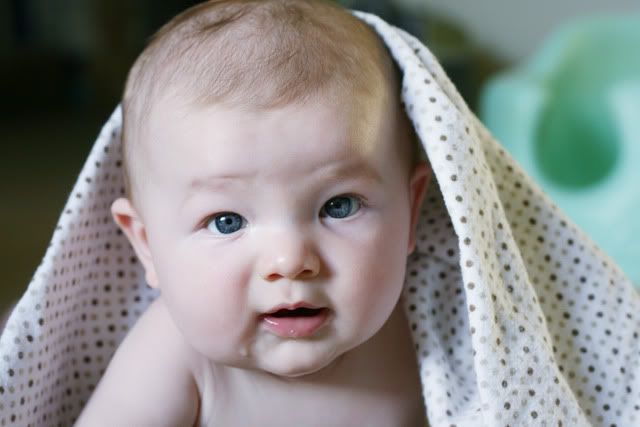 This kid has been showing off his
temper
lately too. He really hates the car ride from Grandma's house to our house. Fortunately it's only about 7 minutes long but the screaming is enough to drive you insane. It's so hard to hear him cry and not really be able to do anything about it but shush him and rub his little head. I think it's the stop and start at every red light that does it, because whenever we hit the freeway he falls asleep.
We haven't been able to get him to say any words yet but we do repeat words for him and he watches our mouths and moves his lips. He coos and "talks" but nothing with actual words yet. He can certainly blow raspberries like nobodies business though! He's still a drooling machine, working his way through a bib an hour. I was hoping the drool would taper off with the appearance of the teeth, but he's still a very juicy little boy (as these photos of him with a shiny chin prove!).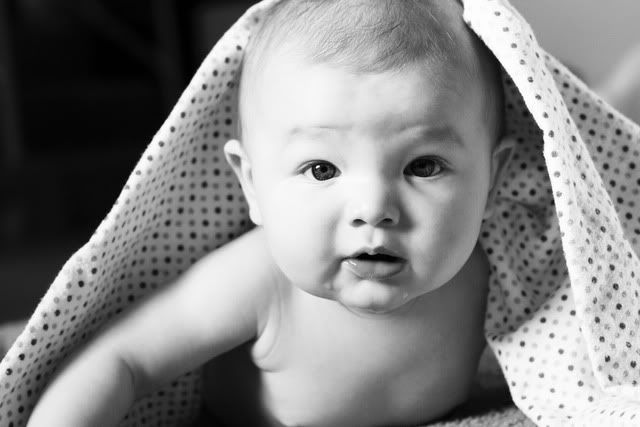 We are enjoying all the little moments along with the big events. How sweet you look curled up on your side at night, wearing those white footed pajamas. How excited you get when we slip you into the bathtub and you kick your legs and splash water all over. How, when I wake you in the morning, you can't even open your eyes yet, but you still smile so big when you hear my voice.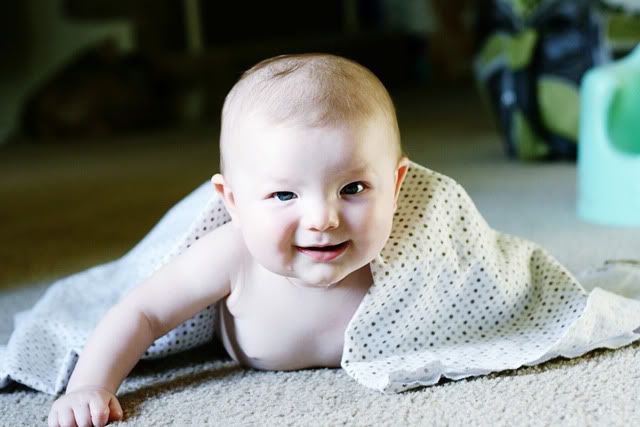 Can't wait to see what the second half of the year brings us. We love you Baby D!