Day 2, Mickey's wake up call rang bright and early at 6am. That is actually sleeping in for us, but not really enough rest after being up later than usual. But since we were guests of the Resort hotel we were able to get in the Parks one hour before it opened to the general public (Magic Morning Hour) and those 60 minutes can be golden towards getting on rides with minimal wait.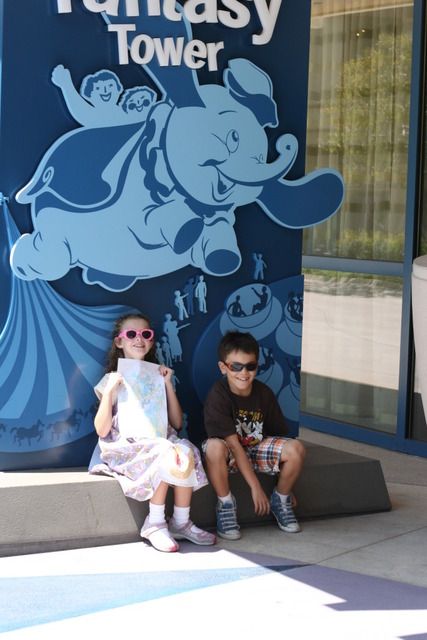 Outside the Fantasy Tower, our home at the Disneyland Hotel
The kids ate bowls of cereal while I packed up the diaper bag and my husband prepped his backpack with bottled water and snacks. We walked into Downtown Disney to catch the Monorail which put us right in the middle of the action.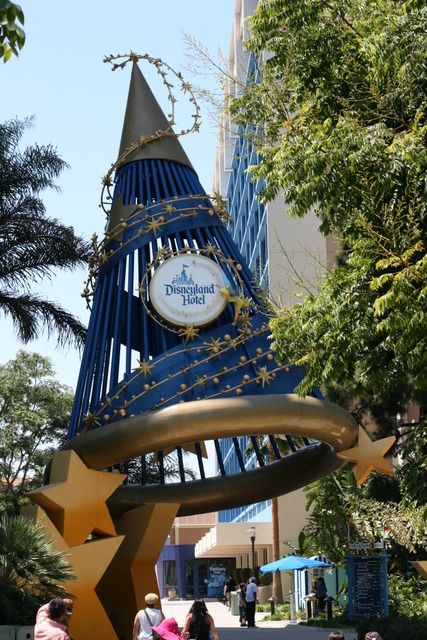 At night, Tinkerbell lights up the strands of stars on the hat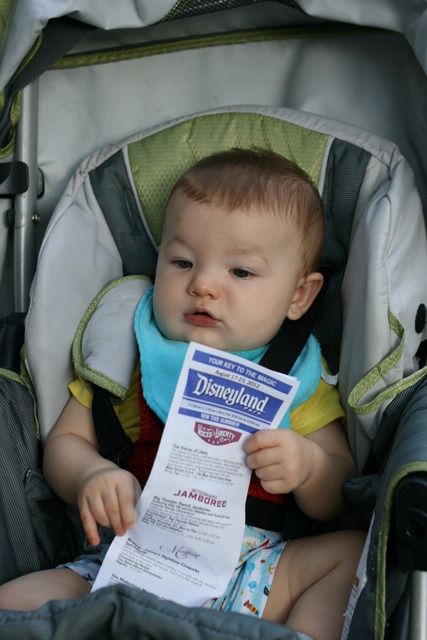 Baby D, planning our activities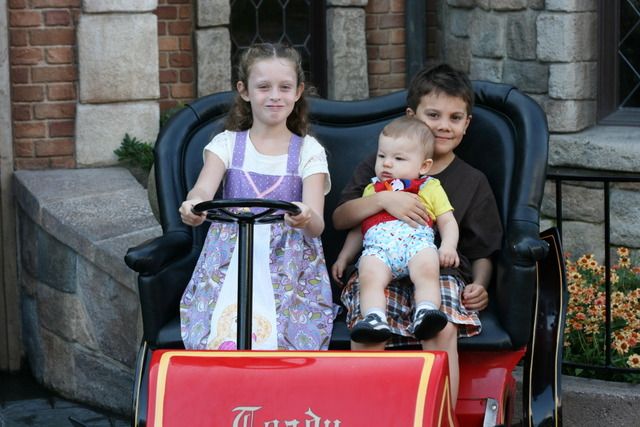 Mr Toad's Wild Ride
We hit Fantasyland first and walked right on to Peter Pan, Mr Toad's Wild Ride, Dumbo and the carousel. We then headed into Tomorrowland and were able to ride Star Tours twice (using the Rider Swap program- one adult waits with the baby and another rides, then they switch places without having to wait long).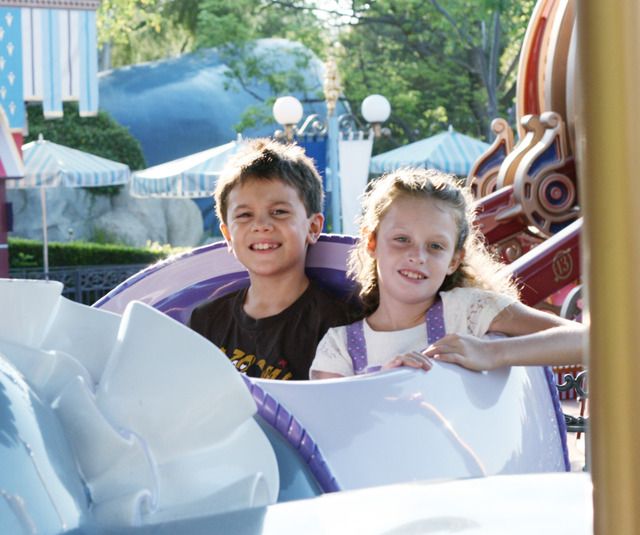 At Dumbo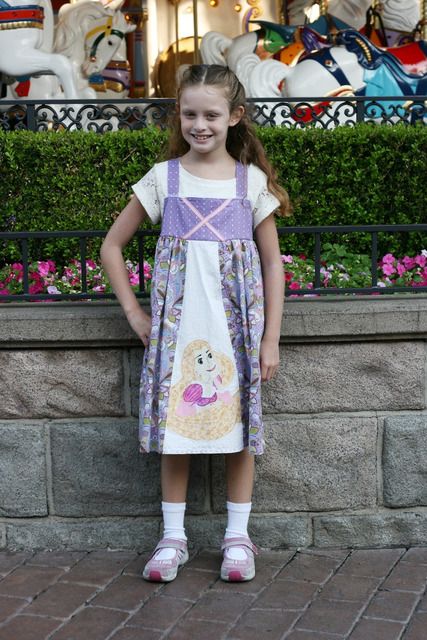 The Girl, wearing the Rapunzel/Tangled dress I made for her
The park was starting to fill so my husband took The Girl to City Hall to get her Guest Assistance Card and I took Baby D and The Boy to the Baby Care Center and First Aid. Such a perfect little corner of Disneyland! I had a scratch on my foot that was irrated by my shoe and I was able to get bandages to use for the weekend. And the woman in the Baby Care center was just wonderful and it was great to use a clean changing table in a quiet room.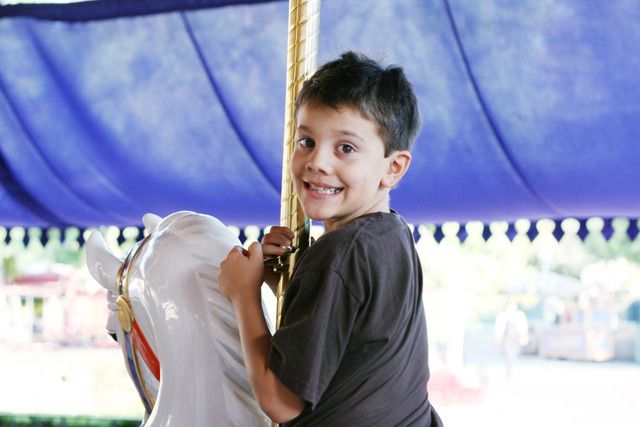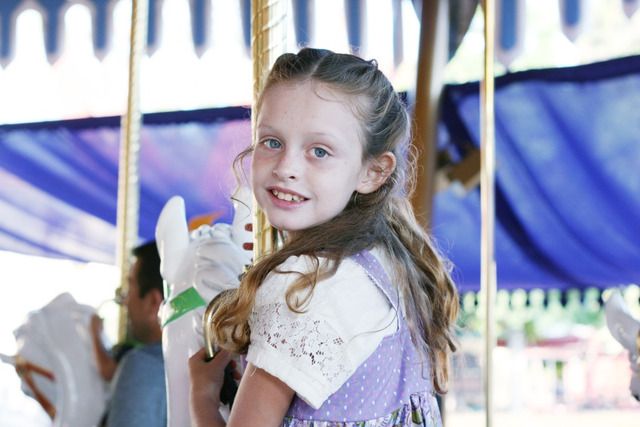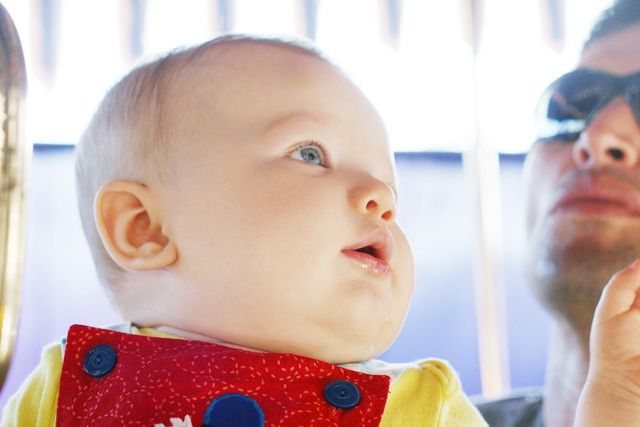 The carousel was a favorite for all. In fact, Baby D enjoyed all the rides. He would hold our hands and fingers tightly but never fussed or cried, just looked inquisitive the entire time. It's a Small World was his favorite, of course!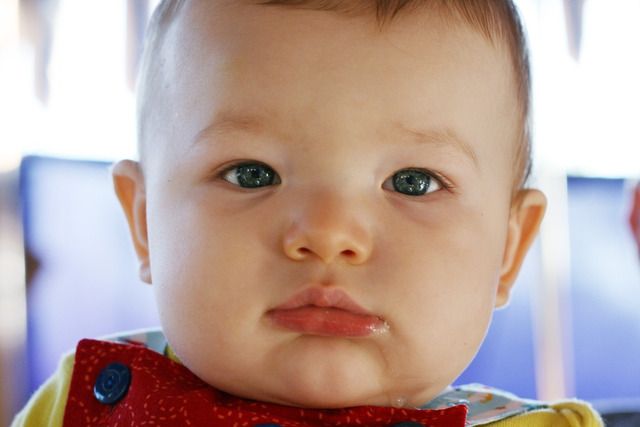 While in Toontown we ran across Goofy, which turned out to be a highlight. Baby D LOVED him. He absolutely giggled when Goofy held his hand and fortunately I'd handed my camera to the PhotoPass cast members and they happily captured the moment for us.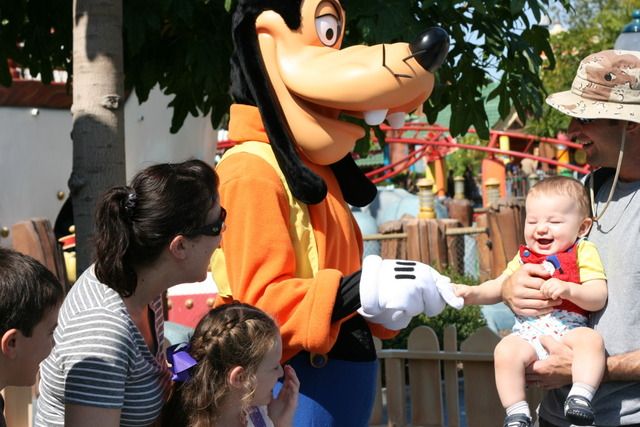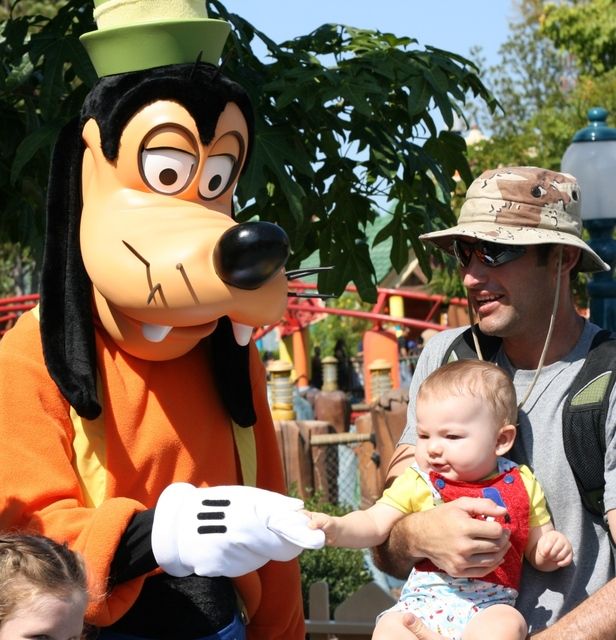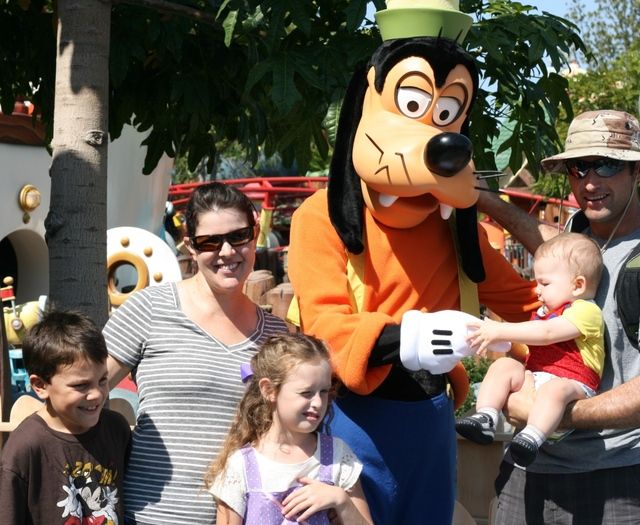 The Girl got to meet Tinkerbell, which we kind of thought might have been awkward for her (Tinkerbell asked questions, The Girl would just shrug her shoulders) but she said afterward that it wasn't awkward at all. Thinking back, I wonder if The Girl was just surprised to see that Tink was tall and not just three inches high?!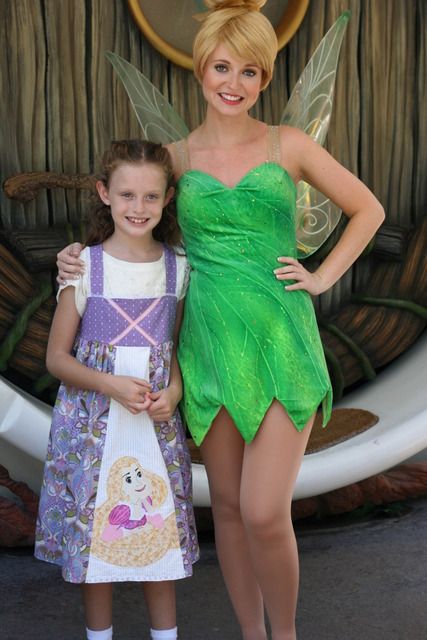 A sweet smile, but notice the nervous hands
We took turns on the Autopia cars. The Boy was just an inch short of being able to drive himself, but it worked out okay that I went with him for the drive because he said the pedal was too hard for him to push during the entire trip. I remember that as a child too...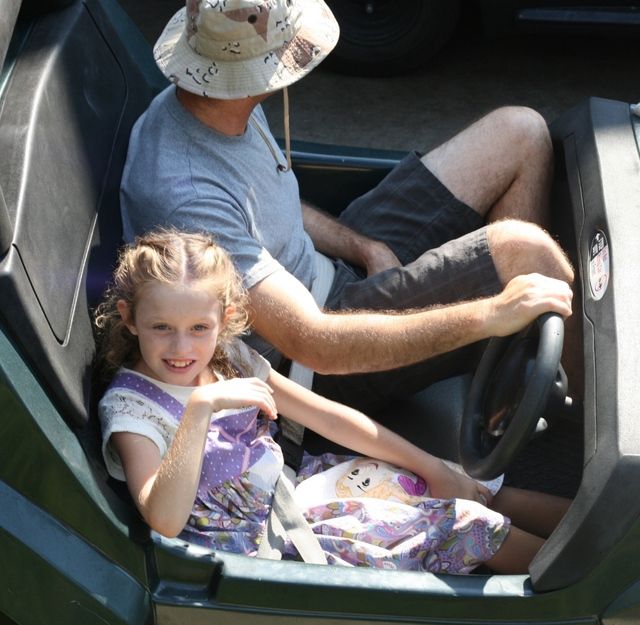 I skipped the teacups (I always do!) and took this photo before heading to the changing room with Baby D.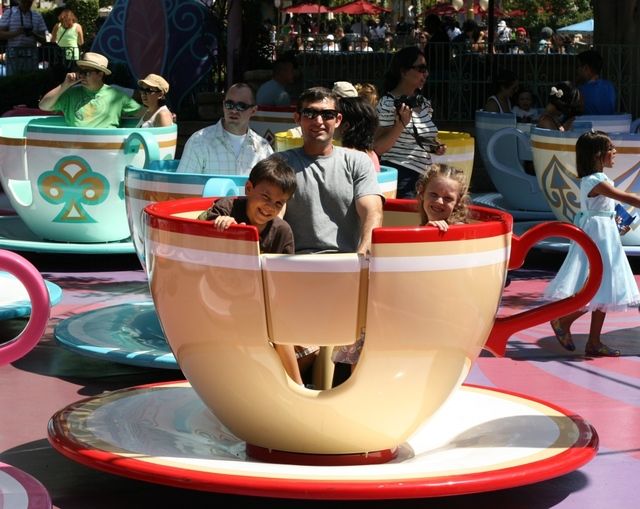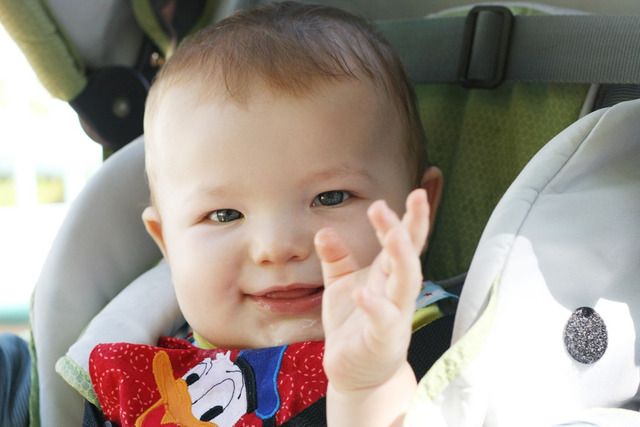 He was wearing a colorful shorts romper that I made for him using the
Tie Dye Diva's
pattern. I used a boat print that has been hanging around for years and I added an applique of Donald Duck. I made the romper a few weeks ago and then he had a growth spurt and he barely fit into it, oops!
The Girl rode the Matterhorn twice this time (last time she panicked and tried to jump out!). They have changed the bobsleds slightly and they aren't very comfortable (could use a bit more padding at the back).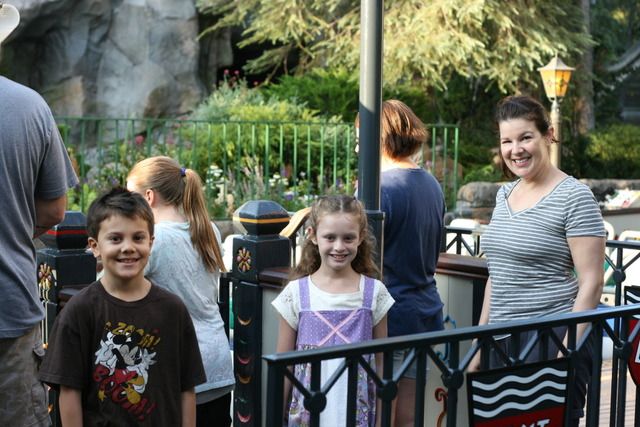 Waiting for the Matterhorn
After eating lunch at
Ralph Brennan's Jazz Kitchen
in Downtown Disney (the kids shared the best sirloin hamburger, we were wishing we'd ordered t
hat
!), we went back to the hotel and swam for a few hours.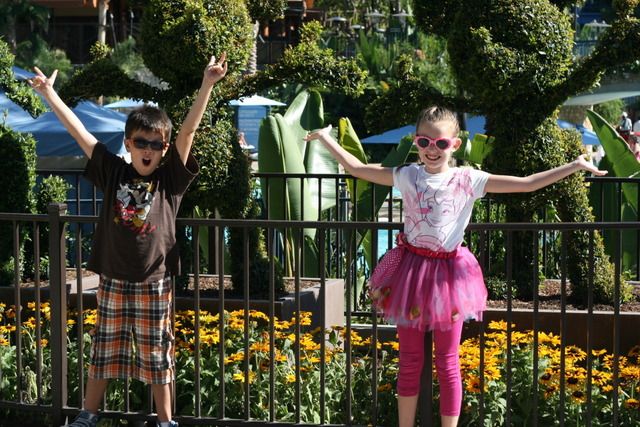 Another outfit and hair-do for The Girl. This was my favorite style, a combo of French braid and three rope braids.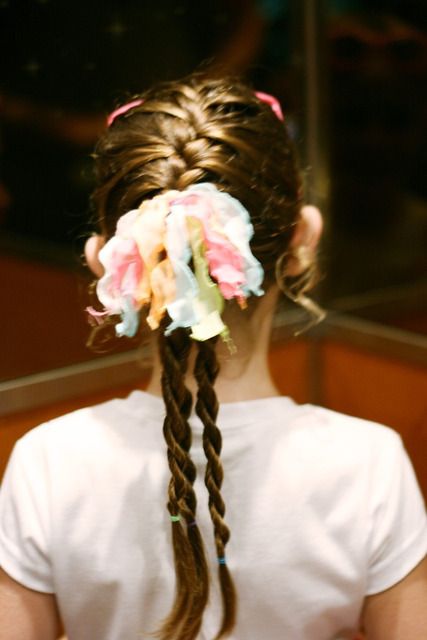 She posed alongside this wall, one of the many gorgeous photo spots in the park (alongside the Mexican restaurant) and asked me to take her picture.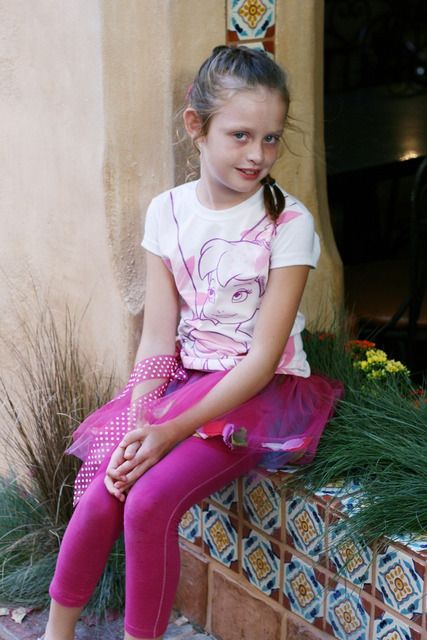 I love her natural smile, I don't often get one from her.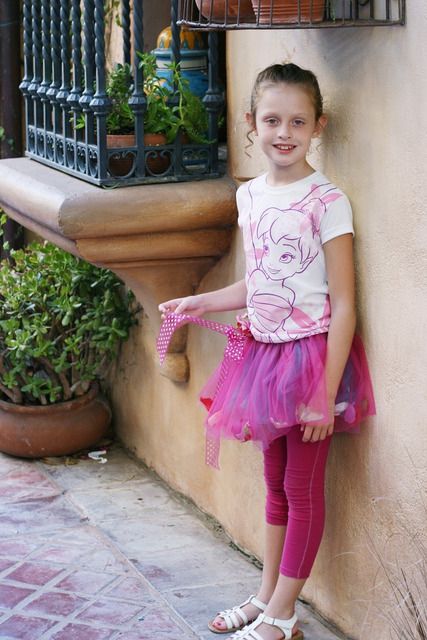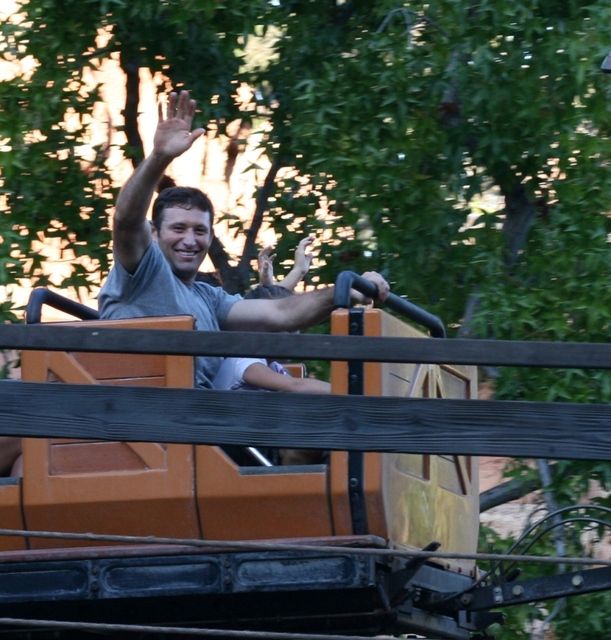 Riding the Big Thunder Mountain Railroad
We stayed in the park until around eight and then headed to the
La Brea Bakery
in Downtown Disney. The kids were so exhausted they barely made it through their flatbread pizza (The Boy was falling asleep as he chewed!). We went straight to bed, ready to start back over again in the morning. Up next...Cars Land!