We took one of our favorite Saturday drives to Julian, about 45 minutes east of us in the mountains. It was a risk this particular weekend, because it was Julian's Oktoberfest and also the last weekend for apple picking at one of the many orchards. Also with the cooler weather this weekend, it just makes us native San Diegans long for whatever little bit of Autumn we can get ahold of and for many of us, that means Julian with it's mountainsides of colorful leaves on the trees and apple pie. Oh, the apple pie!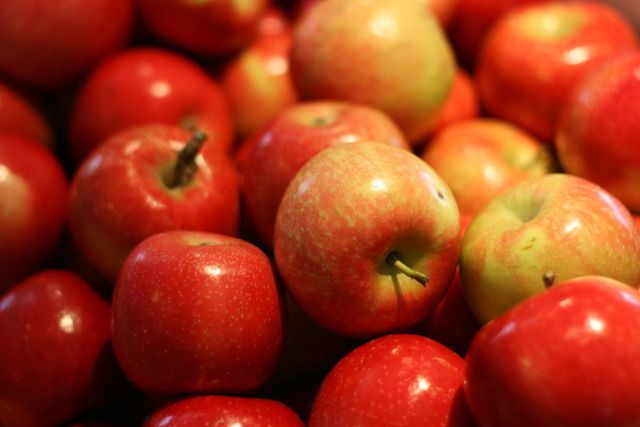 A bushel of apples, in Mom's Pie Shop
So we knew that there would be many other families with the same idea as we had but we got there early enough in the day that parking was easy and the streets were still fairly clear.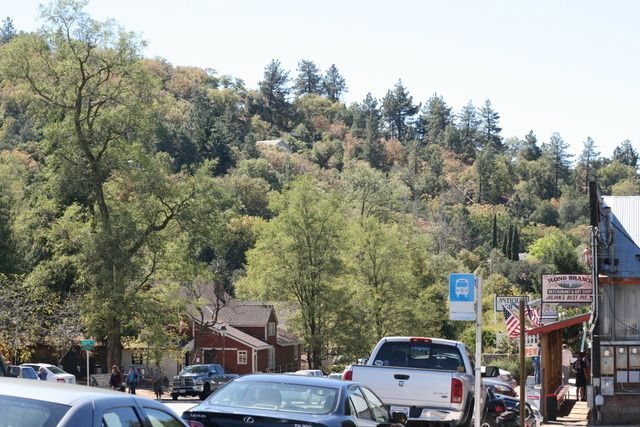 One of the few areas where we get an actual Autumn-feel!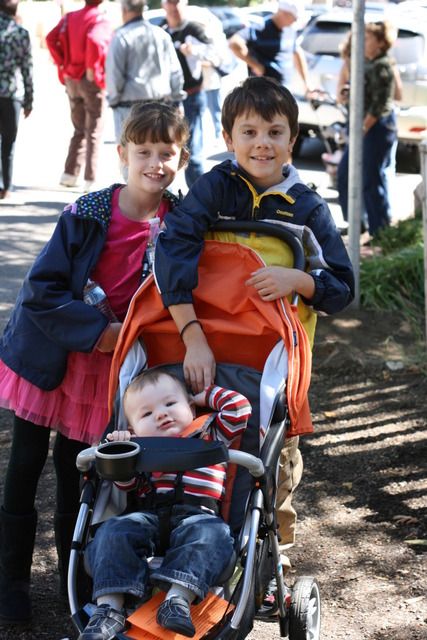 Look! We're wearing jackets & long pants!!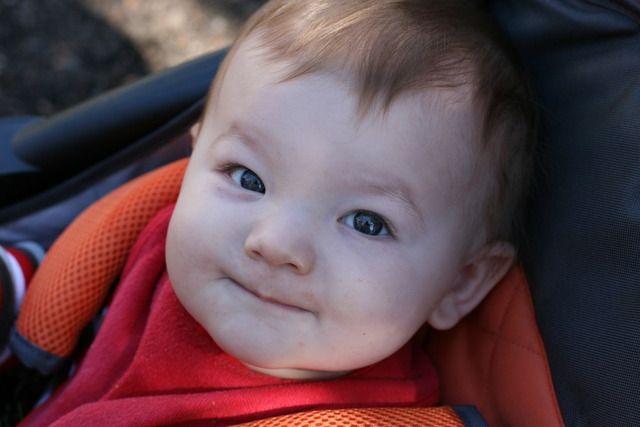 We went to our favorite BBQ restaurant the
Bailey Wood Pit Barbeque
, which was near empty the last time we ate there but this time was jam-packed. The addition of a brewery next door might have been the reason!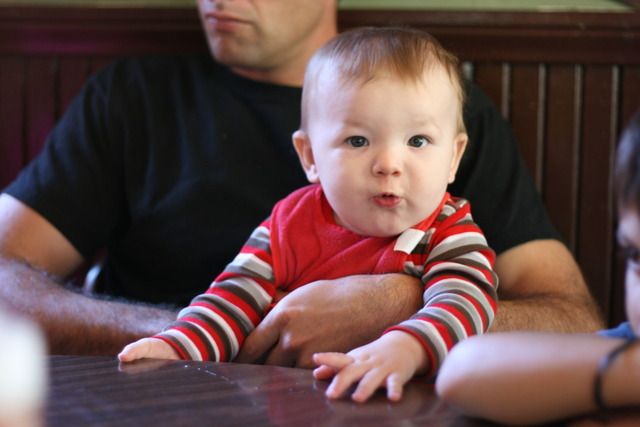 We waited about 20 minutes to be seated and they were so busy in the little place that they didn't even have a high chair available until about five minutes before our food arrived.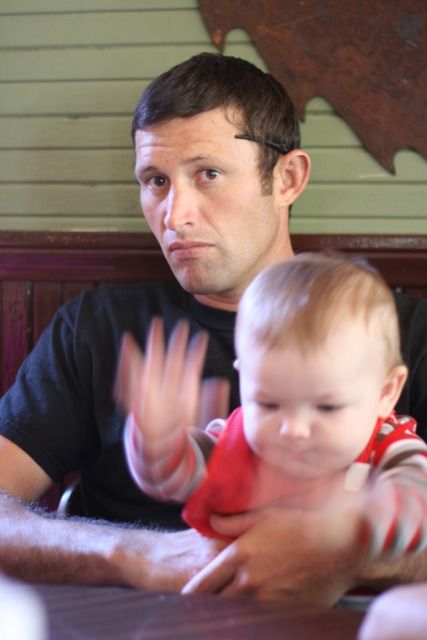 Once we ordered, we still waited for over 45 minutes for our food to be served. We joked that they were out chasing down the cow but in actuality they were still cooking the meat. When it did arrive it was fresh out of the pit.
We waited...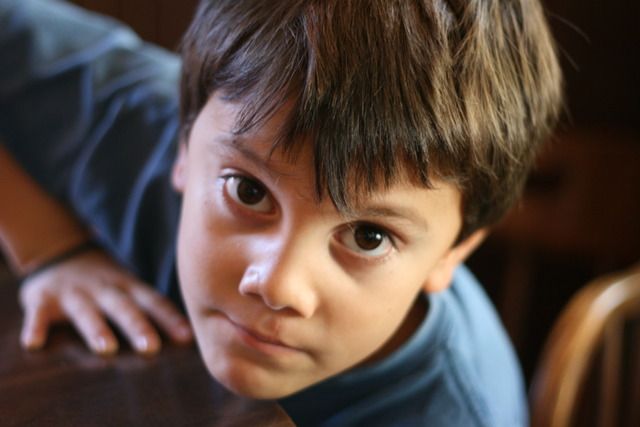 Still waiting...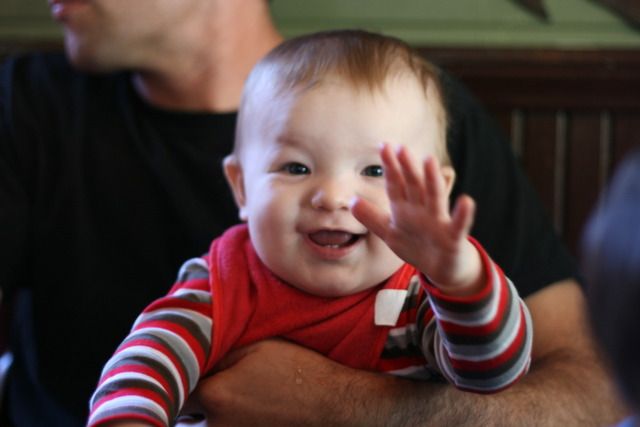 Waiting for lunch and not-so-patiently banging on the table!
But the food was well worth the wait! We ordered a large plate of each barbeque pork and barbeque brisket and they were incredible, the best we'd ever had. There was a side of cole slaw that was so wonderful, regular french fries, spicy garlic-parmesean fries and a mound of cornbread with fresh honey butter. Didn't have a chance to take any pictures of the food as we dove in face first as soon as the plates hit the tables and there wasn't a scrap of anything left!
We stopped at our favorite shop and loaded up with apple blossom honey in a teddy bear squeeze bottle, a jug of apple cider and honey straws for each of the big kids.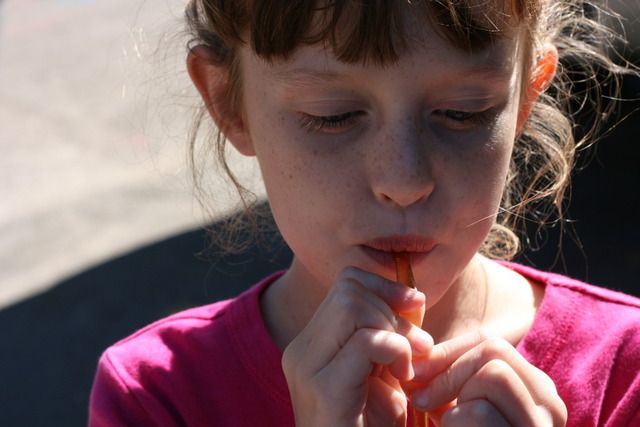 The Girl stopped to collect acorns and caps under an oak tree.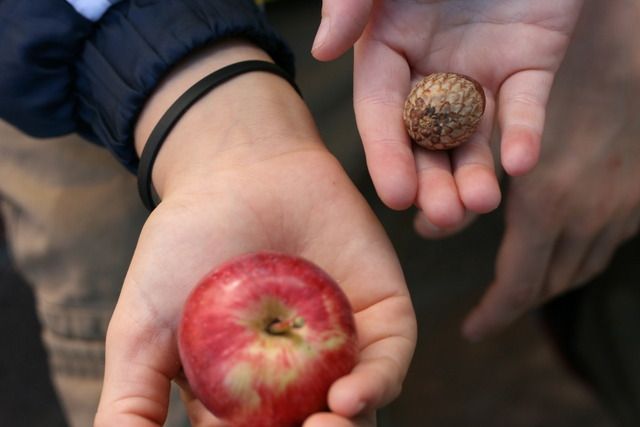 The Boy found this tiny apple on the ground under a neighborhood apple tree and I told him he could keep it (rather than let it get run over by a car). Despite the small size, he said it was very sweet.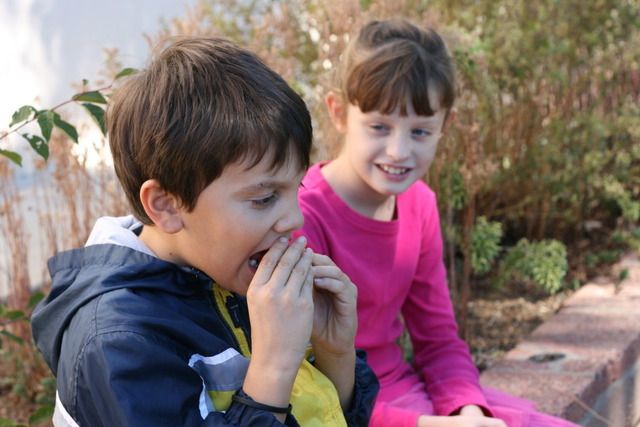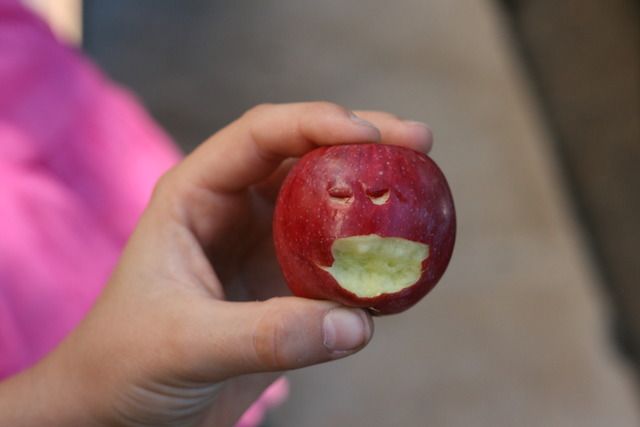 Annoying Apple or just a silly face?
We drove out of town a bit and picked up a pie at our favorite joint and drove back home. Lunch had been so filling that none of us felt like eating dinner so we sacrificed that meal for a bowl of apple pie and vanilla ice cream. Nobody in the family seemed to mind!