I held myself to my word and exercised last night. After my husband and I ate dinner and cleaned up the baby (a tag-team diapering experience, don't ask!), I grabbed my MP3, put on my walking shoes and headed out the door for my usual walking path. We have a very steep hill behind our complex and by the time I reach the top, I'm always breathing heavily and my heart is pounding, so I
know
that is a good workout! I was out for about 40 minutes and by the time I got back, chatted with The Boy and my husband for about 20 minutes, it was time to put the baby to bed. I did feel like I missed out on some time with my boys, but it's for the best right now. I know that my husband can handle things in my absence and I need to make sure I get my exercise, right? The view from the top of that hill is amazing, the breeze was lovely and I love to look at the gorgeous homes in that neighborhood. There is never a soul around when I'm climbing up so I can sing as loud as I want, too! My backside is feeling that workout today.
So, as I mentioned before that my 10 month and just-under-2-week-old Baby D has started standing. He started off on his own, pulling himself to stand by the ottoman and then letting go and standing alone. Then he started letting us stand him in the middle of the room and he'll stand for about 30 seconds alone. This weekend he was using his hands to steady himself against his toy basket and then straightening up to stand by himself...what a strong boy!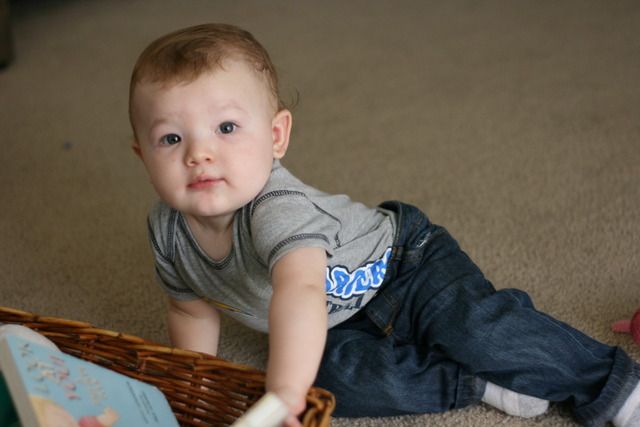 Of course, when I tried capturing it, each time I raised the camera up he would drop to his knees!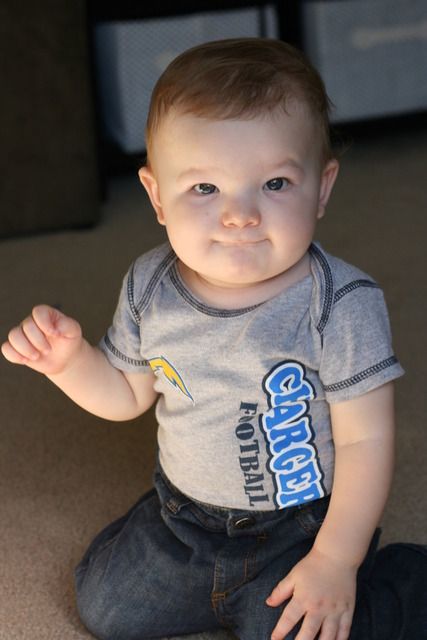 As a sidenote, aren't those little baby jeans from
Old Navy
the cutest?! They were a bit long so I folded them up and then tacked the corners so they'll stay up. They have a knit waistband that pulls up so the jeans fit snugly and comfortably around his waist.
When I take The Boy to Old Navy we always have a little giggle because back when he was about two, we were running errands and I stopped to shop at Old Navy and he said, pouting, in his little voice, "I don't
like
Old Baby". So we still call it "Old Baby". Anyway...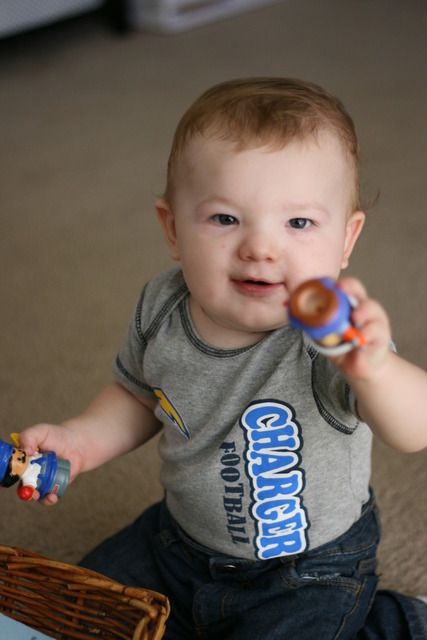 Baby D was hamming it up, showing me his toys. Doesn't his hair look very strawberry-blond? These aren't Photoshopped at all, that is truly the color of his hair (and not one of us is a redhead in the slightest!).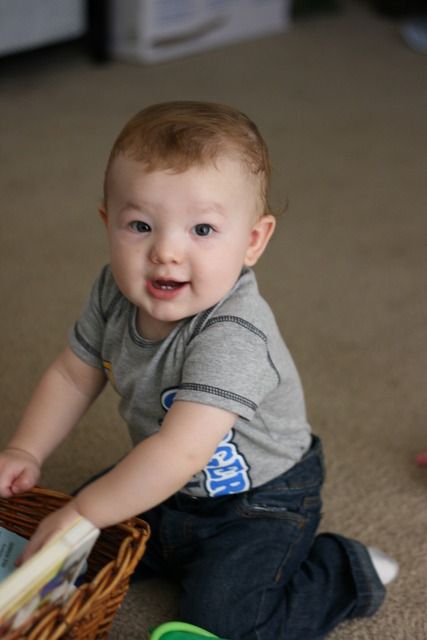 And this shot...well, he was crawling
across
the toy basket (heaven forbid, he crawl
around
) and because he didn't want to let go of the toys in his hands, he was using his face to propell himself forward.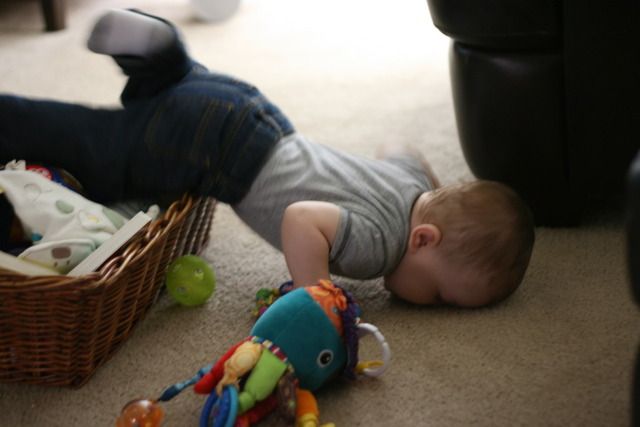 It looks terrible but he was fine, he even turned his head in this position to look at me and smile, cheek on the carpet and legs still in the basket! Silly boy!
I think that once he really gets his legs beneath him, we're all going to be in
big
trouble!