This post is now featured on my new blog SAVING UP FOR DISNEY! I feature Disneyland tips, DIY and budgeting advice for saving towards that magical vacation. Please stop over and follow me, thanks!
Okay, so you've ridden everything from Pinocchio to Pirates of the Caribbean and eaten everything from cotton candy to corn dogs (or prunes and peanuts in our case?!).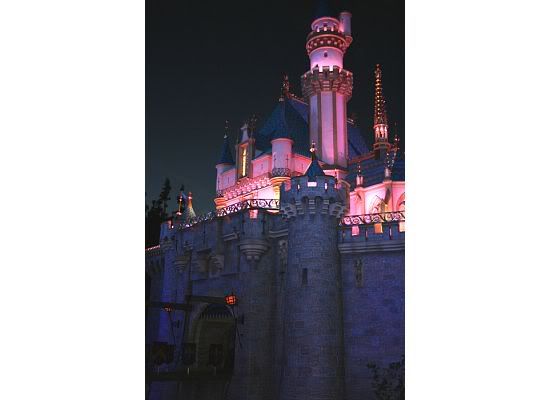 The Castle at night
What's next?
There are about a million other things to do at Disneyland besides rides and fair food. In addition to the basic stuff that is considered an "attraction" on the park map like parades, shows, fireworks, character meet & greets there are also so many other little things that make Disneyland a great place to spend your day.
Attractions:
In Disneyland -
Start off your morning riding one of the
Main Street Vehicles
down the center of the street. There is a fire engine, a car or the horse-drawn trolley. The drivers are always helpful and friendly with tips and Disneyland trivia.
Sleeping Beauty's Castle Walkthrough
is one of my new favorites. There are miniature scenes brought to life with special effects as you walk through the stairways.
Pirate's Lair on Tom Sawyer Island
is always a hit. However stay with your kids because if they go into one of the narrow cave tunnels they may come out on the other side of the island without you!
A load of gold!
Mark Twain Riverboat
or the
Sailing Ship Columbia
take you on a gentle spin around the Rivers of America.
Captain EO
starring Michael Jackson is an 80s classic. Worth a giggle for those that remember seeing it the first time around!
Disney Gallery
features original artwork and models that were created as a precursor to many of the attractions in the parks. Blue Sky Cellar in DCA is similar, though it shows designs of what attractions are in the works.
Mickey's House
&
Minnie's House
are both fun little walk-throughs and you get to meet the characters afterwards.
Donald's Boat
,
Chip & Dale's Treehouse
and
Goofy's Playhouse
are nice places for kids to run around (and plenty of sitting space for grown-ups in the shade!).
Inside Minnie's House
Innoventions
is one of my boy's favorite spots because it's full of science-type, futuristic stuff and video games. I like it only because it's air conditioned (though highly lacking in places to sit). I will confess that it's been years since I set foot in here but with the addition of some new features, I think we'll have to try it out next time.
Enchanted Tiki Room
is one of my favorite places. Don't be shy...sing and whistle along with the songs. I promise you won't be the only one! You can also eat inside, so be sure to grab a Dole Whip at the juice bar first!
Pixie Hollow
is where you can meet Tinkerbell and other fairy characters from the series. We have not explored the new
Fantasy Faire
area yet.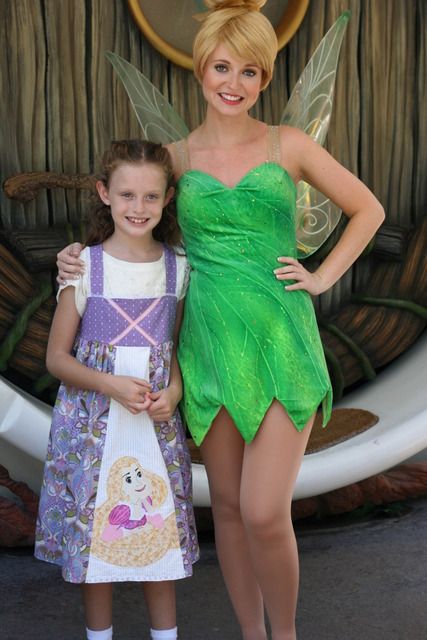 The Girl met Tinkerbell
The farm animal petting zoo at
Big Thunder Ranch
in Frontierland is a quiet area and in the past they have had the turkeys that the President pardoned for Thanksgiving the prior year, not sure if they still have that.
Making friends with a goat
Put your change in the
Frontierland Shootin' Exposition
and use an infrared rifle to shoot at the interactive targets. My dad always make it a point to spend a few quarters here on every trip!
In Disneyland's California Adventure -
Take a tour through the
Boudin Bakery
and get a yummy sample at the end. We watched them make huge Mickey-shaped loaves of sourdough last time! And afterwards you can pick up a sandwich or soup bowl at the
Pacific Wharf Café
.
Animation Studio: From the moment you walk in the room and witness the floor to ceiling movie scenes being shown on the gigantic screens, you will be immersed in all-things animation. Watch the Zoetrope (over & over & over!) in the
Character Close-up
area, visit with Crush the turtle from Finding Nemo in an
interactive show
, take a
drawing class
from a Disney animator, and draw a cartoon in the
Sorcerer's Workshop
, walk through the Beast's library or karaoke with Ursula the Sea Witch.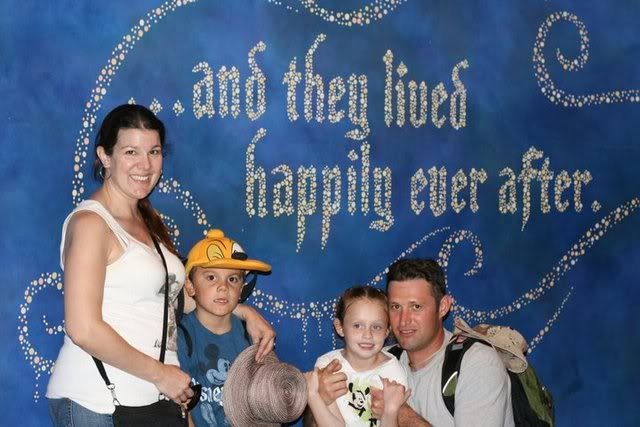 This is along the entrance to the Animation Studio
My kids always love running around in the
Redwood Creek Challenge Trail
. This time around they did a little rock climbing, tire swinging and rope bridge walking. Stay with your kids because it's an easy place to lose them!
Shows:
Disneyland -
The
Jedi Training Academy
Star Wars show in Tomorrowland is always great fun and even if your children aren't chosen to participate, everyone still enjoys watching. The Boy's older brother was picked and went on to cross lightsabers with Darth Vadar!
Battling Darth Vadar...in Crocs!
The kids received a certificate after their "training session"
Fantasmic
is an amazing, bright, colorful (and loud!) show on the water. Get there early and find a place along the rail (you'd be surprised, some people camp out there very early to get a good viewing spot!).
The Golden Horseshoe
is my favorite lunch spot because you can sit inside the air-conditioning, eat a nice meal and watch a show.
California Adventure -
The
Aladdin
show is jaw-dropping fantastic and a definite don't-miss. I can't even tell you how many times we've watched this show, it's incredible.
The
Disney Jr. Show Live-on-Stage
was a big hit with our kids. The shows are especially geared to preschoolers but the older ones enjoyed it too. The Boy enjoyed jumping up and dancing and The Girl talked about the "gold doubloons" that fell from the sky for weeks!
It's Tough to Be a Bug
takes some thick skin (I still close my eyes and cringe at some of the scenes!) so be cautious taking skittish people into this one! My mom is afraid of spiders and won't go near this one. The Girl is sensitive to loud noises and surprise elements so she doesn't care for it either. Just keep that in mind and know your family because you wouldn't want one negative experience prevent them from trying other shows/rides.
With Flik in Bug's Land
Muppet*Vision 3D
is a fun one, especially for those familiar with Kermit and the gang.
World of Color
...WOW!!! It's really extremely well done, appropriately full of color and beware...if you stand too close, you
will
get wet! We were in the second section and still got drizzled on.
And then what??Just sit and watch.
There are so many great people-watching locations throughout the park. Sit on a bench or in the
ice cream parlor along Main Street
and watch the families rush by. Aladdin's Oasis (a patio area in between the Tiki Room & the Jungle Cruise that is open only sporadically) is where we've stopped to eat a snack in the shade. Sit in the shade of trees in front of the New Orleans train station or sip a mint julep in New Orlean's Square.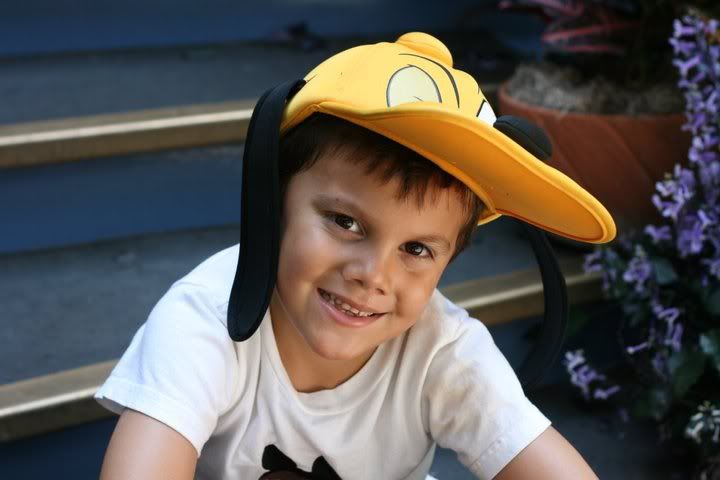 In New Orleans Square
Catch an impromptu show!
Mary Poppins dances with the band in front of the Castle or you can clap along with the Dapper Dans on Main Street.
Dancing along with a Cast Member
I've seen Alice and the Mad Hatter conducting a game of musical chairs near the ice cream parlor and have had a conversation with a moving & talking trashcan. There's a "beauty" contest in front of the Golden Horseshoe (that my stepson participated in).
Participating in a show by the Golden Horseshoe
Some of these things are just luck, they aren't featured on the park schedule so you'll never know when they'll pop up where you are.
Toe-tapping on Main Street
Singing B-I-N-G-O with a cowboy
Pose for pictures.
There is always something coming up and with great backdrops to pose with, take the opportunity for a great shot!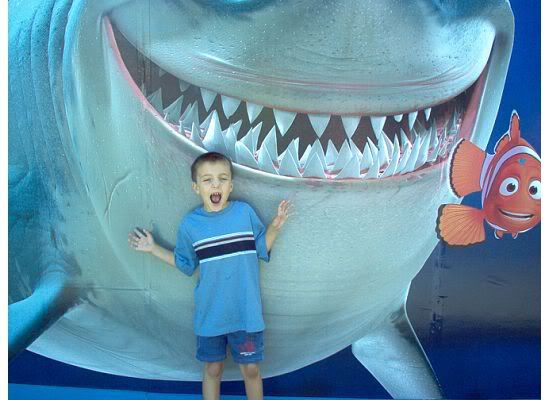 In front of what would eventually be The Finding Nemo Submarines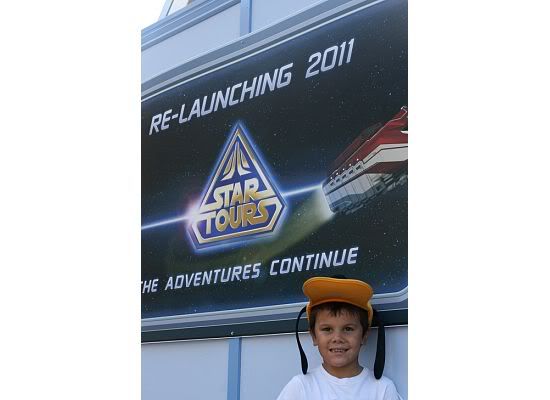 In front of what will be the new & improved Star Tours ride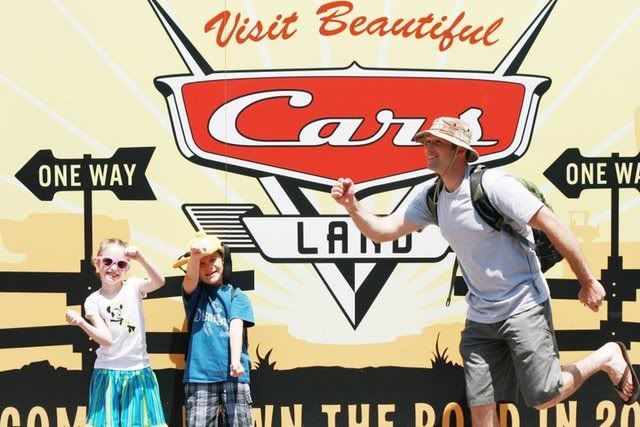 My family posing in front of the future Cars Land area
With Wall-E
Shop!
Or at least just go inside and see what fun things there are. We love The Mad Hatter's Shop for obvious reasons.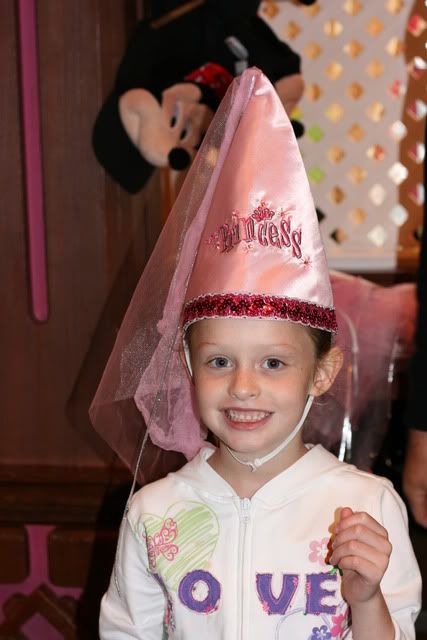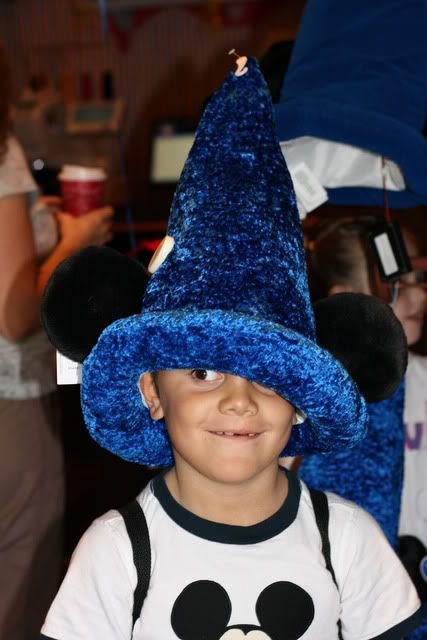 Look for Hidden Mickeys!
There are books about this subject or just set yourself free while walking through the park. The Boy found this one in a vent just under the stage inside The Golden Horseshoe!
Do you see the Mickey silhouette?
Make friends with the locals
If you arrive at the park first thing in the morning there are often many characters there for photo ops. However you can find them scattered throughout the park during the day in their respective "lands" as well. Some of my favorite photos are of the kids meeting their favorite characters for the first time.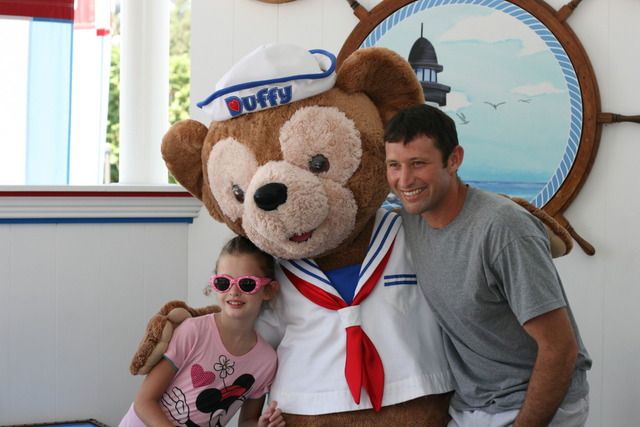 Duffy Bear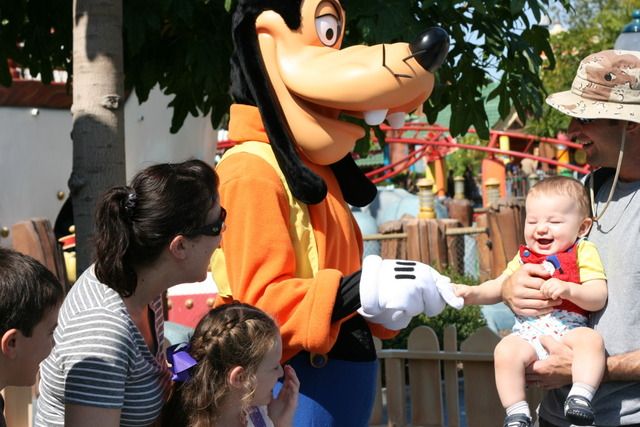 Baby D was delighted by Goofy!
Just wander around and explore.
There are so many gorgeous details in the buildings and in the designs of the gardens. Instead of walking straight across the drawbridge and into Fantasyland through the Castle, try taking the paths on the side. The path on the left is great for photo taking and you won't have anyone blocking your view of the Castle.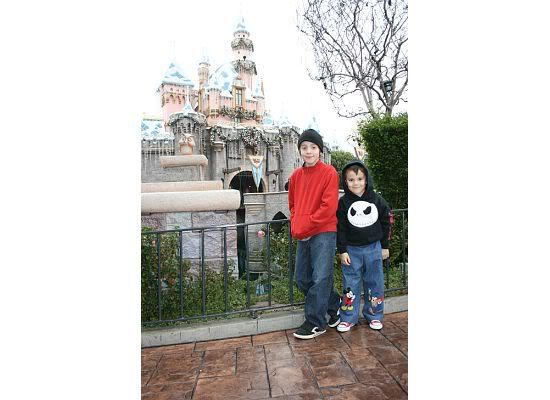 On the left-hand path
The path on the right will take you to Snow White's Grotto with statues of the characters and her magical wishing well (where donations are given to children's charities).
On the right-hand path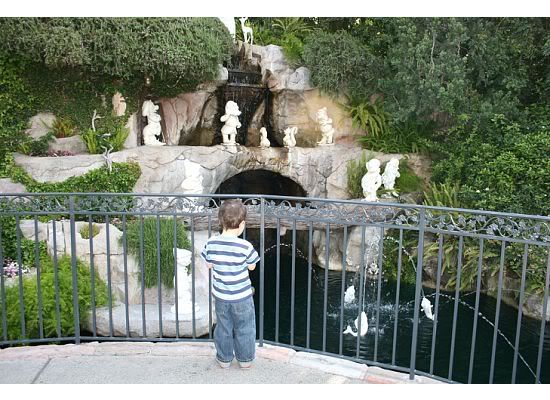 At the Grotto
Walk by
Rancho Del Zocalo's
restaurant at night and admire the gorgeous hanging glass lamps. Jump on the dance floor in Tomorrowland when the live bands play at night (I have so many fun memories of The Boy at 4 years old, doing "the robot"). Touch the apple in front of the Snow White ride and hear the witch cackle. You can also see her open and close the curtains above the ride from one of the windows. There are a wild amount of little details that set Disneyland apart from all other amusement parks.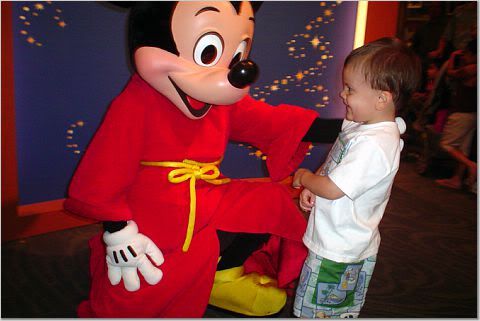 Meeting Mickey for the first time
If you are interested in all the other
little
things that really make up the BIG picture of why Disneyland is "The Happiest Place on Earth", read some of the forums or blogs online. Please use my search bar to look for other "Disneyland" blog posts.
Until next time...