So yeah, I'm only just moving out of the first trimester of my pregnancy and it's a little early to be
nesting
, I guess. However, the disorganization was getting to me and now that nausea is behind me (I hope) and more energy is ahead of me (I hope), it was time to make some changes.
But some of our life "behind closed doors" was looking pretty ugly. There were a few spots that we'd been learning to live with but well, enough was enough! After a while, you just have to do something drastic...even if that mean spending a small fortune at The Container Store to get it right! (Right?)
Saturday morning, 8:15am:
I set out for The Container Store with a list and measurements in hand. I had specific areas in need. After less than an hour, my shopping cart was literally overflowing...in fact one of the employees carried the rest to the register for me!
I came home with this!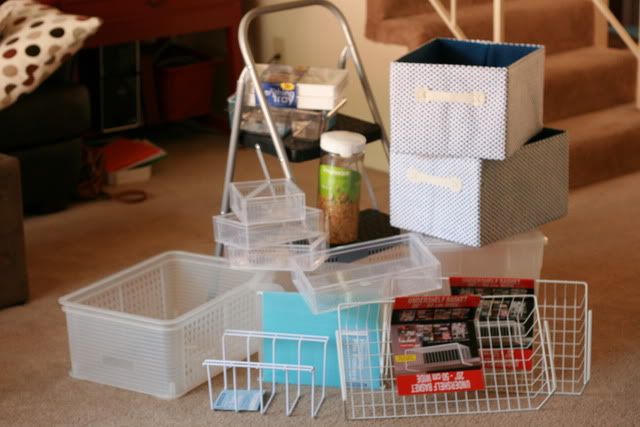 My loot!
I apologize in advance for the crummy, blurry photos. I have terrible lighting in this house and refuse to use my on-camera flash!
#1. The plastic food storage. I'd been keeping it in the original box, which was driving my husband crazy. He packs his meals at 4:30am, often his breakfast
and
lunch (and sometimes dinner if he has school that night) and digging through that cluttered box in the wee-hours was frustrating.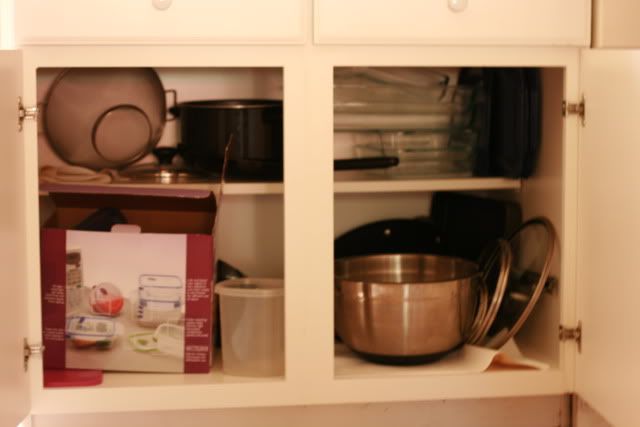 The kitchen cabinet, before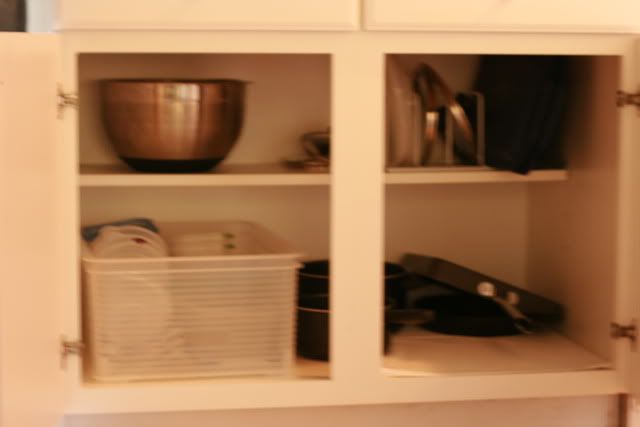 The kitchen cabinet, after
This was Danny's number one request for new organization. I opted for a large bin that will fit all of the Sterlite neatly, paired with their lids. I like the color coordination of Sterlite. The edges of each piece is trimmed with a certain color that matches with the same color trimmed lid. The bin can be pulled out and set on the counter for easy sorting and putting away of clean containers.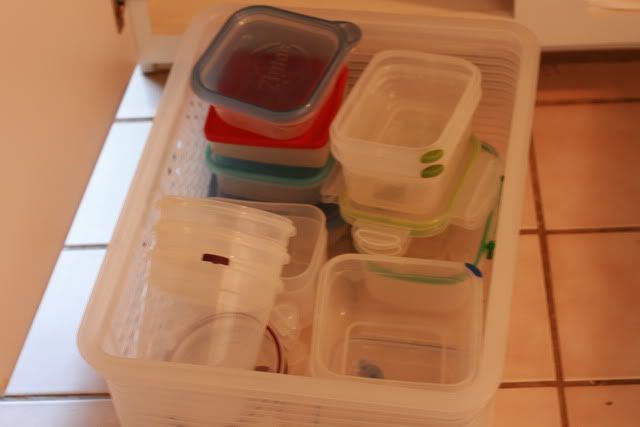 The plastic bin to hold all of our food storage containers.
#2. Pots and pan. The annoying thing about this cabinet is that it's so deep and high but only has this very small and narrow shelf in back.
I bought a lid rack to set on the shelf. We had some other things under here before (like the colanders & Pyrex) but I decided to relocate these. I moved some of the things that we don't use often (like the coffee mugs) up to higher shelfs and placed the colanders & Pyrex on accessible shelves in the cabinets above the counter.
#3. Pantry. This was becoming a disorganized mess of half-used bags of chips, cookies that had to be stored in Ziploc bags because of ants and gigantic Costco-sized bags of rice and beans.
Cluttered upper shelf, before
Big bags of food, before
I bought some ready-to-pour containers as well as some bowl-shaped storage. I particularly like the bowl ones because I have no plastic bowls & this is nice to eat out of (like when you make popcorn) and then just pop the lid on to store the leftovers. I labeled everything with my Dynamo LetraTag that I've had for years...love that thing!
Kitchen Pantry, after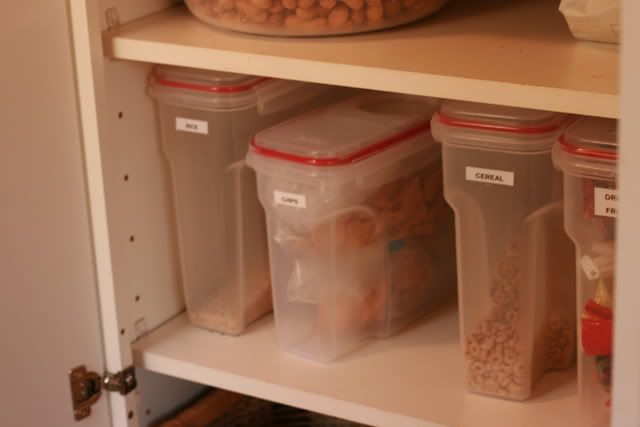 Kitchen Pantry, after
Neat & tidy, with space to spare, after
I also bought this simple sectioned off container to hold small spice items and I can pull it out quickly onto the counter to find what I need (instead of knocking over the mustard and seasoned salt each time I needed the garlic peeler).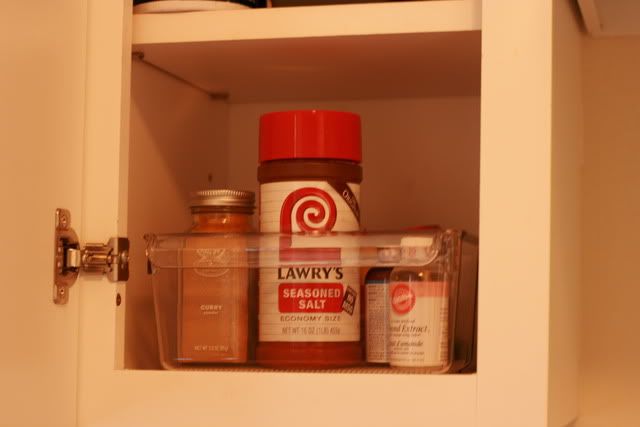 Spice organizer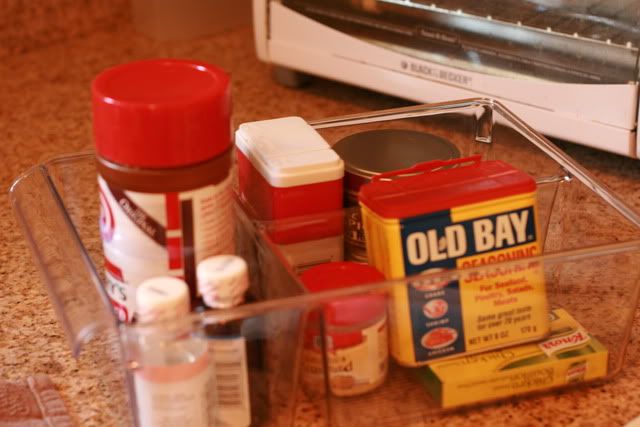 #4. Desk. The drawer was a equal mess of important papers (marriage certificate, social security cards) and unimportant junk (coupons, batteries and random cords).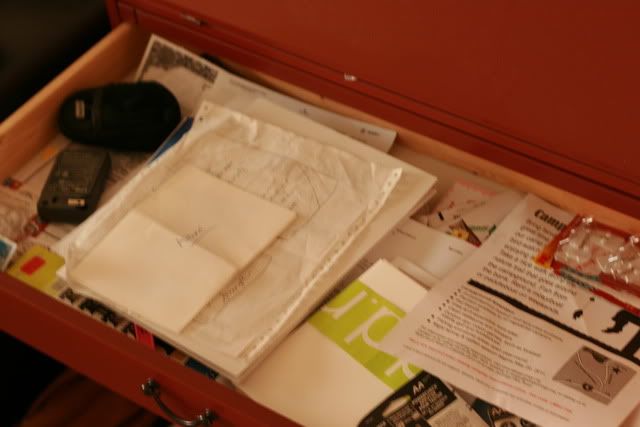 Desk drawer, before
I picked up some inexpensive drawer organizers to hold and separate the stamps from the stationary and the paper clips from the Post-it notes. There are some office supplies that we don't own that I'd still like to purchase like a stapler and ruler!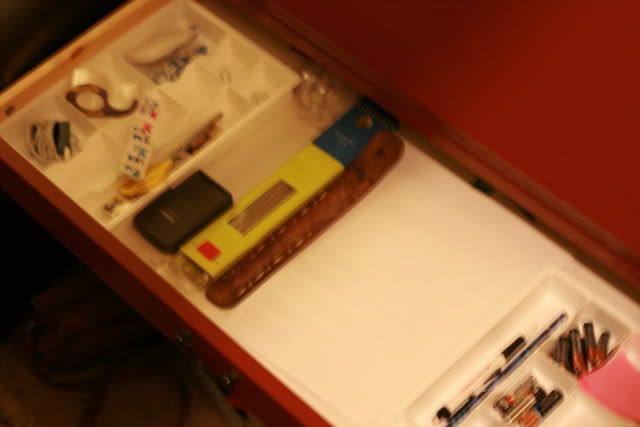 Desk drawer, after
The cabinet needed a serious weeding out too as the green box had become a catch-all of receipts and paystubs.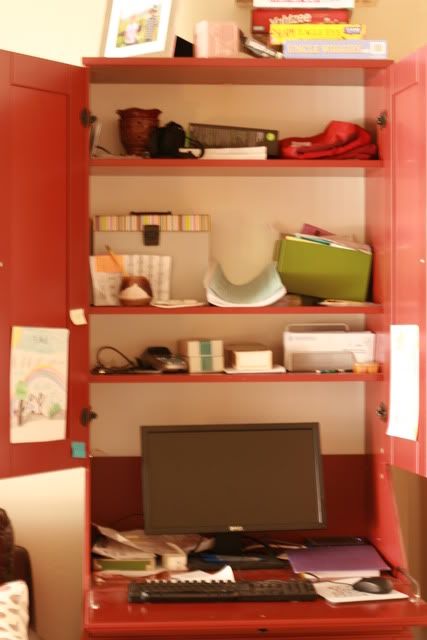 Upper desk, before
Up in the cabinet, small clear bins hold all the cords, thank you cards and camera accessories. A new open-topped filing box holds paperwork that needs quick accessing and the striped box was reorganized to hold less urgent stuff (like manuals & warranties for all the household items). At some point we'll get a printer too.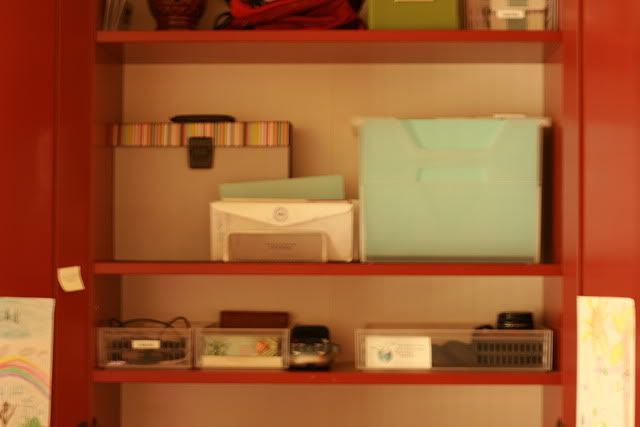 Upper desk, after
#5. Shoe storage. This was number 2 on Danny's hate list of "see-what-you-can-come-up-with-to-fix-this-please". We have this storage bench and the rule of taking off our shoes when we come in the house. The Girl puts her shoes on the left and The Boy's go on the right and my shoes & Danny's shoes go in the basket. Neither of us were really crazy about having to see the pile o'shoes the moment we walked in the front door.
Front entry, before
Front entry, before
I measured the bench openings and found baskets that fit nicely. Now each of the kids has their own bin and the shoes fit much better inside. I took Danny's gym bags and fishing pole out of what had become a permanent home next to the TV and moved them into the bedroom closet and placed our shoe basket there so at least now it's out of sight.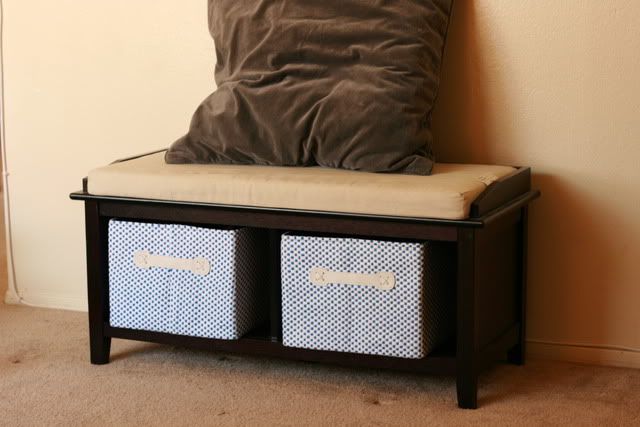 Front entry, after
#6. Kid's Toys. I'd already purchased some small storage bins for them to separate toys into but now we had to tackle the bigger stuff.
The Boy's big box of Legos needs to be sifted through and moved the figures into their own bin and Bionicles into another.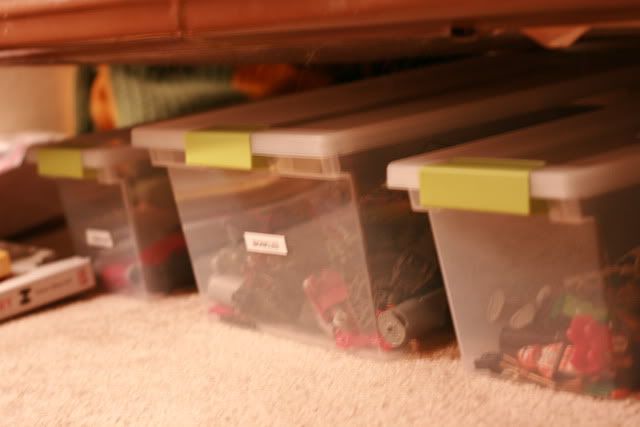 New kid's storage
The Girl's Littlest Pet Shop stuff got it's own big bin and little dolls and figures into a bin as well. Everything fits under the bed, hurray! Now the ultimate goal...making sure it all
stays
in the appropriate bin (fruitless, I'm sure!).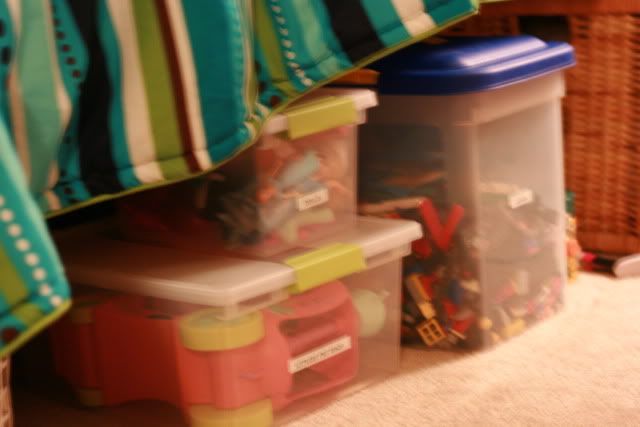 New kid's storage
#7. Kid's Books. This bookshelf was getting wildly out of hand. I've sorted this before but The Girl likes to drag out multiple books and then shoves them back whereever they fit when she's done so picture books were mixed up with coloring books and chapter books were scattered with things that weren't even books.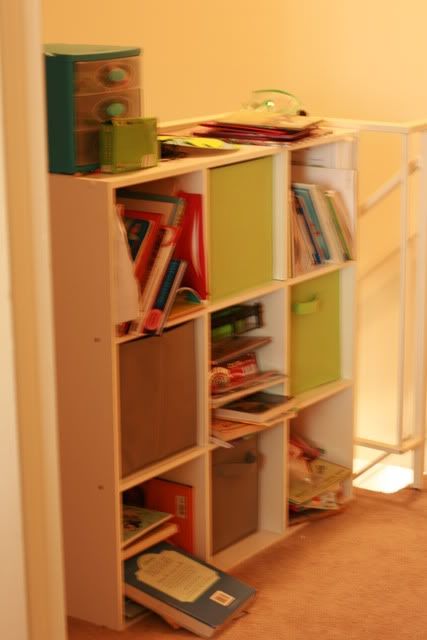 Kid's bookshelf, before
The Boy and I dumped out the bins and sorted whe we could into the appropriate bins. Oversized items went back into their bins (blue for The Boy, green for The Girl). I sorted the books with what The Boy usually reads (science topics, animal books, beginning chapter books) on the left side and The Girl's books (Dick & Jane, picture books and coloring books) on the right side.
Kid's bookshelf, after
Still to come...
#8. My closet. The lightbulb burned out and needs to be replaced to organizing there is difficult at the moment. I have already weeded through pre-pregnancy clothes that aren't going to fit me for the next year or so and put those in bins under the bed. However, Danny's work clothes are stacked up all over the top shelves and I know there could be a better system for this.
#9. Bedroom, including end tables & dresser. The dresser is going to go and make room for my sewing stuff (which has to move out of the spare bedroom to make room for the nursery!). All the stuff in the dresser will be sorted into plastic storage drawers to go in the closet at some point. And those end tables...well, circa 1972 and handed down from my parents, I think they just need to go away and get something more modern, don't you think? I know you agree (and you haven't even seen them!)
#10. Spare room conversion. As noted, this will become the nursery. At the moment, it's my sewing/craft room, slash kid's TV room, slash The Boy's dressing space. The entire closet is holding his wardrobe and there is a dresser here with his clothes. the dresser is going to have to be sorted so that it will hold both his and the new baby's clothes. The TV will go and we'll likely purchase a smaller set to put in the kid's room. All of the sewing stuff will be moved into my bedroom...sigh! It was nice while it lasted.
#11. Kid's bedroom. At the moment, this closet hold all of The Girl's clothes and not much else, but I'd like to utilize the upper shelf for some storage. This dresser is too large so I'd like to get something smaller that will hold a small TV on top.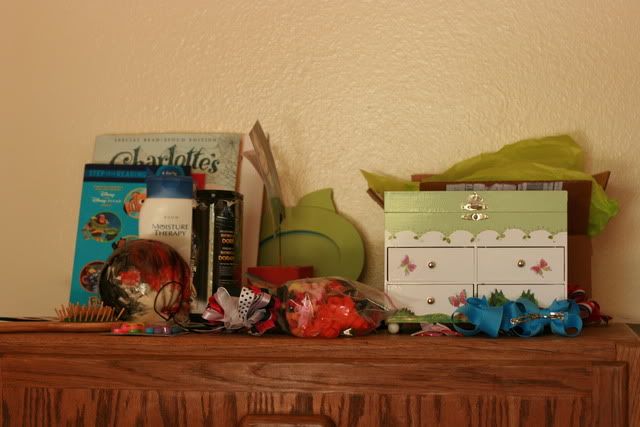 Top of The Girl's dresser
#12. Hair accessories. Right now, these are scattered in about 3 different locations (box in The Girl's closet, top of her dresser and in the downstairs bathroom). I'd like to finish this letter with some ribbon to hang most of them from, get a bin to store the clips and another bin downstairs to hold elastic bands, brush and spray along with bows she will wear for the week.
#13. My buffet. I'd like to find a place for that water bottle and get my lovely buffet back in full so I can start decorating it pretty again!