The day we got married, November 20th, 2010, our best man (Danny's cousin) booked a room for us at a lovely boutique hotel in La Jolla and we had one overnight stay without the kids. It was raining but we walked up the main street, had Mexican food for dinner, listened to the band in the lobby and the next day after walking along the coastline a bit we went to the movies and then went home to the kids.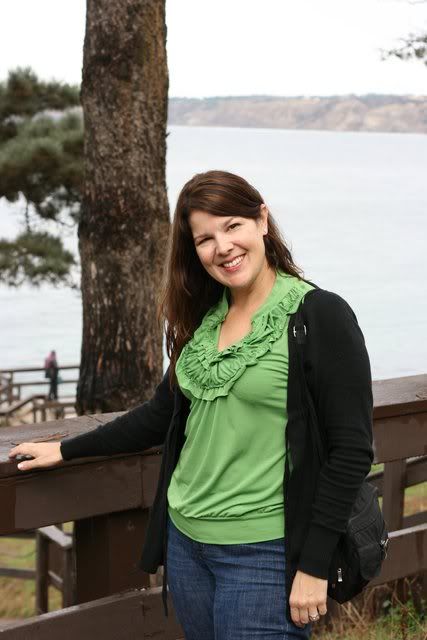 At the La Jolla shores, the day after our wedding
We still didn't have any place to live together at that time, so he went back to his mom's house and I went back to my parents and we lived like that for another 5 days until our apartment was ready to move in.
So we've never had a real, official honeymoon. We went straight from being single parents to "married with kids" and the adventure began! And now with our little surprise on the way, we'll be new parents again in early December.
When the opportunity came up for a getaway, we took it.
Journey Community Church
was holding their 18th Annual Marriage Retreat in Palm Springs and we knew this would be a nice weekend away for us. We paid in affordable deposits over the course of a few months, the church handled the reservations, all we had to do was show up. There were to be couples seminars in the ballroom and plenty of free time with each other. Ahhhh, we were really looking forward to it!
I got my toes painted and bought a new pair of flip-flops just for the occasion!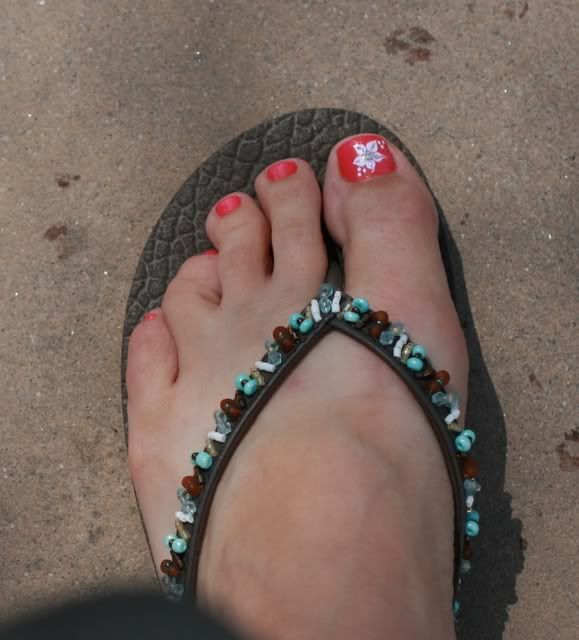 Doesn't the flower look like a little starfish? So cute!
Danny had a class on Friday night so we weren't able to get out of San Diego until 7:30pm. Unfortunately the first seminar was being held at that exact time, so we missed the first evening of activities. It took us four hours to get there, over an hour longer than expected because of some road construction but it was a pleasant drive and we pulled into the Indian Wells Resort
Hyatt Grand Champions
around 11:30pm. This is considerably later than our usual bedtime...But we were on vacation!!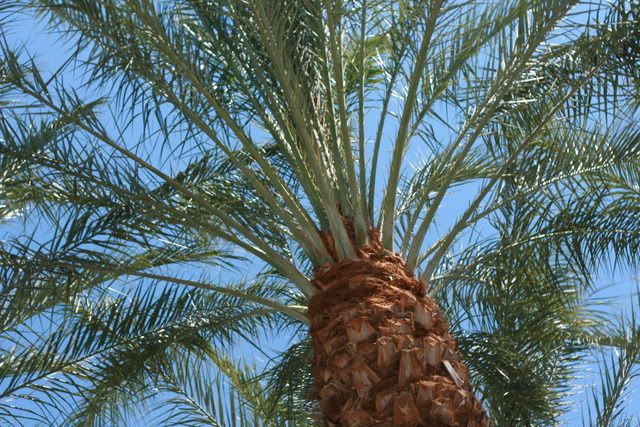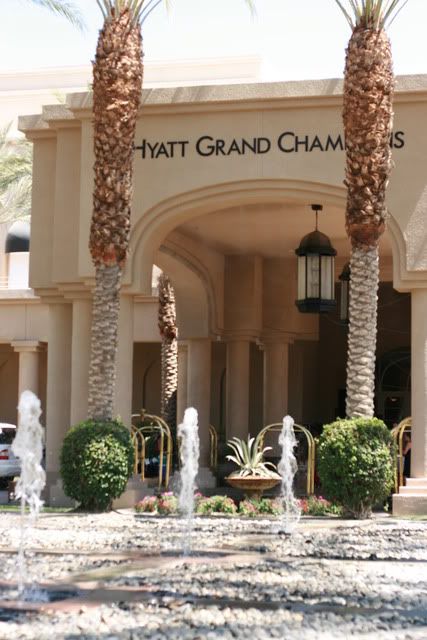 The resort is just beautiful, with water fountains and cooling misters all over the place, towering palm trees in rows and rows, chocolate chip cookies & Arnold Palmer drinks in pitchers in the lobby, and a cluster of swimming pools. Of course the entire resort overlooks a lovely golf course.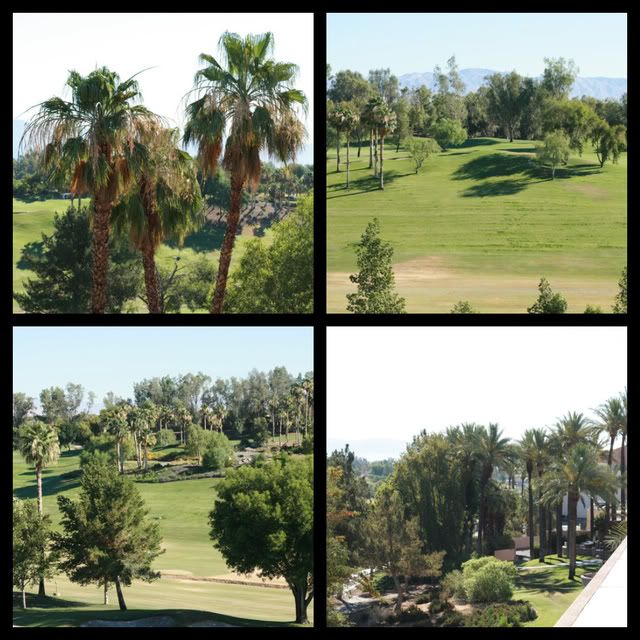 This was the view from our room!
Neither of us had ever been to Palm Springs before but found that with Hwy 111 it was very easy to get around. After a morning of sessions, we hit the road.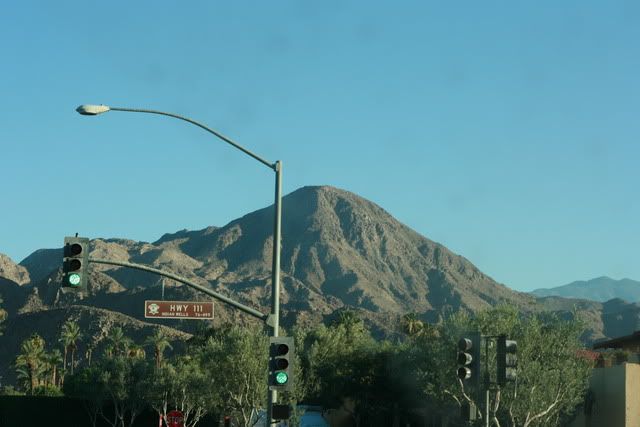 We discovered a delicious
bbq restaurant
a few miles down the road and after filling up on tri-tip and pork sandwiches, coleslaw and fries we took a stroll around the outdoor mall where I was about ready to jump into the fountain.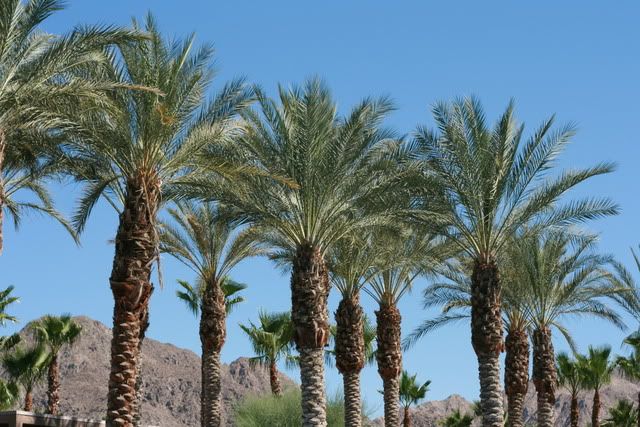 Palm trees at the resort pool
We headed back to the resort and decided to try out the adult only pool area. To be perfectly honest, we seriously lasted about 7 minutes. The only two unoccupied lounge chairs were in the sun. The air temperature was at least 108 degrees. The pool temperature was a very unrefreshing 85 degrees...yuck, like taking a dip in a bowl of soup! And it was covered in a milky film of sunscreen too.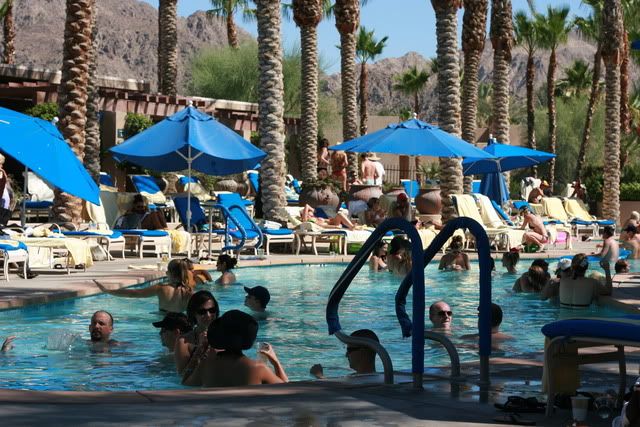 The crowded, warm pool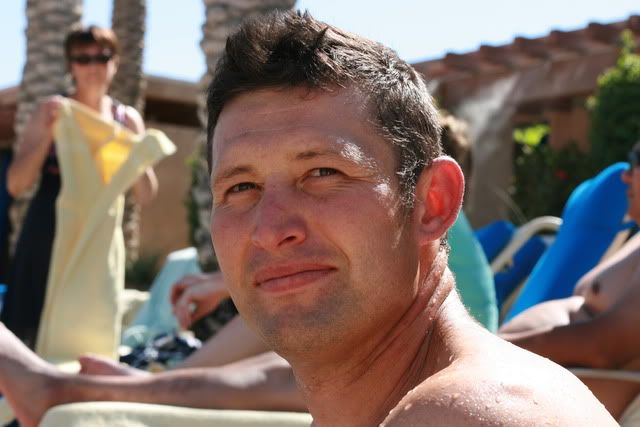 My honey, contemplating why anyone is in that pool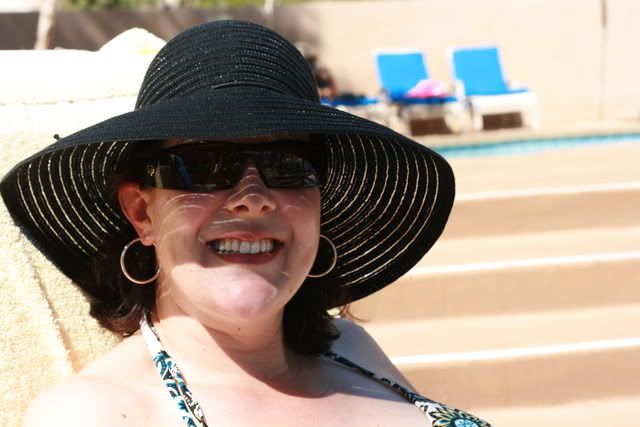 Me, dipped in sunscreen and with a gigantic old lady sun hat
We packed up and headed back to the room where Danny took a cold shower and I relaxed in the cool water of the bathtub! We were able to nap and then headed out for dinner around 6pm without any agenda or plan.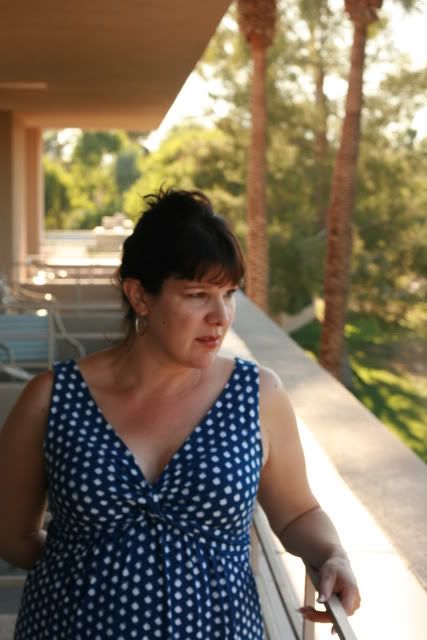 Dressed for dinner!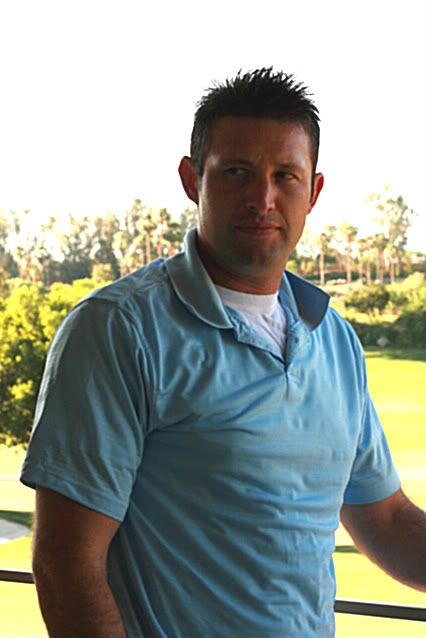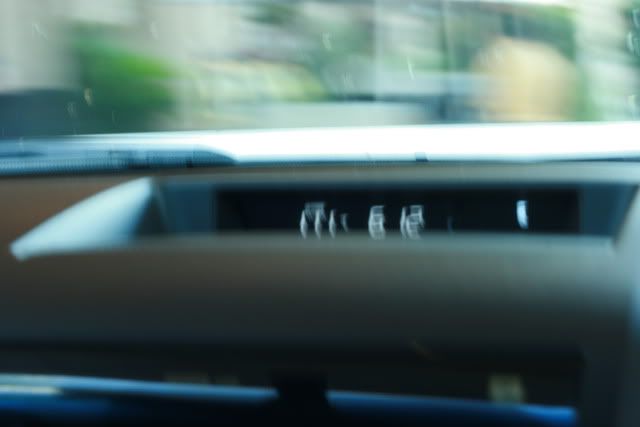 Yep, 111 degrees at 6pm!
We ended up at this elegant
Hawaiian fusion restaurant
and decided to share the pre fixe meal. We started with these amazing chicken meatball lettuce wraps (I'm so going to try and recreate these at home!), a wonderful crusted shrimp entree with lemongrass and an amazing molten chocolate souffle with raspberry sauce and vanilla ice cream.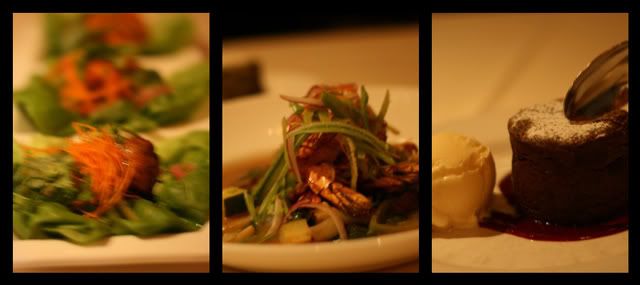 Of course everything had fancy names and terminology (raspberry coulis, Tom Yum broth?) but what it came down to was that the food was delicious, very elegant and slow paced and we had a great conversation.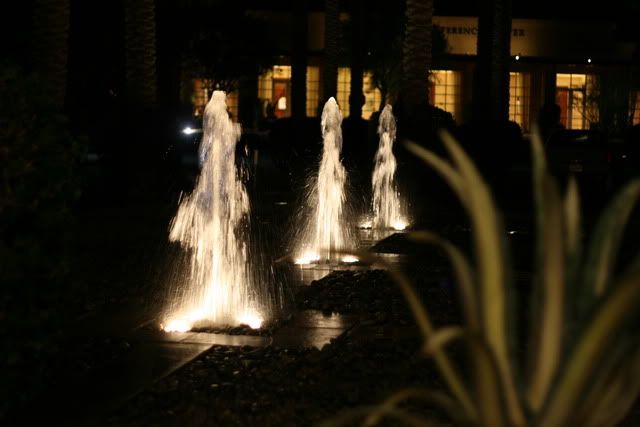 Hotel fountains at night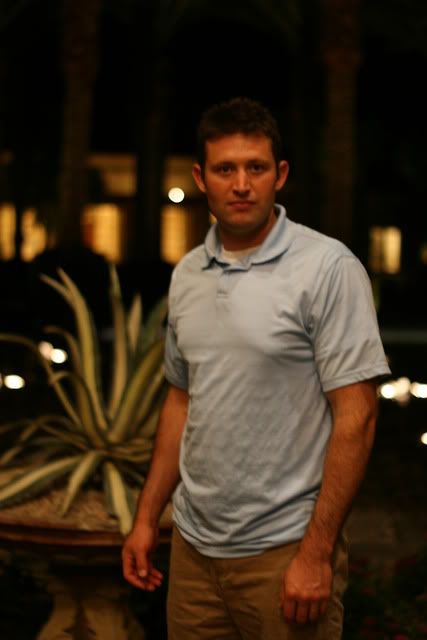 Danny in the moonlight
Since neither of us was down with spending $300+ on couple's massages or facials at the hotel spa we packed up the massage oil and facial masks from home and relaxed in the comfort of our hotel room.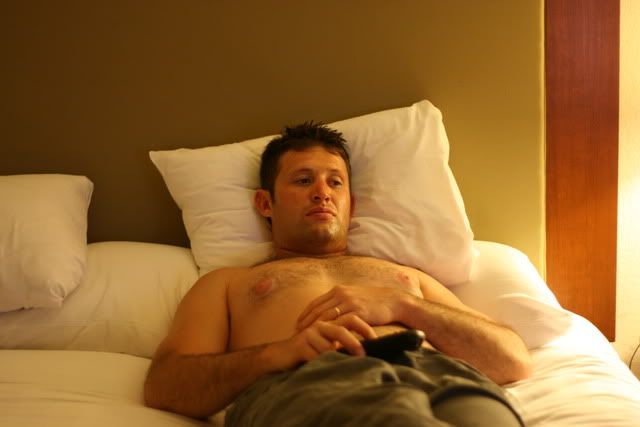 Watching TV until it's time to rinse off the mask
On Sunday morning, after one more session it was time to head for home.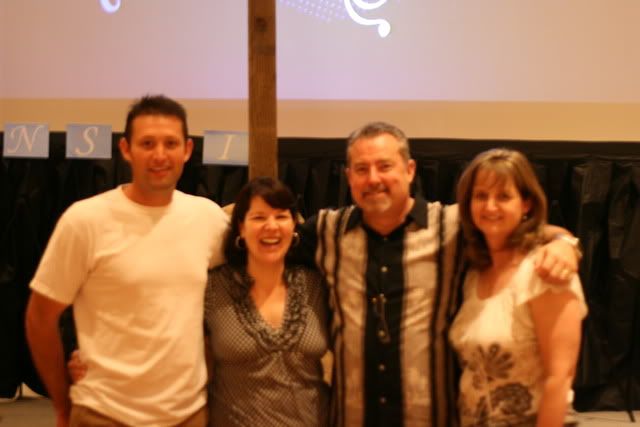 With one of the weekend host couples. They were also our pre-marriage counselors and performed our wedding ceremony as well!
On the way out of town, we spotted these gigantic dinosaurs and I just
had
to stop. There is a
dinosaur museum
attached but we only stopped to take a few photos. Anyone who remembers the movie "Pee-Wee's Big Adventure" will recall these guys! He sits inside the big T-Rex with Simone & they exchange dreams... Please tell me I'm not the only one who remembers this?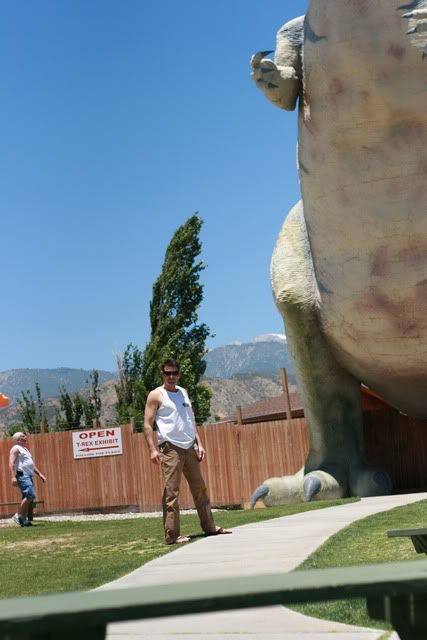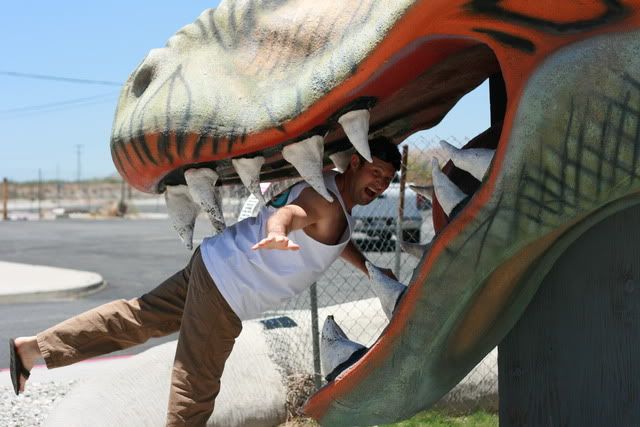 In any case, that was our vacation...what we are now technically referring to as our honeymoon. Though if I can get another chance, I think we'll need just ONE more little weekend getaway like this before December, don't you think?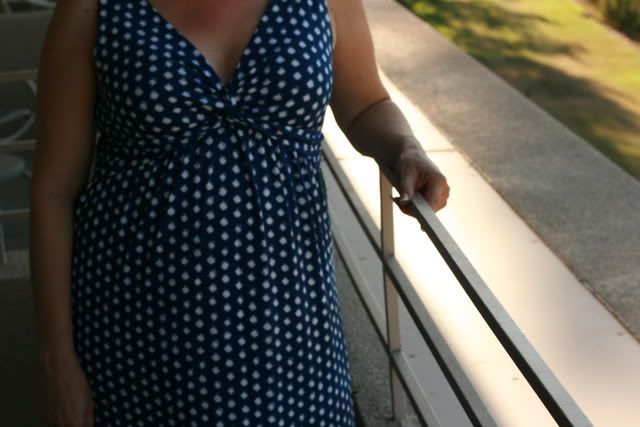 Baby bump