I saw this pie in the Martha Stewart Living magazine about a month ago.
It was calling to me...
Strawberry-Lemonade Icebox Pie.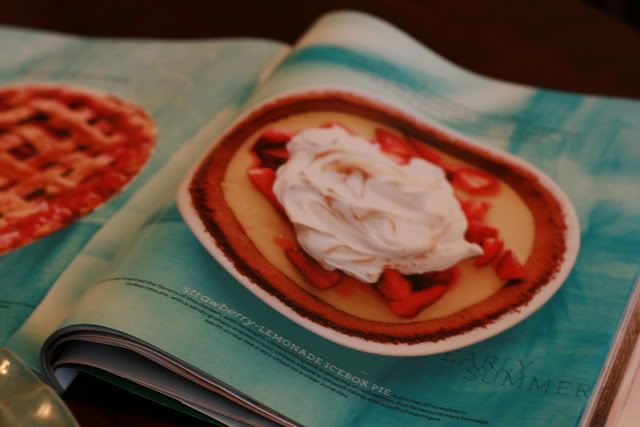 Doesn't that just scream SUMMER???
Ahhh, it sounds so refreshing.
And so with Father's Day coming up and my dad being a major sweet tooth, that's what I decided would be my contribution to the Father's Day dinner at my parent's house.
I have made apple pies with my tried-and-true recipe within the last few years but it's been a very long time since I attempted any new pie recipes. In fact I know exactly when I made my last pie. I was about 16 and I made banana cream pie for Thanksgiving with family. I used ripe bananas, like you would for banana bread, and the pie was so sickeningly sweet and mushy. Live and learn...ripe bananas for bread...fresh bananas for pie!
I made the crust the night before, baked the filling and let it sit overnight in the fridge. After church on Sunday, I made the berry topping and whipped up the fresh meringue. I didn't have a "kitchen torch" as per the directions and didn't feel like turning on the broiler in hot weather, so I just flipped on the butane lighter and toasted the meringue a bit until it looked like the photo.
What do you think? Did I do good?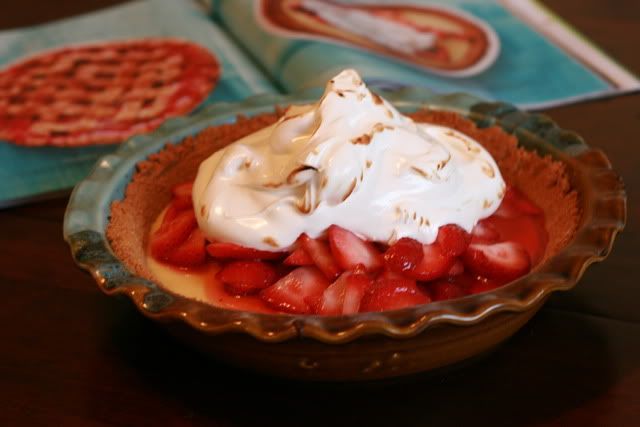 Looks like it jumped right off the magazine page, huh?
And it was yummy.
Quite a bit on the sweet side so I know I could cut out some of the sugar from each of the steps next time I make it (crust has sugar, filling has sugar, meringue has sugar) but it
was
tasty. Just know that you can cut some of that sugar and the pie will still be sweet enough.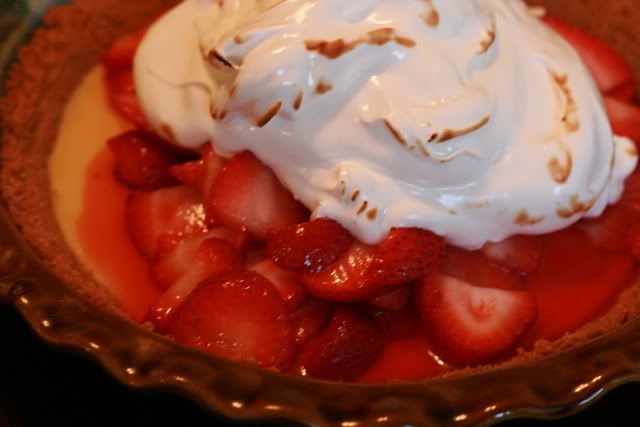 And Dad enjoyed it!
Here is the recipe if you'd like to try it yourself...
Strawberry-Lemonade Icebox Pie.