So, I caved & took the boy to Disneyland yesterday. I'll share pics of our little trip later.
I had all bad intentions yesterday. I was going to splurge and eat
good
on our excursion. I have been doing pretty well with my daily eating (tiny Lean Cuisines for lunch, no second portions at dinner, no dessert before bed, etc) and I knew with all the extra walking we'd put putting in at the park, I would allow myself a treat or two (or three?). I was dreaming of chocolate chip ice cream sandwiches, pulled-pork sandwiches from the French Market, slushies from Toontown, corn dogs from the cart on Main Street, mint chip ice cream sundae from the Golden Horseshoe... *slurp!*
We started off the drive at 6:30am. Drive through at Jack in the Box:
Small Raspberry Smoothie & a Breakfast Jack, no egg. Not terribly bad, it was a start!
Around 11am, we took a break inside the Tiki Room.
Shared a Pineapple Float. Lovely pineapple soft-serve in pineapple juice. Hmmm, it was sweet but really, technically isn't that fruit (and fruit is good for you, right?) Not sure this counts as naughty...moving on!
Noon, the Golden Horseshoe (and home of the infamous mint chip ice cream sundae!). Shared Chicken Nuggets and fries, of which we only ate half and a small tub of Ranch dressing, also only half used. No ice cream for us this time, we were full after the lunch.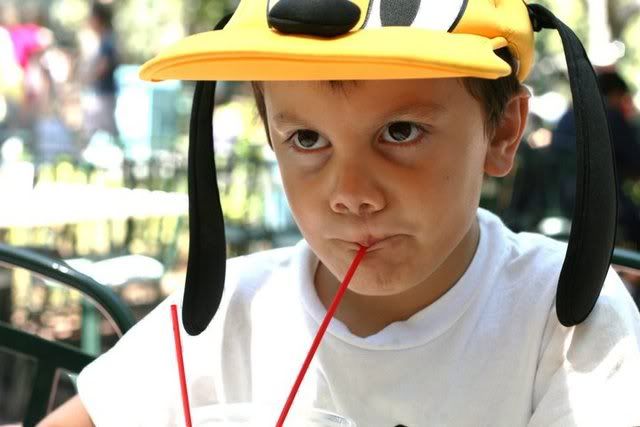 Slurping up our mint julep, of which I got a few sips and one cherry
1:30pm, New Orleans Square. It's over 100 degrees at this point and we are thirsty. Stop off to get a Mint Julep, which we share (when I can pull the straw out from between his lips). What is
this
on the menu? Mickey Mouse shaped beingnets? Well, bring it on!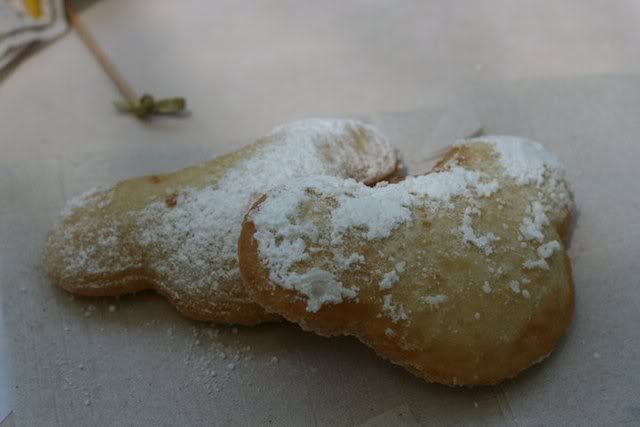 Heaven on a paper napkin
I'd not seen or had these before. We ordered a trio of them and waited while the gal made them up fresh. She brought them out in a paper sack, warm and covered in powdered sugar. Oh, so light and flaky! Now we're talkin'...this is heaven!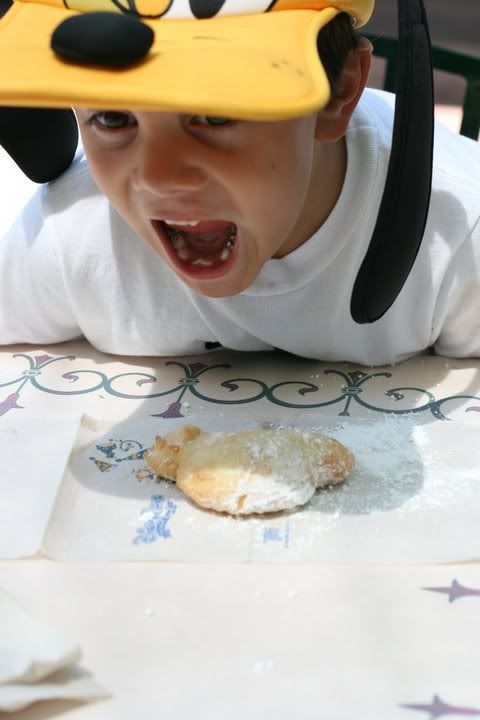 My wild animal
3pm, taking a rest under a tree next to the Haunted Mansion. I buy the little guy his promised chocolate-covered banana. I consider the chocolate chip ice cream sandwich but realize that I'm actually more thirsty and settle for a Diet Coke instead.
4:30pm, we realize we are starving and stop in at the Village Hause in Fantasyland to share a cheeseburger, fries (again we only eat half) and a fruit plate. Oh, we are soooo good, we ate a
FRUIT PLATE
.
I expected that we would eat again at some point but 8:30pm comes around, it was time to leave the park and we never ate another meal. My son ate the remainder of the melon from the fruit plate before crashing out on the drive home.
Oh, well. So I still owe myself a good gorging. I think I should have eaten the cookie ice cream sandwich...But my body thanks me for eating the fruit plate.