I am photographing Halloween outfits today. Yeah, yeah I know that is over 2 months away, but we work ahead in the boutique world.
I'll share when I have my new Halloween sets up tomorrow, but in the meantime, a few Halloween shots from year's past and some creative ideas for costuming. This year my son is waffling between being a bush and a tooth. You have to
know
him to even understand the thought process of why a 6-year old child would choose to be either a bush or a tooth for Halloween instead of Iron Man or Dracula! I love it though, gives me a chance to be creative & he always wants me to make his costume each year of course.
This gnome outfit was a huge hit and extremely easy to put together. I just used a pair of corduroy pants he already had. I made the tunic and sewed on the contrasting "belt" and white bias tape trim. The hat and boot covers were made of inexpensive felt and the beard was just a small piece of faux fur looped at the top over a piece of elastic that was attached to the hat. The boys
still
have this in the dress-up box and it makes an occassional appearance!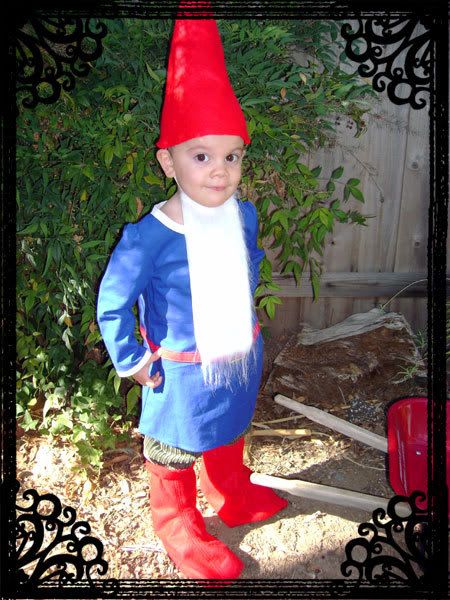 2006
Here he was as Captain Jack Sparrow. I did buy this from the Disney Store that year but that hat is vintage from my brother. It's seen a lot of wear in the dress-up box but it's definitely better than the faux braided do-rag that was included in the set...My son wouldn't let that thing near him! I think it's fine to use well-made store-bought costumes (you can always recycle or sell) and dress up the look with accessories you already have.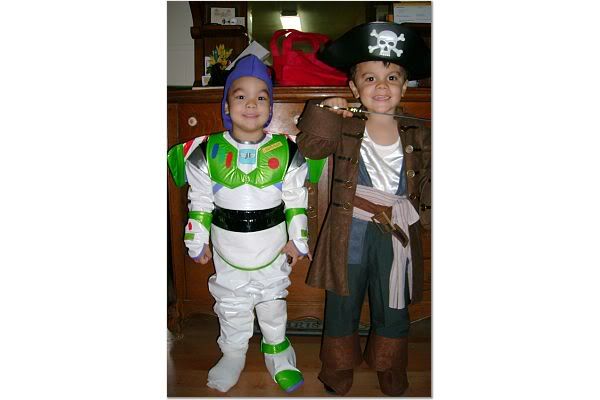 2007
I think this was my absolute favorite costume of his. He wanted to be Indiana Jones, which fortunately is cheap & easy to create. I bought a white button up shirt and dyed it with a batch of tea bags on the stove. He wore khaki pants & boots that he already owned. I found an inexpensive dress-up set that came with a felt hat, whip & satchet at Target. The satchel doubled as his candy bag and I looped the whip and wove his belt through it at his side. My son definitely got into character for this one, it was great.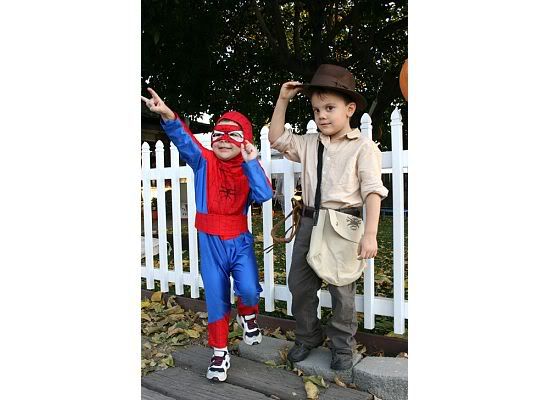 2008
My nephew is wearing a Spiderman costume that I made years ago for his older nephew & has held up very well after years in the dress-up box. I only needed to refresh the black fabric marker lines a bit and it was trick-or-treat ready!
This was last year's set. The pirate costume was recycled for this year and my nephew wasn't afraid of the dreadlocked do-rag, he's wearing it under the hat!
My son's request was for his made up character, Hollywood Superstar Spider. I made a tunic with the metallic spiderweb print, with attached arms/legs on the sides which were separated with fishing line. A top hat and cane were a must (Grandpa fixed up the cane, which was a spraypainted PVC pipe) and I made the top hat out of a cardboard cereal box, hot glue, matching fabric, and a headband.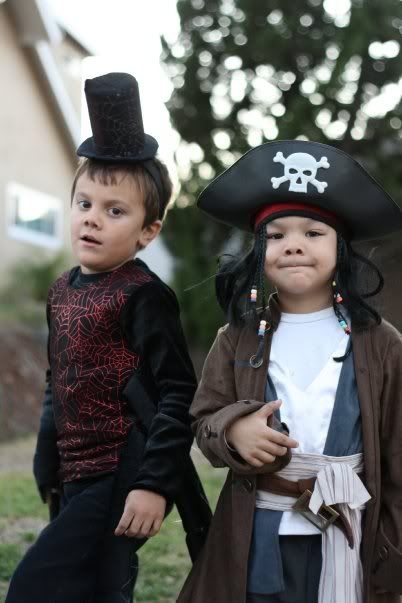 2009
Still have to pin him down for this year's costume. By the time October rolls around he might have some other nutty costume idea...I can't wait to hear what it is!