Do you have happy memories of this place?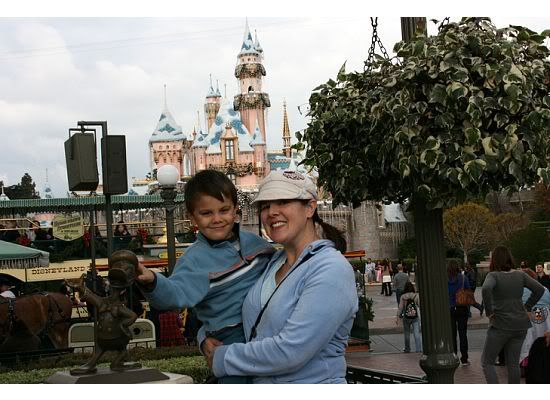 Us in front of the Castle
Growing up in SoCal to parents who LOVED Disneyland, a great
many
of my happiest memories have taken place here. A few years ago we had season passes and visited about once a month. We've braved the crowds in the heat of summer and faced the umbrella-reversing wind and rain in spring. We especially love how the park transforms during the holidays, every nook and cranny is completely decked out, it's amazing.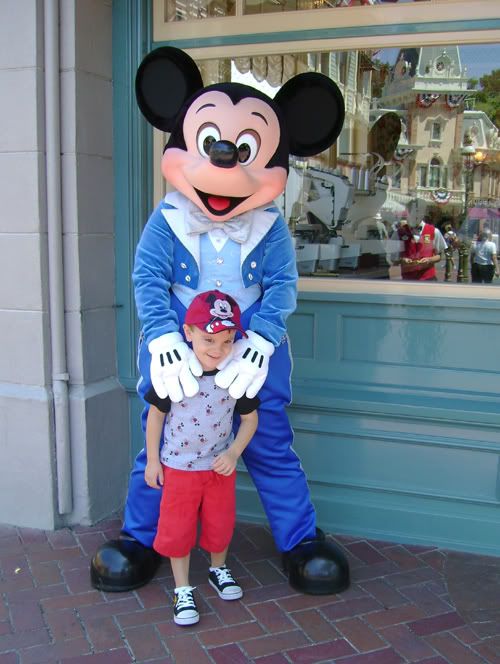 Mickey (in a velour jumpsuit!)
The first time I took my son he was 15 months old and it was nearly 100 degrees that day. On his first ride (Alice and Wonderland), he made a terrible face, like he was caught in a windstorm, pulling his mouth back and tensing up his body! It was horrible...oh, no, we thoughts, he
hates
these rides!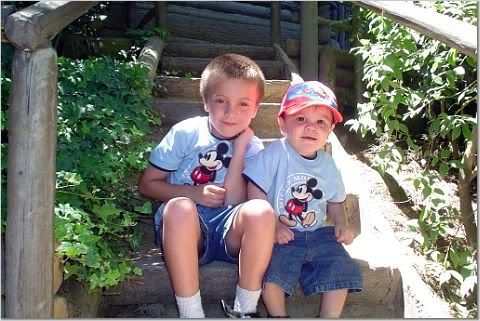 The boys on Pirate Island, little one's first trip
As the years went by, he eased into getting more comfortable on the rides. There was definitely a large period of time when he refused to go on The Pirates of the Caribbean because he didn't like the dip at the beginning. And when he braved Big Thunder Mountain...oh, the screaming and crying that ensued!! But it's been a year since our last visit (he primed himself on the Himalaya ride at the county fair this year) and he says he's now ready to try ALL the rides at Disneyland, including the long-anticipated Space Mountain.
I'm so glad that he loves Disneyland as much as I do. I've tried to show him all the little details that people who are only interested in the big ticket rides miss, like the window displays on Main Street, when Snow White's nemesis hides behind the curtain in Fantasyland, the marching characters who come out of the clock on It's a Small World and Snow White's Grotto next to the Castle.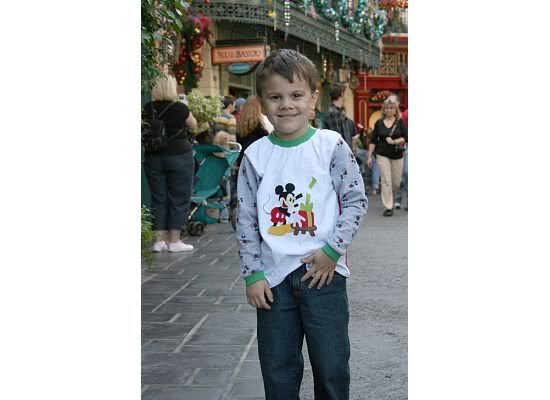 In New Orleans Square at Christmas
It's not all E-Ticket rides for us (hey, remember those? Anyone recall having to use tickets, yikes!). We get as much fun out of riding the "big rides" as enjoying Billy Hill and the Hillbillies in the Golden Horseshoe. We always take an air-conditioned break inside the Tiki Room and sing and whistle along with the show. The view from the top of the Treehouse is amazing. We take the railroad around the entire park but go through the Grand Canyon diorama twice because my son loves it so much. And anytime there is a band playing or a group of singers, we stop to dance along, right there in the street!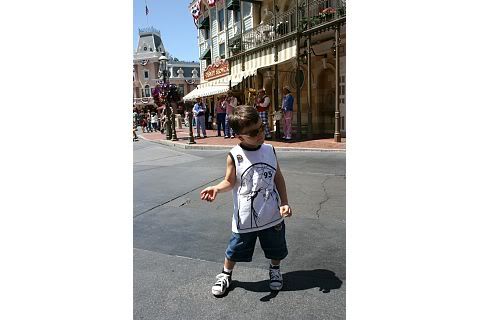 Tapping his toes on Main Street
So, he's getting a little shy around the characters now and doesn't want to pose for pictures with them anymore. And he's more interested in riding Indiana Jones than waiting in line for the Storybook Canal Boats.
But I know that as he gets older and his tastes change, he will always have these memories. I hope that Disneyland will always be a special place for him and something we can share together.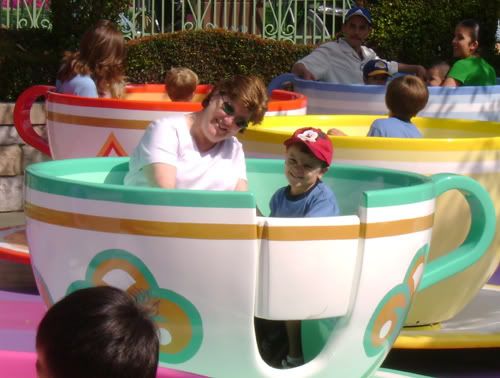 Spinning with Grandma in the Teacups