I love shopping for clothes that I'll never buy. I love searching for party decorations and recipes for parties I'll never host. And I love planning vacations that I'll probably never go on.
When I was a kid, anytime we'd get a toy catalog the thing would be dog-eared and thoroughly read within a week, circled with my wish list for toys I would never receive.
And when I was a teen, I loved getting clothing catalogs in the mail so I could coordinate outfits and shop without actually spending a dime.
Now, I have a thing for home decor catalogs and children's clothes (please tell me I'm not the only one with $500 of saved outfits in their Gymboree shopping cart?).
But probably my very favorite Internet daydreaming comes in planning fictitious vacations.
This is a popular site for me.
Disney Cruise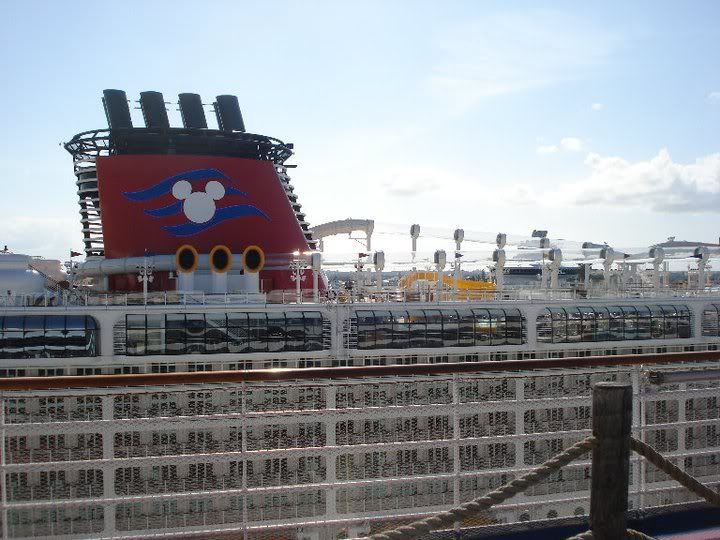 Ahh, a
Disney cruise
would be a dream come true! And only $3000 for a weeklong cruise for four...what a bargain! *wink* Seriously, that's actually not that bad, since food and entertainment is included, it's just over $100 per day per person. But unless I come into a huge windfall, going on that vacation anytime soon is highly unlikely.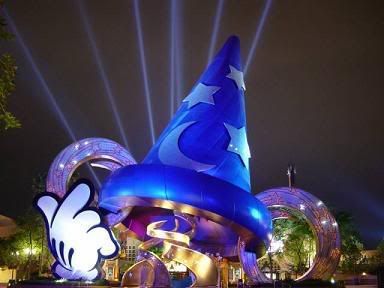 Of course then there is also the
Walt Disney World Vacation
($3000+, not including air fare). I have never been to WDW and likely won't ever, but it's fun to plan where I'd stay and what parks I'd visit! Too bad it's so far across the country from us and we'd all have to pay for round trip tickets.
Disney World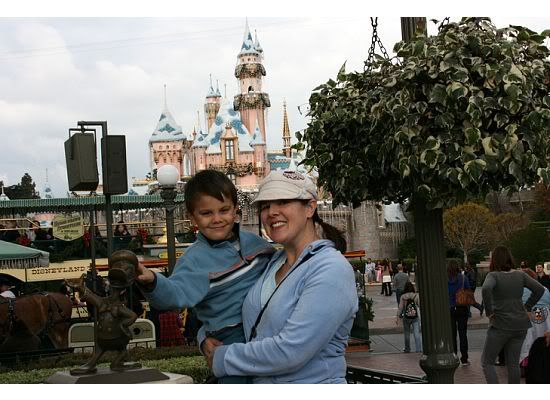 Us at Disneyland
And the straight-up
Disneyland resort
($800 for four people on the curent SoCal ticket special, two days & nights at a resort hotel, plus we'd need fuel & food). This is a more reasonable for us since we are within a quick driving distance. I've loved staying at the Paradise Pier and Disneyland Hotels in the past, the service is fantastic and the views, the pools, and closeness to the parks is great.
Disneyland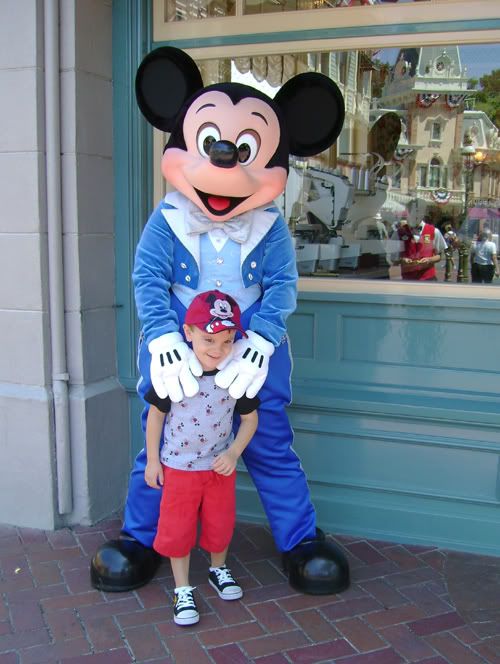 The Boy with Mickey
Hawaii
was an option for a while, as an uncle had offered his home there for us to stay on our Honeymoon. However the plane tickets just for the two of us would be $2000 and then we'd still need to rent a car and pay for food. And you just
know
if there was a kitchen, my honey would want us grocery shopping and cooking at the house every night instead of eating out (sorry, but cooking isn't my idea of a vacation!). So for now, Hawaii is not a close reality for us.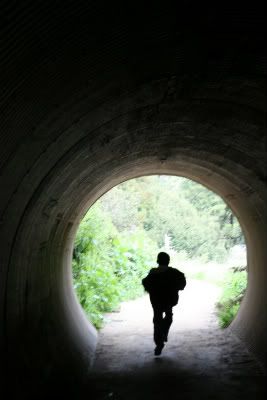 In Big Sur
Road trips are always great. We took a road trip up the California coast and to Reno last spring vacation. The rental car was a reasonable price, we stayed in cheap motels (one night of which was free because of a promotional deal) and we stayed with Danny's family for a few of the days. The bulk of the spending was on fuel, food, a visit to the aquarium in Monterey Bay...but, we did have to buy impromptu tire chains to get through the pass when we got caught in a storm!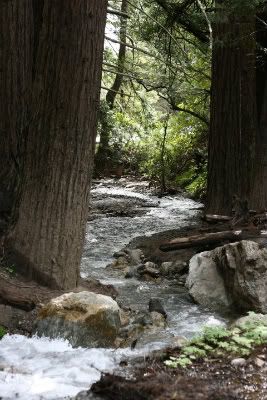 Big Sur
This is my favorite site to plot out road trips.
Rand McNally
I used the Rand McNally site when we took our road trip and it was wonderful to plug in the different spots along the way. They have since changed their site so you can't save your trips, but it's still very helpful to get the driving maps. Then when you are ready, you can print out the maps & itinery. I took each section and stapled them together then filed them in order inside a folder which I kept in the side door of the car. Totally organized and picky, I know, but we
never
got lost!
Now Danny is mentioning a possible trip to San Francisco...off to plan my next trip! Seriously, I think planning vacations is (almost) as fun as actually going on them.